Jordan Hall hosts second annual free youth football camp (Video)
Jordan Hall is a legend already.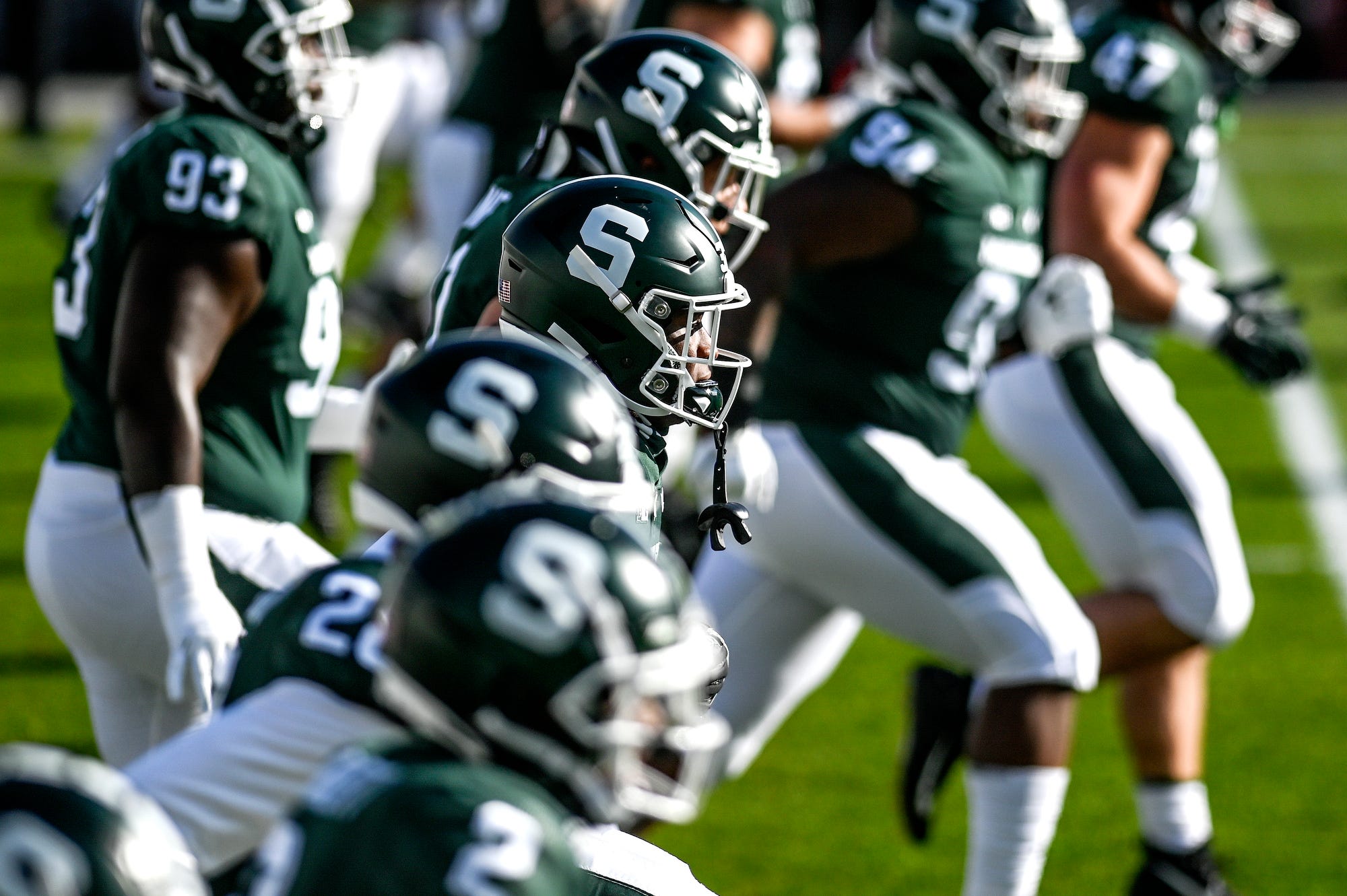 Michigan State freshman linebacker Jordan Hall continues to show just why he's one of the best out there.
Jordan Hall is already showing signs of being the next great Spartan on and off the field.
The Michigan State freshman linebacker was born and raised in Fredericksburg, Va. However, he most recently moved to Bradenton, Fla., to play football at IMG Academy.
This past weekend, Hall returned home to Fredericksburg to host his second annual free Jordan Hall Youth Football Camp.
The Jordan Hall Youth Football Camp…

Jordan's youth football "career" started at this field with one goal post, uncut grass, car lights at night for light to be able to practice and woods for bathroom breaks; but one thing it didn't lack was LOVE, GUIDANCE, & LIFE LESSONS. ?? pic.twitter.com/8kjJD7mTkP

— Cyreeta Hall (@MommaHall2U) May 31, 2023
Hall has already been making a name for himself on the field for the Spartans this spring. His play and effort has been praised by fellow players and coaches alike. IMG Academy has a long history of producing high-quality athletes. This makes Hall's tenure in the program even more noteworthy. He became the first three-time captain in IMG Academy history.
When coaches are recruiting players, they are hoping to find the perfect mix of talent and character. You don't become a three-time captain of a storied school like IMG Academy without having both.
In a recent interview with Spartan Shadows, Cryeeta Hall said of her son, "One of his favorite things he loves to do is teach the game of football to kids. He loves to coach."
Michigan State fans are excited to see what Jordan Hall can contribute on the field, but his character off the field so far is creating just as much excitement. When you see a young man with the heart and determination to give back to his hometown, it lets fans know this is the sort of player you can to rally around and support. Mel Tucker has shown intentionality in his recruiting. He has a specific type of player that he's looking for. Jordan Hall epitomizes a Tucker type of player.
Hall has the potential to earn immediate playing time this year as a true freshman. I'm not a betting man but if I were, I'd wager that we'll see him as a team captain for the green and white sooner than later.
Weekly college football viewing guide: What to watch in Week 4
What should you be watching this weekend?
While you can watch Michigan State vs. Maryland, here's what else is on the intriguing college football slate in Week 4.
If you've got plans this weekend, start working on your fake cough and sick voice. This is a weekend of college football that dreams are made of. We have six Top 25 matchups on tap in addition to a number of other interesting games. This is a weekend that requires more than one TV. If that's not an option, head to the bar. Savor this weekend. This is what we live for.
Here's how to plan your weekend.
Friday, Sept. 22
Wisconsin at Purdue – 7 p.m. ET on FS1
A rare Big Ten conference game gets the weekend started in West Lafayette. The Boilermakers haven't been that impressive this season, but neither has Wisconsin. We keep waiting for Wisconsin's offense to find a rhythm, but it might be time to consider this being who they are. Wisconsin has beaten Purdue sixteen times in a row. Can they end that drought on Friday?
Saturday, Sept. 23
Noon window
Florida State at Clemson – 12 p.m. ET on ABC
Rutgers at Michigan – 12 p.m. ET on Big Ten Network
Oklahoma at Cincinnati – 12 p.m. ET on FOX
Auburn at Texas A&M – 12 p.m. ET on ESPN
The day gets started with a solid slate of games at noon that is headlined by the potential college football game of the year in the ACC. Florida State travels to Clemson as a short road favorite. In their biggest games of the year to date, these teams could not have looked further apart. Florida State looked awesome in their dismantling of LSU while Clemson fumbled their way to an embarrassing 28-7 loss at Duke. It feels far too easy to say that Florida State rolls here. Clemson – despite their deficiencies – is still a proud program with enough talent to win this game.
Michigan faces its toughest test of the season so far at home against an upstart Rutgers team. I'm skeptical that Rutgers can score enough (at all?) to keep this interesting. At the very least, this should give us an idea if Michigan's struggles in the running game are a legitimate concern or if they've been holding things back.
Cincinnati makes its Big 12 debut at home against Oklahoma. The Sooners have looked great so far this year, but this is a tricky spot on the road against the Bearcats who are coming off an embarrassing home loss to Miami (OH).
Keep an eye on this game in College Station. Last year, Auburn celebrated their win against the Aggies like they had won the SEC. Now, the Aggies get them at home with an offense that looks much improved from a year ago.
Afternoon window
Maryland at Michigan State – 3:30 p.m. ET on NBC
Colorado at Oregon – 3:30 p.m. ET on ABC
UCLA at Utah – 3:30 p.m. ET on FOX
Ole Miss at Alabama – 3:30 p.m. ET on CBS
BYU at Kansas – 3:30 p.m. ET on ESPN
The afternoon gets going with Maryland visiting East Lansing in the Big Ten opener for both teams. MSU looked like a dead team walking against Washington. For Maryland, this year presents a real opportunity in the Big Ten East. So far, Michigan, Ohio State, and Penn State haven't been as advertised. Don't rule out the Terps as a spoiler in this conference. We'll learn what is real and not real about them against Michigan State.
The Deion Sanders show hits the road in Eugene against Oregon. It feels like the world is expecting an Oregon route, but the Buffaloes have done nothing but prove the doubters wrong this season. The injury to Travis Hunter sucks for college football. But with Shedeur Sanders, Colorado always has a chance.
The movement in the point spread would indicate that Cam Rising will be back for Utah. The Utes desperately need him. For UCLA, it looks like they are handing the reins to five-star freshman Dante Moore. That is best for them in the long term. This weekend could present some growing pains. Rice-Eccles Stadium is one of the best home-field advantages in the sport.
Is the Alabama dynasty finished? Is Nick Saban's protégé Lane Kiffin really going to be the one to put the final nail in the coffin? This is a fascinating matchup in the SEC that should answer those questions. It's foolish to doubt Nick Saban and Alabama, but something just feels off this year.
Don't forget about Kansas. The Jayhawks are 3-0 and host BYU in their first game in the Big 12. Kansas remains a long shot to win the league. But the Jayhawks have a dynamic quarterback and a high-powered offense. It's college football. Crazy things can happen.
Primetime
Arkansas at LSU – 7 p.m. ET on ESPN
Oregon State at Washington State – 7 p.m. ET on FOX
Texas at Baylor – 7:30 p.m. ET on ABC
Ohio State at Notre Dame – 7:30 p.m. ET on NBC
Iowa at Penn State – 7:30 p.m. ET on CBS
If you're going out on Saturday night, make sure there are TVs wherever you go. Things get started with LSU hosting Arkansas. It feels like people have sort of written off LSU as a national championship contender after their loss. They are still very much alive. Arkansas has a history of playing the Tigers tough in Baton Rouge.
Out west, we have what could be the most underrated game of the day. Oregon State has looked phenomenal early this season. Washington State came onto the radar after beating Wisconsin. This is a tough test for the Beavers in a stadium that while small, still presents a great home-field advantage.
Texas was the talk of college football after upsetting Alabama in week two. But after seeing Alabama last week, do we have to re-evaluate the Longhorns? This game is being overshadowed by the rest of the great games on Saturday. Baylor has really struggled offensively this year. Everyone will have Texas winning easily. Circle this one.
The best game of the weekend is in South Bend. Ohio State and Notre Dame face off for the second year in a row. Regardless of the outcome, seeing Ohio State's helmets under the lights in Notre Dame Stadium in a top-10 matchup is just beautiful. We'll find out if Ohio State's struggles are overblown or legitimately concerning. Notre Dame has the defense and running game to win.
If you're somebody who loves defense, turn on CBS. Penn State and Iowa get together in one of my personal favorite Big Ten matchups. This game is even more fun because this will be the "white out" game for Penn State. While the Nittany Lion offense has been sluggish, their defense is elite. You know you're going to get good defense and special teams from Iowa. Cade McNamara doesn't look healthy to me, and that's a problem against this defense. Iowa is on shutout alert.
Late night
USC at Arizona State – 10:30 p.m. ET on FOX
Cal at Washington – 10:30 p.m. ET on ESPN
It's a shame that this glorious day of college football doesn't give us one appealing matchup in the late-night spot. USC and Washington are heavy favorites against these conference bottom-feeders. Arizona State may be without as many as ten starters with their third-string quarterback going against Caleb Williams. This one could be a bloodbath.
While Washington looked invincible against Michigan State, nobody has been better in this spot than Justin Wilcox. The Bears have shown the ability to make these games ugly with their defense. Can they do enough to hang around and make this worth staying up for? Probably not. But what else are you going to do? Go to bed? Enjoy the day. This one is special.
Michigan State football: 3 fearless predictions vs. Maryland
Let's hope the Washington loss was an outlier.
Michigan State football will host unbeaten Maryland on Saturday afternoon looking to bounce back from the Washington debacle.
What a disaster this season has been thus far for Michigan State football. While the obvious negative storyline involves Mel Tucker, there's an underlying issue that hasn't been talked about enough: injuries. It feels like that's the theme of the program every single year.
Michigan State has been bitten by the injury bug yet again — and twice as hard.
The ailing Spartans, who could be without over a dozen players on Saturday, will host an undefeated Maryland team trying to improve to 4-0 behind the arm of Taulia Tagovailoa. The Spartans need to get after him early and often — something they couldn't do against Michael Penix Jr.
This game is important for Michigan State if it wants to have a chance at a bowl berth this season.
To celebrate homecoming weekend, here are three of my most fearless predictions for the crucial game.
1. Nathan Carter rushes for 100 yards again
Through two Michigan State football games, Nathan Carter looked like a superstar. He had back-to-back 100-yard games to open his Spartan career and he looked like the clear top player on offense. But the offensive line has done him no favors.
Need proof? Just look at the Washington game. He had no running lanes and was hit in the backfield a ton which was disappointing to see. The offensive line was supposed to be a strength this year.
I think we'll see the offense design more runs to mask these issues in the trenches. Carter will have more runs designed to utilize his speed and elusiveness around the edge and I think he's going to take full advantage with another 100-yard performance. This will mark three 100-yard games in his first four outings as a Spartan.
Carter's final line with be 20 carries for 127 yards and a touchdown.
2. Jordan Hall records 10 tackles
If you've read up on the (few) bright spots from Michigan State's loss to Washington, you'd know that Jordan Hall was one of them. The freshman linebacker looks like a budding star through three games. In fact, he's rated as the Big Ten's 10th-best linebacker this year and the nation's No. 8 linebacker in terms of pass coverage. Not too shabby for a true freshman.
Hall is going to have a big game on Saturday against Maryland.
While he has just nine total tackles this season, he's only played a small percentage of defensive snaps. We're going to see a healthy dose of Hall on Saturday afternoon as he surpasses his season total for tackles in one game. He'll even finish with two tackles for loss and 0.5 sacks.
This could be the start of a special career in East Lansing for Hall.
3. Katin Houser engineers a comeback
Last week was a rough one for Noah Kim. The veteran quarterback struggled mightily against a defense that had been mediocre through the first two weeks of the season against inferior opponents and a lot had to do with the offensive line struggling. I think that continues this week as he will get off to a quick start, but stall out through the end of the first quarter and the second quarter.
After halftime, he'll take the field as the starter once again, but he'll turn the ball over on the first drive and then go three-and-out on the second possession. Harlon Barnett will make the call to put Katin Houser in the game.
Down 20-10 in the second quarter, Houser will breathe some new life into the offense, but he, too, will be running for his life thanks to offensive line struggles. Houser will throw a touchdown pass and lead two more scoring drives to put Michigan State up 23-20. I have a feeling Maryland wins this one, but the Houser magic will have us believing again.
Michigan State holds on to win 23-20 and Houser's solid player opens up the QB1 job again.
Spartan Shadows staff Week 4 college football picks against the spread
Who ya got?
It's Week 4 in college football and that means it's time for the weekly Spartan Shadows staff pick 'em. Who are we picking?
Hey, Spartan Shadows fans, Week 3 of college football has come and gone. We had some entertaining games, some surprising upsets, and then some games that just surprisingly upset us (*cough* MSU *cough*). Now that most everyone's non-conference schedule has wrapped up, it's time to get into conference play.
This should give us some more entertaining games each week to dive into.
But before we do that, let's check out the results of the Week 3 college football games.
Week 3 results
Here's how the picks went last week:
No. 14 LSU at Mississippi State — Line: LSU -9.5; Result: LSU cover
No. 15 Kansas State at Missouri — Line: Kansas State -5; Result: Missouri cover
Minnesota at No. 20 North Carolina — Line: UNC -7.5; Result: North Carolina cover
Virginia Tech at Rutgers — Line: Rutgers -6.5; Result: Rutgers cover
South Carolina at No. 1 Georgia — Line: Georgia -27.5; Result: South Carolina cover
No. 11 Tennessee at Florida — Line: Tennessee -6.5; Result: Florida cover
Bowling Green at No. 2 Michigan — Line: Michigan -40.5; Result: Bowling Green cover
Syracuse at Purdue — Line: Syracuse -2.5; Result: Syracuse cover
Pittsburgh at West Virginia — Line: Pitt -1; Result: West Virginia cover
No. 8 Washington at Michigan State — Line: Washington -16.5; Result: Washington cover
For the staff picks recap: I first will have no official comment on our MSU game picks.
As far as the rest of the weekend goes, our fearless leader Connor Muldowney had a strong showing, going 7-3 overall. HopMan and MSUrecruits also went strong at 6-4. Myself and Daily hitting the .500 mark is a good sign as well. In the sports betting world, .500 is good. On the other end of the pick train, we had Max going a rough 2-8 after starting the season out hot and then Anthony and Joey going 3-7. Emmett also went 4-6 to close out our picks.
Anthony and I have a little side competition going between us and it looks like the pressure of the Cane's Box Bet may be getting to him a bit. Look for him to have a strong week this week to make up for it.
Updated standings after Week 3
HopMan: 18-12
(Tie) Connor and Emmett: 17-13
(Tie) MSUrecruits and Max: 16-14
Chris: 15-15
Daily: 14-16
(Tie) Joey and Anthony: 13-17
Week 4 college football games
Disclaimer: All lines are as of 11:00 a.m. ET on Wednesday, Sept. 20 from the ESPN app and Caesars Sportsbook.
Wisconsin at Purdue — Friday at 7 p.m. ET on FS1 (Line: Wisconsin -6)
Hop: Wisconsin
Connor: Purdue
Emmett: Wisconsin
MSUrecruits: Wisconsin
Max: 
Wisconsin
Chris: Wisconsin
Daily: Wisconsin
Joey: Purdue
Anthony: Wisconsin
Rutgers at No. 2 Michigan — Saturday at 12 p.m. ET on BTN (Line: Michigan -24)
Hop: Michigan
Connor: Rutgers
Emmett: Michigan
MSUrecruits: Michigan
Max: Rutgers
Chris: Michigan
Daily: Michigan
Joey: Rutgers
Anthony: Rutgers
No. 4 Florida State at Clemson — Saturday at 12 p.m. ET on ABC (Line: FSU -2.5)
Hop: Florida State
Connor: Clemson
Emmett: Florida State
MSUrecruits: Florida State
Max: Florida State
Chris: Florida State
Daily: Florida State
Joey: Clemson
Anthony: Florida State
No. 19 Colorado at No. 10 Oregon — Saturday at 3:30 p.m. ET on ABC (Line: Oregon -21)
Hop: Colorado
Connor: Oregon
Emmett: Oregon
MSUrecruits: Oregon
Max: Oregon
Chris: Oregon
Daily: Oregon
Joey: Oregon
Anthony: Colorado
No. 22 UCLA at No. 11 Utah — Saturday at 3:30 p.m. ET on FOX (Line: Utah -4.5)
Hop: UCLA
Connor: Utah
Emmett: UCLA
MSUrecruits: UCLA
Max: Utah
Chris: Utah
Daily: Utah
Joey: UCLA
Anthony: Utah
No. 15 Ole Miss at No. 13 Alabama — Saturday at 3:30 p.m. ET on CBS (Line: Alabama -7)
Hop: Ole Miss
Connor: Bama
Emmett: Bama
MSUrecruits: Ole Miss
Max: Ole Miss
Chris: Ole Miss
Daily: Bama
Joey: Ole Miss
Anthony: Ole Miss
No. 13 Oregon State at No. 21 Washington State — Saturday at 7 p.m. ET on FOX (Line: Oregon State -3)
Hop: Oregon State
Connor: Washington State
Emmett: Washington State
MSUrecruits: Oregon State
Max: Oregon State
Chris: Washington State
Daily: Washington State
Joey: Washington State
Anthony: Oregon State
No. 6 Ohio State at No. 9 Notre Dame — Saturday at 7:30 p.m. ET on NBC (Line: OSU -3)
Hop: Ohio State
Connor: Notre Dame
Emmett: Ohio State
MSUrecruits: Notre Dame
Max: Notre Dame
Chris: Ohio State
Daily: Notre Dame
Joey: Ohio State
Anthony: Notre Dame
No. 24 Iowa at No. 7 Penn State — Saturday at 7:30 p.m. ET on CBS (Line: PSU -15)
Hop: Iowa
Connor: Penn State
Emmett: Iowa
MSUrecruits: Iowa
Max: Penn State
Chris: Penn State
Daily: Penn State
Joey: Iowa
Anthony: Penn State
Maryland at Michigan State — Saturday at 3:30 p.m. ET on NBC (Line: Maryland -7.5)
Hop: Maryland
Connor: Michigan State
Emmett: Maryland
MSUrecruits: Maryland
Max: Maryland
Chris: Michigan State
Daily: Maryland
Joey: Michigan State
Anthony: Michigan State
There you have it folks. The picks are in. Looks like the staff is heavily favoring Wisconsin and Florida State so you should probably place bets for Purdue and Clemson accordingly. All joking aside, this is an excellent slate of college football games this week so enjoy it, folks.
Also, please try to come out Saturday to Spartan Stadium if you're in the area. The players still need all the support they can get. Go Green.