Michigan State Basketball: 3 potential 2023-24 lineup options
There will be plenty of options.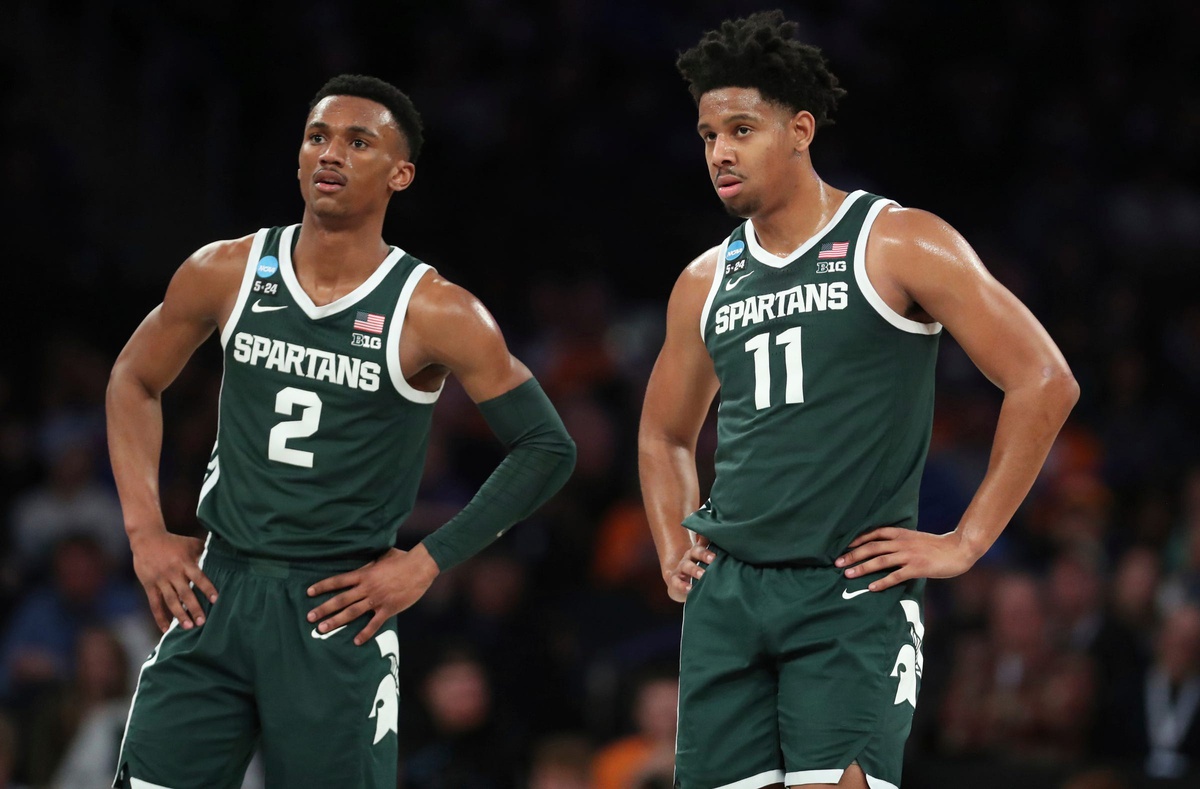 The Michigan State basketball season came to an unfortunate end yesterday after the devastating overtime loss in the Sweet 16. But what about 2023-24?
That loss is going to sting for at least the next few months. With Tennessee losing as well, the path to the Final Four was Michigan State's for the taking. Unfortunately, the better team won Thursday night, and it wasn't Michigan State basketball.
With that being said, there's a lot of hope and optimism looking forward. Along with the hope, however, comes numerous variables regarding the Spartans' roster.
Let's go through a few options Tom Izzo and staff can roll with, roster-wise, in 2023-24.
Option 1: Roll with the roster we have (with a returning member)
A.J. Hoggard/Jeremy Fears
Tyson Walker
Jaden Akins/Coen Carr/Gehrig Normand
Xavier Booker/Jaxon Kohler
Mady Sissoko/Carson Cooper
In option one, Tyson Walker doesn't want to leave Michigan State with the Kansas State loss looming over him and so he decides to return for one final year. One of the nation's best guard combinations of AJ Hoggard, Tyson, and Jaden Akins run it back with more experience and more expectations.
Being that Walker returning is the main variable in this scenario rather than a transfer acquisition, Michigan State moves forward with the players and recruits already bought in.
With that being said, Michigan State basketball would be left extremely thin at the four in this scenario. This would force Xavier Booker to step up (a common theme in these scenarios), along with a possible big ball lineup, shifting Jaxon Kohler to the four. With his offensive upside shown this season, but defensive downfalls, this could actually act as a plus.
Option 2: Attack the transfer portal
A.J. Hoggard/Jeremy Fears
Jaden Akins
Transfer Player/Pierre Brooks/Gehrig Normand
Xavier Booker/Coen Carr
Mady Sissoko/Jaxon Kohler
Most fans will be shouting for option two to become reality but, with Tom Izzo's track record, it's not as likely.
The variable for option two is Walker, Joey Hauser, and Malik Hall all electing to move on, so Izzo and Co. turn to the well that is the transfer portal. Doing so in the past has seemed to work out with Tyson, so Izzo will be looking to strike gold once again to fill the open wing position.
While there are plenty of names within the portal, the Spartans have been linked to just a few. Six-foot-6 small forward Zack Austin from High Point, 6-foot-5 shooting guard Jace Carter from UIC, and 6-foot-3 combo guard Jayden Taylor from Butler have all been contacted by MSU and would fill the three-guard/small four role well.
Still, MSU would be somewhat light at the four, so the coveted 6-foot-10 freshman Booker would find himself in the starting lineup once again.
The offense would be led by Hoggard, but run through Akins, as he's proven to be up to the challenge
Option 3: Feed the young bucks
A.J. Hoggard/Jeremy Fears
Jaden Akins/Pierre Brooks
Coen Carr/Gehrig Normand
Xavier Booker/Jaxon Kohler
Mady Sissoko/Carson Cooper
Even less likely than turning to the transfer portal, is option three.
A staple for Tom Izzo-led teams is veteran leadership. It isn't often a freshman steps in and is given a starting role right away. Think Kalin Lucas, Miles Bridges, or Jaren Jackson Jr. to name a few who were.
In this scenario, not only do Tyson, Hauser, and Hall all move on, but the Spartans also decline to bring in any transfer players. A young starting core would pose a difficult task for Izzo, leading this to being the least likely scenario. I can see plenty of frustration from Hoggard and Akins resulting from the inexperience around them, not to mention a possible second line of Tre Holloman, Pierre Brooks, Jeremy Fears, Gehrig Normand, and Carson Cooper. While it isn't likely this lineup would see the floor all at the same time, it's hard to find the trusted go-to guy in that group. MSU is better off avoiding this scenario.
In all reality, Michigan State's 2024 lineup will likely combine all three of these options. Why choose just one when the most realistic path back to the Final Four is a combination of the three? We will see.