Michigan State basketball: The best and worst of the 2022-23 season thus far
It's been a wild ride thus far for MSU hoops.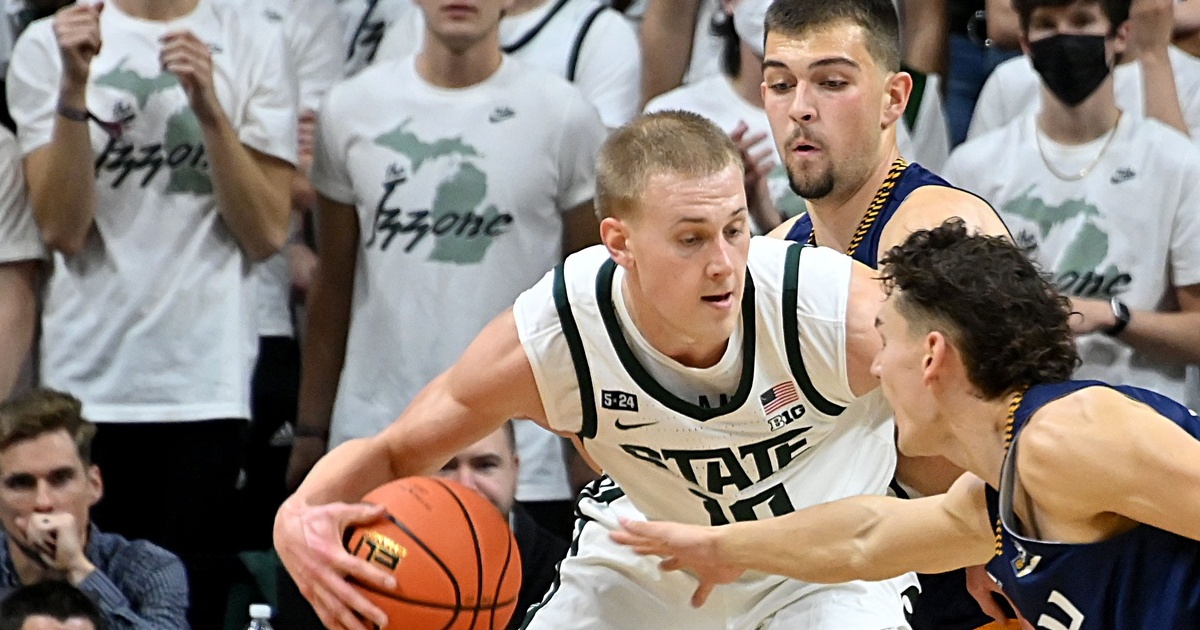 With Michigan State basketball reopening Big Ten play on Tuesday, let's take a look at some of the bests and worsts from an eventful season.
Here we are; 2023 is upon us and the holiday craziness is winding down. Michigan State basketball reopened Big Ten play and kicked off the start of a grueling month on the schedule with a very impressive 74-56 win at home vs. Nebraska on Tuesday night.
The win improves the Spartans to 10-4 on the season as we are quickly approaching the halfway mark of the regular season. The first half of the season for MSU hoops has been a roller coaster with big wins, heartbreaking losses, frustrating injuries, funny outfits (more on that later), and everything in between.
The first 14 games have fueled lengthy celebrations and Twitter debates.
As we approach the meat and potatoes of the Michigan State basketball season as well as the halfway point of the year, let's take a look back at some of the best (and worst) moments of the season so far.
Best win
There's been a few win's so far this season that would qualify here. MSU has had some games so far where they have looked very dominant, last night being one of them.
With several choices standing out, the one that comes to mind most for me would be the win on Nov. 15 at the Champions Classic versus the No. 4 Kentucky Wildcats. The Champions Classic is always a special way to kick off the season and those games are some that coach Izzo loves where he can test his squad early on. That game for MSU showed us that when it is executing, this team can compete with the best in the country and when the cards are falling against them, they will not quit.
Multiple set plays late in the fourth quarter and end of overtime were used and executed flawlessly to get the Spartans a bucket early and Mady Sissoko had a bit of an exclamation point proving he is going to be a threat this year with his 16 points and eight boards. Joey Hauser re-affirmed his nickname of "Joey Buckets" leading MSU with 23 points and the Spartans edged the Wildcats in a double overtime instant classic 86-77.
Worst loss
The obvious choice for this one is the Notre Dame loss in the Big Ten-ACC Challenge on Nov. 30 in South Bend. With Malik Hall and Jaden Akins injured and MSU already coming to the end of its brutal schedule in November, to say the Spartans were fatigued and shorthanded would be an understatement, however, Notre Dame has not played well since the win vs. MSU.
At the time, the Irish moved to 6-1 and looked like a team that could make a little noise later in the season however the wheels have fallen off and they now sit at 8-7 after their most recent game, a loss at Boston College.
The advanced metrics have this loss currently sitting as a Quad 3 loss, which is not a great mark on the resume for MSU. Hopefully the Irish can get back into a bit better form and win some games going down the second half of the year to improve that metric for us.
Best player
This was probably the hardest choice for me. So much so that I created another category to help differentiate a couple of players.
So far to me, the best player for MSU this year has been Tyson Walker. The dynamic guard pairing of him and AJ Hoggard has been great for most of the games for MSU and has really helped stabilize a sometimes-erratic team. Tyson is leading the team with the most minutes and points per game. Overall, Tyson is averaging 13.9 points, 3.3 assists, 2.6 rebounds, 1.0 steals, and 1.1 turnovers per game while playing 33.6 minutes. His consistency has been key and his ability to play well from different positions on the floor has really been great for coach Izzo to rotate when things aren't going well for other players.
Most important player
As previously mentioned, I wanted to do two of these player categories to really explain the importance of this person on the Michigan State basketball team. The stats aren't really indicative of the impact he's made on the court, but I believe the most important piece to this 2022-23 team is Malik Hall.
Malik is a senior leader that, much like Tyson, provides a calming stability to the younger guys on the floor. His leadership and intangibles are hard to measure but look at the teams from the games where he was injured and then look at the games without him. There is a pretty clear difference. It's no coincidence that I think two of MSU's most complete games of the season top to bottom have been the most recent games against Buffalo and Nebraska. Those just happen to be the two games Malik has been back since his foot injury.
The stats do show some production still. Malik is averaging 10.7 points per game to go with 4.2 rebounds, 1.0 assists, 0.3 steals, and 0.5 blocks per game in 26.2 minutes. He is averaging just 1.5 turnovers a game, which isn't terrible.
The team as a whole has turned the ball over significantly less this year and I feel like the leadership from Malik, Tyson, and Joey is a big part of that.
Best outfit
🚨TOM IZZO CHRISTMAS SWEATER🚨 pic.twitter.com/Pyy2WphL53

— Pickswise (@Pickswise) December 22, 2022
There simply could not be a "best of the season so far" list without talking about this moment. I don't remember a time when I laughed so hard than when Izzo drew a technical foul from the bench during the game against Oakland on Dec. 21, while sporting an "Angry Elf" Christmas Sweater.
Special shoutout to Oakland's Kampe for getting Tom to join in on the ugly Christmas sweater party on the sidelines. It was a funny and nice way to get a little holiday cheer into the game before the Christmas break. We have all seen coach lose it on the sidelines a few times and get a technical here and there but there is something about watching him yell at an official while dressed as an elf that just made it so much better.
So outfit of the year has to go to coach Izzo and thanks to him for sparking some hilarious banter in group chats everywhere.
Best student section performance
There's a few choices to pick from in my last category for the mid-season summary article. The Izzone has always been known as one of the best student sections in the country and this year has been no different.
My pick for the best student section performance of the year would be during the Villanova game on Nov. 18. That game started out with MSU coming out absolutely on fire and it lead to the Breslin to be rocking. A furious Villanova comeback in the second half quieted the crowd a bit but the fans remained loud and effective and it really helped MSU stave off a last-second upset bid against a good but under-performing Villanova team.
A special honorable mention in this category goes to the Izzone last night against Nebraska. That was the annual Izzone Alumni game and the "old folks" came out in full force last night. The Izzone Alumni game always looks to be a blast and it was no different last night. Even the commentators on the Big Ten Network were mentioning how impressed they were with the turnout with no kids being on campus so a special shoutout to those involved on Tuesday night.

All in all, it has been a very fun start to the 2022-23 season. For all the talk prior to the season about the tough November schedule, I feel like this team has handled it better than I expected and looks to be a threat to compete for championships this year. The team is back from Christmas break and healthy which is going to be crucial with a stretch of tough big ten games ahead. January's schedule is not going to be easy starting with a big game Saturday at the Breslin Center against the school down the road.
With students coming back to campus this weekend, hopefully they can bring the noise, and Michigan State basketball can keep rounding into form as 2023 continues.
It's officially hate week, everyone. Go Green!
Michigan State basketball: 3 quick thoughts from lifeless loss vs. Rutgers
This was an ugly loss.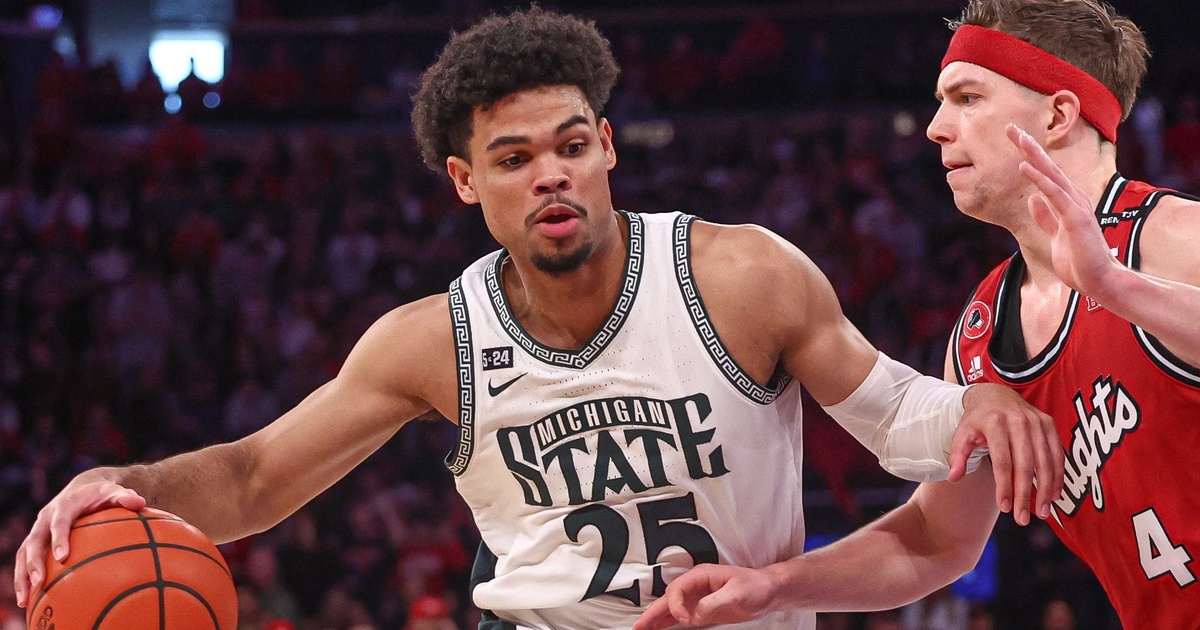 Michigan State basketball was unable to pick up a Quad 1 win on Saturday afternoon against a solid Rutgers team.
After almost a whole week to prepare for Rutgers, Michigan State basketball looked lost and completely overmatched in the final minutes of the game to surrender an eight-point second-half lead and lose by six, 61-55.
There's no way a break like that should have resulted in the poor shooting and lazy turnovers that we saw on Saturday afternoon from the Spartans at Madison Square Garden.
But unfortunately, that was all we saw.
Michigan State was controlling the game for the first 20-25 minutes like it usually does but then it had a stretch in which it couldn't score and Rutgers reeled off nine straight points. That was the difference in this game. Then Michigan State cut it to two, 46-44, but then allowed five straight points as they couldn't seem to defend without fouling.
The Spartans now drop to 6-6 in conference play and 14-9 overall. It's time to make a serious push toward an NCAA Tournament berth because these losses are piling up.
Here are a few of my thoughts on the Michigan State basketball loss.
1. Dry spells after building leads are killing this team
Think about the last 4-5 losses Michigan State has suffered. What do all of them (outside of the Purdue loss in West Lafayette) have in common? Michigan State had a decent lead in each one of them and was controlling the game before going on long dry spells.
At Illinois, Michigan State was up nine points in the second half before collapsing. At home against Purdue, the Spartans had a four-point lead with under four left before losing. Michigan State led Indiana by nearly 10 on the road before falling apart in the second half. And on Saturday afternoon, the Spartans were up eight in the second half before giving up a big Rutgers run. That's a trend that has to be concerning.
Michigan State could very well have 4-5 more wins but these dry spells are killing it.
2. This was probably the worst game of Malik Hall's career
Malik Hall is going to want to burn the tape from this one.
After missing the first matchup with Rutgers, Hall finally got a chance to face the Scarlet Knights and he probably wishes he didn't. He did have 13 rebounds and was a monster on the glass, but he turned it over three times and was 1-for-9 from the floor. And his defense on Paul Mulcahy late in the game was mediocre, at best.
Hall will want to forget this one but it's good to get this ugly game out of the way now.
3. Too much timid play
It was apparent from the start that Michigan State basketball was being passive on offense. AJ Hoggard would drive to the hole and instead of finishing strong, he'd pass it out to a covered guy or throw it away. He had five turnovers to just two assists because he was unsure of himself and way too passive and indecisive.
Tyson Walker passed up some open shots, Jaden Akins did, too, and Pierre Brooks should have gotten more shots up but you can tell he's just afraid to miss at this point. He did, however, have one of his best games in weeks so that's a good sign.
No more timid play as it leads to turnovers, shot clocks being melted down, and bad shots.
Michigan State basketball: Key factors and a prediction vs. Rutgers
Will MSU squeak out a win at MSG?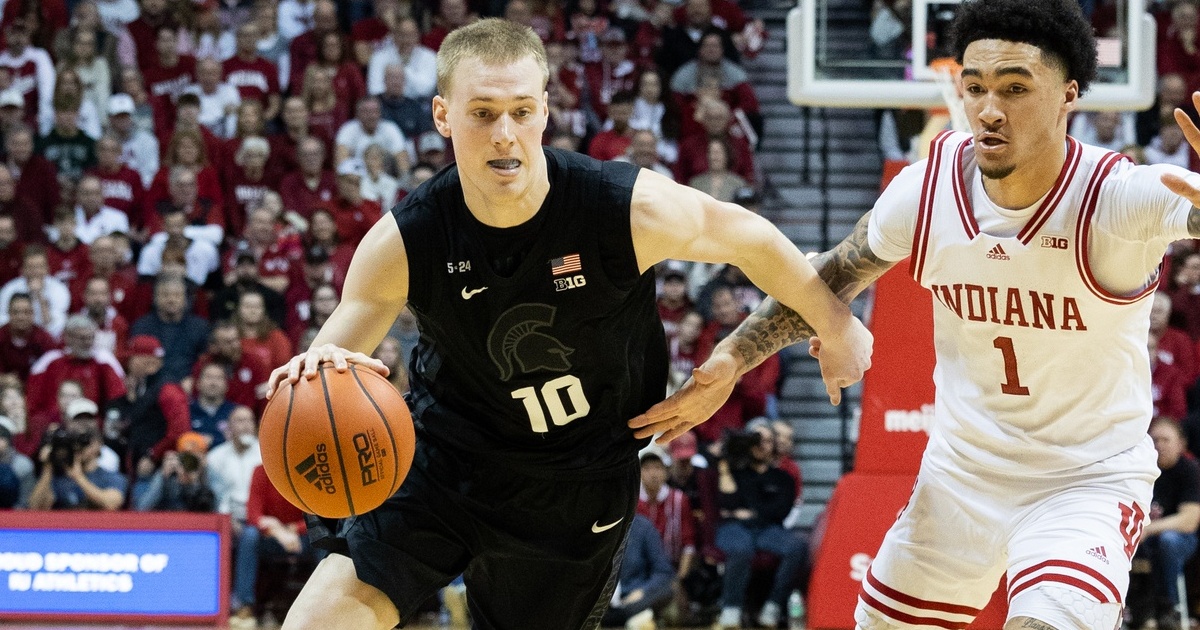 Michigan State basketball will head to Madison Square Garden for a huge matchup with a pesky Rutgers team on Saturday.
Michigan State basketball and Scarlet Knights will meet for the second time this season at the world's most famous arena in New York City. Michigan State won the first matchup in East Lansing 70-57.
Let's discuss what will be important in round two.
1. The three-ball
The first matchup between these two teams on Jan. 19 was a great example of how the three-point shot can be the great equalizer in basketball. MSU and Rutgers shot 42 percent from two while turning it over 10 and 11 times, respectively. Rutgers shot eight more free throws and committed five fewer fouls.
The Scarlet Knights abused the Spartans on the glass – 42-34. Yet, Rutgers lost by double digits because Michigan State hit 12 3-pointers compared to just two for Rutgers. It's hard to win when you get outscored 36-6 from the 3-point line. This is a Rutgers team that struggles to shoot the ball, converting just 32.7 percent of their 3-point attempts on the season.
Believe it or not, though, Michigan State may have had something to do with that performance earlier in the season. The Spartans currently lead the Big Ten in 3-point shooting defense. Opponents are making just 29.6 percent of their attempts against MSU. So, while that terrible shooting performance from Rutgers is likely an outlier, the Scarlet Knights shouldn't expect to see a vast improvement.
Michigan State, meanwhile, is very reliant on shooting well to score. Three-point shooting percentage is about the only thing MSU has going for it from an offensive metrics standpoint. Keep in mind, this Rutgers defense currently ranks second in America in KenPom's defensive efficiency rating. Baskets will be hard to come by for MSU. It's not simple enough to say, "whoever makes more threes will win," but Rutgers will need to make more than they did on Jan. 19.
Conversely, for a struggling offense, Michigan State probably needs to hit as many – if not more – than they did in round one to come away with a victory.
2. Can Michigan State rebound?
As noted, Rutgers dominated the glass in the first matchup. Because the Rutgers offense generates a lot of missed shots, there are going to be plenty of chances for rebounds. This is a classic "something's gotta give" scenario. Rutgers is second in the Big Ten in offensive rebound percentage, while Michigan State ranks second in defensive rebounding percentage. So it's not surprising to see how well Rutgers rebounded in the first game.
It was surprising to see Michigan State give up so many offensive rebounds.
The Spartans should find some comfort in knowing that Malik Hall did not play on Jan. 19. His return should help on the glass. But they still have to be really concerned with Cliff Omoruyi and Caleb McConnell. The two combined for nine offensive boards. They can also do it from different areas on the floor. Omoruyi is going to bang down low in the post while McConnell is going to come crashing in from the perimeter. Neither is a particularly skilled offensive player, so second-chance points are where a lot of their production is going to come from. MSU's ability to keep those two off the offensive glass will go in tandem with Rutgers' ability to score.
Jaxon Kohler came up huge in the first meeting, scoring 12 points and grabbing 11 rebounds. It's unlikely that Kohler can be as efficient as he was from the field (6-for-8 shooting), but Michigan State will absolutely need him to be as aggressive as he was rebounding. He and Mady Sissoko will be tasked with keeping Omoruyi in check.
3. Balance
These two teams are very similar in terms of their reliance on the collective over an individual. Both teams obviously need their best players to play well. But neither team is extremely reliant on one guy to carry them. For both teams, any number of guys has the potential to be that go-to guy in the second half.
We saw it in the first meeting when Michigan State got an unexpected game out of Jaxon Kohler.
It would not surprise any MSU fans to see A.J. Hoggard, Tyson Walker, Malik Hall, or Joey Hauser lead the team in scoring. For Rutgers, it's a similar story with Omoruyi, Cam Spencer, Aundre Hyatt, or Paul Mulcahy. Both teams are at their best when they're getting contributions from everyone, on both ends of the floor. Because of that, I think the coaching in this game is going to be crucial. Both coaches are going to have to recognize who has an advantage and who is playing well. They're going to have to manage minutes in what should be a very physical game that will be littered with whistles.
The fact that I don't give an edge to either coach in this matchup should say how much respect Steve Pikiell has earned. He's taken a program that couldn't sniff the NIT and turned them into a legitimate Big Ten force that should see consistent NCAA tournament bids.
Prediction
The projected line for this game is Rutgers -5, with a low total of 125. Michigan State got a huge break from the schedule gods for avoiding a trip to Jersey Mike's arena. It ranks as the ninth-best home-court advantage in the country according to KenPom. Because of MSU's alumni base, and the game being on a Saturday, this should be a true neutral site game. That's significant because Rutgers has won just two games away from home this season.
Because of that, I'd expect this line to move toward MSU. I can't see Rutgers giving any more than 3 or 3.5 by the time this game tips off.
I like Michigan State to cover the number and win this game outright for two reasons. First, Malik Hall. The Spartans didn't have him the first go around and his presence should be crucial from an offensive and rebounding perspective. Second, turnovers. Michigan State's guard play has made them less susceptible to turnovers this season. It's a Rutgers defense that relies on turnovers for transition opportunities.
Offensively, the lack of a true point guard has Rutgers turning the ball over on 18 percent of its possessions in conference play. Tyson Walker, Jaden Akins, and A.J. Hoggard are good enough defensively to exploit this weakness.
As long as Michigan State can win the turnover battle and clean up their rebounding, I think they can steal a few extra possessions and hit enough shots to squeak out a win.
Final Score: Michigan State: 64, Rutgers: 62
Michigan State Basketball: Transfer portal misses and what could have been
This team could have definitely been helped by a transfer or two.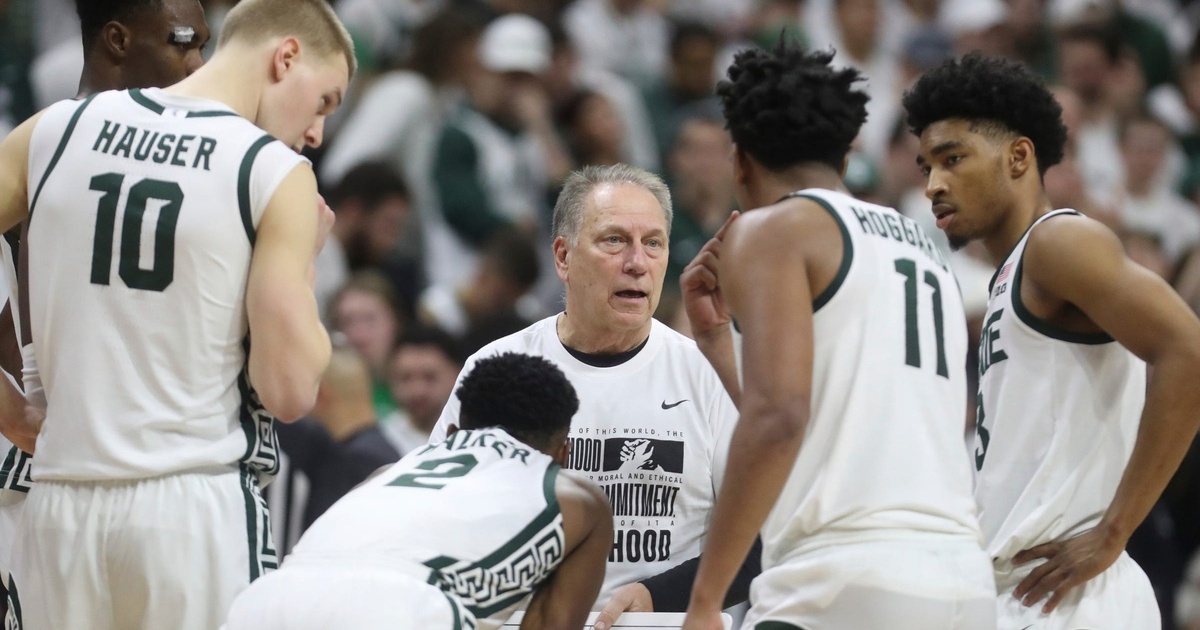 It's no secret that Michigan State basketball is lacking in transfer portal participation. This Spartan team is worse off because of it.
The college basketball landscape is different than it was 10, even five years ago. College players can now transfer whenever, wherever, with no threat of having to sit out for a year. Some programs have used this new landscape to the fullest, see Illinois or LSU. Michigan State basketball, however, falls in the camp of programs that, for better or worse, have thus far decided to mostly stick with their high school recruits and bypass the transfer portal.
Even with the massive success stories that are transfer guard Tyson Walker and forward Joey Hauser to go along with the obvious lack of an above-average center, Tom Izzo and Co. did not add any top-tier transfers. Fans will never know the behind-the-scenes effort put into corralling a transfer player this offseason, if there was any. Because of that, it is unfair to place all blame on the Spartan staff.
Whether you agree with the loyalty shown to original recruits or attacking the portal, there were a few transfer targets the Spartans were linked to.
Let's take a look at the potential transfer targets Michigan State basketball either went after or should have gone after this past offseason.
Jalen Bridges, SF — transferred from WVU to Baylor
Potential lineup:
PG: A.J. Hoggard
SG: Tyson Walker
SF: Jalen Bridges
PF: Joey Hauser
C: Mady Sissoko
Jalen Bridges was an actual target for the Spartans after he announced he would be transferring from his hometown school, West Virginia. Admittedly, the addition of Bridges would not have corrected the lack of a true big on the Spartans' roster. Bridges stands 6-foot-8, the same listed height as Malik Hall. However, with the constant injury bug that Hall has experienced this season, Jalen would have been a great addition.
Citing two separate seven-game losing streaks as his reason for transferring to Baylor, Bridges is averaging just under 10 points and 5.7 rebounds per game. Bridges is essentially a slightly less offensively gifted Hall, with a more apparent rebounding and defensive game. That would be a welcome addition to any contending team, whether they are starting or simply as a depth piece.
Micah Parrish, SF — transferred from Oakland to San Diego State
Potential lineup:
PG: A.J. Hoggard
SG: Tyson Walker
SF: Jaden Akins/Micah Parrish
PF: Joey Hauser
C: Mady Sissoko
The other player MSU was reportedly physically linked to was Detroit native, Micah Parrish.
Going to River Rouge High and then a post-grad year at Hillcrest Prep, the 6-foot-6 Parrish committed to the Oakland Grizzlies. After averaging double digits and over 46 percent from three in conference play as a sophomore for Greg Kampe, Parrish chose to enter the transfer portal, eventually committing to the San Diego State Aztecs.
Whether it be more difficult competition in a larger conference, or he is still becoming acclimated to the Aztecs, Parrish has seen a slight decline in play. Putting up 7.5 points with just 0.6 assists per game, Micah is currently coming off the bench for SDSU. It can be assumed he would have done the same with the Spartans, which would have made him a nice asset as MSU navigated the Akins and Hall injuries.
Fardaws Aimaq, C — transferred from Utah Valley to Texas Tech
Potential lineup:
PG: A.J. Hoggard
SG: Tyson Walker
SF: Jaden Akins
PF: Joey Hauser
C: Fardaws Aimaq
While Fardaws Aimaq was never linked to MSU, he was a clear candidate to fill our need for an offensively gifted center. Starting his collegiate career at Mercer, he moved to Utah Valley University and earned the honor of Riley Wallace Player of the Year as the top transfer.
While playing for the Wolverines, Aimaq became the first player in UVU history to earn both WAC Men's Basketball Player of the Year and WAC Men's Basketball Defensive Player of the Year. During his best season at Utah Valley, Fardaws averaged 19 points and 14 rebounds and shot the rare, yet efficient, three-ball at a 44 percent rate.
Eventually coming by way of Utah Valley, Fardaws was somewhat under the radar to many casual college basketball watchers. The major concern with Aimaq would obviously be the large step up in competition from the Western Athletic Conference to the Big Ten. He would eventually transfer to Texas Tech, where his debut was put on hold after breaking his foot back in September. After some speculation on possibly transferring once again from Texas Tech due to team doctors rushing him back from his foot injury, Fardaws put the rumors to rest and has appeared in three games this season.
Though just a small sample size, he is averaging 10 points and 6.7 rebounds while shooting 50 percent from deep, which would be nice for the green and white.
Manny Bates, C — transferred from NC State to Butler
Potential lineup:
PG: A.J. Hoggard
SG: Tyson Walker
SF: Jaden Akins
PF: Joey Hauser
C: Manny Bates
Similar to Fardaws, it was never confirmed that Michigan State was in direct contact with Manny Bates. He was, however, a popular suggestion as someone who could easily be plugged into the Spartans' starting lineup and elevate this team.
A consensus four-star recruit in high school, Bates had a fantastic career at NC State before transferring to Butler. Before leaving, he was on pace to break the program record for both shots blocked as well as field goal percentage.
Playing at Butler, Bates is averaging 12 points and six rebounds per game. Having two years of eligibility with Bates would allow Mady Sissoko to be relegated to the bench, Jaxon Kohler to provide sparing minutes for experience, and Carson Cooper to redshirt, as was the plan this season.
Acquiring Bates or Aimaq would have been the best-case scenario for this past offseason.