Michigan State basketball: The best and worst of the 2022-23 season thus far
It's been a wild ride thus far for MSU hoops.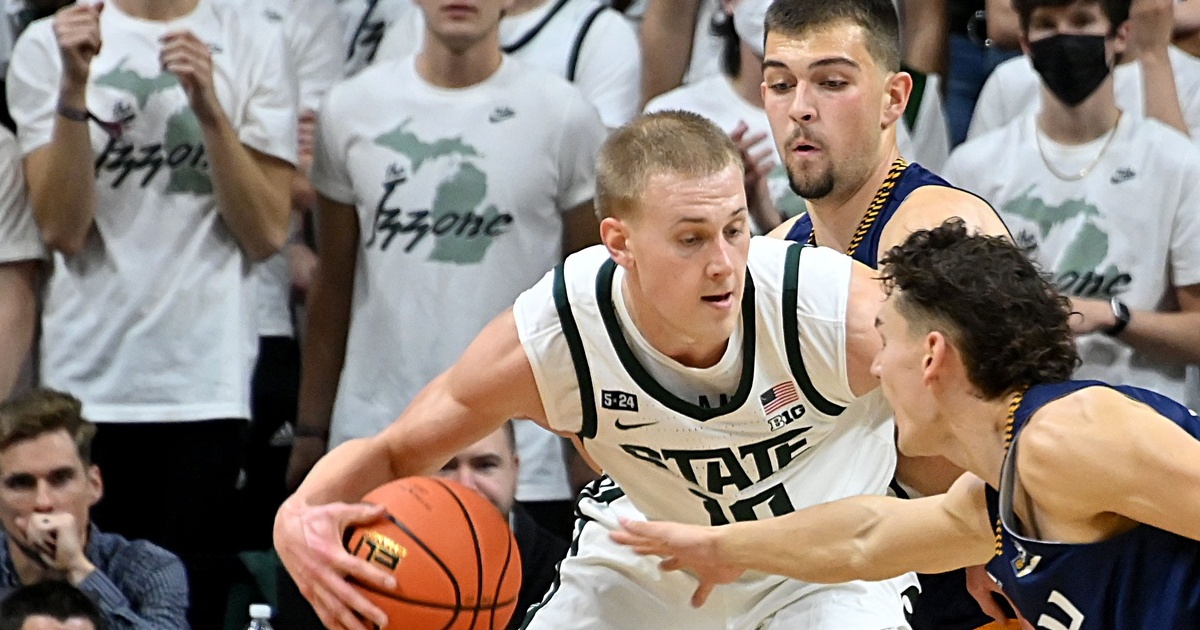 With Michigan State basketball reopening Big Ten play on Tuesday, let's take a look at some of the bests and worsts from an eventful season.
Here we are; 2023 is upon us and the holiday craziness is winding down. Michigan State basketball reopened Big Ten play and kicked off the start of a grueling month on the schedule with a very impressive 74-56 win at home vs. Nebraska on Tuesday night.
The win improves the Spartans to 10-4 on the season as we are quickly approaching the halfway mark of the regular season. The first half of the season for MSU hoops has been a roller coaster with big wins, heartbreaking losses, frustrating injuries, funny outfits (more on that later), and everything in between.
The first 14 games have fueled lengthy celebrations and Twitter debates.
As we approach the meat and potatoes of the Michigan State basketball season as well as the halfway point of the year, let's take a look back at some of the best (and worst) moments of the season so far.
Best win
There's been a few win's so far this season that would qualify here. MSU has had some games so far where they have looked very dominant, last night being one of them.
With several choices standing out, the one that comes to mind most for me would be the win on Nov. 15 at the Champions Classic versus the No. 4 Kentucky Wildcats. The Champions Classic is always a special way to kick off the season and those games are some that coach Izzo loves where he can test his squad early on. That game for MSU showed us that when it is executing, this team can compete with the best in the country and when the cards are falling against them, they will not quit.
Multiple set plays late in the fourth quarter and end of overtime were used and executed flawlessly to get the Spartans a bucket early and Mady Sissoko had a bit of an exclamation point proving he is going to be a threat this year with his 16 points and eight boards. Joey Hauser re-affirmed his nickname of "Joey Buckets" leading MSU with 23 points and the Spartans edged the Wildcats in a double overtime instant classic 86-77.
Worst loss
The obvious choice for this one is the Notre Dame loss in the Big Ten-ACC Challenge on Nov. 30 in South Bend. With Malik Hall and Jaden Akins injured and MSU already coming to the end of its brutal schedule in November, to say the Spartans were fatigued and shorthanded would be an understatement, however, Notre Dame has not played well since the win vs. MSU.
At the time, the Irish moved to 6-1 and looked like a team that could make a little noise later in the season however the wheels have fallen off and they now sit at 8-7 after their most recent game, a loss at Boston College.
The advanced metrics have this loss currently sitting as a Quad 3 loss, which is not a great mark on the resume for MSU. Hopefully the Irish can get back into a bit better form and win some games going down the second half of the year to improve that metric for us.
Best player
This was probably the hardest choice for me. So much so that I created another category to help differentiate a couple of players.
So far to me, the best player for MSU this year has been Tyson Walker. The dynamic guard pairing of him and AJ Hoggard has been great for most of the games for MSU and has really helped stabilize a sometimes-erratic team. Tyson is leading the team with the most minutes and points per game. Overall, Tyson is averaging 13.9 points, 3.3 assists, 2.6 rebounds, 1.0 steals, and 1.1 turnovers per game while playing 33.6 minutes. His consistency has been key and his ability to play well from different positions on the floor has really been great for coach Izzo to rotate when things aren't going well for other players.
Most important player
As previously mentioned, I wanted to do two of these player categories to really explain the importance of this person on the Michigan State basketball team. The stats aren't really indicative of the impact he's made on the court, but I believe the most important piece to this 2022-23 team is Malik Hall.
Malik is a senior leader that, much like Tyson, provides a calming stability to the younger guys on the floor. His leadership and intangibles are hard to measure but look at the teams from the games where he was injured and then look at the games without him. There is a pretty clear difference. It's no coincidence that I think two of MSU's most complete games of the season top to bottom have been the most recent games against Buffalo and Nebraska. Those just happen to be the two games Malik has been back since his foot injury.
The stats do show some production still. Malik is averaging 10.7 points per game to go with 4.2 rebounds, 1.0 assists, 0.3 steals, and 0.5 blocks per game in 26.2 minutes. He is averaging just 1.5 turnovers a game, which isn't terrible.
The team as a whole has turned the ball over significantly less this year and I feel like the leadership from Malik, Tyson, and Joey is a big part of that.
Best outfit
🚨TOM IZZO CHRISTMAS SWEATER🚨 pic.twitter.com/Pyy2WphL53

— Pickswise (@Pickswise) December 22, 2022
There simply could not be a "best of the season so far" list without talking about this moment. I don't remember a time when I laughed so hard than when Izzo drew a technical foul from the bench during the game against Oakland on Dec. 21, while sporting an "Angry Elf" Christmas Sweater.
Special shoutout to Oakland's Kampe for getting Tom to join in on the ugly Christmas sweater party on the sidelines. It was a funny and nice way to get a little holiday cheer into the game before the Christmas break. We have all seen coach lose it on the sidelines a few times and get a technical here and there but there is something about watching him yell at an official while dressed as an elf that just made it so much better.
So outfit of the year has to go to coach Izzo and thanks to him for sparking some hilarious banter in group chats everywhere.
Best student section performance
There's a few choices to pick from in my last category for the mid-season summary article. The Izzone has always been known as one of the best student sections in the country and this year has been no different.
My pick for the best student section performance of the year would be during the Villanova game on Nov. 18. That game started out with MSU coming out absolutely on fire and it lead to the Breslin to be rocking. A furious Villanova comeback in the second half quieted the crowd a bit but the fans remained loud and effective and it really helped MSU stave off a last-second upset bid against a good but under-performing Villanova team.
A special honorable mention in this category goes to the Izzone last night against Nebraska. That was the annual Izzone Alumni game and the "old folks" came out in full force last night. The Izzone Alumni game always looks to be a blast and it was no different last night. Even the commentators on the Big Ten Network were mentioning how impressed they were with the turnout with no kids being on campus so a special shoutout to those involved on Tuesday night.

All in all, it has been a very fun start to the 2022-23 season. For all the talk prior to the season about the tough November schedule, I feel like this team has handled it better than I expected and looks to be a threat to compete for championships this year. The team is back from Christmas break and healthy which is going to be crucial with a stretch of tough big ten games ahead. January's schedule is not going to be easy starting with a big game Saturday at the Breslin Center against the school down the road.
With students coming back to campus this weekend, hopefully they can bring the noise, and Michigan State basketball can keep rounding into form as 2023 continues.
It's officially hate week, everyone. Go Green!
Has Michigan State basketball had the "perfect" offseason so far?
The MSU basketball offseason has felt so much better than football's.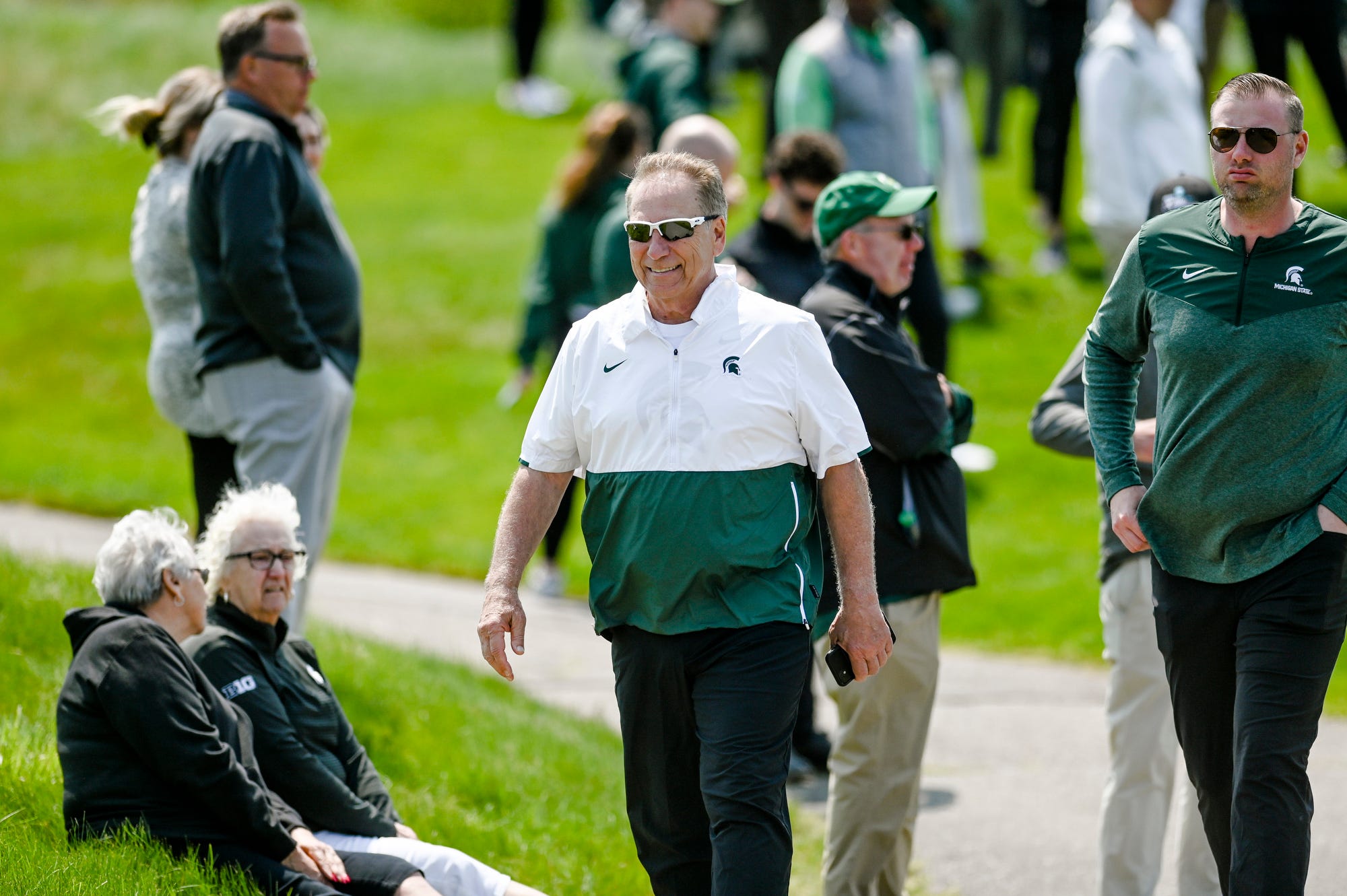 Unlike the football program so far, Michigan State basketball has had an impressive, almost perfect offseason.
Anything is possible in today's college basketball world. We have seen some crazy things with the one-time transfer rule and NIL in full effect. Star players like Hunter Dickinson are transferring to powerhouse programs like Kansas and some players are leaving the schools they love just to chase money. We are even seeing incoming freshman reopening their recruitments in June.
I'll say it again, anything is possible in college basketball today. It seems nearly impossible for a program to have a perfect offseason nowadays. Whether they want their players to stay or they need to get a high-profile transfer to join their team, no program gets everything they want. However, I would argue that Michigan State basketball has had the perfect offseason, or as close to it as reasonably possible.
No key players transferring to new programs
As I mentioned before, star players in a great positions at their programs are still deciding to transfer. Almost every program has someone significant decide to leave the program. Thankfully for Michigan State, that did not happen this season.
Pierre Brooks is the only player to transfer to a new program when he decided to take his talents to Butler. I never like seeing players leave the program, but I think everyone saw this coming. Brooks would have struggled to make the rotation again this year, so it makes sense for him to find a better fit somewhere else.
The transfer portal can be a scary thing, but the Spartans survived it this year.
Players deciding early to return
Whether it be deciding to enter the transfer portal or go pro, some athletes take a long time to make their final decision. Michigan State, on the other hand, got a lot of good news early this offseason. Both Malik Hall and Tyson Walker announced they were returning to Michigan State early on in the offseason.
Both could have attempted to go the pro route. However, both didn't even tempt those waters. Arguably Michigan State's best player and this past season's sixth man are coming back for another year and that's massive.
Players withdrawing from the NBA draft
Jaden Akins and AJ Hoggard both entered their name into the NBA Draft. I thought it was possible for Akins to keep his name in the draft, but nobody ever knows what a player will decide to do. All it takes is one team to promise they will draft them and that player could be gone. Thankfully for Michigan State, that did not happen to either player. Both Akins and Hoggard announced their return to Michigan State on May 31 much to all Spartan fans' delight.
Incoming freshmen class
To round out the perfect offseason, Michigan State's elite freshmen class has stayed intact. This class is No. 5 in the country and is bringing in four players who can contribute from day one.
Once players sign, usually that means the drama is over. That, however, is not the case anymore. A decent amount of players have asked to be released from their commitments to their program, including one top player who decommitted from Kansas on June 3. With all of Michigan State's returning production, this could have been possible for one of our incoming freshmen. Thankfully again, this did not occur to the Spartans, and the class has remained committed.
The one negative you could argue
There is one negative thing you could argue that happened to Michigan State this offseason. That is Joey Hauser deciding to go pro and not return to Michigan State basketball for a final season.
Like Brooks, I think most expected this, but I can't deny how amazing it would have been to have him back again next year. However, who knows what could have happened if he did return. Maybe another player decides to transfer because there aren't enough minutes to go around. Maybe an incoming freshman decides he'd be better off somewhere else. Nobody knows what would have happened if Joey came back. With all the positives that occurred this offseason, I am fine with Hauser deciding to leave the program.
Michigan State has everything to play for next season. A conference title, Final Four, and national championship are all very realistic. Michigan State will likely be a top-five team in the country to start the season, and that is thanks to a near-perfect offseason for the program.
Michigan State basketball: AJ Hoggard earns high praise from Malik Hall (Video)
Malik Hall had nothing but good things to say about AJ Hoggard.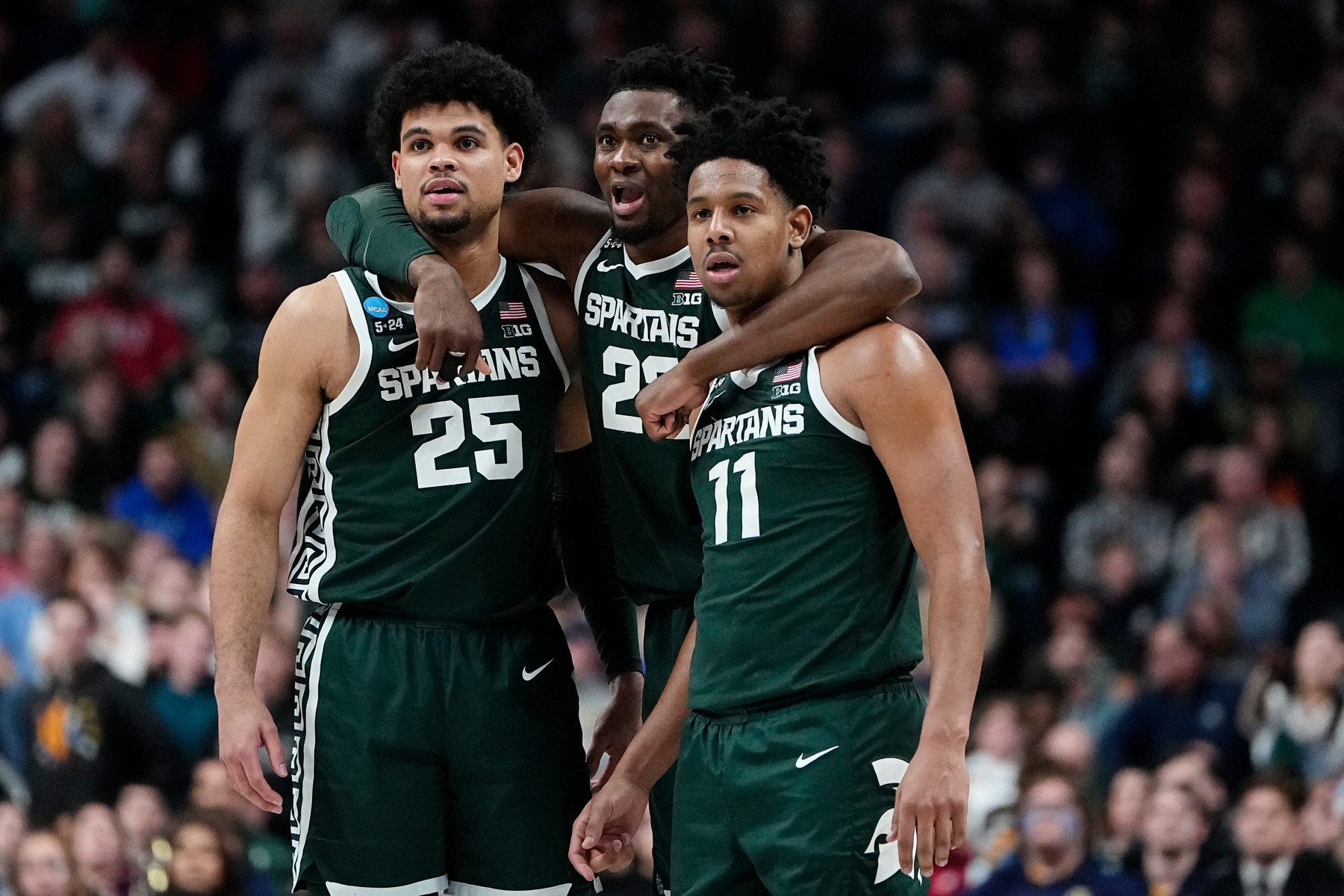 Michigan State basketball got some good news this week and Malik Hall is more than happy to have AJ Hoggard back.
In a recent interview with Justin Spiro, Malik Hall spoke in detail about AJ Hoggard. He discussed how great of a person he is on and off the court and how there are a lot of misconceptions about him from Michigan State basketball fans.
Here is a two-minute clip from that interview where Hall talks about AJ.
"AJ is one of my best friends in life…he's one of those genuine people that you want around."

Malik Hall says AJ Hoggard is often misunderstood by fans and commentators.@ajhoggard3 pic.twitter.com/MovtDOzLJc

— Justin Spiro (@DarkoStateNews) June 1, 2023
The star point guard AJ Hoggard dealt with a lot of criticism from the Spartan fanbase this season. Nobody plays great every game, and I think our fans mostly understand that.
The thing that bothered some of our fans however was Hoggard's body language in the games in which he was struggling. Instead of staying positive, some fans criticized him for seemingly not trying or caring during his struggles.
AJ Hoggard: The leader
Malik Hall is here to tell you that none of that is true. Hall explained how this opinion from fans is the furthest thing from the truth. Malik mentioned that even though AJ's face looks like he doesn't care, that is not how he feels at all. That's great to hear about your starting point guard and one of the leaders of the team. Guys look to AJ for leadership and motivation, so if they see negative body language from him they are likely to mirror that. So even though AJ sometimes looks like he is checked out on the court, it's nice to know that the rest of the team doesn't feel that way.
Malik also went on to share that AJ is one of the nicest and most genuine guys he knows. He considers Hoggard to be one of his best friends not just on the team, but in his life. Hall mentioned that AJ is the first guy to text you when you are struggling with something outside of basketball.
That's the best type of leader in my opinion. Someone who pushes you to be great on the court but always makes sure you are okay off the court.
Sophomore guard Tre Holloman responded to this tweet on Twitter agreeing with what Hall said.
Frfr💯 https://t.co/Pi3CarNke4

— Trejuan Holloman (@jiggyTrawww) June 2, 2023
The next time you think AJ looks out of it in a game, remember this interview. Remember that Malik Hall mentioned that nobody on the team feels this way and they all know that how AJ truly feels doesn't match the "AJ face."
Writer says there's a huge gap between Purdue and Michigan State basketball
This seems like a wild claim.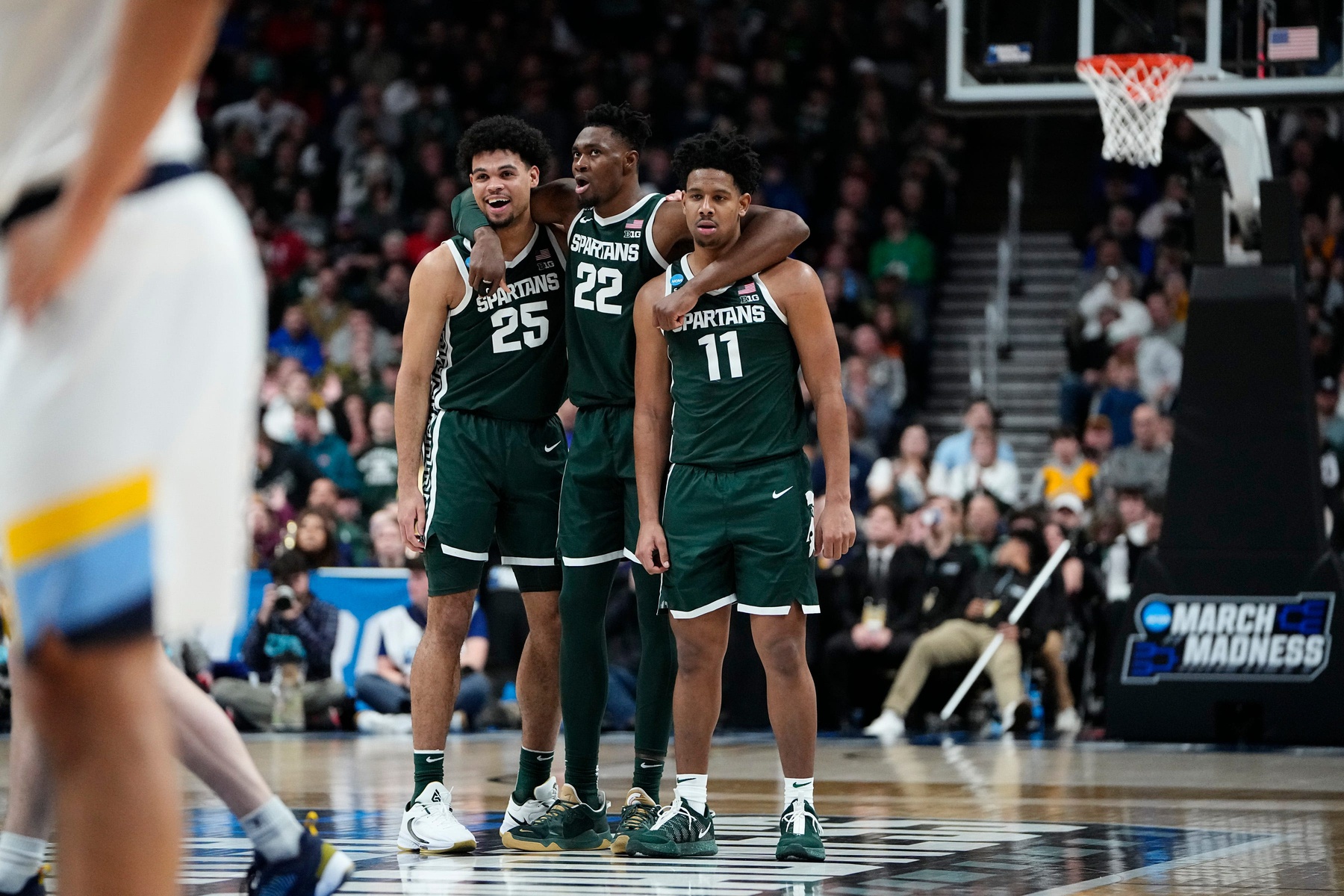 Gregg Doyel of the Indy Star claims that Purdue is "historically loaded" and there's a huge gap between them and Michigan State basketball.
With the news of Jaden Akins and AJ Hoggard returning along with Tyson Walker and Malik Hall to go along with the No. 4 recruiting class in the country, Michigan State basketball went from a conference title contender to a national title contender.
Essentially everyone who follows college basketball has Michigan State as a top-five team and right there in the Big Ten as 1B to Purdue's 1A — some even have it the other way around.
The Spartans bring back everyone but Joey Hauser to a team that went to the Sweet 16 and Purdue returns national player of the year Zach Edey to a Big Ten title team. Both teams are loaded and should be at the top of everyone's list when it comes to national title contention.
But one Indy Star writer believes that Purdue is "historically loaded" and the talent-and-depth gap between the Boilermakers and "everyone else" is as large as he's seen in years. Just a wild claim.
Zach Edey's return means Purdue is historically loaded. The talent-and-depth gap between Purdue and everyone else will be as large as we've seen in years:https://t.co/uXqI95grQM

— Gregg Doyel (@GreggDoyelStar) June 1, 2023
Gregg Doyel cites a solid incoming class to go along with Edey returning and the two freshmen guards with another year in the system. But he fails to recognize that Michigan State got even better. The Spartans are bringing in an even better recruiting class and they return their 2-3 most talented players from a year ago. The only loss is Hauser.
Saying that this year's Purdue team is far-and-away the most talented and deepest team in the Big Ten and the gap is the biggest it's been in years is asinine. There was a much larger gap last year.
Michigan State will go toe-to-toe with the Boilermakers and as long as Edey can be neutralized, the Spartans will have a chance to take them down for the Big Ten crown.
It's tough to say a team like Michigan State basketball that's 11-12 guys deep is not nearly as talented or deep as Purdue, but hey, let's put that early chip on the shoulder.