Michigan State basketball: 3 fearless predictions at No. 18 Wisconsin
Defense may steal the show on Tuesday night in Madison.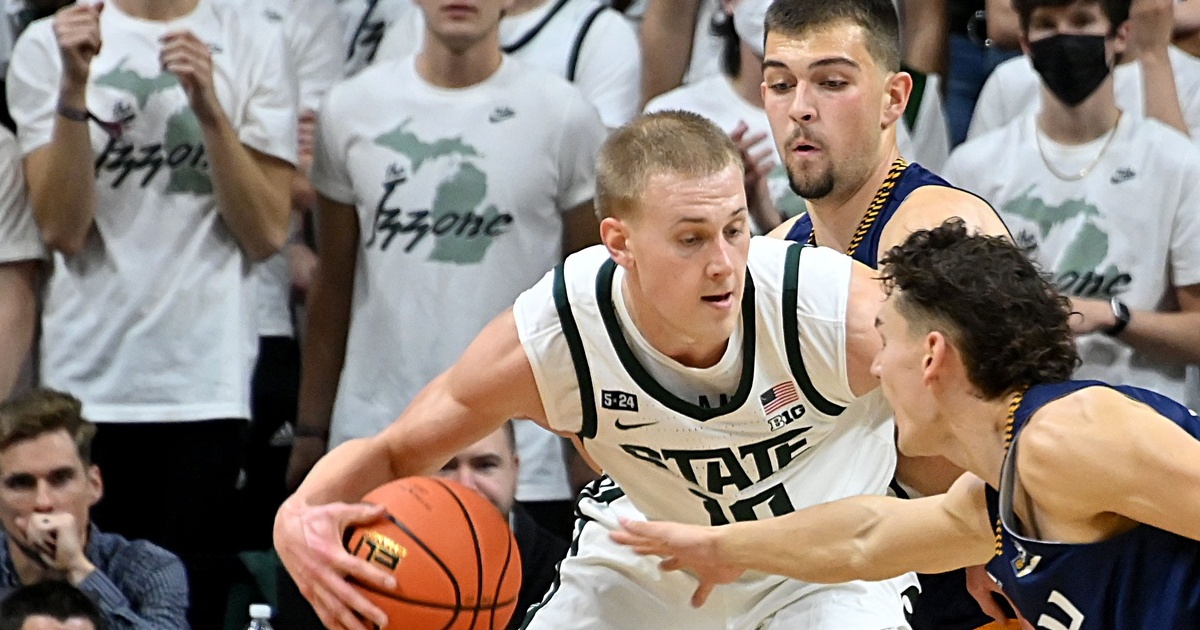 Michigan State basketball will be in Madison on Tuesday night to face No. 18 Wisconsin. Will we see a road upset?
Tuesday night will be a heck of a test for Michigan State basketball.
No. 18 Wisconsin will host the Spartans for a showdown in Madison with a tie for first place in the Big Ten standings on the line. The winner of this game will move into a tie with Purdue at 4-1 in league play while the loser will slide into the middle of the pack at 3-2.
Malik Hall will likely play after tweaking his ankle against Michigan but Wisconsin may not be as lucky as star player Tyler Wahl might be out for a second straight game.
Will the Spartans pick up a statement road win?
1. Joey Hauser gets back on track
After shooting over 50 percent from the floor in four straight games from Penn State through Buffalo, Joey Hauser has hit a bit of a wall offensively over his past two games.
Against Nebraska and Michigan, he was a combined 7-for-23 from the floor and 3-for-14 from deep. That's just not going to cut it if Michigan State wants to contend this season. What better way to get him back on track than to play the team he grew up watching as a native of Stevens Point, Wisc.?
Hauser saw Wisconsin three times last season and failed to hit 10 points in any of those matchups but he had 27 in his lone matchup with the Badgers in 2020-21. I think we'll see more of the latter.
No, he's not going off for 27 points again, but he'll finish with 14 points with three big 3-pointers.
2. MSU out-rebounds Wisconsin by at least 10
To say Wisconsin isn't a great rebounding team is a massive understatement. In fact, the Badgers average a little over 32 per game which is good for 369th in the country, and that figures to get even worse entering Big Ten play against some elite bigs. While I wouldn't call any of MSU's bigs "elite", I do think that Hauser and Mady Sissoko will eat on the glass, and the physicality of AJ Hoggard and Jaden Akins while crashing the glass will be too much for Wisconsin.
The Spartans just out-rebounded Michigan by four and Nebraska by 17, so I'll go somewhere in the middle with this one and say they grab 11 more boards than Wisconsin.
3. Michigan State pulls off the road "upset"
I hesitate to call this an upset because Vegas doesn't even believe that's the case. The Spartans are actually 1.5-point favorites as of Monday night, but any time an unranked team goes on the road to face a ranked conference opponent, they have to be considered underdogs. I don't make the (unwritten) rules.
Wisconsin may be without its best player as Wahl is reportedly "unlikely" to play and that means the already-thin rotation will be tested heavily by the Spartans.
Michigan State needs to win games like these if it's going to win the Big Ten this year and I think Tom Izzo will have his guys ready. Defense will steal the show and a Hauser bounce-back game will be just enough to push the Spartans over the Badgers.
Michigan State wins 61-56.