Michigan State basketball: Game-by-game predictions for January gauntlet
Michigan State will try to stay alive in the Big Ten title hunt.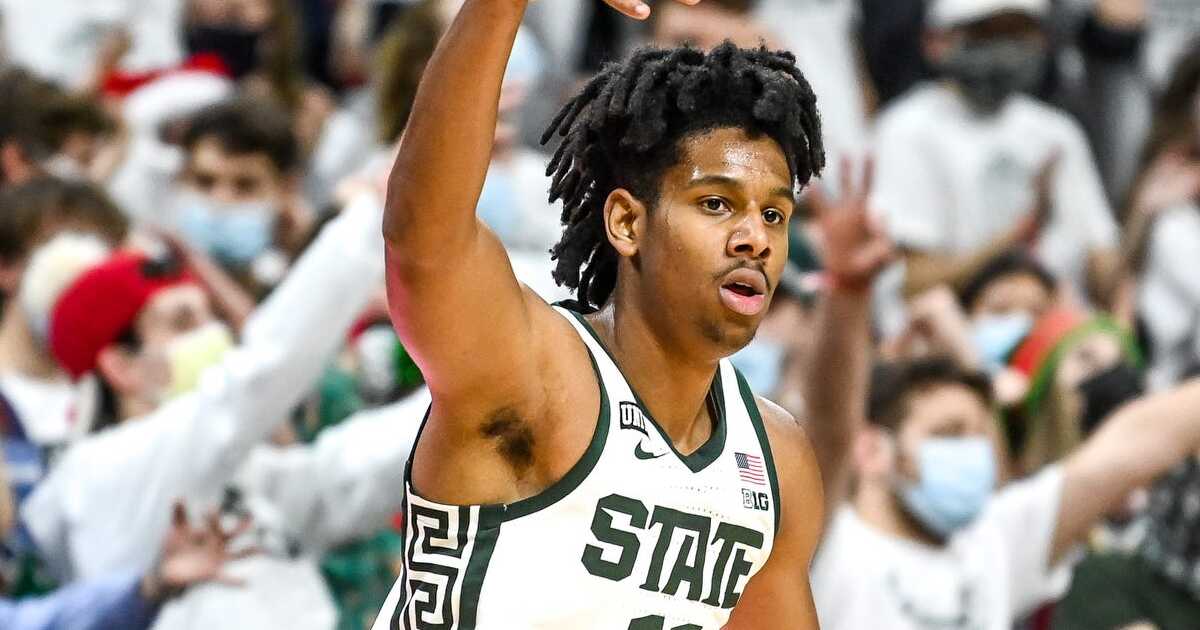 Michigan State basketball is facing a tough slate in January so let's do a game-by-game prediction for the month.
Rewind back to the offseason when Tom Izzo decided not to utilize the portal to add to the 2022-23 Michigan State basketball roster. The Spartans had just lost a few big pieces from a team that won just one NCAA Tournament game last season, but two of them were centers.
That left the Spartans with zero proven centers. Mady Sissoko and Jaxon Kohler would have to carry the load there. The latter has had his freshman struggles, but Mady has looked good.
Heck, Mady went toe-to-toe with two of the best centers in the nation to begin the season and he looked like he belonged. His emergence has been one of the reasons Michigan State rose into the AP Top 25 before the PKI and is currently 9-4 (although two of the losses were inexcusable).
Now Michigan State opens the new year with a gauntlet in January. If it can finish with a 6-3 record or better, you have to feel good about its chances to win the league.
Here's how I see the month playing out.
Nebraska (Jan. 3)
Fred Hoiberg has worked his magic with Nebraska this season after being a true 'hot seat' candidate for a couple of years. His Cornhuskers will come to East Lansing with an 8-6 record and a win over Creighton and a near-upset of Purdue. But Michigan State will lock down with Malik Hall back and win in convincing fashion over a much-improved Nebraska team. And I'm not just saying this because it's the Izzone alumni game — OK, maybe I am.
Prediction: Nebraska 64, Michigan State 74 (10-4, 2-1 Big Ten)
Michigan (Jan. 7)
This is the game that's circled on everyone's calendars. Michigan has struggled this season, but that's never mattered. You can throw records out the door when it comes to this rivalry game and you know the Spartans will get Michigan's best shot. Hunter Dickinson has feasted against the Spartans' bigs in the past few meetings, but Mady Sissoko is going to have a big game defensively. This will be intense, but Michigan State wins a tight one.
Prediction: Michigan 67, Michigan State 71 (11-4, 3-1)
at Wisconsin (Jan. 10)
Ready for a really bold prediction? I think Michigan State basketball will go on the road and give Wisconsin its toughest test of the season, picking up a nice road win over the Badgers. This isn't the same Wisconsin team that we're used to seeing with Brad Davison finally gone after a decade-long stint in college, but Greg Gard always has his teams playing at a high level. The Kohl Center is a tough place to play, but Michigan State will steal a big one here.
Prediction: Michigan State 63, Wisconsin 60 (12-4, 4-1)
at Illinois (Jan. 13)
Michigan State has won at Illinois in recent years, but I think going from Madison to Champaign three days later is going to be tough on these guys. Illinois hasn't played to its potential yet this season but I think it'll have one of its best games against the Spartans and hand them their first loss since early December. No shame in this loss, but it's back to the drawing board before facing Goliath.
Prediction: Michigan State 60, Illinois 72 (12-5, 4-2)
Purdue (Jan. 16)
This is usually where we'd see Michigan State let one loss turn into two and then three (happens every single season in Big Ten play) but the Spartans are going to bounce back against Purdue in East Lansing. The Boilermakers and Spartans usually split every year they play twice and — surprise, surprise — the home team wins more often than not. A win here goes a long way for Big Ten title's sake and we'll just call this the Tyson Walker game.
Prediction: Purdue 71, Michigan State 76 (13-5, 5-2)
Rutgers (Jan. 19)
Talk about a game that just snuck up on the radar after a shocking upset this past weekend, Rutgers is starting to look like a legit Big Ten title contender after beating Purdue on the road. So this game is far from a sure win. The Scarlet Knights always play Michigan State tough and Paul Mulcahy turned into a Spartan killer last year so we'll have to hope he's contained. This one will be excruciatingly close throughout and if you hate the back-and-forth games, you may want to avoid watching.
Prediction: Rutgers 62, Michigan State 64 (14-5, 6-2)
at Indiana (Jan. 22)
After narrowly escaping a home upset against Rutgers, I think Michigan State will have a real shot at beating an Indiana team without Xavier Johnson at point guard, but Assembly Hall is tough. There is not a single easy road game in the Big Ten and this would qualify as one of the top 2-3 toughest environments. Guard play will keep the Spartans in the game, but in the end, there will be just too much Assembly magic for the Hoosiers.
Prediction: Michigan State 62, Indiana 67 (14-6, 6-3)
Iowa (Jan. 26)
Iowa started the season red-hot and has since cooled off a bit but this is the kind of team that can get hot offensively and put up 80-90 points in any given contest. Michigan State's defense shouldn't allow that at home, however, as AJ Hoggard, Walker, and Jaden Akins will all lock down the perimeter and force Kris Murray to try and beat them by himself. That won't work.
Prediction: Iowa 70, Michigan State 77 (15-6, 7-3)
at Purdue (Jan. 29)
The Michigan State basketball schedule for January concludes with its toughest test of the conference season: a road game against (current) No. 1 Purdue. The Boilermakers won't be the top team in the nation at this point, barring a wild run after losing to Rutgers at home, but they still love to feast on some Spartans in Mackey Arena. West Lafayette is where MSU's dreams usually go to die. This year will be no different.
Prediction: Michigan State 58, Purdue 73 (15-7, 7-4)
Writer says there's a huge gap between Purdue and Michigan State basketball
This seems like a wild claim.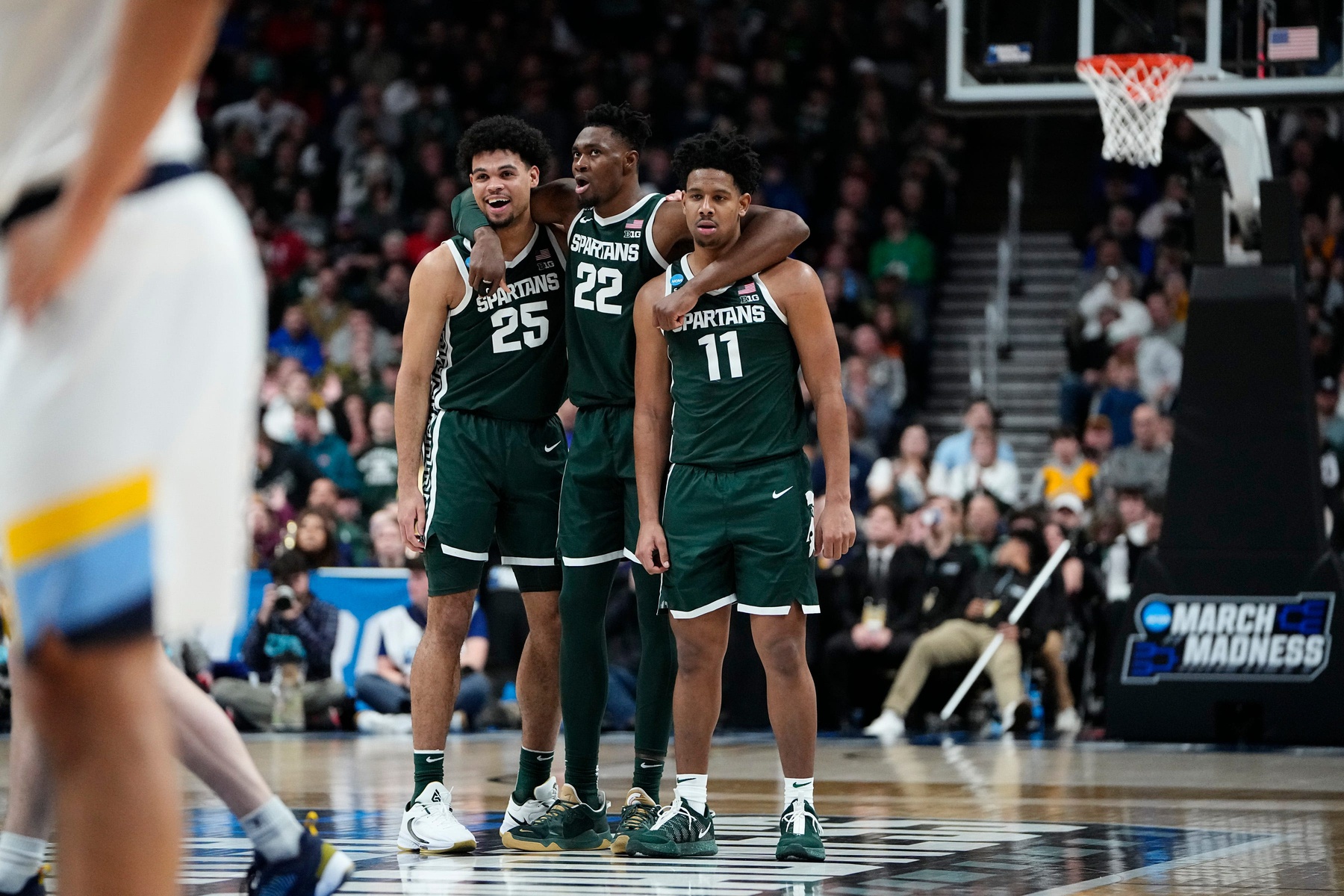 Gregg Doyel of the Indy Star claims that Purdue is "historically loaded" and there's a huge gap between them and Michigan State basketball.
With the news of Jaden Akins and AJ Hoggard returning along with Tyson Walker and Malik Hall to go along with the No. 4 recruiting class in the country, Michigan State basketball went from a conference title contender to a national title contender.
Essentially everyone who follows college basketball has Michigan State as a top-five team and right there in the Big Ten as 1B to Purdue's 1A — some even have it the other way around.
The Spartans bring back everyone but Joey Hauser to a team that went to the Sweet 16 and Purdue returns national player of the year Zach Edey to a Big Ten title team. Both teams are loaded and should be at the top of everyone's list when it comes to national title contention.
But one Indy Star writer believes that Purdue is "historically loaded" and the talent-and-depth gap between the Boilermakers and "everyone else" is as large as he's seen in years. Just a wild claim.
Zach Edey's return means Purdue is historically loaded. The talent-and-depth gap between Purdue and everyone else will be as large as we've seen in years:https://t.co/uXqI95grQM

— Gregg Doyel (@GreggDoyelStar) June 1, 2023
Gregg Doyel cites a solid incoming class to go along with Edey returning and the two freshmen guards with another year in the system. But he fails to recognize that Michigan State got even better. The Spartans are bringing in an even better recruiting class and they return their 2-3 most talented players from a year ago. The only loss is Hauser.
Saying that this year's Purdue team is far-and-away the most talented and deepest team in the Big Ten and the gap is the biggest it's been in years is asinine. There was a much larger gap last year.
Michigan State will go toe-to-toe with the Boilermakers and as long as Edey can be neutralized, the Spartans will have a chance to take them down for the Big Ten crown.
It's tough to say a team like Michigan State basketball that's 11-12 guys deep is not nearly as talented or deep as Purdue, but hey, let's put that early chip on the shoulder.
Michigan State Basketball: Allocating guard minutes for 2023-24
A lot of guards, not a lot of minutes to be had.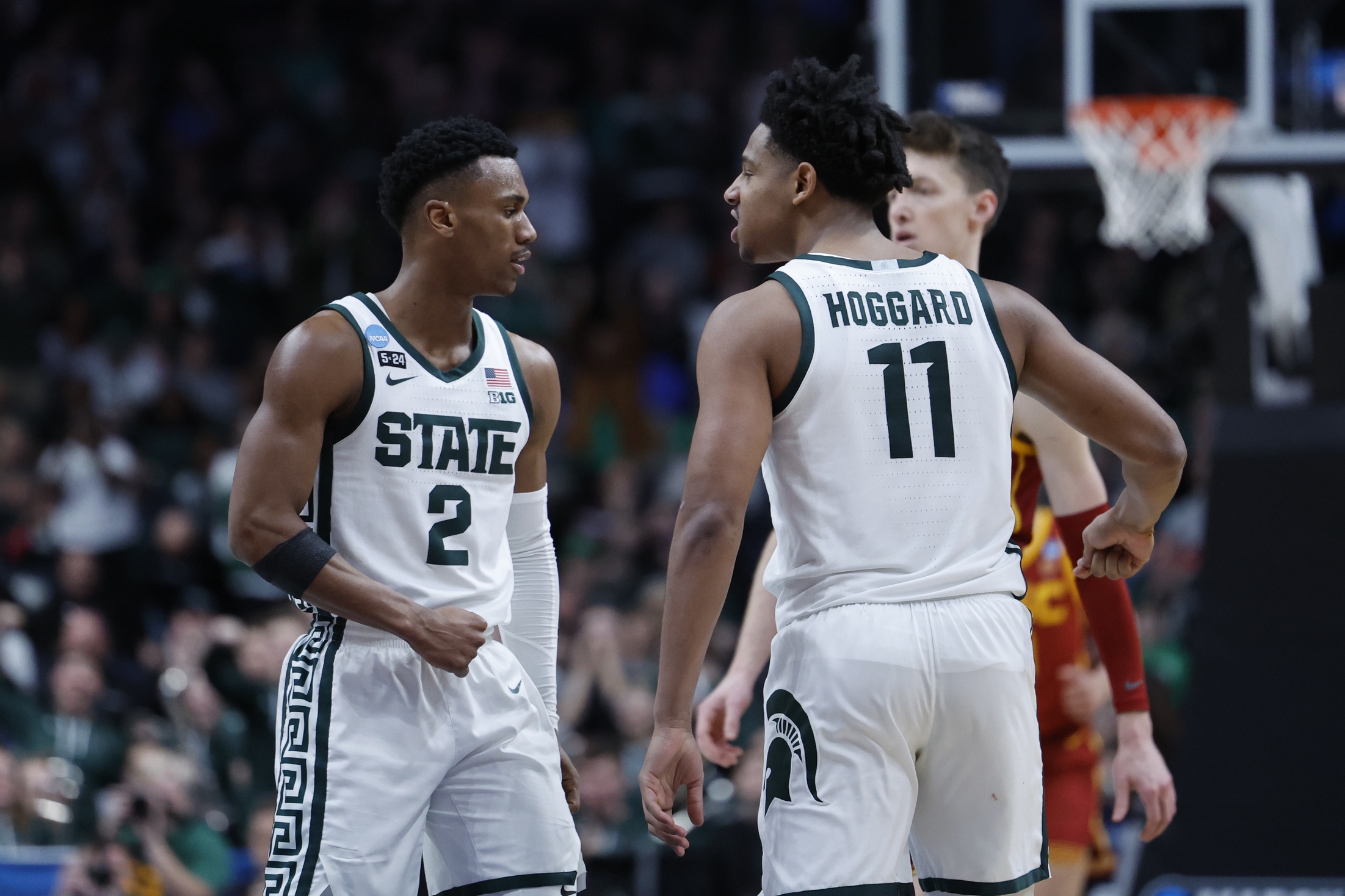 Michigan State basketball has an absolutely loaded backcourt heading into 2023-24. Let's allocate the guard minutes.
Michigan State basketball has a loaded backcourt with the news of AJ Hoggard and Jaden Akins returning next season. Add this on top of Tyson Walker coming back and Michigan State adding a four-star point guard in Jeremy Fears just loads up this back court even more.
Let's take a look at what the minute allocation could look like between the five guards on the roster.
Starters
The starting point guard is clearly set into place with AJ Hoggard starting 33 of 34 games last year. Next year's team still goes as Hoggard goes and he will most likely average 28-30 minutes per game. AJ being able to defend multiple positions allows him to play alongside any of the other three guards on the roster next year. He should average around 15 points per game and six-plus assists. Him being able to increase his 3-point percentage up to 35 percent next year should help his scoring dramatically.
The starting shooting guard is Walker who started in all 34 games last season and nothing will change this season. This team is going to rely plenty on Tyson to begin the season as this team continues to mesh with all of the different lineups. He played almost 34 minutes per game this season due to injuries and necessity. Tyson will take a step back and only play 30-32 minutes this upcoming season. He will look to average 16-plus points per game and 2.5-plus assists.
Backups
This may come as a surprise, but I believe the backup point guard role will fall to Tre Holloman. He has a year under the belt with the system and should take a step forward in his role. He is able to defend either guard position allowing him to play with any of the other four guards on the team. Holloman will play anywhere between 8-12 minutes per game and will look to be in a more featured role running the backup offense. Tre should average 3-5 points per game and 1.5 assists.
Jeremy Fears will fill in and be able to learn from a loaded backcourt while playing 6-8 minutes per game which could be pushed to 8-10 by the end of the season. Fears defense should rival what Walker brings to this team with this second group. Fears offensive role will look like Tre's freshman year and not looked upon much offensively. He should look to average 1.5-plus points and one assist per game.
Finally, Jaden Akins will fill in anywhere from 2-5 minutes at the two-guard spot. He can help fill an offensive role when Tyson is out of the game and can handle some of the pick and roll duties in this spot. Akins will mostly play on the wing as he started 25 games there last season. He is a guard, but he'll be forced into playing on the wing.
Minutes Summary
AJ Hoggard: 28-30 per game
Tyson Walker: 30-32 per game
Tre Holloman: 8-12 per game
Jeremy Fears: 6-8 per game
Jaden Akins: 2-5 per game
Akins did tweet this out the other day:
I am a GUARD!!😂

— Jaden Akins (@JadenAkins3) May 31, 2023
So he could see more ball-handling duties.
Jeremy Fears makes final cut for U19 USA Basketball team
Jeremy Fears could represent USA Basketball again.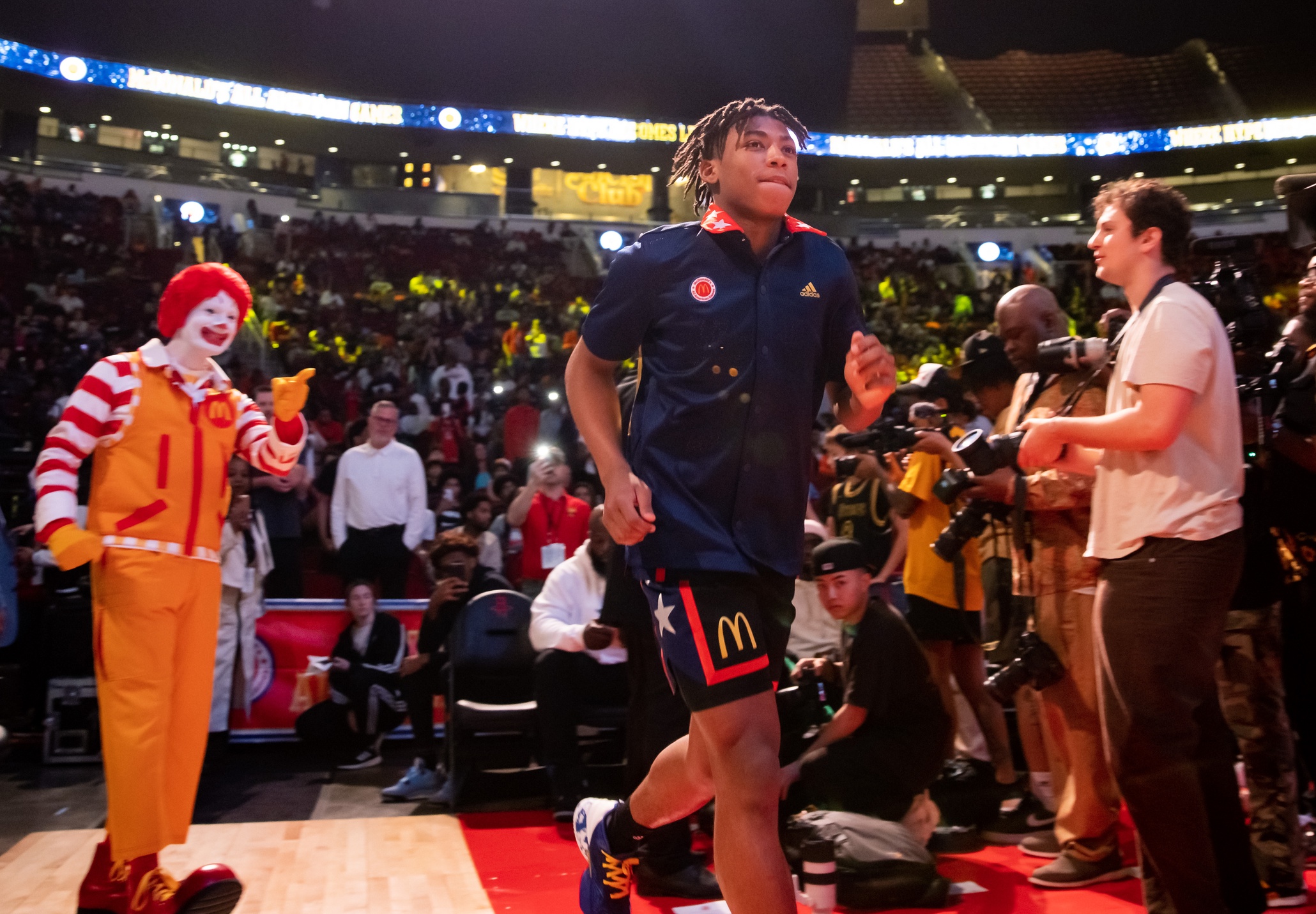 Incoming Michigan State freshman Jeremy Fears has made the final cut for the U19 USA Basketball team.
Incoming Michigan State basketball freshman Jeremy Fears is hard at work this summer. He is currently in the process of trying to make the final roster for the U19 USA Basketball team. Thirty-five athletes have been selected to participate in their upcoming training camp, and Fears is included on that list.
35 athletes expected to participate in #USABMU19 training camp June 11-18.

The final 12-man roster will compete in the 2023 FIBA U19 Men's World Cup June 24-July 2.

— USABJNT (@usabjnt) May 31, 2023
Training camp for these 35 athletes with take place June 11-18. Twelve players will then be selected to participate in the FIBA U19 Wold Cup at the conclusion of this training camp. The World Cup takes place from June 24 through July 2.
The 35 players consist of some athletes in the 2022 class that have one year of college ball under their belts. The pool of players also consists of athletes from the 2023 incoming freshmen class and the 2024 class who will be high school seniors. More than half of these participants have USA Basketball experience and ten of them have won gold for the USA already.
Jeremy Fears' USA Basketball history
Jeremy Fears is one of the 10 players mentioned to have already won gold for the USA. In fact, Fears has won a gold medal twice. He won the 2021 U16 FIBA Championships and in 2022 won gold in the U17 FIBA World Cup.
Based on this history alone, I love his chances to make the team again. The USA Basketball program is obviously very familiar with him already which gives him an advantage. Also, why wouldn't they want someone who has won two gold medals to play for them again?
Fears has yet to move in to East Lansing like some of his fellow members of his freshman class have. He likely will see this event out before moving to campus to start gearing up for the regular season. Michigan State has had many athletes compete with team USA in the past, so Tom Izzo is more than happy to let his players participate.
For the full USA Basketball press release, click here.