Michigan State Basketball: The great, good, bad, and ugly from Illinois loss
The Illinois game went downhill fast.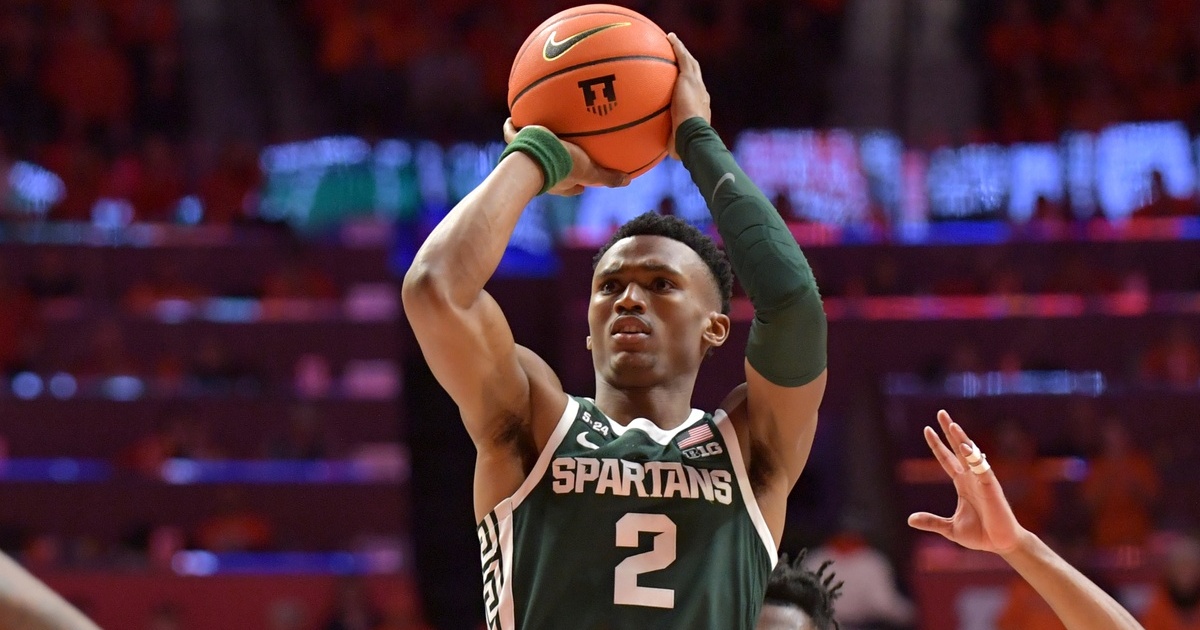 Michigan State basketball saw its seven-game win streak come to an end Friday night, after an ugly loss in Champaign against Illinois.
The longest active winning streak in the Big Ten was snapped Friday night, as the Illinois Fighting Illini beat Michigan State basketball with separate runs of 18-4, 8-2, and 7-0 throughout the game. In a weird showing in which Michigan State did not make a single 3-pointer, Illinois used the energy from a hostile environment to mount a comeback and eventual victory.
Despite tremendous efforts from both A.J. Hoggard and Tyson Walker, the remainder of the Spartans were mostly held in check. Malik Hall wound up with only two points before going down with an apparent ankle injury. Hall was forced to sit out the final 7:26 and was not available for the post-game press conference.
Before Michigan State attempts to get back on track against Purdue on Monday, here are the great, good, bad, and ugly from MSU's loss against Illinois.
Great: Rebounding
Rebounding, while constantly a staple of Tom Izzo teams, has been somewhat of a weak point this season. Thanks to the lack of a dominant big man for Illinois outside of Dain Dainja, the Spartans got back to the basics on the glass. Finishing the game with 42 total rebounds, Michigan State out-rebounded Illinois by 12.
Limiting the Fighting Illini on second-chance opportunities by corralling 27 defensive rebounds is far above MSU's season average. On the other end, Michigan State provided itself with plenty of opportunities after missed shots, collecting 15 offensive rebounds. In a normal performance with adequate three-point shooting, out-rebounding your opponent as they did Friday night will likely lead to success.
Good: Combination of AJ Hoggard and Tyson Walker
With Joey Hauser, Malik Hall, and Jaden Akins essentially irrelevant for most of the matchup against Illinois, the majority of the offensive pressure was put on A.J. Hoggard and Tyson Walker. Fortunately for Michigan State basketball fans, both players responded, giving us a shot in the end.
A.J. led the Spartans and matched Dainja for both teams in scoring with 20. It seemed after each timeout, Izzo and company would draw up a play that involved getting Hoggard to post up down on the block. A.J. did a great job converting on these opportunities, as our big man presence was not effective offensively, once again.
Walker logged a team-high 36 minutes against the Illini and when Hoggard couldn't get it done, Tyson could. Driving to the basket and finishing with an acrobatic layup in back-to-back possessions in the first half, Walker was getting to the hoop whenever and however he wanted. Unfortunately, along with the rest of the team, Walker's three-point shooting was off. Still, without his 14 points, the Spartans lose this game in a blowout.
Bad: Bench production
The Fighting Illini are an extremely thin team, only having eight players in their rotation on Friday night, as opposed to the normal 10-plus. For the Spartans, our bench players, normally led by senior Hall, are usually able to keep the ship righted. In Friday's game, the bench offered a total of just eight points. Six of those eight came from Carson Cooper who was called upon again and had a better-than-expected game.
Pierre Brooks and Jaxon Kohler have seemingly fallen completely out of the rotation, only logging two and three minutes, respectively. Both have been held scoreless over the last three games and continue to see their minutes decline.
Just two points from Hall is inexcusable. If it were not for his injury and the emergence of Akins, Hall would be in the starting rotation. A starting rotation-caliber player needs to offer more than just two points per game. Bad went to worse when Hall suffered an apparent ankle injury in the second half. While he did not have a walking boot after the game, there is plenty of concern for the senior who already missed eight games in November and December with injuries.
Ugly: 3-point shooting
The last time that Michigan State won a game without having hit a three-point shot was in 2014. Against the Illini, MSU finished the game 0-for-7 from deep. What is even weirder is that with five minutes left in the game, the Spartans had only three attempts.
Whether this was part of the game plan or not, the lack of attempts threw off any sort of 3-point shooting rhythm. When the Spartans found themselves down late and needing a big three, they could not buy a basket from deep. While Matthew Mayer and Illinois shot over 33 percent from three, Michigan State simply could not keep up. I don't expect this to be a repeating issue but even dropping one game in the Big Ten because of it is cause for concern.