Michigan State basketball one of nation's hottest 3-point shooting teams
This team is on fire.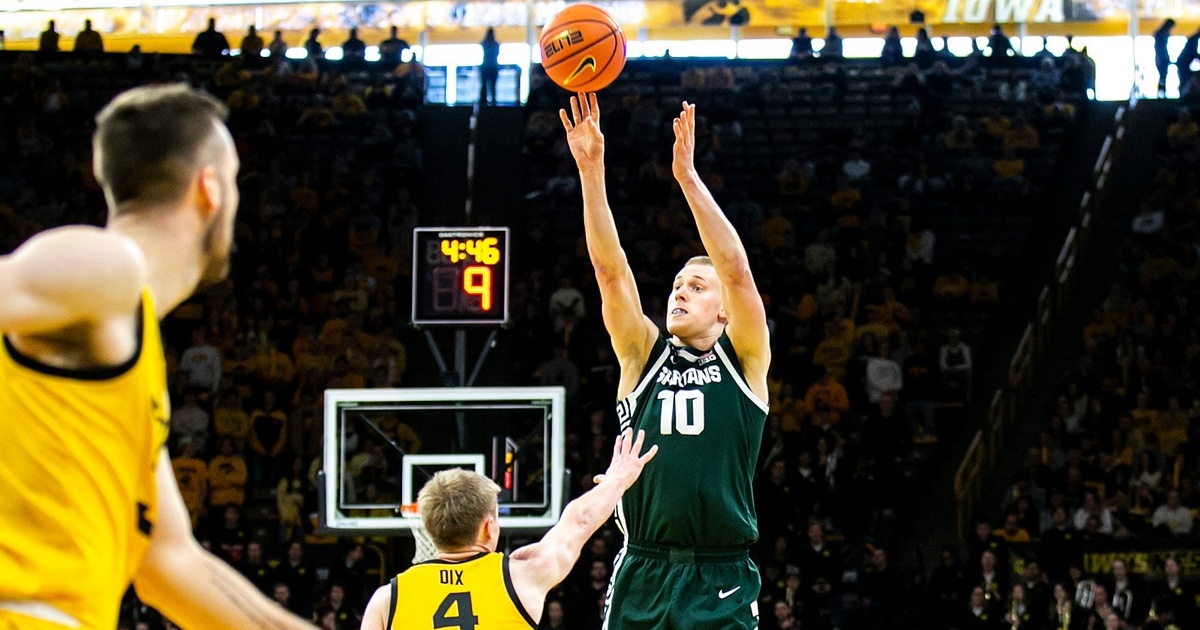 Michigan State basketball has caught fire from 3-point range recently and that may just be the missing piece to a deep run.
Michigan State basketball has been on a tear recently from one particular area. They are currently shooting 39.4 percent from 3-point range. That mark is good for sixth in Division I, and first in the Big Ten. Despite some stomach-wrenching games of late, the product on the floor has been entertaining to say the least.
Over MSU's last three games, it has shot an absurd 56.9 percent from deep, a stretch which includes two games on the road and No. 17 ranked Indiana traveling to the Breslin.
There are four players in the regular rotation who are shooting 40-plus percent from deep. Here are MSU's top shooters on the roster by percentage as well as their makes and attempts per game.
Joey Hauser – 44.8% (2.2/4.9 per game)
Tyson Walker – 43.4% (1.8/4.2 per game)
Jaden Akins – 43.2% (1.6/3.8 per game)
Malik Hall – 40.0% (0.8/1.9 per game)
The notable rotation player missing from this list is AJ Hoggard. While he is shooting a less respectable 29.2 percent, he can still use his ability to drive to distribute to everyone else on the floor. And there are key moments in the season where he hits the occasional clutch three when left open.
When the ball moves from side to side and lands in the hands of in-rhythm open shooters coming off screens, opponents are forced to pick their poison in terms of who to guard from deep. This is especially evident when MSU rolls with its small-ball lineup. The Spartans play that lineup 14.9 percent of the time per KenPom, the the second most common lineup behind the standard starters (Hoggard/Walker/Akins/Hauser/Mady Sissoko).
Their success from deep is not just on the offensive side of the floor, either. Outside of an anomalous barrage of threes from Iowa in the last 90 seconds of the baffling loss last weekend, MSU has also been defending from deep extremely well. They are allowing opponents to shoot 30.4 percent from deep, second-best in the Big Ten behind Rutgers. And if you look strictly at conference play, they lead the conference at 29.8 percent.
It should be noted that MSU defends much better when they play at the Breslin (23.6 percent allowed from deep versus 35.0 percent in away/neutral games).
When paired with their elite shooting on the offensive end, they boast the second-best 3-point percentage differential in the country at +9.0%. This comes in just ahead of Houston and Alabama, two likely No. 1 seeds in the NCAA Tournament.
Now Michigan State basketball has yet to put together a complete game on both ends of the floor, particularly with its interior play. But with an outside shooting differential like they've shown, the Spartans have the ability to get hot and run the other team out of the gym. History tells you that strong guard play leads to success in March. And with the tools at its disposal, MSU could certainly ride its four-headed 3-point shooting monster into the second weekend of the tournament, possibly farther.