Michigan State basketball reportedly playing Arizona in 2023-24
MSU will have another tough schedule ahead.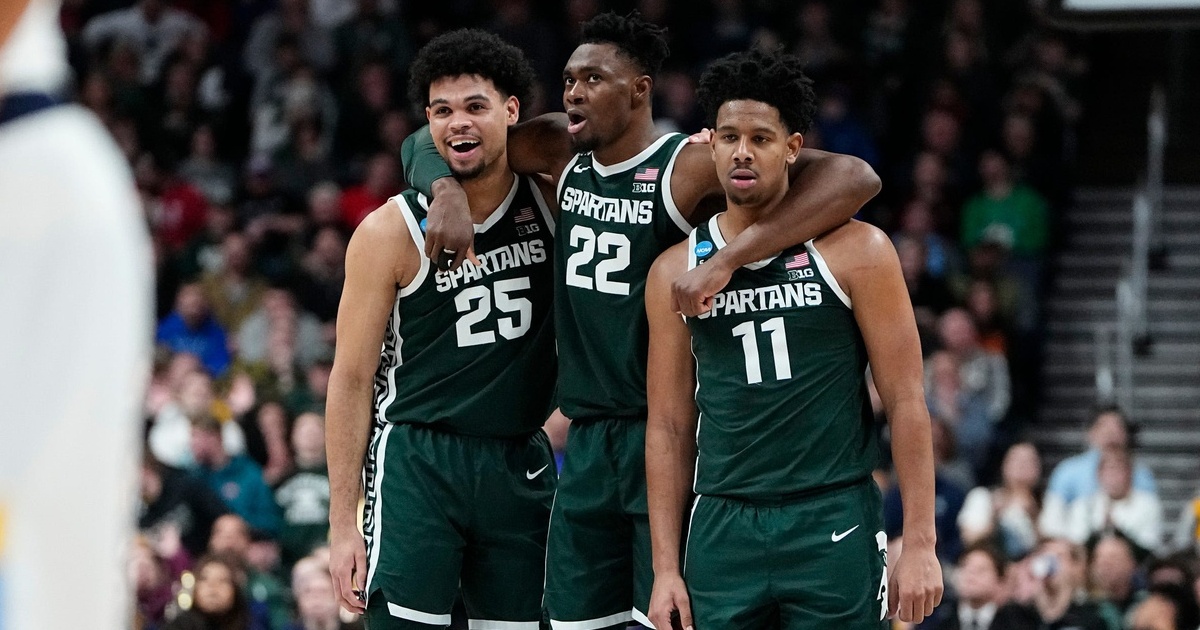 Michigan State basketball will reportedly be playing Arizona this upcoming season on Thanksgiving day.
Tom Izzo had a post-season wrap-up press conference earlier today, and he released some interesting Michigan State basketball news.
"I think we're playing Arizona out in Palm Springs," Izzo said.
Since then, it's also been reported that the game will take place in Acrisure Arena in Palm Desert, Calif.
NEWS: Arizona and Michigan State will play a neutral site game on Thanksgiving Day in Palm Springs, according to multiple sources.

The game will be televised on the FOX Broadcast Network after the Detroit Lions' annual game on Thanksgiving Day.https://t.co/VrkHP4XeiZ

— Jon Rothstein (@JonRothstein) April 12, 2023
Arizona has been a powerhouse in their last two seasons under Tommy Lloyd and will potentially be the preseason favorite to win the Pac-12 next season. A matchup between these two powerhouse programs could be very fun to watch.
The last time Michigan State played against Arizona was in 2016 in a non-conference game at the Stan Sheriff Center in Hawaii. Arizona won by two in the previous meeting, 65-63. They were led by Kobi Simmons, who now plays for the Charlotte Hornets, with 18 points. Current NBA player Lauri Markkanen added 13 points as well.
On the Michigan State end, Miles Bridges had 21 points and Nick Ward and Matt McQuaid both added nine. 
Arizona leads the all-time series against Michigan State, 4-2.
Rosters are anything but set right now, but looking ahead Jon Rothstein has Michigan State ranked No. 5 in his preseason "Rothstein 45″ poll. He projects the starting lineup to consist of A.J. Hoggard, Tyson Walker, Jaden Akins, Malik Hall, and Xavier Booker.
Rothstein has Arizona just outside the top 10, at No. 11. He projects their starting lineup to have Kylan Boswell, Pelle Larsson, and KJ Lewis on the perimeter, and Azuolas Tubelis and Oumar Ballo down low.
Tubelis and Ballo formed arguably the best big-man duo in the country this past season. It would be an early test for freshman Xavier Booker as well as returning bigs Mady Sissoko and Carson Cooper.
One of Michigan State's weakest attributes this past season was the consistent play from the center position, and a matchup with the Wildcats provides an early test.
Tom Izzo had Draymond convince Jaren Jackson Jr. to go to the NBA
Tom Izzo is unbelievably selfless.
Jaren Jackson Jr. was prepared to return to Michigan State for his sophomore year but Tom Izzo had Draymond convince him to leave.
There were a lot of things said about Tom Izzo and Jaren Jackson Jr. after the Syracuse loss in 2018. There were narratives that Izzo was losing his touch or that Jaren might not like Izzo. Both of these narratives proved to be wrong especially after Jackson's recent interview on Paul George's podcast.
Jaren Jackson Jr. talked a lot about MSU on Paul George's podcast yesterday, including this story I hadn't heard before: JJJ was set to come back for his sophomore year, but Izzo had Draymond call him to convince him to leave https://t.co/LGxr3GdDk5

— Kyle Austin (@kylebaustin) June 6, 2023
In this interview, Jaren talks about his time at Michigan State and especially about his decision after the season ended. For those who thought Jackson might not like Michigan State or would never consider going back, those narratives were proved wrong today.
Not only did Jaren say he considered it, he was scheduling his whole sophomore schedule right before the draft. Jaren's plan was to be at Michigan State for a second year. Imagine that team with him at center. Not only would Jaren have gotten better and been really good at Michigan State, but that would have been one of the most loaded teams, talent-wise, the Spartans would've ever had. While that was Jackson's plan, that wasn't Izzo's. 
In fact, Izzo had Draymond Green, a player who had never talked to Jackson before, call him and convince him to go to the NBA. Draymond was asking Jaren: "What are you doing?"
Eventually, Jackson would enter the draft and get selected in the top five. This probably worked out the best for Jaren as he is a young star especially on the defensive end. While this worked out on his end, what does this say about Tom Izzo?
This shows that Izzo isn't going to make a player stick around if he thinks they're ready. Izzo saw the potential of Jackson and that it would be the best interest for him to go to the NBA. Was this the best interest of the basketball program? Probably not, but it shows that the whole narrative around Jackson and Izzo was never true. Why would Jaren want to go back to Michigan State if he was mad about everything that happened?
This just is another example of how Izzo wants what is best for his players and is not afraid to push someone out the door if he thinks they are ready for the next step.
Michigan State Basketball: Allocating forward/wing minutes for 2023-24
How will the wing/forward rotation play out?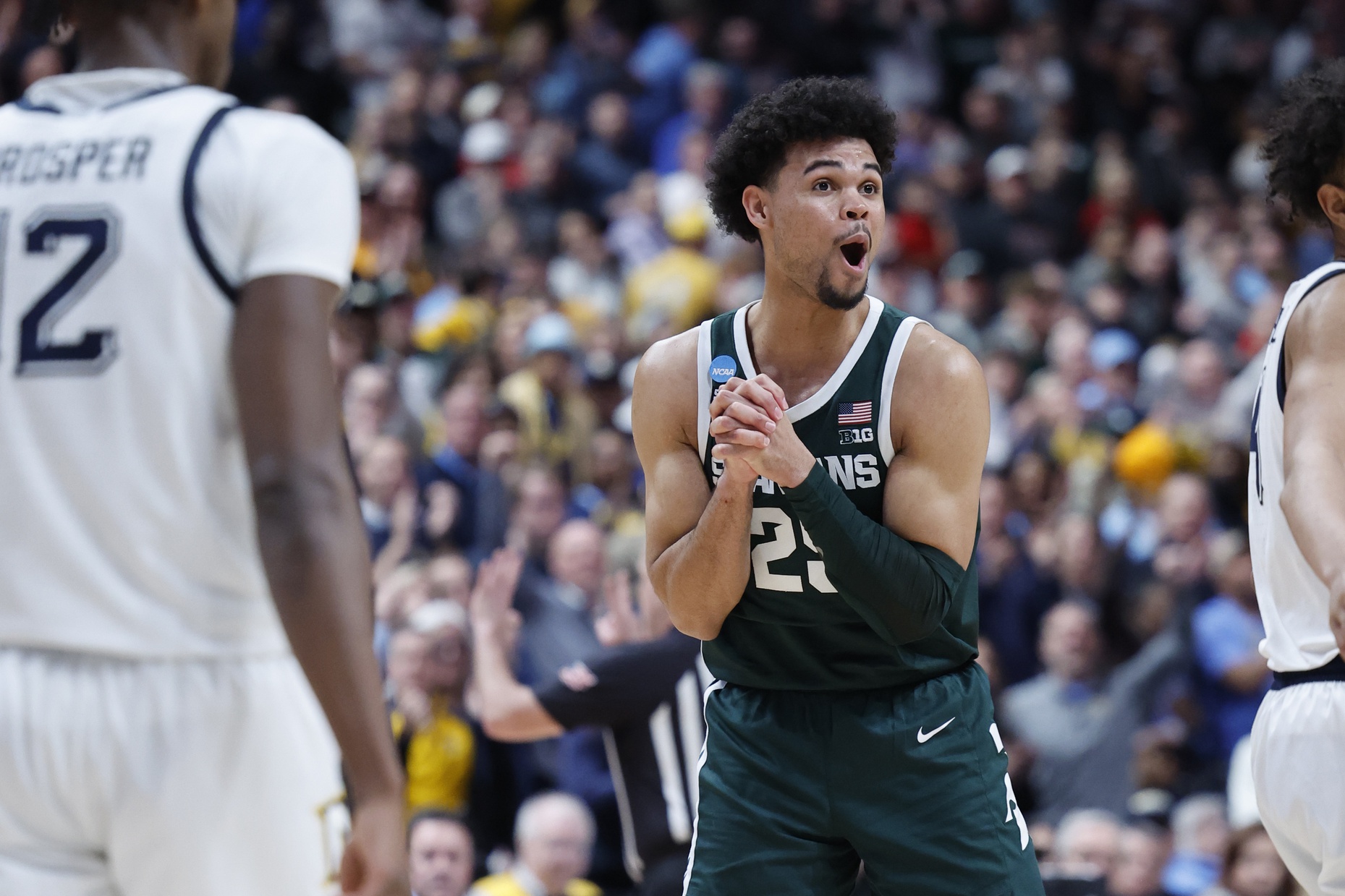 What could the forward/wing minutes look like this upcoming season for Michigan State basketball with Jaden Akins and Malik Hall back?
This Michigan State basketball team is going to be reliant on some new faces at the forward/wing positions going forward as it loses Joey Hauser to graduation. Being able to replace Joey's 34 minutes, 14 points per game, seven rebounds, and 45 percent shooting from three is going to be difficult to replace.
But this group isn't lacking in talent just not a whole lot of experience.
This group will be led by Jaden Akins on the wing (I know he doesn't want the "wing" label) and Malik Hall at forward as the only two returning guys in this position group.
Adding to this group will be five-star freshman Xavier Booker and four-stars Coen Carr and Gehrig Normand.
Let's dive into the forward/wing minutes for 2023-24 Michigan State basketball.
Starters
The starting wing is clearly going going to be Akins as he announced he was returning last week. Akins is a major asset to this team on the offensive end but even more so on the defensive end. He will get between 2-5 minutes at the guard position and should average 25 minutes at the wing position. Akins will find himself as one of the top options on the offensive end due to the loss of Hauser. I would expect him to become more of a ball-handler in the pick and rolls and on pin down screens. Michigan State fans will expect an increased role offensively which should lead to him averaging 13-plus points per game.
At the power forward position, this could go one of two ways with either Malik Hall or Xavier Booker. Hall probably gets the nod early on in the season, but I would expect Booker to take this spot over. Booker will be able to provide length, good defense, and enough offense with the starters to become the starter. I would expect Booker to average around 18-20 minutes per game in this role and around 8-10 points and six-plus rebounds per game.
Backups
Hall will be coming off the bench but really that's just in title. He will be an extremely valuable piece to this team and will help close out games during crunch time. His ability to handle the ball, get others involved, create his own shots, and his experience will lead the bench group. He should expect around 22-24 minutes per game at the forward position and 2-4 minutes coming at the center position when MSU needs to play small ball.
A healthy Hall should average around 10-plus points and five rebounds per game.
Coen Carr is a cause for major excitement for Michigan State basketball fans due to him being a tremendous athlete. Carr will be able to play at either forward position due to his athleticism but expect to see him more at the power forward position. The athleticism is only part of Carr's game, but he will need to become a more consistent offensive threat. Coen's ability to defend will put him in a good position to earn minutes early on as a freshman. I would expect Carr to average around 8-10 minutes per game. I wouldn't expect a major offensive game from Carr but expect some rim shaking dunks in transition or on the pick and roll.
Gehrig Normand seems to be the odd guy out in the freshman class currently. But he has the ability to earn the most time if neither Carr nor Booker aren't getting the job done. Normand provides shooting that this team may need which may slide Malik to the power forward role. He provides a greater offensive scoring threat which the bench may need. I would expect Gehrig to average around five minutes but could find himself outside the rotation if he isn't able to defend at a high level.
Minutes summary
Jaden Akins: 25 minutes per game on the wing; 2-5 minutes at guard
Xavier Booker: 18-20 minutes per game
Malik Hall: 22-24 minutes per game at forward; 2-4 minutes at small-ball center
Coen Carr: 8-10 minutes per game
Gehrig Normand: 5-7 minutes per game
Has Michigan State basketball had the "perfect" offseason so far?
The MSU basketball offseason has felt so much better than football's.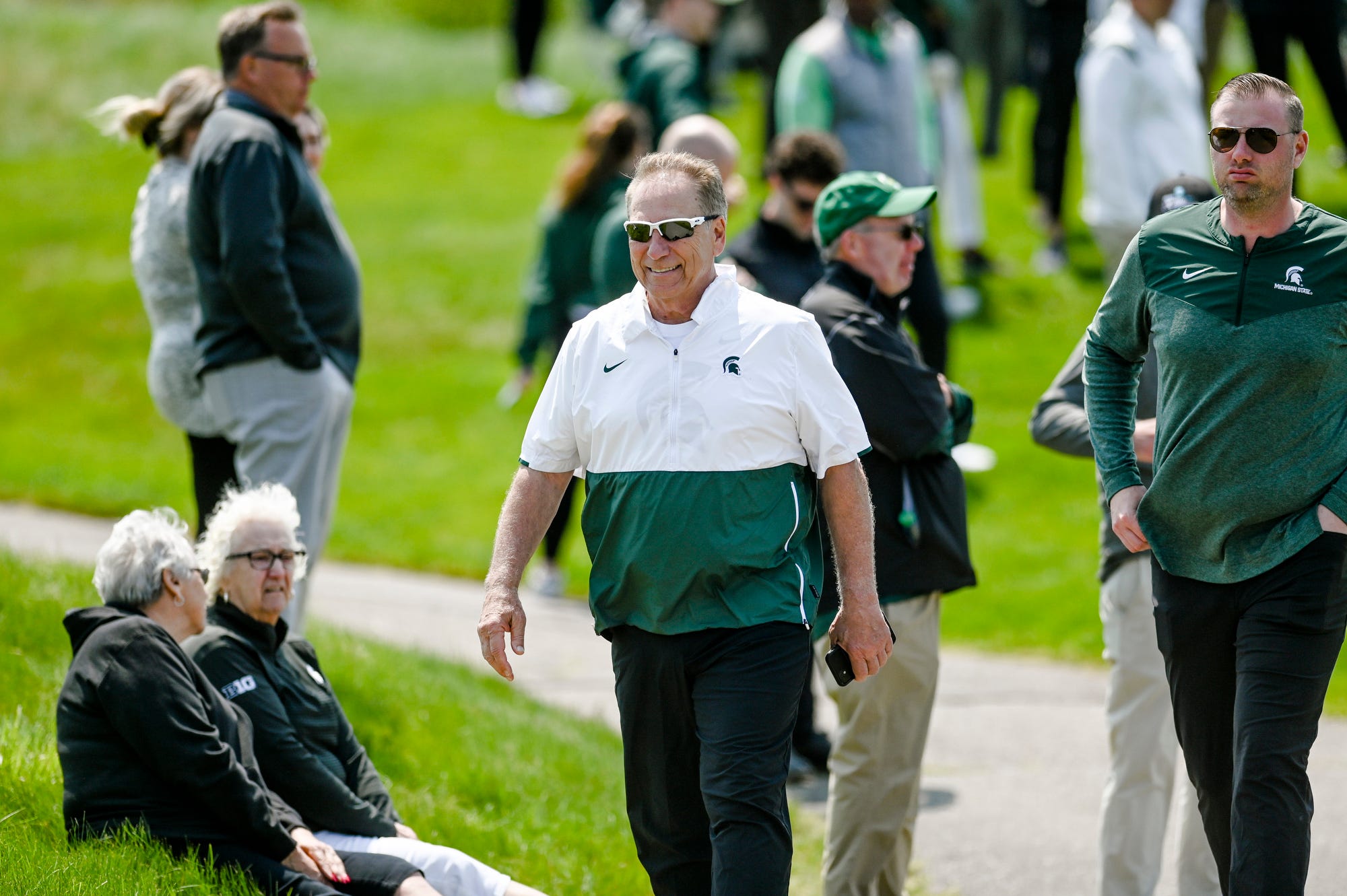 Unlike the football program so far, Michigan State basketball has had an impressive, almost perfect offseason.
Anything is possible in today's college basketball world. We have seen some crazy things with the one-time transfer rule and NIL in full effect. Star players like Hunter Dickinson are transferring to powerhouse programs like Kansas and some players are leaving the schools they love just to chase money. We are even seeing incoming freshman reopening their recruitments in June.
I'll say it again, anything is possible in college basketball today. It seems nearly impossible for a program to have a perfect offseason nowadays. Whether they want their players to stay or they need to get a high-profile transfer to join their team, no program gets everything they want. However, I would argue that Michigan State basketball has had the perfect offseason, or as close to it as reasonably possible.
No key players transferring to new programs
As I mentioned before, star players in a great positions at their programs are still deciding to transfer. Almost every program has someone significant decide to leave the program. Thankfully for Michigan State, that did not happen this season.
Pierre Brooks is the only player to transfer to a new program when he decided to take his talents to Butler. I never like seeing players leave the program, but I think everyone saw this coming. Brooks would have struggled to make the rotation again this year, so it makes sense for him to find a better fit somewhere else.
The transfer portal can be a scary thing, but the Spartans survived it this year.
Players deciding early to return
Whether it be deciding to enter the transfer portal or go pro, some athletes take a long time to make their final decision. Michigan State, on the other hand, got a lot of good news early this offseason. Both Malik Hall and Tyson Walker announced they were returning to Michigan State early on in the offseason.
Both could have attempted to go the pro route. However, both didn't even tempt those waters. Arguably Michigan State's best player and this past season's sixth man are coming back for another year and that's massive.
Players withdrawing from the NBA draft
Jaden Akins and AJ Hoggard both entered their name into the NBA Draft. I thought it was possible for Akins to keep his name in the draft, but nobody ever knows what a player will decide to do. All it takes is one team to promise they will draft them and that player could be gone. Thankfully for Michigan State, that did not happen to either player. Both Akins and Hoggard announced their return to Michigan State on May 31 much to all Spartan fans' delight.
Incoming freshmen class
To round out the perfect offseason, Michigan State's elite freshmen class has stayed intact. This class is No. 5 in the country and is bringing in four players who can contribute from day one.
Once players sign, usually that means the drama is over. That, however, is not the case anymore. A decent amount of players have asked to be released from their commitments to their program, including one top player who decommitted from Kansas on June 3. With all of Michigan State's returning production, this could have been possible for one of our incoming freshmen. Thankfully again, this did not occur to the Spartans, and the class has remained committed.
The one negative you could argue
There is one negative thing you could argue that happened to Michigan State this offseason. That is Joey Hauser deciding to go pro and not return to Michigan State basketball for a final season.
Like Brooks, I think most expected this, but I can't deny how amazing it would have been to have him back again next year. However, who knows what could have happened if he did return. Maybe another player decides to transfer because there aren't enough minutes to go around. Maybe an incoming freshman decides he'd be better off somewhere else. Nobody knows what would have happened if Joey came back. With all the positives that occurred this offseason, I am fine with Hauser deciding to leave the program.
Michigan State has everything to play for next season. A conference title, Final Four, and national championship are all very realistic. Michigan State will likely be a top-five team in the country to start the season, and that is thanks to a near-perfect offseason for the program.