Michigan State basketball: Ranking 2023-24 non-conference opponents
Yet another tough non-conference slate for Izzo and Co.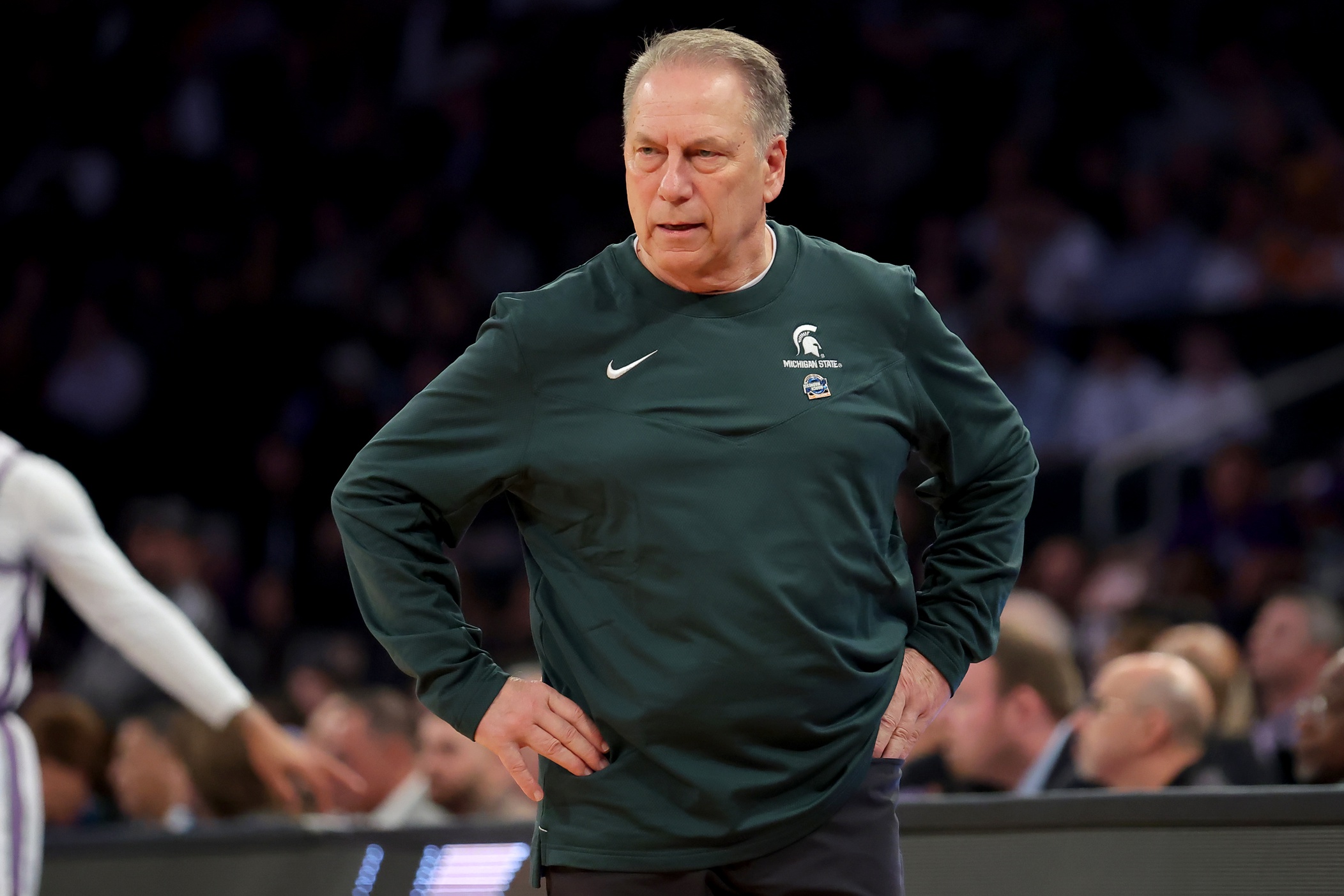 Michigan State basketball has yet another tough non-conference schedule this season. Let's rank the opponents in terms of toughness.
Michigan State basketball has some major expectations coming into the 2023-2024 season. These expectations have been brought in by the end of last season and the freshman class brought in by Tom Izzo and staff. The Spartans and Izzo are always up for a challenge to kick off the season and this year is no different.
Let's rank and take a look at the non-conference schedule of the Spartans for the 2023-24 season.
11. Stony Brook (11-22)
The Spartans play Stony Brook on Dec. 21. Stony Brook finished last year 10th in the Colonial Athletic Association Conference. The Seawolves return their leading scorer Tyler Stephenson-Moore, averaging 14.3 points per game. Stony Brook also returns key contributors in Kenan Sarvan, Toby Onyekonwu, and Kaine Roberts who have started a total of 61 games. This should be an easy victory for the Spartans and should be a nice morale boost before Christmas.
10. Georgia Southern (17-16)
Georgia Southern travels to East Lansing to take on Michigan State on Nov. 28. The Eagles finished 9-9 in the Sun Belt with first-year coach Charlie Henry. This team is in rebuild mode as they return Tyron Moore a 5-foot-11, 185-pound point guard who averaged 9.7 points per game with only 11 starts. The Eagles also return Carlos Curry a 6-foot-11 graduate center who averaged 7.2 points per game and had 26 starts a year ago. This team lacks size as the only player taller than 6-foot-10 is Curry.
9. Indiana State (23-13)
The Sycamores come into the Breslin Center on either Dec. 29 or Dec. 30. Indiana State finished fifth in the Missouri Valley Conference a year ago. This a team that lost a lot of starters from a year ago and only returns its fourth, sixth, and seventh-leading scorers from last season. Indiana State returns Robbie Avila with 10.6 points per game and Julian Larry with 6.9 points per game. This team will rely on a lot of new players and faces from a decent season in the prior year. Indiana State is the best mid-major record team from a year ago but returns the least number of players from a year ago.
8. Southern Indiana (16-17)
The Screaming Eagles will face the Spartans on Nov. 9 as their second non-conference game of the year. Southern Indiana returns its leading scorer in 5-foot-10 point guard Isaiah Swope who averaged 15.6 points per game and started 31 of 33 games last year. The supporting cast returning is Tyler Henry who averaged 7.8 points per game and made 11 starts. Also with the supporting cast from a year ago is Gary Solomon with 5.6 points per game and 13 starts.
7. Oakland (13-19)
On Dec. 18, the Oakland Golden Grizzlies will come to the Breslin to face the Spartans. The Golden Grizzlies took on the Spartans in the 2022-23 season losing 67-54. Oakland returns the 6-foot-6 Trey Townsend who scored 14 points in the game a year ago and was its second-leading scorer a year ago. They also return Blake Lampman who scored 11 points and 5 steals in the game against MSU a year ago and the ex-MSU player in Rocket Watts. This team looks like they should be better in 2023-2024 and should be a more complete team this upcoming season.
6. Alcorn State (18-14)
The Spartans take on Alcorn State on Nov. 19. In the history of Michigan State basketball, the Spartans have played the Braves one time, winning 118-60 in 2008. The Braves return Dominic Brewton, Jeremiah Kendell, Byron Joshua, and Dekedran Thorn who in total averaged 45 points a year ago. Those four players totaled 84 starts a season ago. The Braves will look to win the Southwestern Athletic Conference after finishing second in the SWAC a year ago.
5. James Madison University (22-11)
JMU will travel to the Breslin on Nov. 6 to take on the Spartans in their first non-exhibition game of the season. James Madison finished fourth in the Sun Belt a year ago and will be looking to make the tournament since 2013. The Dukes return Terrence Edwards a 6-foot-6 wing who led the team with an average of 13.3 points and 5.1 rebounds per game. Other major returning players for JMU are Noah Freidel and Julie Wooden who averaged over 8 points per game. Finally, this team returns more than 70-plus starts for a mid-major team that finished in the top five of their conference. This will be a nice opening win for Michigan State basketball as this team could fight for a bid in 2023.
4. Butler (14-18)
Michigan State will play the Butler Bulldogs on Nov. 17. The Spartans get Butler as a part of the Gavitt Games again. The last time these two teams played, MSU won 73-52 in 2021. The Bulldogs finished ninth out of 11th last year in the Big East. Thad Matta will be going into his second year as the head coach looking to have a better season than a year ago. Despite last year, this team returns its top two scorers in Jayden Taylor and Simas Lukoslus. Both top scorers averaged more than 11 points per game. Additionally, this Butler team adds in Posh Alexander from St. Johns and former Spartan Pierre Brooks II. This looks to be a difficult game coming off of the Duke game just three days earlier.
3. Baylor (23-11)
The Baylor Bears will take on the Spartans in a neutral site game at Little Ceasars Arena. This game will be played on Dec. 16. The Bears return Jalen Bridges a transfer from West Virginia before the 2021-22 season. Bridges averaged 10.3 points, and 5.6 rebounds and had 34 starts on the season last year. This team will look to replace one of the top transfer portal players in LJ Cryer in the 2023-2024 season. Scott Drew has looked to replace him with transfers in Ray J Dennis from Toledo and Jayden Nunn from VCU. Also, Baylor went out and got Yves Missi a four-star recruit who has a chance to be an elite rim protector and the 14th-ranked player in the 2023 class in Ja'Kobe Walter. This team will be a difficult matchup for Michigan State, but it may take a while to click as they will have 3-4 new starters in the lineup in 2023. In the way too early preseason rankings, the Bears come in at 20th overall.
2. Arizona (28-7)
Michigan State basketball will take on the Wildcats on Thanksgiving Day in Palm Springs, Calif. This game will be a part of the Acrisure Invitational as the headliner of the invitational. The Wildcats will need to replace a major piece of this team in Azuolas Tubelis. Despite this loss, they replace him with transfers in Keshad Johnson from San Diego State, Caleb Love from North Carolina, and Jaden Bradley from Alabama. A staple of a Tommy Lloyd team is to run with pace and this team looks to be built no differently. However, this team will still be built around Oumar Ballo who averaged 14.2 points and 8.6 rebounds per game. If this team is seeking to compete for a Pac-12 championship and a national championship they will have to become a better defensive team than a year ago. Lloyd will have to find a balance in Caleb Love's shot selection to get the most out of this team.
1. Duke (27-9)
The Blue Devils will take on the Spartans as a part of the Champions Classic on Nov. 14. The game will be played at the United Center in Chicago as one of three neutral-site games for the Spartans. This Duke team has a lot of expectations with four starters coming back from a season ago. From the star-studded freshman class, a year ago this Blue Devils team returns Kyle Filipowski, Tyrese Proctor, and Mark Mitchell. Meanwhile, they also return veterans Jeremy Roach and Ryan Young. Duke also adds to this two five-stars to a freshman most notably shooting guard Jared McCain. This will be the first true test for both of these teams with major expectations entering the season. Can Michigan State beat a top-five team in its first neutral-site game of the year?
Can the Spartans go 11-0 or 10-1 in the non-conference? How will this Michigan State team do during conference play with no true road tests in the non-conference slate?