Michigan State Basketball: What centers can improve on going forward
Guard play is not an issue, but if MSU is going to contend, the centers must step up.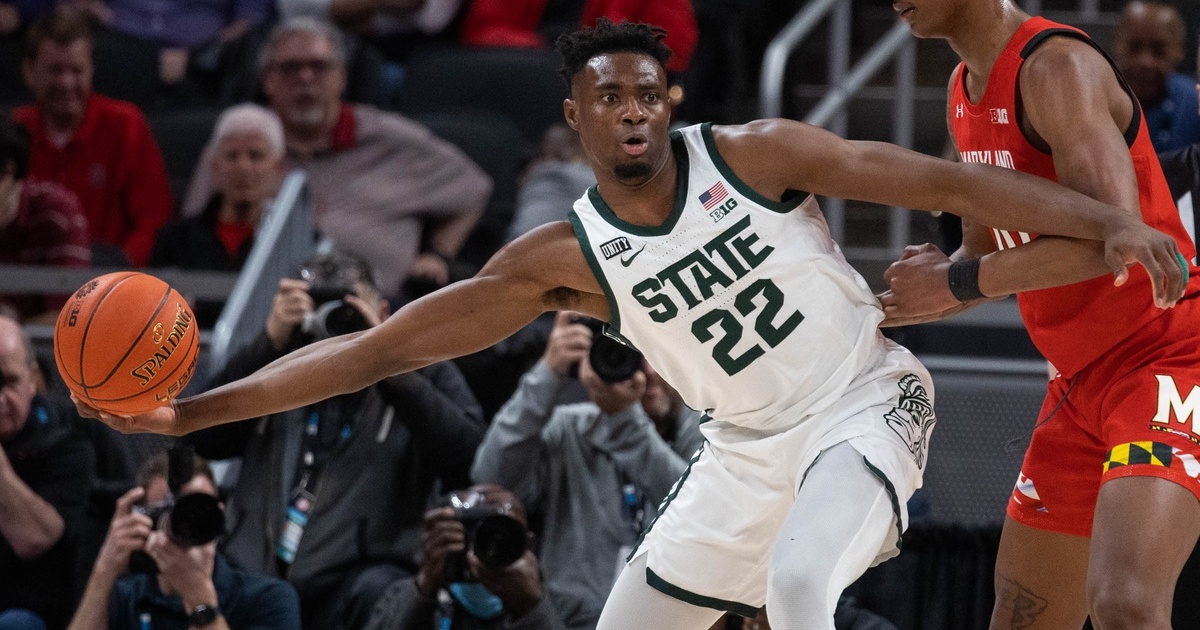 When you think of Michigan State basketball, the first thing that comes to mind is good guard play. Now let's focus on centers.
Michigan State basketball has the guard and forward play to win the Big Ten. While the guards, AJ Hoggard and Tyson Walker, should lead this team going forward, the centers will determine if they can win the Big Ten and beyond.
The Big Ten is loaded with big-time centers so let's take a look at how the Michigan State bigs stack up and what they can improve on.
Mady Sissoko
Now a lot of people are going to say that MSU should have gone into the portal and gotten a center but I'm going to disagree with this. Mady Sissoko is not going to be a major offensive threat on the low block but that's not really what this team needs. Michigan State has options to go on the low block in AJ Hoggard and Malik Hall. The major thing that this team needs out of Mady is being able to defend and rebound.
If Mady can become a better pick-and-roll defender by being able to show and get back, that will be a major key for this team. If Mady can continue to improve and make Big Ten bigs' lives more difficult, it will help this team going forward.
Mady's offensive game this year is going to be a lob threat and a great screener which is all MSU needs from him. He is currently averaging 6.3 points per game and 7.1 rebounds.
Jaxon Kohler
Moving on to Jaxon Kohler who has been somewhat of a disappointment to most fans. Most thought he would push to be the starting center by the end of the season but that looks to not be the case. He has struggled defensively, and his offensive game has been spotty so far this season. Kohler may be a better offensive option on the low block than Sissoko will be all year, however. But he will find himself in the doghouse with Tom Izzo not being able to defend.
Kohler will greatly benefit from an offseason in the strength and conditioning program. I think he is still quite the project on the defensive end for Izzo and the staff.
Jaxon is averaging 3.3 points and 3.3 rebounds in 12.2 minutes per game.
Carson Cooper
Carson Cooper was supposed to be taking a redshirt this season going in but has been needed in spot minutes so far. After the Wisconsin game, he has shown that he can be serviceable defensively due to his length and athleticism. He will also benefit from putting on some strength in the offseason to help with his defense on the block.
Offensively, Cooper still has puppy paws and really is just a lob threat as of now. He could find himself playing more minutes going forward due to him being better defensively than Kohler at this point. Carson could see himself playing more minutes against bigs who can stretch the floor and more pick-and-roll teams.
Cooper is averaging 1.3 points in 5.5 minutes.
For Michigan State basketball to be a contender in the Big Ten and beyond, this trio needs to be better on the defensive end as a collective unit. Izzo and his staff will look to improve these centers through the rest of the season.