Michigan State football: Best NFL draft fits for Jayden Reed
If Reed wants to flourish in the NFL, these teams need to take him.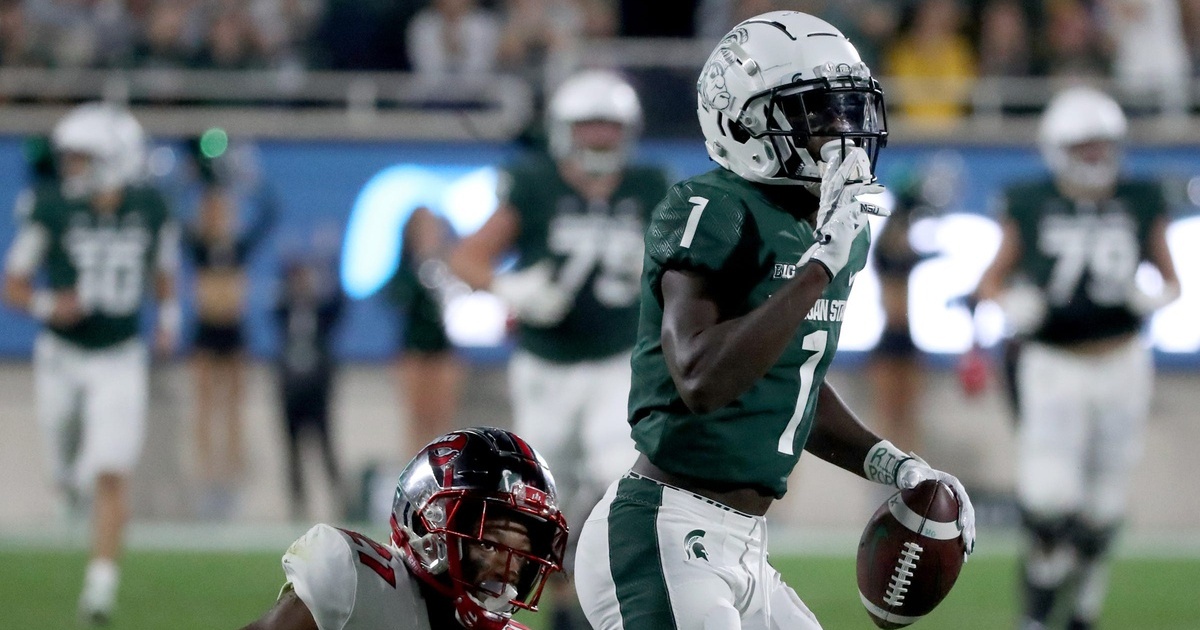 Jayden Reed is hoping to hear his name called early this weekend. Which landing spots would be best for the Michigan State football star?
The first round of the NFL draft begins on Thursday, but we likely won't see any Michigan State football players taken until at least Friday when round two begins.
Jayden Reed will almost assuredly be the first Spartan taken in the draft. The standout wide receiver made a substantial impact for MSU during his three seasons, catching 18 touchdown passes while amassing over 2,000 yards. But how does his game translate to the NFL?
The biggest knock on Reed is going to be his size and athleticism. At 5-foot-11 and 187 pounds, Reed is on the smaller side. For receivers at that size to stick in the NFL, they usually complement that size with elite speed, elusiveness, or route running ability. Reed's 4.45 40-yard dash is solid, but not tremendous. His 33.5-inch vertical ranked near the bottom of all receivers at the NFL Combine. He has a slight build with a below-average wingspan. NFL.com ranked him 33rd among all wide receivers in athleticism in the 2023 draft class.
What Reed does have going for him is that at MSU, he played much bigger and stronger than that profile suggests. He continuously came down with contested catches – especially in the red zone. He developed outstanding chemistry with Payton Thorne and became lethal on back-shoulder catches. Jayden was also able to add versatility to his game by being a key contributor on special teams. He returned two punts for touchdowns at MSU while flipping the field on several other occasions. In the NFL, with limited roster spots available, any kind of versatility can be the difference between a spot on a roster and a spot on the couch.
Outside of 30-45 guys in each class that are just special talents, so much of a given player's success in the NFL depends on the landing spot. Does that team know how to get the most out of that player? Does that player relate well to the coaches and executives within the facility? Will the player even have an opportunity to prove himself based on the current depth chart? We're all rooting for Jayden Reed to have a long NFL career. We know he can do it wherever he lands.
But here are three spots that I think give him the best chance to succeed.
1. New York Giants
Full disclosure, I expect the Giants to address their receiver needs in round one of the NFL draft. They could also explore trading for a veteran. But if the board falls a certain way and they decide to wait for better value later on, this would be a great spot for Reed.
The need based on their current roster is obvious. The Giants' receiver room currently consists of Isaiah Hodgins, Darius Slayton, Paris Campbell, Jamison Crowder, and Sterling Shepard. Slayton was the team's leading receiver in 2022 with 724 yards across 16 games. Hodgins came on late in the season and is probably their most promising receiver as things currently stand. But the rest of that group is filled with low-upside veterans.
Youth is needed.
If Jayden Reed lands in New York, he should be able to compete for starting reps in three-receiver sets almost immediately. Campbell and Shepard are not what they used to be physically due to serious injuries. Crowder will be 30 by the time the season starts after catching just six passes with Buffalo in 2022. Even if the Giants take another receiver, they could be looking for more depth later on. In that scenario, I still think this is a good spot for Reed based on the depth chart and the head coach.
Brian Daboll is arguably the hottest offensive coach in football right now after turning around the career of quarterback Daniel Jones. He has been praised for adapting his game planning and strategy around the strengths of his personnel and the weakness of his opponents. He's a coach that can be trusted to use Reed in a way that accentuates his strengths.
The Giants check the boxes when it comes to opportunity and coaching. There is potential for Reed to see a lot of snaps from day one if he's selected by New York.
2. Pittsburgh Steelers
In recent history, nobody has been able to uncover hidden gems at the receiver position in the later rounds of the NFL draft like the Pittsburgh Steelers. Antonio Brown, Diontae Johnson, Juju Smith-Schuster, George Pickens, and many more have risen to stardom in the Steel City after being selected on day two or three. Reed has the potential to be the next name on that list.
The opportunity isn't as robust as it is with the Giants because the Steelers' wide receiver group is much healthier. Johnson and Pickens are the unquestioned starters in 2023. Veterans Allen Robinson and Anthony Miller will likely see snaps in three and four-receiver sets as well. But the Steelers have rarely used the draft as a way of filling immediate holes. They took Pickens last year when many assumed they were set at the position with Johnson and Chase Claypool. They took Smith-Schuster in 2017 when they already had Brown and Martavis Bryant. So even though the room may appear crowded at the moment, the Steelers have shown that they're not afraid to add a player at a position of strength.
From a football fit, I think this spot would be great for Reed as well. Pickens is a different type of receiver than Reed, working mostly deep and outside the numbers. Johnson does most of his damage in the short to intermediate game but was a complete non-factor in the red zone last season catching zero touchdowns. Reed offers a nice blend between those two styles. He can work short and, in the slot, while also winning contested catches downfield and in the end zone. The Steelers may even see him as a potential replacement for Johnson after his contract is up in 2024.
Pittsburgh hasn't had a reliable running game to lean on in years, and it's hard to see their offensive line improving drastically in one off-season. This should create plenty of opportunities for their receivers to make an impact. The ideal scenario for Reed is to slowly work his way into the offense and lean on the development within the organization that has led to so much success for other receivers.
The departure of punt returner Steven Sims leaves the door open for Reed to find a way onto the field immediately via special teams. This fit isn't ideal right now, but the Steelers are a strong organization that develops receivers better than any other team in the NFL. When they draft one, they usually see something other teams don't.
3. Baltimore Ravens
We'll stay in the AFC North for our last team to go in-depth on.
For all of the positive things that can be said about the Steelers and wide receiver development, it's hard to argue that the opposite isn't true with the Ravens. Baltimore has had a very difficult time developing wide receivers in the Lamar Jackson era. Their current top options are Odell Beckham Jr. and Rashod Bateman. Both are coming off serious knee injuries in 2022. Journeyman Nelson Agholor will be in the mix as well. James Proche and Devin Duvernay have proven to be nothing more than depth pieces in their time with the Ravens. Any way you slice it – opportunity waits for an incoming receiver in Baltimore.
The Beckham signing could mean that the Ravens will look to add depth at the position later in the draft. If that is the case, they'll likely give Reed a strong look.
Unlike most teams, the Ravens' recent draft history at the position suggests they aren't afraid of smaller receivers. Hollywood Brown, Proche, and Duvernay are all similar to or smaller than Reed.
It's a low-volume passing offense, and Lamar's true No. 1 receiver is tight end Mark Andrews. But it's no secret that the Ravens will need to upgrade the position – especially if they want to keep Jackson happy. Reed's versatility as a receiver and run-after-the-catch ability should be intriguing for a Ravens offense that needs playmakers. His ability as a returner should be that much more appealing to a special teams savant like John Harbaugh.
The Ravens are a unique situation for any receiver given the offense, but I think it would be an ideal spot for Jayden Reed. The opportunity to play for a winning organization and a winning coach as a player that plays bigger than his size and measurables feels like a tremendous fit.
Miles Bridges posts interesting Snapchat with Michael Jordan
Miles Bridges is eyeing an NBA return.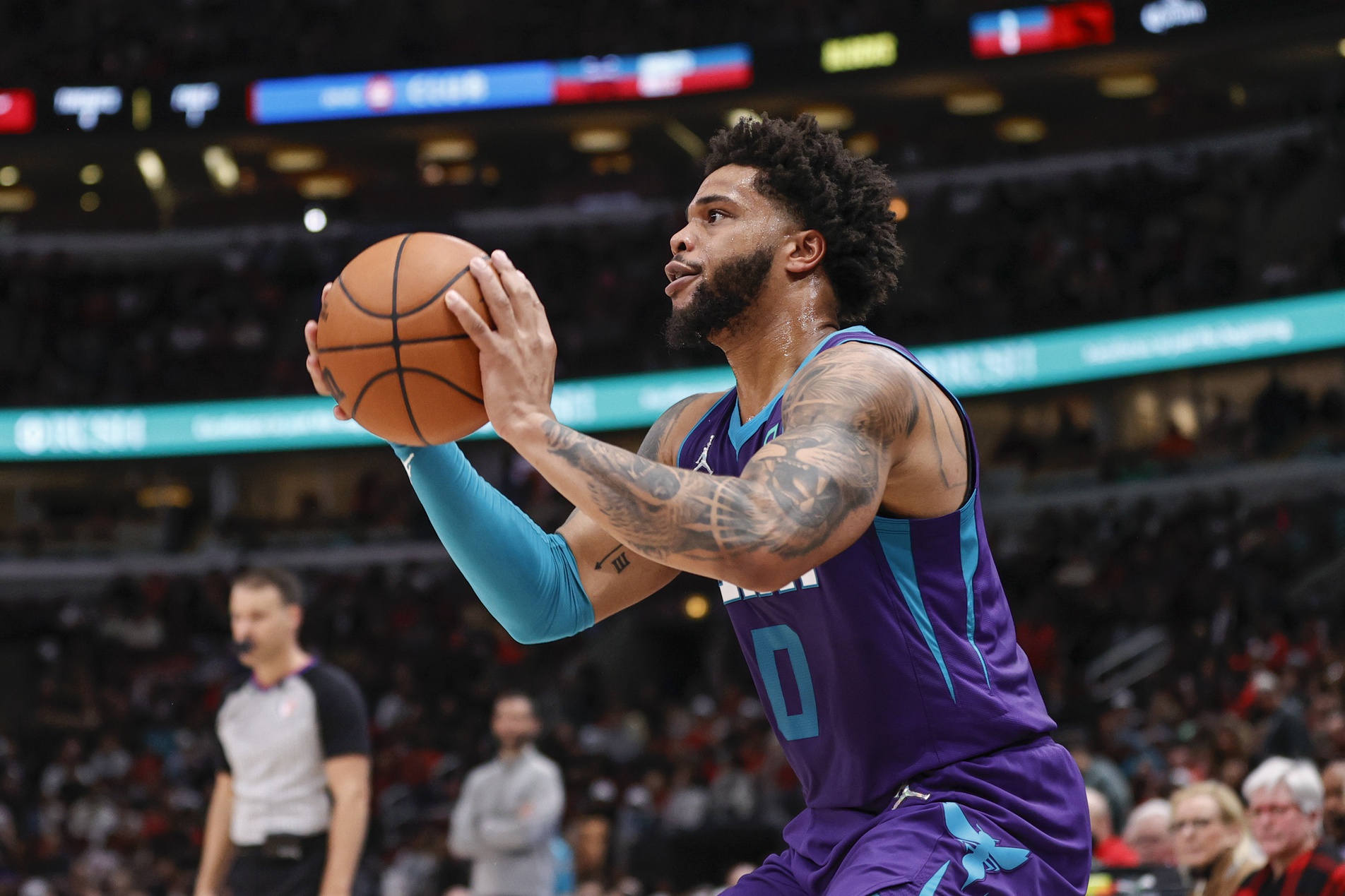 Miles Bridges has been out of the NBA for a year after getting into a domestic incident but it looks like he may be back soon.
Former Michigan State star Miles Bridges posted a picture on Snapchat of him talking to Michael Jordan on Saturday.
Miles Bridges on Snapchat 👀 pic.twitter.com/mAdSZu9cvx

— Legion Hoops (@LegionHoops) May 20, 2023
After being out of the NBA for a year, this could be a hint at a return despite the controversy that would follow him.
Off-court issues
Bridges has been in a lot of trouble off the court this past year. That is not something we need to dive into now, but Bridges missed all of last season due to serious legal issues. However, with Miles' legal battle now complete, he is now able to play in the NBA again. The NBA suspended Bridges for 30 games but has ruled 20 of those games as being served. If an NBA team were to sign Bridges, he would have to sit for just 10 games before he can play again.
NBA career
The picture above may be an indication of which team is looking to sign Bridges. Miles has spent his entire NBA career playing with the Charlotte Hornets. Jordan is the owner of the Hornets, so this picture shows that Bridges may be looking to re-sign with his former team.
Bridges has played four seasons in the NBA. During that time, he is averaging 13.4 points, 5.6 rebounds, and 2.3 assists. His best season by far was his last. In the 2021-22 season, he averaged 20.2 points and 7.0 rebounds while shooting nearly 50 percent from the field. He has shown constant improvement during his career, but there is a lot of unknown with where his game is at now.
Relationship with MSU Fans
Michigan State fans do not support Miles like they once did. He was one of the most loved Spartans especially after he made the decision to return for a second season in East Lansing. Spartan fans continued to watch and support him during his NBA career as well. That all changed once his off-court legal issues began last year.
It will be interesting to see how all basketball fans treat Bridges if he makes a return to the NBA.
Gary Harris back taking Michigan State classes to earn his degree
Gary Harris hasn't given up on that degree.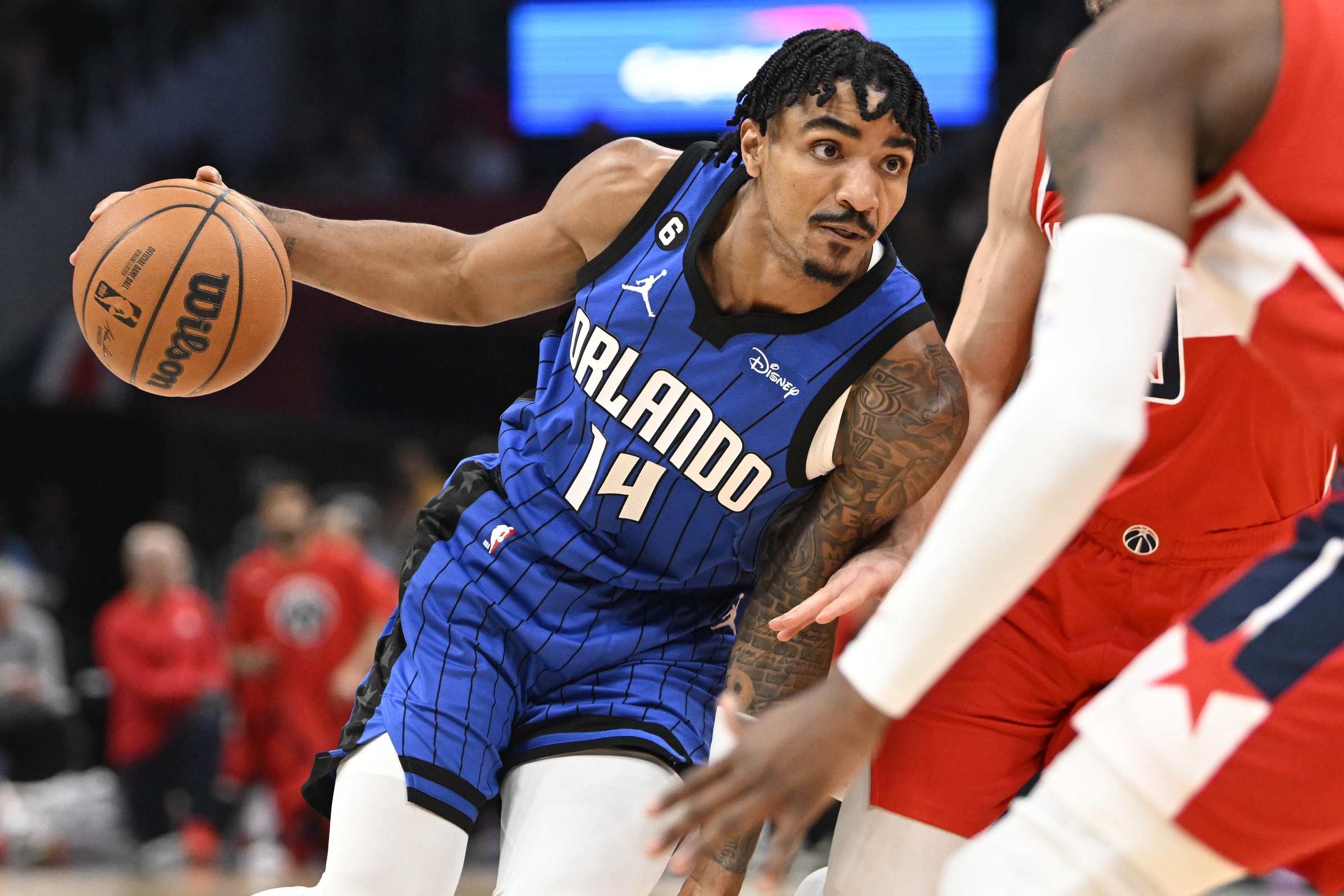 Gary Harris is back taking summer classes at Michigan State so he can earn his degree during the NBA offseason.
Every NBA draft cycle, players leave college early to pursue their dreams of playing professionally and making millions. What often gets overlooked when that happens is that the players who leave early surrender a chance to earn their college degrees on schedule.
Some players who leave early decide to go back and finish their degree which is a really cool move and it shows that they took college seriously.
Others don't think twice about their degrees and just play pro ball.
Gary Harris is the former group.
According to @dudenamedcald on Twitter, Harris is taking classes at Michigan State currently so he can finish his degree. He posted a screenshot of a discussion post by Harris in one of his friend's summer classes.
The goat Gary Harris is getting back to hitting the books for MSU. An absolute class act by Gary

Spartan dawg 4L 💯 pic.twitter.com/mzhFYgagPy

— down bad cald🔋 (@dudenamedcald) May 19, 2023
Imagine taking a summer class at Michigan State and then seeing a "discussion post" from a "Gary Harris" and then reading it just to see if it's the Gary Harris. And then it is.
Harris, currently residing in Indiana over the summer, just wrapped up a season with the Orlando Magic in which he averaged 8.3 points and shot 45 percent from the floor, 43 percent from 3-point range, and 90 percent from the free throw line. His averages have gone down, but his shooting percentages remain elite.
But he's clearly not content with being just an NBA starter. He wants to earn that MSU degree.
Leaving after the 2013-14 season, Harris was drafted No. 19 overall in the first round of the 2014 NBA Draft by the Chicago Bulls. He played two years at Michigan State and then earned a borderline NBA Lottery draft grade but slid to 19. Harris was then traded to Denver where he was one of the league's brightest young stars for seven years. For the past three years, he's been Orlando's "veteran" wing.
And soon, he'll be a graduate of Michigan State University.
Brian Lewerke gets another opportunity to play pro football
Brian Lewerke is headed back to Michigan to play pro ball.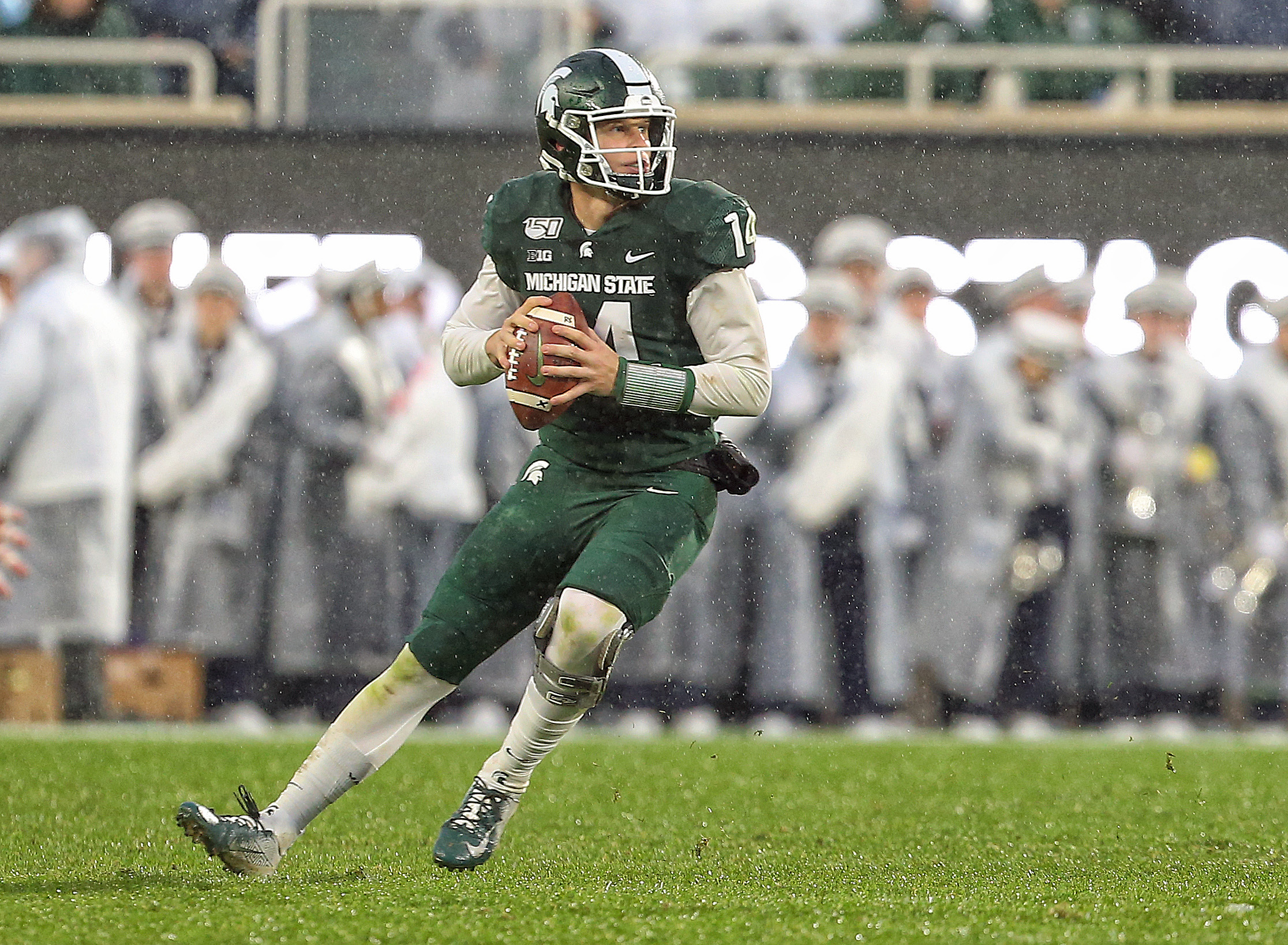 Brian Lewerke will be joining former MSU cornerback Josh Butler in the USFL with the Michigan Panthers.
After spending a couple of stints in the NFL with the Patriots and Giants as a practice squad member, Brian Lewerke is getting another shot at professional football.
On Wednesday evening, the USFL's Michigan Panthers announced the signing of Lewerke.
Free Agent Signing:
QB Brian Lewerke, Michigan State

Transferred Player to Inactive Roster:
QB Brian Lewerke

Released:
LB Santrell Latham

— Michigan Panthers (@USFLPanthers) May 18, 2023
Lewerke was signed after Carson Strong, the previous backup quarterback, was placed on injured reserve. He will now get a chance to compete for a prominent role on the roster with Strong injured and Josh Love not exactly setting the world on fire.
Quarterback play has not been a strength for the Panthers.
In four appearances, Strong had 266 yards and a touchdown with two interceptions. Love, on the other hand, has started five games and has 617 yards and six touchdowns with five picks. Neither quarterback has really stood out and that's one of the reasons the Panthers are 2-3 and tied for last place.
Lewerke has spent time around the NFL with the Patriots and Giants and he was also in the XFL this past season for a few months, signing with the Seattle Sea Dragons. He was released in January.
Now he'll look to catch on with the Panthers and potentially enter a more favorable situation. This could be a good spot for him to play professional football, especially since the Panthers need some quarterback help.
Lewerke had a decent career at Michigan State, passing for over 8,000 (fourth in MSU history) yards and 47 touchdowns (fifth in MSU history). He also has two of the top three single-game passing yard performances in Michigan State history and two of the top 10 single-season passing yardages.
Michigan State fans will get another opportunity to watch him live as there are two more home games left in the regular season for Lewerke to play at Ford Field.
The former Spartan quarterback will join Josh Butler who was signed by the Panthers earlier this spring.