Michigan State football: 3 fearless predictions at Iowa in Week 5
Could we see a Nathan Carter masterclass?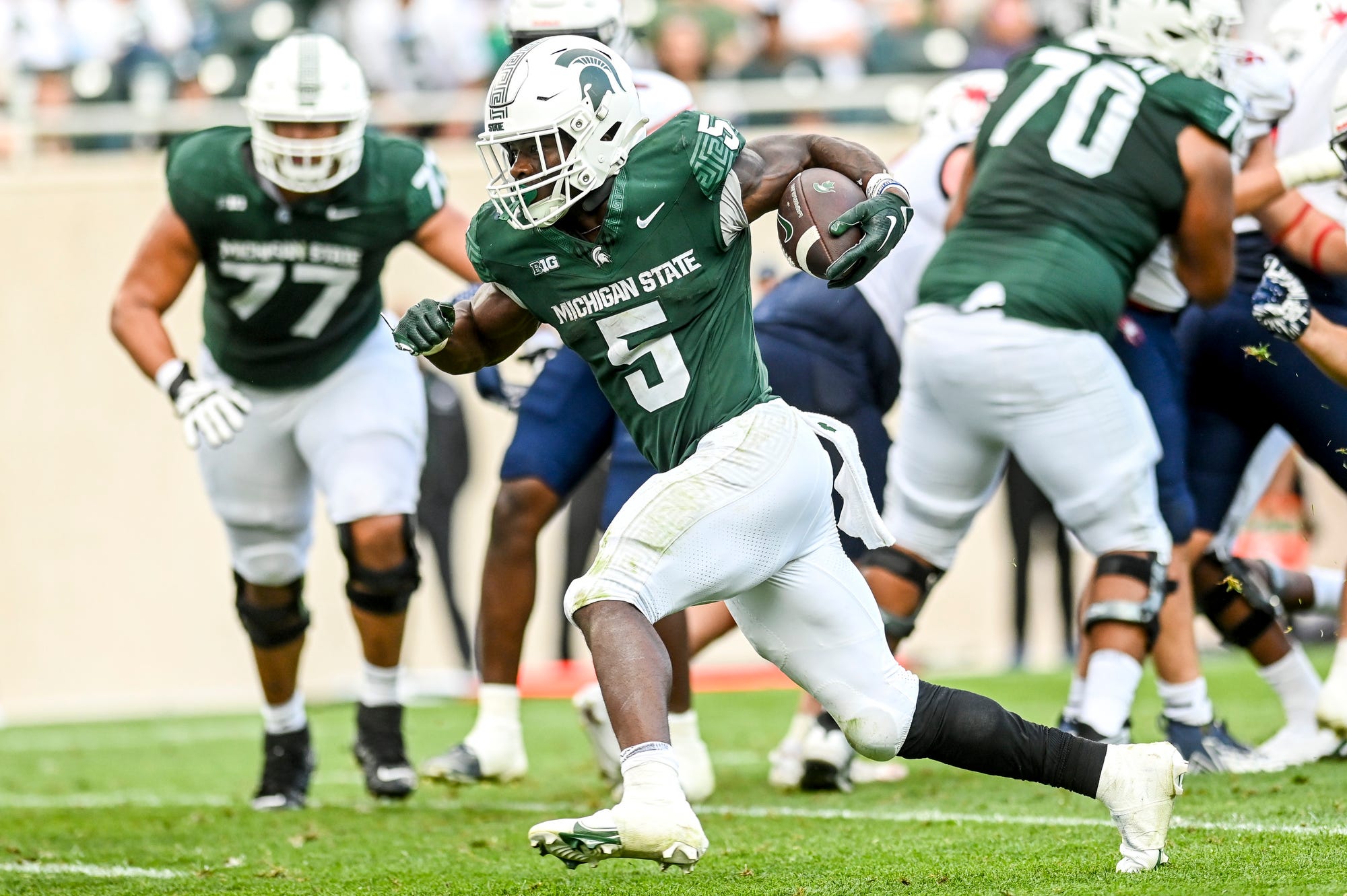 Iowa will host Michigan State football on Saturday for a battle between two anemic offenses. Who comes out on top?
Well, it's almost game day and Michigan State football is trying to shake off an ugly stretch of games. The Spartans started the season 2-0 before losing to Washington and Maryland by a combined score of 72-16. Things won't get much easier as they go to Iowa City to face the Hawkeyes in Week 5.
So without further ado, let's dive into some fearless predictions for the matchup.
1. Michigan State records three sacks
Is this really that bold of a prediction? Well, given the fact that Michigan State has a grand total of zero sacks and five tackles for loss over the past two games, yes, yes it is bold. The Spartans haven't picked up a sack since the Richmond game.
Fortunately for Michigan State, Cade McNamara has been sacked in each game this season, including twice at Penn State last week and four times against Western Michigan the week prior. I think the Spartans will get to him three times, surpassing Penn State's sack total from last week's blowout. They may even tie the season-high in sacks in a single game against the Hawkeyes with four, but I'm sticking with three.
2. Nathan Carter rushes for 100-plus yards
The last time Nathan Carter went over 100 yards on the ground was the Richmond game in Week 2. It was a simpler time back then before all the drama with Mel Tucker and the university. He struggled against Washington with no running lanes in sight but bounced back against Maryland with 97 yards on 19 carries. He's going to have a second straight quality game against a Big Ten foe, rushing for over 100 on the road against the Hawkeyes.
Iowa is known for having a stingy defense, but the Hawkeyes are allowing over 130 yards per game on the ground this season. As long as the offensive line gets even a little push, I can see Carter having a big day.
3. Michigan State holds a lead late in the second half
Playing at Kinnick Stadium at night is usually a death sentence for visitors. Fortunately, this Iowa team is not as good as some of the past. The offense is anemic and the defense is solid but not quite "dominant" like usual. Does that mean I expect Michigan State football to win? Absolutely not. But I do think this game will be closer than people expect.
The line is 11.5 points in favor of the Hawkeyes and I think the Spartans cover and even hold a lead in the fourth quarter. Will they hold onto that lead? If I'm going to be honest, I'm predicting no, but I see a one-score loss for Michigan State.
A late lead isn't going to account for any moral victories, but it should show that this team hasn't given up.