Michigan State football at Iowa: Week 5 Hopalytics preview
Will Iowa City become upset city?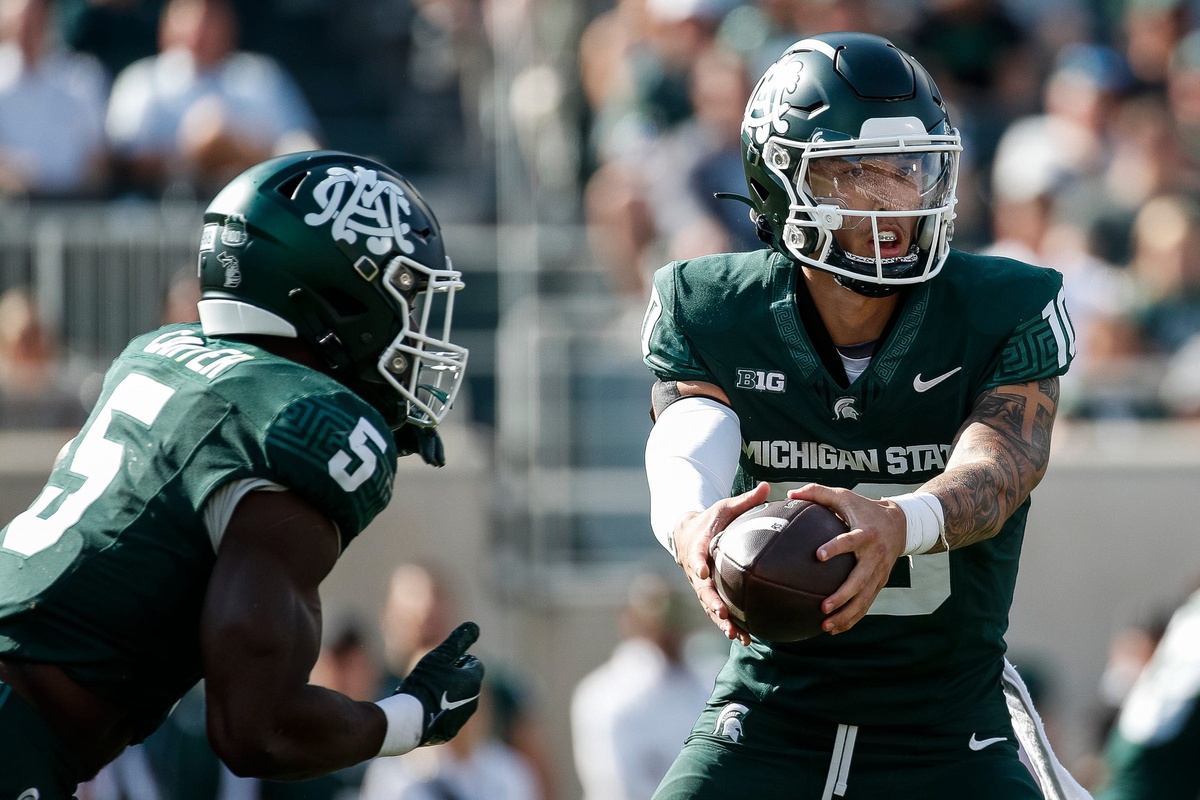 Michigan State football travels to Iowa on Saturday for its first road game of the season. Will we be smelling upset?
The first away Michigan State football game of the year is on Saturday and a lot is on the line. The Spartans travel to Kinnick to play Iowa at night. Not exactly an easy first away game. Add all the extra noise from this year, this could be extra tough. With or without my green goggles on, I feel cautiously optimistic for a few reasons. I'll share them with you below.
But first, let's talk about that Maryland game. The game last weekend that Michigan State lost 31-9 but felt far closer than the final score leads you to believe. That gave me a little hope. There was some fight, but the coaches totally let the players down.
OK, leaving that game in the past now. Let's get on with the funny stuff.
If head coach Harlon Barnett can 'be a dawg' and keep this locker room together, we have a fighting chance. We also learn who the true Spartan Dawgs are this week now that Mel Tucker was officially fired, the 30-day transfer portal has opened, and this is game five (redshirts).
Here's what you need to know:
Drive to survive

It's not a secret but Iowa offensive coordinator Brian Ferentz has to average 25 points per game or his contract expires. Right now, he has to put as many points on the board as he possibly can.  That said, I think it is all a ploy and they will just draft a new contract for him if they fail to reach that goal. Just a little side action for you to keep an eye on.

Moveable object meets stoppable force

What has MSU's biggest weakness been over the last four years? The secondary, duh. Who has the worst passing offense in the country (don't fact-check me)? That's right, Iowa. I came across the craziest stat this morning: Iowa receivers only have 14 receptions all year. They've played more quarters of football than they have had receptions.  This is the ultimate sickos game to watch.

Career day incoming

Based on my second bullet point, this means one of Iowa's receivers is going to have a career day on Saturday. I don't know who it will be, but I'm expecting 2020 Ricky White vs. Michigan kind of numbers. Absolutely destroy a secondary and then just dip like it never happened. I'm about to throw up because this game is making me think about MSU vs. Iowa basketball last year.
Prediction: MSU 21, Iowa 17
Katin Houser plays the second half
2 Jordan Hall tackles for loss
2 rushing touchdowns (burgers, @HopCat)
Toodle-loo,
HopMan