Michigan State football: Realistic post-spring expectations for 2023
What should we really be expecting from this team?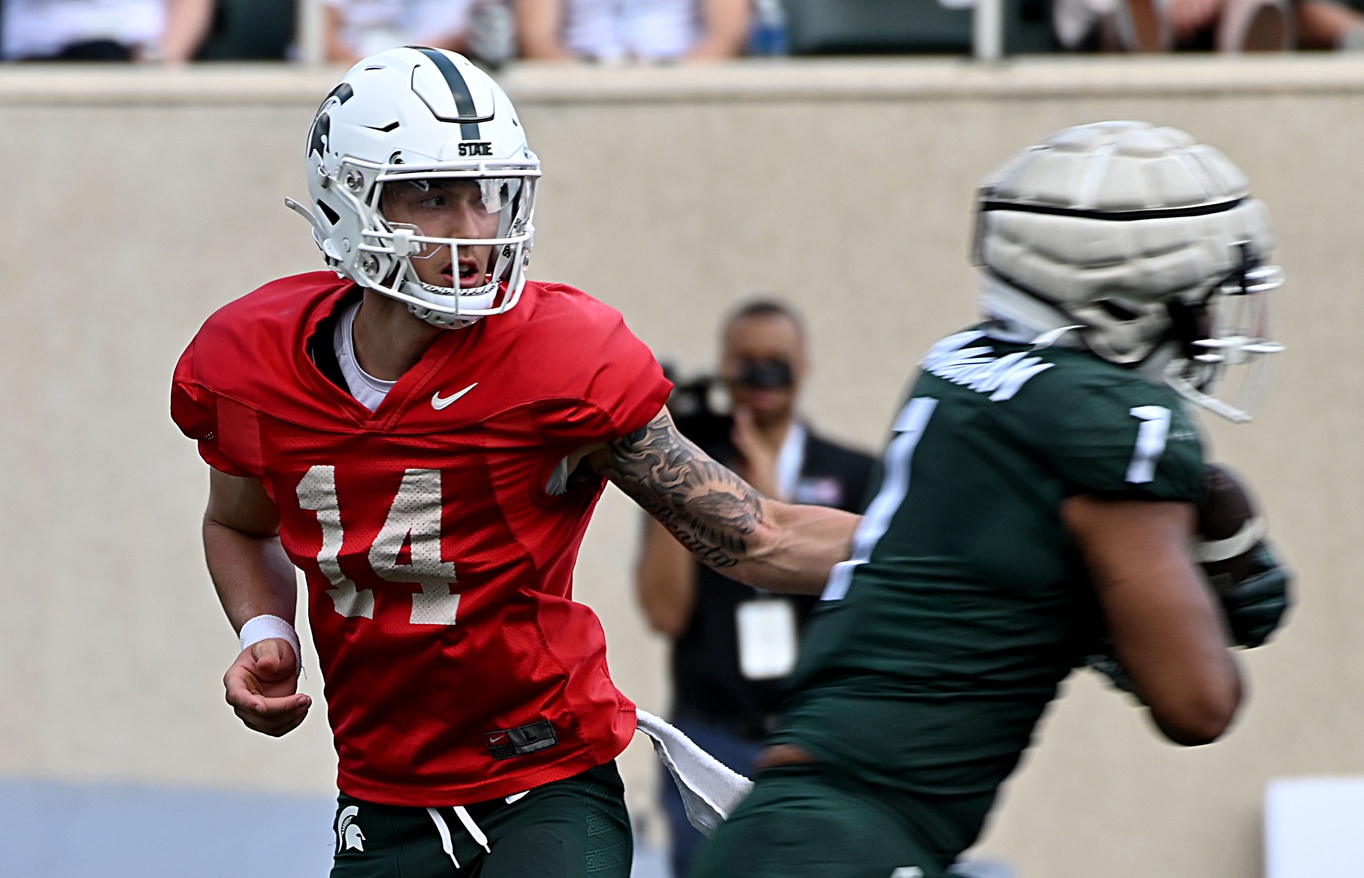 Spring ball is in the books and we have a better idea of what Michigan State football will look like in 2023.
Mel Tucker and Michigan State football have officially wrapped up another spring.
It was an eventful one as the Spartans had a quarterback battle, added some key transfers, and lost some starters to the portal.
Michigan State's quarterback battle is down to two after Payton Thorne transferred to Auburn, leaving the QB1 job up to Katin Houser and Noah Kim. Keon Coleman is the other transfer out of the program after spring ball. The Spartans did add Armorion Smith and Kee'yon Stewart to the secondary from the portal along with about a dozen others from before spring ball.
The depth chart is starting to take shape and expectations are starting to formulate.
At Michigan State, expectations should be no less than eight wins, especially after they were elevated following the 11-2 season in 2021. But since they've been brought back down to earth a bit thanks to a 5-7 campaign, we should expect nothing less than a bowl berth in 2023.
Does that mean Michigan State is going to make a bowl? Not necessarily, especially given the strength of schedule, but six wins should be the absolute floor for this program.
So what are the realistic expectations for this team?
Looking at the offense, I can see improvement. Thorne seemed to hold the offense back, at times, and the offensive line was a bit of a weakness last year. The team's top two receivers are gone, but there's solid young talent there that could surprise some people. Will we see the next Jayden Reed or Coleman? No, but Antonio Gates Jr. and Tyrell Henry are exciting pieces for the future. And Kim and Houser should, at the very least, perform at the level of Thorne from last year. The run game will improve with the offensive line getting better and more experienced. I really like Nathan Carter and Jalen Berger leading the way and Jaren Mangham is a solid third option.
On defense, Michigan State football was horrid last year but got slightly better throughout the season. Scottie Hazelton, like Jay Johnson, is in a prove-it year. He has a really good linebacking unit as well as a deep defensive line, if it can stay healthy. The real question mark is the secondary. It's going to be really young, but the additions of Smith (Cincinnati) and Stewart (TCU) should help. Michigan State ranked 87th nationally in passing yards allowed per game last year and I see a slight improvement coming. Top 80 seems realistic to expect. A better pass rush should definitely help matters.
Now, the schedule. There are some games that I believe will almost undoubtedly be tallied in the loss column such as Michigan, Ohio State, Iowa, Washington, Minnesota, and Penn State. Could the Spartans steal one of those? Sure, but winning at Ohio State or Iowa seems highly unlikely. And both Michigan and Penn State will have top-five teams this season. Minnesota will be a contender in the Big Ten West and it's a tough road game. And Washington, well, has Michael Penix Jr.
I can see 1-5 in those games and 2-4, at best.
The winnable games have to be Richmond, Central Michigan, Maryland (home), Rutgers (away), Nebraska (home), and Indiana (away). I think Michigan State has to go at least 4-2 in those games.
My realistic expectations for 2023 Michigan State football is 6-6. I could see 7-5 happening, but the schedule is rough and 5-7 or 4-8 is also very possible. But 6-6 should be the expectation (not hope).
Michigan State football: Washington game time, channel announced
Fans won't be too thrilled about the channel.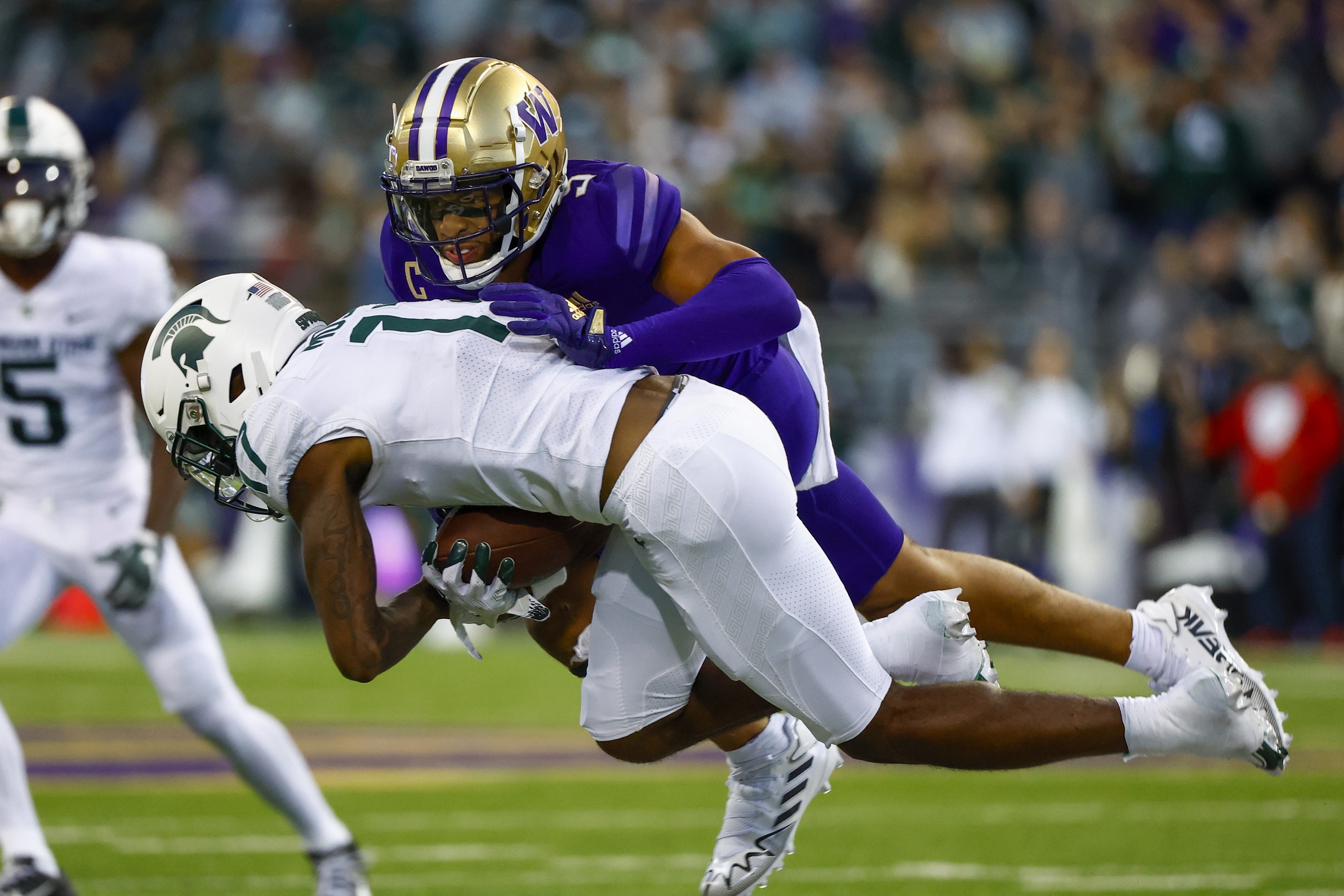 The Washington vs. Michigan State football rematch is on Sept. 16, and the Spartans have revenge on their minds.
The game time for the Washington vs. Michigan State football game was just announced and is one I think most Michigan State fans will be happy with. The game will kick off at 5 p.m. ET on Sept. 16.
MSU-Washington will be a 5 p.m. kickoff at Spartan Stadum on Sept. 16 and air exclusively on NBC's Peacock streaming platform.

— Chris Solari (@chrissolari) May 31, 2023
This is a great start time for Michigan State fans. That will give fans plenty of time to travel to East Lansing, enjoy a tailgate and get into the stadium. On top of that, the game will get down around 8 p.m. ET which is good for the crowd that does not like to be out late.
However, I think a lot of fans were hoping for a noon start time in this game. A noon start would have been a 9 a.m. local time for Washington, likely giving the Spartans a slight advantage. It's no surprise seeing this big of a game scheduled in the evening to avoid that.
On top of the game time announcement, where the game will be aired on TV was also announced. This is where the good news ends. The Spartans game against Washington will only be available for streaming on Peacock. That means Spartan fans at home will have to pay to watch this game. However, a simple Google search showed me that Peacock currently only costs $20 for the entire year. A lot of Big Ten football and basketball games will only be available on Peacock this season, so that may not be a bad investment to make right now if you can.
What would a win mean for Michigan State football?
Michigan State will have revenge on its mind in this game. Washington beat the Spartans last season in Seattle 39-28. The game however did not feel that close. Michigan State made a late comeback to make the final score look respectable, but a lot of fans will tell you we never really stood a chance.
Washington will likely be a top 10 heading into this matchup, so Michigan State has a great opportunity in front of it. A win would would help spring the Spartans into the conference season with a lot of positive momentum.
Jordan Hall hosts second annual free youth football camp (Video)
Jordan Hall is a legend already.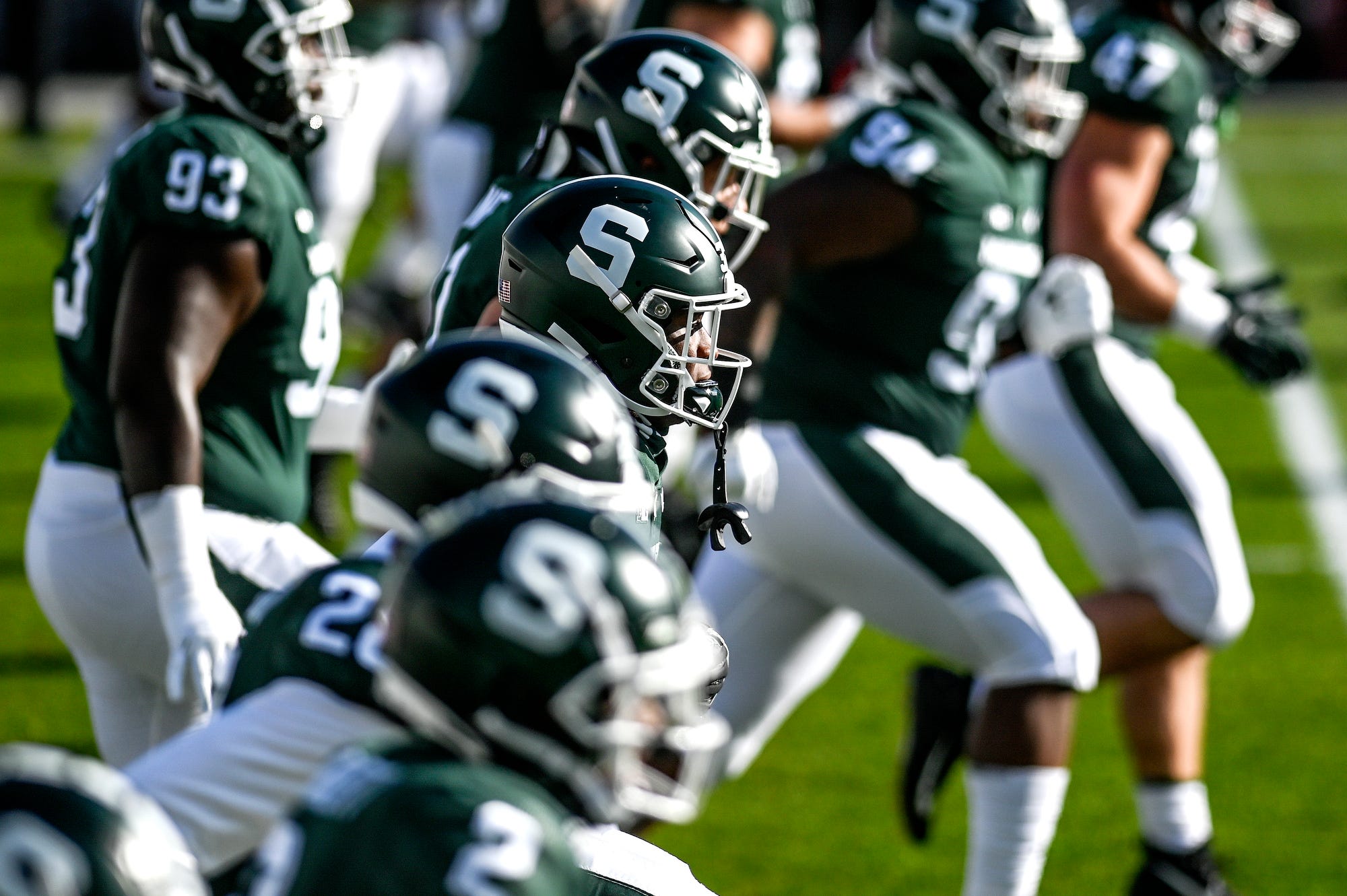 Michigan State freshman linebacker Jordan Hall continues to show just why he's one of the best out there.
Jordan Hall is already showing signs of being the next great Spartan on and off the field.
The Michigan State freshman linebacker was born and raised in Fredericksburg, Va. However, he most recently moved to Bradenton, Fla., to play football at IMG Academy.
This past weekend, Hall returned home to Fredericksburg to host his second annual free Jordan Hall Youth Football Camp.
The Jordan Hall Youth Football Camp…

Jordan's youth football "career" started at this field with one goal post, uncut grass, car lights at night for light to be able to practice and woods for bathroom breaks; but one thing it didn't lack was LOVE, GUIDANCE, & LIFE LESSONS. 💚🤍 pic.twitter.com/8kjJD7mTkP

— Cyreeta Hall (@MommaHall2U) May 31, 2023
Hall has already been making a name for himself on the field for the Spartans this spring. His play and effort has been praised by fellow players and coaches alike. IMG Academy has a long history of producing high-quality athletes. This makes Hall's tenure in the program even more noteworthy. He became the first three-time captain in IMG Academy history.
When coaches are recruiting players, they are hoping to find the perfect mix of talent and character. You don't become a three-time captain of a storied school like IMG Academy without having both.
In a recent interview with Spartan Shadows, Cryeeta Hall said of her son, "One of his favorite things he loves to do is teach the game of football to kids. He loves to coach."
Michigan State fans are excited to see what Jordan Hall can contribute on the field, but his character off the field so far is creating just as much excitement. When you see a young man with the heart and determination to give back to his hometown, it lets fans know this is the sort of player you can to rally around and support. Mel Tucker has shown intentionality in his recruiting. He has a specific type of player that he's looking for. Jordan Hall epitomizes a Tucker type of player.
Hall has the potential to earn immediate playing time this year as a true freshman. I'm not a betting man but if I were, I'd wager that we'll see him as a team captain for the green and white sooner than later.
Mel Tucker is best coach in the Big Ten when it comes to one stat
This may surprise you.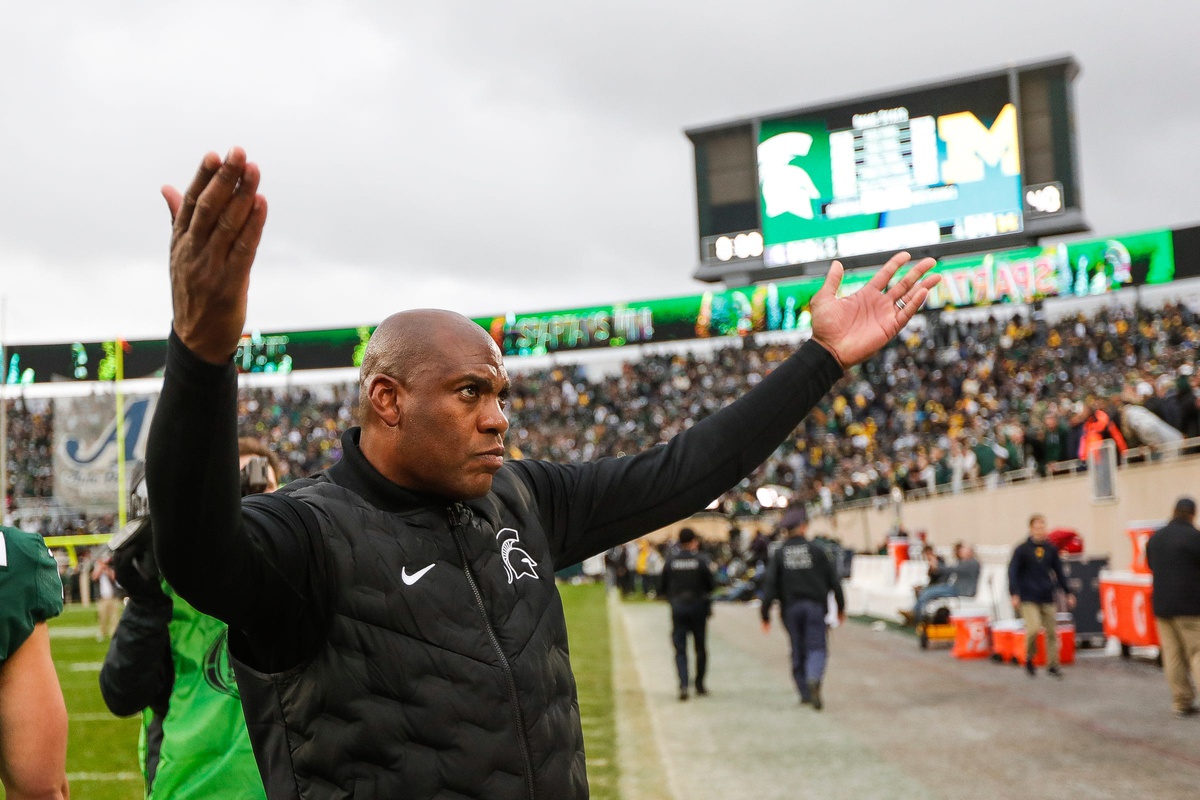 Mel Tucker is the best coach in the conference when it comes to this one surprising stat.
Michigan State football coach Mel Tucker is one of the best coaches in the Big Ten when it comes to close games.
This may surprise some considering two of Tucker's three years at Michigan State have resulted in losing seasons. But the data shows that Tucker knows how to come out on top when the game is close.
He has been at Michigan State since 2020. During that three year timeframe he boasts a 10-1 record in games decided by 10 points or less which is the best record in the conference during that span.
Here is a list of all 11 of those games:
2020
at Michigan (W 27-24)
vs. Northwestern (W 29-20)
2021
vs. Nebraska (W 23-20)
at Indiana (W 20-15)
vs. Michigan (W 37-33)
vs. Penn State (W 30-27)
vs. Pittsburgh (W 31-21)
2022
vs. Wisconsin (W 34-28)
at Illinois (W 23-15)
vs. Rutgers (W 27-21)
vs. Indiana (L 39-31)
How impressive is this really?
A 10-1 record when games are within 10 points is extremely impressive. The only loss on this list is Indiana from last season, a game Michigan State likely should have one. The Spartans ended up losing in overtime to the Hoosiers, but were a chip shot field goal away from winning in regulation. That is a field goal college kickers make almost every time, so Tucker's one loss on this list could easily have been another win.
Regardless, 10-1 is the best winning percentage in games decided by 10 points or less in the Big Ten during that three-year span.
This is how the rest of the Big Ten teams fared during this same timeframe:
Michigan State: 10-1 (.909)
Maryland: 8-3 (.727)
Iowa: 11-5 (.688)
Indiana: 7-4 (.636)
Purdue: 12-7 (.632)
Ohio State: 3-2 (.600)
Michigan: 6-4 (.600)
Minnesota: 9-7 (.563)
Rutgers: 7-6 (.538)
Wisconsin: 6-7 (.462)
Penn State: 5-7 (.417)
Northwestern: 5-9 (.357)
Illinois: 6-11 (.353)
Nebraska: 5-16 (.238)
What does this tell us about Mel Tucker?
One thing this tells us is the Tuck is a great in game coach in tight situations. No coach goes 10-1 in close games by accident. Sometimes there is a lot of luck involved with winning close games, but that's not necessarily the case when you win them this efficiently. Anyone can close a game out when you are up by 20, but not everyone can win a close game in the closing seconds.
This statistic is not all good though. Michigan State has won 18 games during the past three seasons. This means that over half of the games Mel Tucker has won at Michigan State have been within 10 points. For a program with extremely high goals, that fact is a little scary.
As I mentioned before, sometimes luck has to be on your side to win these close games. So relying on winning a lot of close games to have a great season is not a recipe for success.
One things for sure though, as long as Mel Tucker is the coach at Michigan State, we stand a very good chance at winning any close game.