Michigan State football: Reviewing the Chris Kapilovic era
How has the offensive line fared under Coach Kap?
Michigan State football has been Chris Kapilovic's home since 2020. How has the Kapilovic era played out so far?
Michigan State football has been the sixth stop in the 30-plus year career of Chris Kapilovic, the current offensive line coach, run game coordinator, and assistant head coach for the Spartans.
This fall will be his fourth year in East Lansing, albeit only the third relatively normal one. Earlier in the week, fellow colleague, Owen Schuchaskie, touched on the reason for optimism for the offensive line unit in 2023. My aim here is to review the offensive lines that were during the Mel Tucker era, and in turn provide some reasonable expectations for the Juice Squad in 2023.
Returning production vs. lost production is always a vast topic of conversation for not only position groups, but for entire rosters as well.
Below is a quick guide to how the snap production varied between returning and outgoing players from 2020-2022. For reference, snaps lost in 2020 are from 2019 production numbers.
2020 (finished 2-5)

Returning: 3409
Lost: 1392

2021 (finished 11-2)
2022 (finished 5-7)

Returning: 1686
Lost: 2911
The Michigan State offensive line losing just two offensive snaps coming into the 2021 season is just objectively hilarious. I had to check this about six times. Even with a COVID-reduced season in terms of production numbers, that's still returning 99.92% of your offensive line production.
Kenneth Walker III did do a lot to cover up some of the mistakes this line made in 2021, but returning this level of continuity is always a benefit to your roster. The 2022 offensive line pretty much was what we thought they were going to be, and that was uh… not great. This all started with not having enough offensive linemen available to even practice for portions of 2022 spring ball, and finished with MSU failing to get enough push on numerous third and fourth-and-shorts during the season that felt like it would never end.
There are a few stats I cling to when judging the overall health of an offensive line, all of which are provided by FootballOutsiders. Average line yards is a stat that gives 100 percent credit to the offensive line for rushes 0-3 yards, 50 percent credit for 4-8 yards, and zero credit for anything after eight yards. Michigan State has ranked 124th,  85th, and 104th over the past three seasons, with 2021 being the only season where the average line yards have been over 2.5 (2.57). For reference, the national champions have ranked 14th (2.99), 11th (3.06), and 20th (2.92).
It is imperative for the success of the pro-style offense that MSU runs for this 2023 offensive line to get this average yardage number not only above 2.5, but 2.75.
Power success rate is another stat that I look at. This is solely based on runs of third or fourth-and-2 or less that achieved a first down. Michigan State has been dreadful in this category, ranking 118th, 71st (thanks K9), and 118th again. If your power run game is sniffing a 50/50 chance of converting on average, that is not a good thing.
Alabama converted 90.3 percent of the time in 2020, good for fifth in the nation. In 2021, Georgia inexplicably managed to get away with a 72.4 percent success rate, good for 52nd, and falling even lower in 2022, ranking  71st at 67.7 percent, which was about what MSU's success rate in 2021 was. Power run game is not always a team's strength, but there is nothing more satisfying for an offense than seeing third-and-short and knowing the boys up front can get the push you need.
Stuff rate means what it sounds, as it is the percentage of runs where the running back is stuffed at or behind the line of scrimmage. Similar to the power success rate, I like this one because it's a basic concept in offensive line play — can you block? For Michigan State, the answer has been "lol no," "we're not terrible at it," and "this is harder than we thought."
MSU was stuffed 26.2 percent of the time in 2020 (124th), 18.6 percent in 2021 (83rd), and 20 percent of the time in 2022 (103rd). Knowing the most positive outcome for one of every 4-5 runs is zero yards is less than ideal. It's even less ideal when you learn that Alabama was stuffed 13.1 percent (12th) in 2020, and Georgia was only stuffed 11.7 percent (7th) in 2021 and 14.7 percent (25th) in 2022.
Finally, sack rate is the last stat I look at, as it's always crucial to keep your quarterback clean and at least give him enough time to get the ball out to live another down if he has to. Thankfully, this is one thing that the offensive line has done a very good job of when you consider the rest of their body of work.
The offensive line has kept the sack rate under five percent 2-of-3 years, with Kapilovic's first season in East Lansing being the lone year above five at 5.6 percent, which ranked 50th in the nation, which still put them in the top half of the nation. MSU ranked 28th (4.9 percent) and 20th (3.7 percent) in 2021 and 2022, respectfully. Although this doesn't take into account the amount of quarterback hits or pressures, it's still a positive that plays are at worst going for zero yards as opposed to losing 6-7. If MSU can keep this area of play up, they're at least in striking distance with the big boys as Alabama ranked seventh with 2.7 percent in 2020 and Georgia was 20th (4.6 percent) in 2021 and was at 1.4 percent in 2022.
Something that the numbers don't quite illustrate is the level of young talent on this roster and, more importantly, Kapilovic's recruited players to his and Tucker's strict height and size requirements. That is the reason for optimism there.
Eight players who played at least one offensive snap in 2022 return to the offensive line in 2023, and four of those are a part of Kapilovic's first class. Outside of Gavin Broscious, who appeared to suffer a significant knee injury in the spring, the four-man 2022 class looks to get in the rotation for playing time as well. All of these guys are fighting for snaps along with the newest Spartan offensive linemen in Cole Dellinger, Stanton Ramil, and Keyshawn Blackstock, arguably one of Michigan State's strongest offensive line classes from a talent perspective in recent memory.
There are certainly pieces to work with in this offensive line.
Barring any transfers, this group returns 2,998 snaps, while losing 1,099 going into the fall. With Nick Samac and J.D. Duplain providing leadership and experience with this group there are definitely a few things I expect from this offensive line and if they can't manage it, well it may be time to start having discussions.
At minimum, I want zero of the four rankings I listed above to be below the national average. If this team is going to be able to cobble together a competent offense, it has to start up front with the five being consistent and with competence comes consistency. Since 2018, teams that have won eight-plus games averaged 2.71 line yards, a power success rate of 72.30 percent, a stuff rate of 17.07 percent, and a sack rate of 5.84 percent. I think those numbers are more than doable with players that have been in the system and talent this room possesses.
There is a lot of anxiety surrounding this program, and its about that time for Coach Kap to show why USC wanted to poach him away from MSU.
You can read more of my bad takes in short form on twitter @maxwellklitzke
Mark Dantonio, 3 other Spartans on CFB Hall of Fame ballot
This one should be a no-brainer.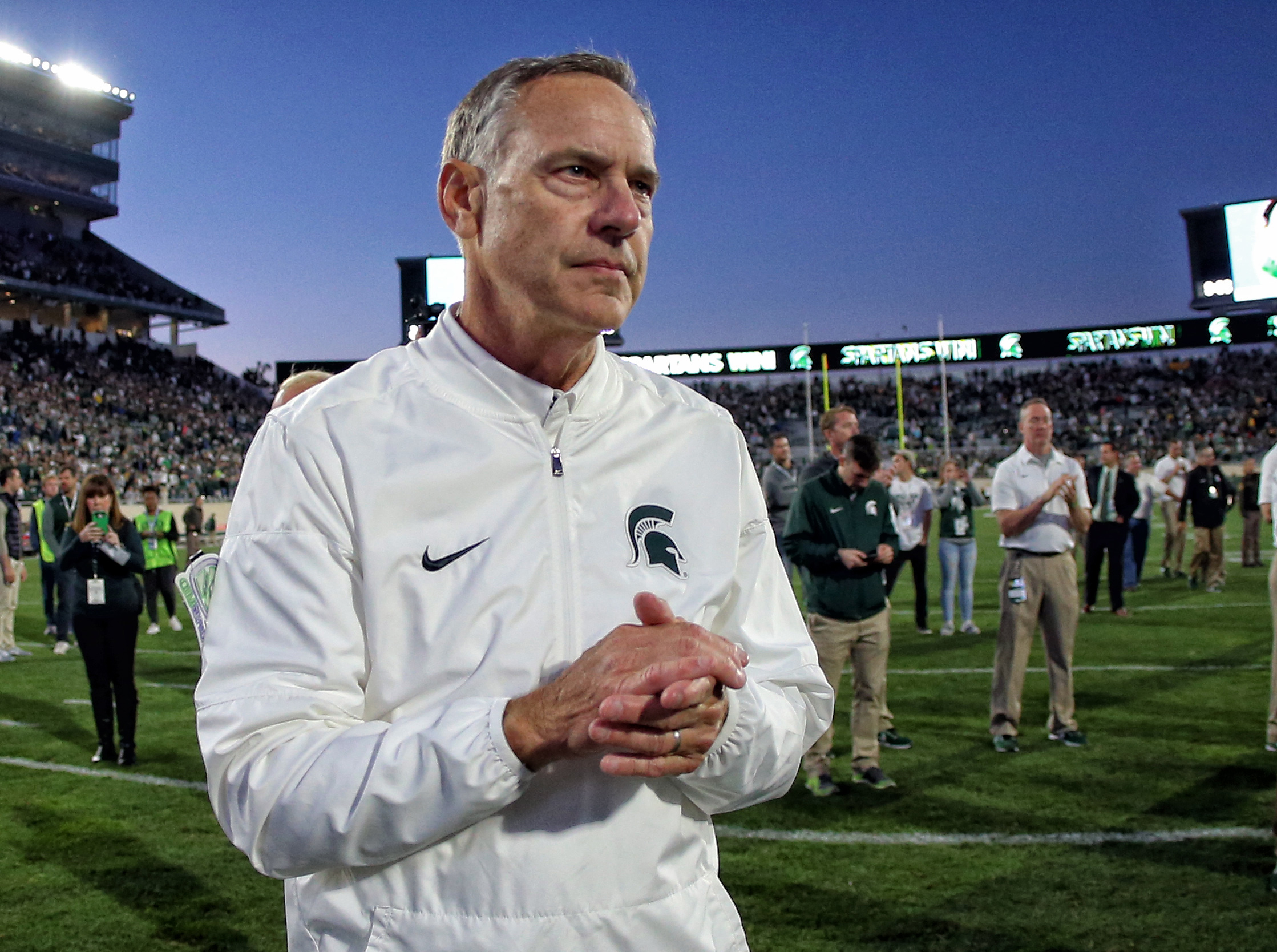 Former Michigan State football coach Mark Dantonio, along with three other Spartans, are on the College Football Hall of Fame ballot.
It's that time of the year when the College Football Hall of Fame releases its ballot and Mark Dantonio, along with three other Spartans, have made the cut for the 2024 class.
Former MSU coach Mark Dantonio debuts on the National Football Foundation's College Football Hall of Fame ballot. OT Flozell Adams and and coach Darryl Rogers also on it again, as is former player Gideon Smith in the divisional coaching category.

— Chris Solari (@chrissolari) June 5, 2023
Dantonio is one of nine coaches on the ballot at the FBS level and Flozell Adams is one of five offensive linemen — he's joined by former Michigan lineman Steve Hutchinson and the famous Michael Oher from Ole Miss. Four of the five offensive linemen on the ballot are from Big Ten schools. Darryl Rogers joins Dantonio as one of nine coaches and Gideon Smith is one of 32 coaches from the divisional ranks but he was a trailblazing player for the Spartans in 1915.
Many have been clamoring for Adams to make the Hall of Fame for years while Dantonio feels like a surefire selection and he compares favorably to the other coaches on the ballot.
Let's take a look at his resume compared to the other FBS coaches on the ballot:
Dantonio: 132-74 career record, 7-6 bowl record, 3 Big Ten titles
Larry Blakeney: 178-113-1 career record, 2-3 bowl record, 8 conference titles
Jim Carlen: 107-69-3 career record, 2-5-1 bowl record, 1 SoCon title
Pete Cawthon Sr.: 98-50-10 career record, 0-2 bowl record, 2 conference titles
Larry Coker: 86-47 career record, 4-2 bowl record, 1 national title, 3 Big East titles
Ralph Friedgen: 75-50 career record, 5-2 bowl record, 1 ACC title
Darryl Rogers: 129-84-7 career record, 1-2 bowl record, 2 conference titles
Frank Solich: 173-101 career record, 7-9 bowl record, 1 Big 12 title
Tommy Tuberville: 159-99 career record, 7-6 bowl record, 2 conference titles
Compared to the others, Dantonio has the fourth-most all-time wins, he's one of four with a winning bowl record, and he is tied for second-most conference titles.
Dantonio is credited for turning around the Michigan State football program after years of irrelevance. Following the departure of Nick Saban before the 2000 Citrus Bowl, Michigan State was a non-factor in the Big Ten. All Dantonio did was lead Michigan State back to the top of the conference and to its first playoff ever. He also won two BCS/New Year's Six bowls.
This should be a no-brainer.
Mark Dantonio lists top favorite 25 plays during his MSU tenure (Video)
This is an awesome list.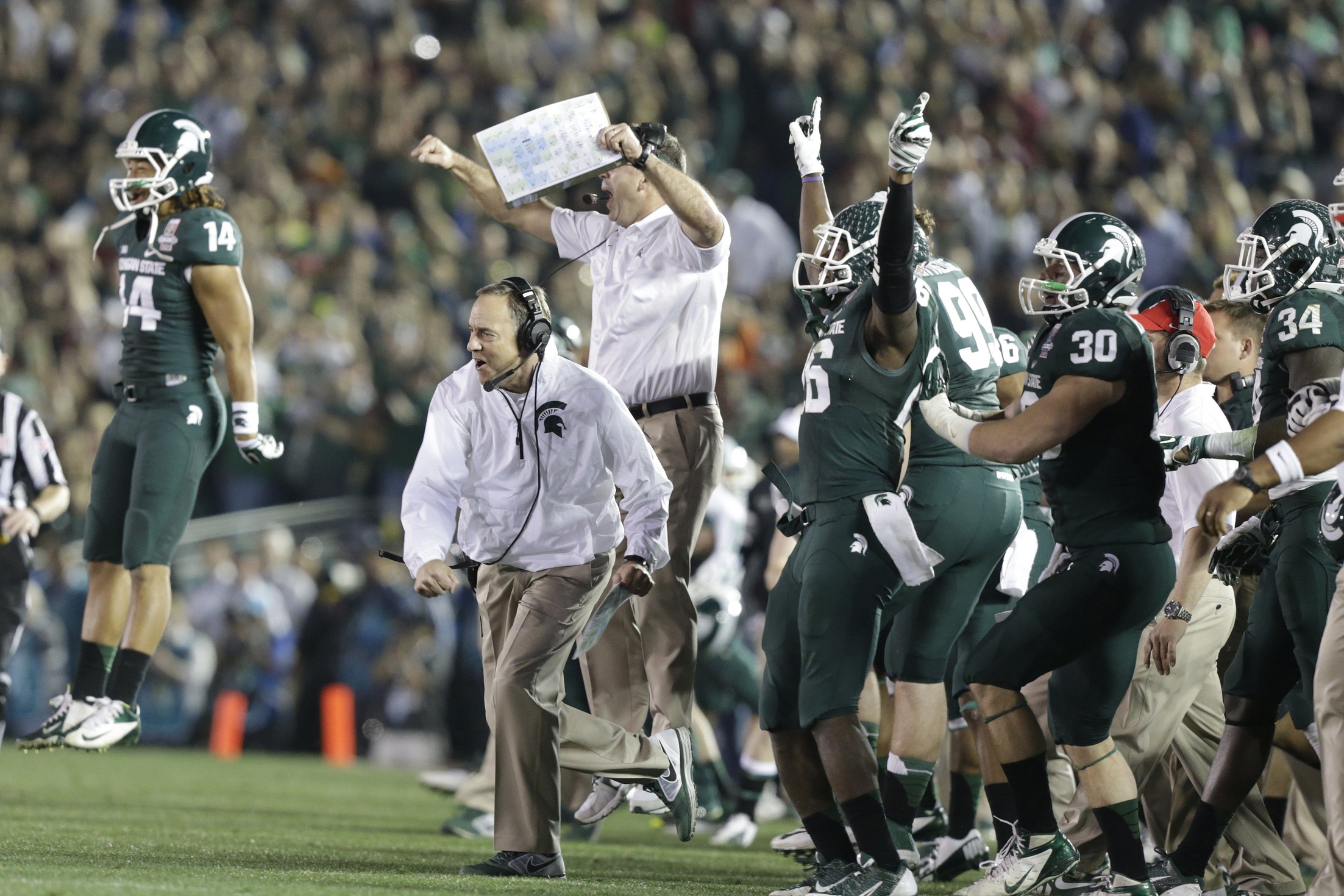 Former Michigan State football coach Mark Dantonio carefully chose his top 25 favorite plays during his tenure.
Former Michigan State Football coach Mark Dantonio is arguably the greatest coach in program history. Dantonio is highly regarded by all Michigan State fans even with the poor state the program was in when he retired. He gave us some of our programs greatest moments in history. Rose Bowl, Cotton Bowl, College Football Playoff and countless massive regular season wins are just a few of the great moments he brought us.
Recently Dantonio sat down with Michigan State and the Big Ten Network. During this meeting, Dantonio gave his Top 25 plays during his Michigan State tenure. This list was made solely by Mark Dantonio. He not only looked at the play itself, but also the impact it had on our program.
Lets dive into them 25-1:
25. Brian Lewerke TD to Madre London at Michigan (2017)
In a game that Michigan State was not expected to win, this was a perfectly run screen pass that scored easily with two linemen leading the way.
24. Connor Cook game-winning TD pass in Cotton Bowl (2015)
This game is one of the greatest in Michigan State history. Michigan State defeated Baylor in the Cotton Bowl after being down by 20 points in the fourth quarter. This pass was the game-winning touchdown in this classic.
23. Brian Hoyer third TD pass to Devin Thomas vs. Penn State (2007)
The play itself seemed pretty normal on its own. But three touchdowns to the same receiver in a win against Penn State definitely deserves to be on this list.
22. Three touchdown runs vs. Michigan
Nothing is sweeter than scoring against Michigan. In the No. 22 spot, Dantonio selected three key touchdown runs in wins against Michigan over the years. This includes touchdown runs from Edwin Baker, LeVeon Bell, and Jeremy Langford.
21. Three touchdowns vs. Wisconsin (2011)
This game is another all time classic in Michigan State history. This selection includes two touchdowns from Keshawn Martin and one from BJ Cunningham. These massive plays all helped setup the magical ending to this game. More to come later on this one.
20. Three interceptions for touchdowns
Dantonio selected three interceptions that were returned for touchdowns in the No. 20 spot. The first was by Darqueze Dennard in the 2012 Outback Bowl victory against Georgia. The other two were massive in big wins over Michigan. Dantonio prioritized the Michigan game ever year, so it is no surprise seeing plays against them all over this list.
19. Game-winning FG vs. Wisconsin (2008)
This game was not as big as others, but a game winning field goal is always exciting. In this one, Brett Swenson hit a 44-yard field goal as time expired to beat the Badgers.
18. Defensive stop to beat Iowa (2008)
I always think defensive plays deserve more love. In this selection, Adam Decker stops Iowa on fourth-and-1 to seal a Spartan victory over the Hawkeyes.
17. Fake punt at Iowa (2013)
Mike Sadler is one of the greatest punters in Michigan State history. In this play, he showed off his legs in a different way. To start the fourth quarter, he successfully ran for 20 yards to pick up a key first down in a very tight game.
16. Another TD run at Michigan (2008)
This play was one of the biggest in this rivalries history. A long run by Javon Ringer helped lead Michigan State to victory for the first time in Ann Arbor since 1990.
15. Blocked FG in 3OT Outback Bowl vs. Georgia (2012)
Another special teams play, this time a blocked field goal in triple-overtime to beat Georgia in the Outback Bowl. I believe winning this game was a turning point for our program, and this play sealed the win.
14. Acrobatic interception vs. Iowa (2015)
Everyone remembers how unbelievable this play was. In the 2015 Big Ten Championship Game, Demetrius Cox pulled off an interception I have never seen before. After a fellow teammate broke up the pass in the end zone, the ball ended up lying on his back. Cox saw the ball, scooped it off his teammates back and helped kill a promising Hawkeyes drive.
13. Negative-48 rushing yards vs. Michigan (2013)
This is another combination of multiple plays. In Michigan States 2013 domination over Michigan, the Spartans' defense held Michigan to negative-48 rushing yards. Yes, you read that correctly. That is a number I doubt we ever see again.
12. Larry Caper TD run vs. Michigan (2009)
Larry Caper's 24-yard overtime touchdown run is one of my personal favorite plays of all time. Nothing about the play itself was memorable, but the meaning behind it is everything. This was the first time Michigan State won consecutive games over the Wolverines since 1967. This game also helped springboard the Spartans into their dominant run over Michigan.
11. Brian Hoyer TD pass to Blair White at Michigan (2008)
Another memorable play against, you guessed it, Michigan. This was a 61-yard pass from Brian Hoyer to Blair White early in the first quarter to help the Spartans defeat their in-state rivals again.
10. Connor Cook TD pass to Tony Lippett in Rose Bowl (2014)
The greatest stage in all of college football saw the Spartans beat Stanford in the 100th Rose Bowl. This touchdown pass ending up being the game-winning score in one of the greatest games in program history.
9. Blocked FG in Cotton Bowl vs. Baylor (2015)
This is another play from Michigan State's historic comeback win against Baylor in the Cotton Bowl. Marcus Rush blocked the Baylor field goal attempt to keep Michigan State only down by six. This setup the game-winning drive at the end of the fourth quarter.
8. Walk-off Hail Mary vs. Wisconsin (2011)
This is another iconic moment in Spartan Stadium history. As time expired, Kirk Cousins threw a Hail Mary touchdown pass to Keith Nichol to upset the Badgers.
7. Jeremy Langford TD run vs. Ohio State (2013)
In the 2013 Big Ten Championship game vs Ohio State, Jeremy Langford sealed the Spartans victory with this long touchdown run. This touchdown put the Spartans up by 10 with two minutes left in the game, ending Ohio States chances and clinching a trip to the Rose Bowl.
6. Walk-off FG at Ohio State (2015)
This play not being higher shocks me. On a night when star quarterback Connor Cook was out injured, Michigan State was still able to pull off the upset road win against Ohio State. Michael Geiger knocked in the winning field goal as time expired. Afterwards, he celebrated with his iconic windmill celebration that I'm sure you all are replicating right now.
5. Little Giants (2010)
I would argue this play is easily the best play call in Dantonio's career. In overtime against Notre Dame, Michigan State lined up for the tying field goal to force a second overtime. Instead, they faked the field goal, threw the touchdown pass and the rest is history.
4. Trouble with the Snap (2015)
I, for one, am shocked this play isn't No. 1. Do I even need to remind you what this play is? Jalen Watts-Jackson returned the muffed Michigan punt for a touchdown in 2015 as time expired to win the game. This play will be remembered forever.
3. Game-winning TD vs. Iowa (2015)
Who can forget the iconic final drive against Iowa in the 2015 Big Ten Championship Game. In a drive that was 22 plays long and took over nine minutes, LJ Scott capped it off with his short touchdown run. The mantra that season was "reach higher" and that's exactly what he did on the run to avoid a Hawkeye tackler. College Football Playoff, here we come.
2. Fourth-down stop vs. Ohio State (2013)
This is the play when we knew we were Rose Bowl bound. Denicos Allen stopped Buckeye quarterback Braxton Miller on fourth down to seal the Spartans victory. I always think defensive plays deserve more credit and I'm glad Dantonio put this play so high on his list.
1. Rose Bowl-clinching stop (2014)
Did you guess this play was coming? Kyler Elsworth's fourth-down stop against Stanford in the 2014 Rose Bowl is Mark Dantonio's top play from his tenure. There is no bigger non-playoff stage in college football than the Rose Bowl, so it is no surprise to see the game-winning play at No. 1.
To see the full list on Twitter with a video highlight of each play, click the link below.
This will be fun.

We asked @DantonioMark for his favorite @MSU_Football plays. 💚

He ranked them, 25-1, and we're threading them here. ⚡

— Michigan State on BTN (@MichiganStOnBTN) May 31, 2023
Michigan State football: Washington game time, channel announced
Fans won't be too thrilled about the channel.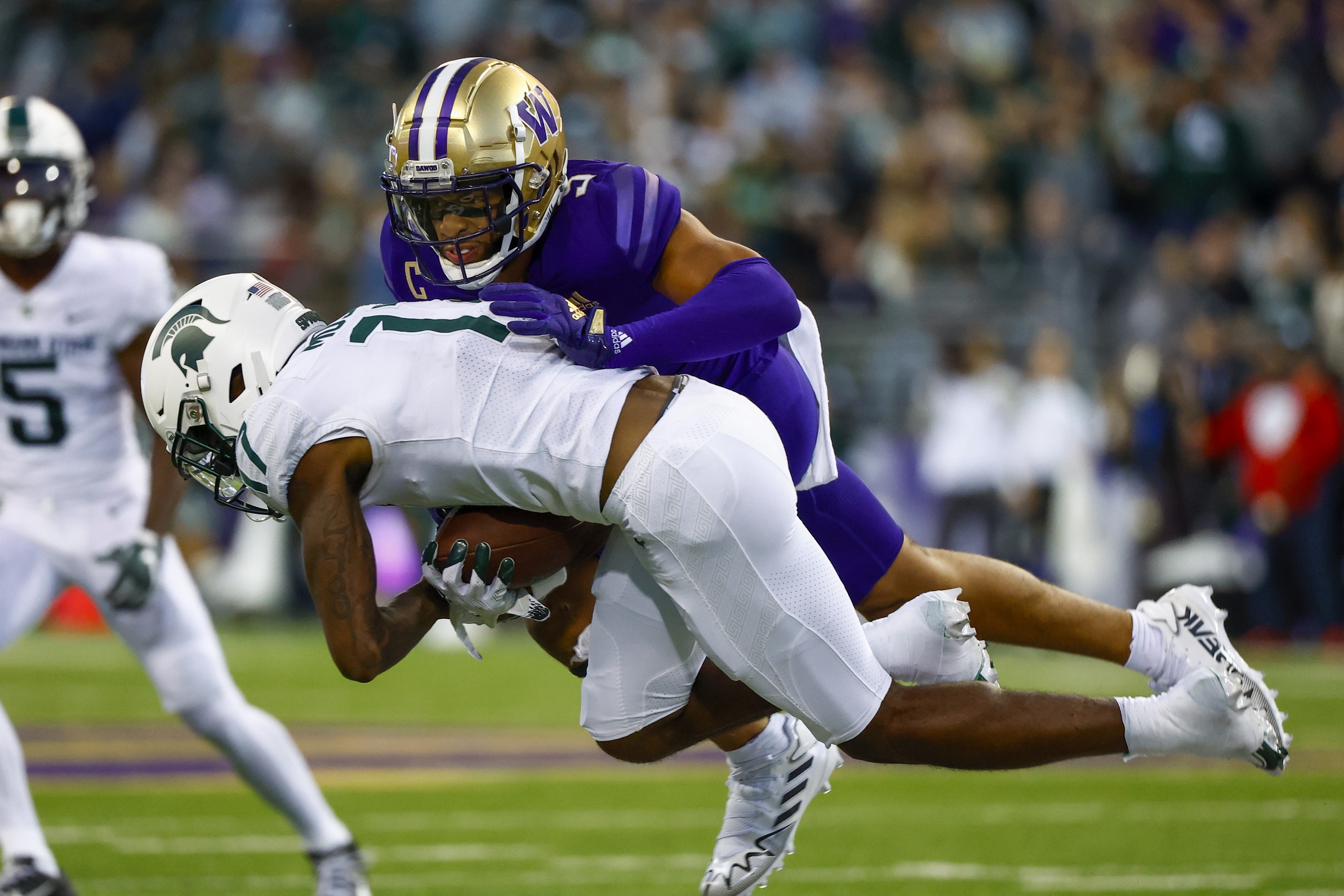 The Washington vs. Michigan State football rematch is on Sept. 16, and the Spartans have revenge on their minds.
The game time for the Washington vs. Michigan State football game was just announced and is one I think most Michigan State fans will be happy with. The game will kick off at 5 p.m. ET on Sept. 16.
MSU-Washington will be a 5 p.m. kickoff at Spartan Stadum on Sept. 16 and air exclusively on NBC's Peacock streaming platform.

— Chris Solari (@chrissolari) May 31, 2023
This is a great start time for Michigan State fans. That will give fans plenty of time to travel to East Lansing, enjoy a tailgate and get into the stadium. On top of that, the game will get down around 8 p.m. ET which is good for the crowd that does not like to be out late.
However, I think a lot of fans were hoping for a noon start time in this game. A noon start would have been a 9 a.m. local time for Washington, likely giving the Spartans a slight advantage. It's no surprise seeing this big of a game scheduled in the evening to avoid that.
On top of the game time announcement, where the game will be aired on TV was also announced. This is where the good news ends. The Spartans game against Washington will only be available for streaming on Peacock. That means Spartan fans at home will have to pay to watch this game. However, a simple Google search showed me that Peacock currently only costs $20 for the entire year. A lot of Big Ten football and basketball games will only be available on Peacock this season, so that may not be a bad investment to make right now if you can.
What would a win mean for Michigan State football?
Michigan State will have revenge on its mind in this game. Washington beat the Spartans last season in Seattle 39-28. The game however did not feel that close. Michigan State made a late comeback to make the final score look respectable, but a lot of fans will tell you we never really stood a chance.
Washington will likely be a top 10 heading into this matchup, so Michigan State has a great opportunity in front of it. A win would would help spring the Spartans into the conference season with a lot of positive momentum.