Michigan State football stock report: Who's up, down after spring game?
Which Spartans are on the rise?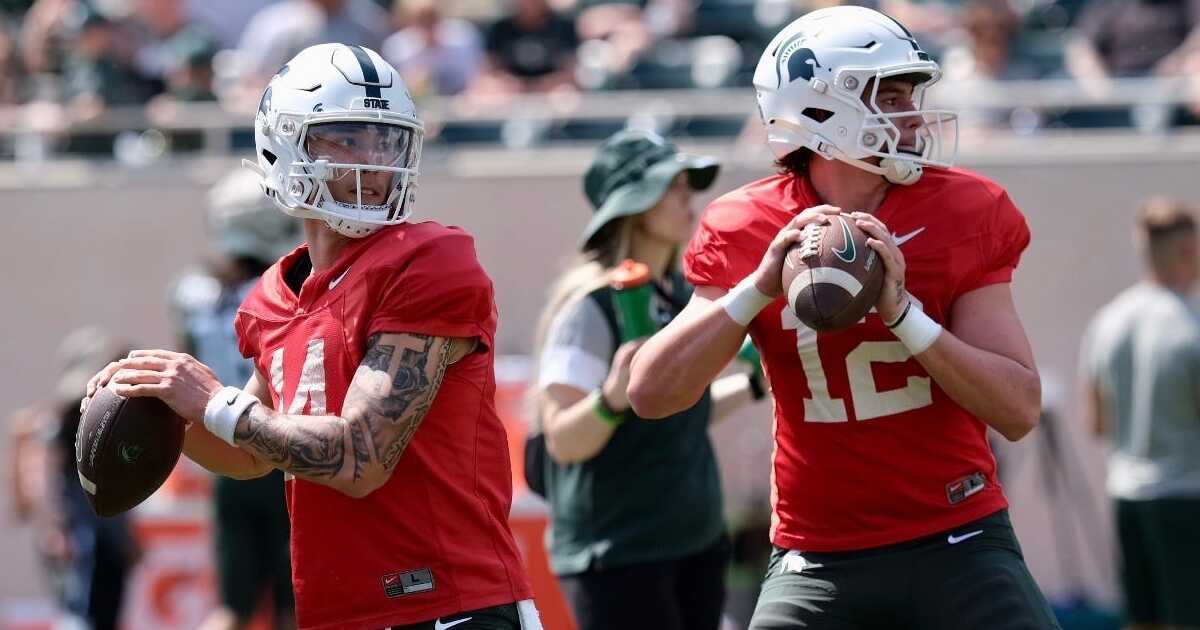 Michigan State football opted for a spring 'practice' instead of a scrimmage, but there were still some risers and fallers.
Much to the chagrin of fans, Michigan State football once again opted to hold an open 'practice' in lieu of a spring game this year. There wasn't nearly as much data to gather as there would have been from a game, but there were still plenty of conclusions to draw.
Some of what we saw was good, some was bad, and some was in between.
In terms of stock, let's break down some good and bad from the spring practice.
Stock up: Noah Kim
In what's been presumably a three-man race until now, quarterbacks Noah Kim and Payton Thorne separated themselves at the top. Both the incumbent starter and the backup made plenty of pretty throws, spreading the ball around the field with some nice-looking passes.
As the previously established starter, Thorne's stock doesn't jump as much, but Kim made himself up a lot of ground and turned some heads with his performance. He more than held his own against Thorne and some would argue that Kim even looked like the better of the two.
As it stands, it looks like Thorne and Kim are on relatively equal footing heading into the summer, but it's still anyone's guess as to who ends up with the job.
Stock down: Katin Houser
As mentioned previously, it appears that former four-star recruit, Katin Houser, may be out of the running for the starting quarterback job this fall — for now.
While upperclassmen Kim and Thorne both had nice days through the air, the redshirt freshman just wasn't that impressive. He had some good reps, sure, but otherwise didn't display the same level of accuracy, poise, and playmaking that the other top candidates did. His performance was certainly disappointing for the fans hoping to see the celebrated recruit take the helm this fall, but it would be foolish to disregard Houser now. He's still young; give him some time before forming a real judgement.
At the end of the day, though, in such a tight battle, it's imperative for the hopefuls to make their mark. Houser just didn't do that this year.
Stock up: The WR room (past Coleman, Mosley)
Considering the departure of Germie Bernard, there's been some concern about who Michigan State's WR3 will be. After presumed starters Keon Coleman and Tre Mosley, there's hardly any clarity, and it's been a guessing game for the most part.
While the spring practice didn't necessarily answer that question, it did give fans reason to believe that the spot would be in good hands regardless. The top four candidates — Montorie Foster Jr., Tyrell Henry, Christian Fitzpatrick, and Antonio Gates Jr. — all had their moments, looking better than many believed they would at this point. The absence of Bernard and the graduation of Reed has given the younger guys a chance to step up, and it appears they could be doing just that.
If I had to put money on who the WR3 would be, I'd hazard a guess at either Foster or Henry, but it's a long summer. A few drills are hardly rationale to declare someone locked into a spot, but watching those four make plays on Saturday gave me a lot more confidence than I previously had that MSU could effectively replace the departures.
Stock down: Team depth and the training staff(?)
According to Mel Tucker, the reason that MSU did not have a proper spring game for the second straight year was lack of healthy bodies. I can definitely see it, too — there were plenty of notable absences from the scrimmage.
Not only were WR1 Keon Coleman, defensive tackles Jarrett Jackson and Dre Butler, defensive end Khris Bogle, and offensive linemen Gavin Brocious and Kris Philips absent, defensive tackle Alex VanSumeren and linebacker Ma'a Gaotete went down with injuries during the practice itself.
One could argue that injuries are becoming a concerning pattern. Last year, as well, Michigan State football struggled mightily to keep any amount of starters consistently on the field with how many injuries the team sustained at any given position. It's entirely possible that it's still just bad luck, but if the Spartans record another year with an atypical number of injuries, it could be time to have a closer look at the training staff.
There are coincidences, and then there are patterns. I'm hoping it's the former.
Stock up: The running backs
Michigan State's running back group more or less disappointed over the course of the past season. If the spring practice is any indication, though, that could change by September. All three of the Spartans' presumed top running backs — Jalen Berger, Nathan Carter, and Jaren Mangham — looked good on Saturday, making plenty of nice runs while showcasing power and speed.
I still expect Berger to be lead back, but Carter and Mangham will both certainly have sizable roles in the MSU offense next year. A great running back room with enough depth can make a massive difference for a football team's success, and Berger, Carter, and Mangham could form such a group.
Closing Thoughts
Without a proper spring game, it's difficult to get a concrete idea of where players stand. The practice was a nice sneak peek at this year's roster, but was hardly evidence enough to make any proclamations. That being said, I liked a lot of what I saw at Spartan Stadium this past weekend, although I still have some concerns. However, there's really no telling how any of this will translate to the actual season, so once again, we'll just have to wait and see.
Let's hope this season is better than the last one.
See y'all in September.
Michigan State football: Washington game time, channel announced
Fans won't be too thrilled about the channel.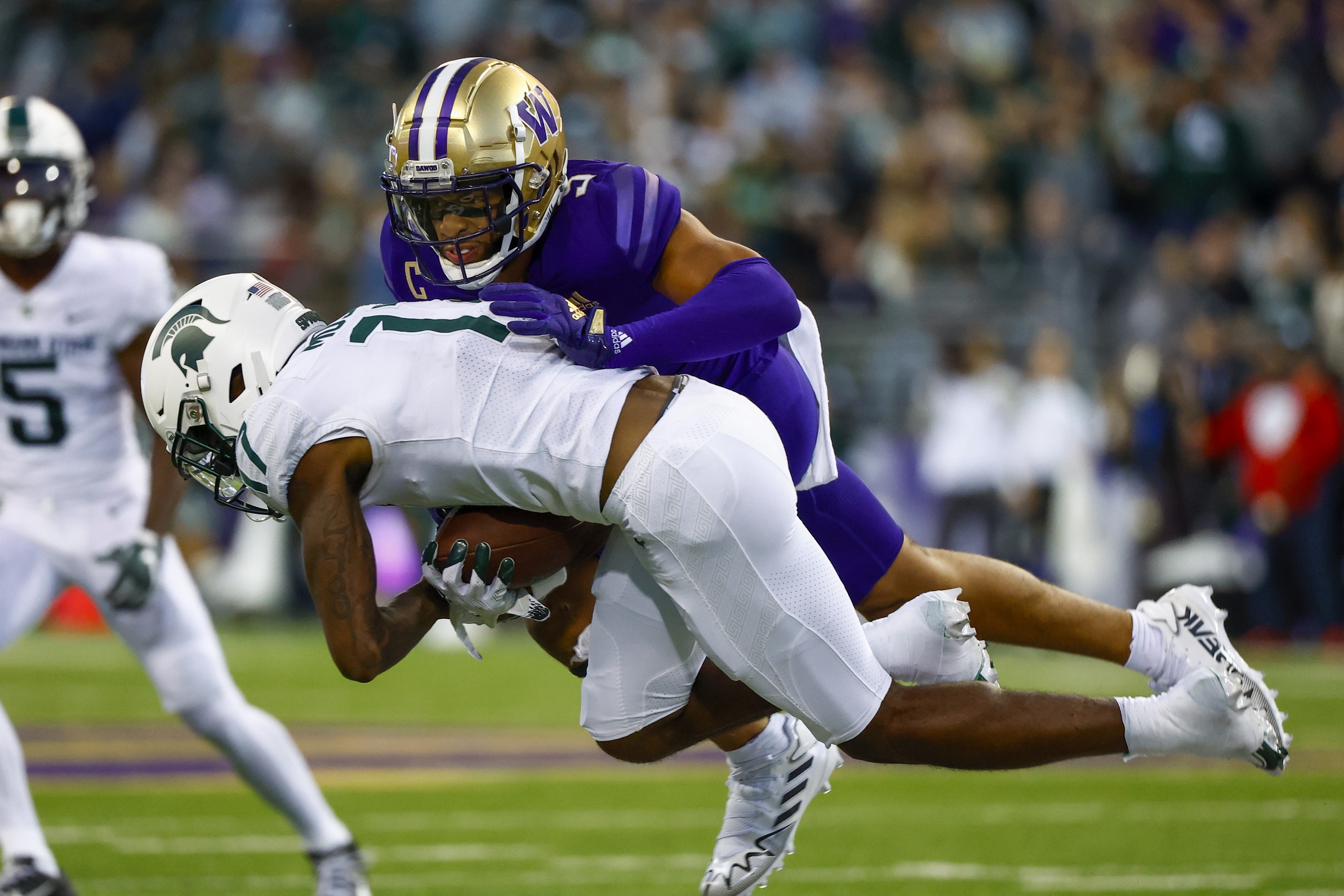 The Washington vs. Michigan State football rematch is on Sept. 16, and the Spartans have revenge on their minds.
The game time for the Washington vs. Michigan State football game was just announced and is one I think most Michigan State fans will be happy with. The game will kick off at 5 p.m. ET on Sept. 16.
MSU-Washington will be a 5 p.m. kickoff at Spartan Stadum on Sept. 16 and air exclusively on NBC's Peacock streaming platform.

— Chris Solari (@chrissolari) May 31, 2023
This is a great start time for Michigan State fans. That will give fans plenty of time to travel to East Lansing, enjoy a tailgate and get into the stadium. On top of that, the game will get down around 8 p.m. ET which is good for the crowd that does not like to be out late.
However, I think a lot of fans were hoping for a noon start time in this game. A noon start would have been a 9 a.m. local time for Washington, likely giving the Spartans a slight advantage. It's no surprise seeing this big of a game scheduled in the evening to avoid that.
On top of the game time announcement, where the game will be aired on TV was also announced. This is where the good news ends. The Spartans game against Washington will only be available for streaming on Peacock. That means Spartan fans at home will have to pay to watch this game. However, a simple Google search showed me that Peacock currently only costs $20 for the entire year. A lot of Big Ten football and basketball games will only be available on Peacock this season, so that may not be a bad investment to make right now if you can.
What would a win mean for Michigan State football?
Michigan State will have revenge on its mind in this game. Washington beat the Spartans last season in Seattle 39-28. The game however did not feel that close. Michigan State made a late comeback to make the final score look respectable, but a lot of fans will tell you we never really stood a chance.
Washington will likely be a top 10 heading into this matchup, so Michigan State has a great opportunity in front of it. A win would would help spring the Spartans into the conference season with a lot of positive momentum.
Jordan Hall hosts second annual free youth football camp (Video)
Jordan Hall is a legend already.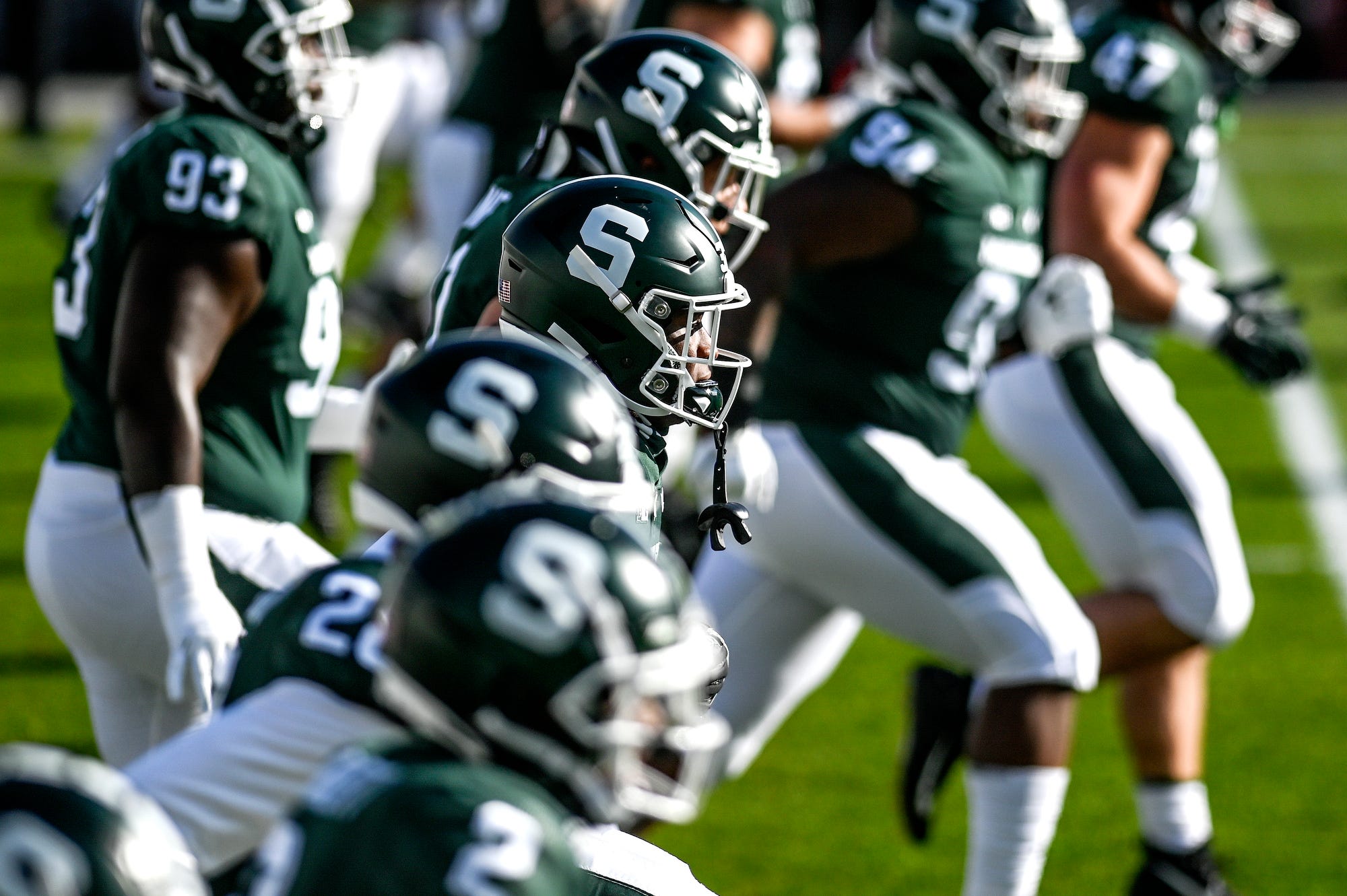 Michigan State freshman linebacker Jordan Hall continues to show just why he's one of the best out there.
Jordan Hall is already showing signs of being the next great Spartan on and off the field.
The Michigan State freshman linebacker was born and raised in Fredericksburg, Va. However, he most recently moved to Bradenton, Fla., to play football at IMG Academy.
This past weekend, Hall returned home to Fredericksburg to host his second annual free Jordan Hall Youth Football Camp.
The Jordan Hall Youth Football Camp…

Jordan's youth football "career" started at this field with one goal post, uncut grass, car lights at night for light to be able to practice and woods for bathroom breaks; but one thing it didn't lack was LOVE, GUIDANCE, & LIFE LESSONS. 💚🤍 pic.twitter.com/8kjJD7mTkP

— Cyreeta Hall (@MommaHall2U) May 31, 2023
Hall has already been making a name for himself on the field for the Spartans this spring. His play and effort has been praised by fellow players and coaches alike. IMG Academy has a long history of producing high-quality athletes. This makes Hall's tenure in the program even more noteworthy. He became the first three-time captain in IMG Academy history.
When coaches are recruiting players, they are hoping to find the perfect mix of talent and character. You don't become a three-time captain of a storied school like IMG Academy without having both.
In a recent interview with Spartan Shadows, Cryeeta Hall said of her son, "One of his favorite things he loves to do is teach the game of football to kids. He loves to coach."
Michigan State fans are excited to see what Jordan Hall can contribute on the field, but his character off the field so far is creating just as much excitement. When you see a young man with the heart and determination to give back to his hometown, it lets fans know this is the sort of player you can to rally around and support. Mel Tucker has shown intentionality in his recruiting. He has a specific type of player that he's looking for. Jordan Hall epitomizes a Tucker type of player.
Hall has the potential to earn immediate playing time this year as a true freshman. I'm not a betting man but if I were, I'd wager that we'll see him as a team captain for the green and white sooner than later.
Mel Tucker is best coach in the Big Ten when it comes to one stat
This may surprise you.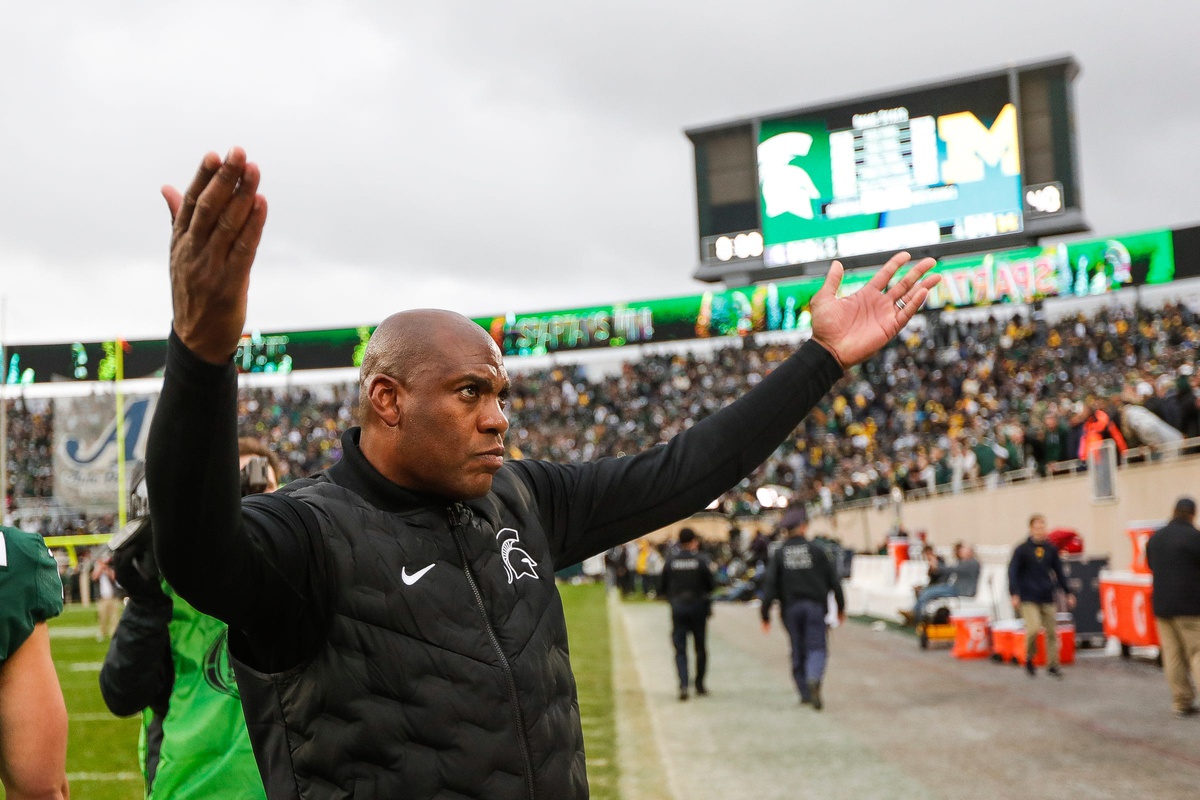 Mel Tucker is the best coach in the conference when it comes to this one surprising stat.
Michigan State football coach Mel Tucker is one of the best coaches in the Big Ten when it comes to close games.
This may surprise some considering two of Tucker's three years at Michigan State have resulted in losing seasons. But the data shows that Tucker knows how to come out on top when the game is close.
He has been at Michigan State since 2020. During that three year timeframe he boasts a 10-1 record in games decided by 10 points or less which is the best record in the conference during that span.
Here is a list of all 11 of those games:
2020
at Michigan (W 27-24)
vs. Northwestern (W 29-20)
2021
vs. Nebraska (W 23-20)
at Indiana (W 20-15)
vs. Michigan (W 37-33)
vs. Penn State (W 30-27)
vs. Pittsburgh (W 31-21)
2022
vs. Wisconsin (W 34-28)
at Illinois (W 23-15)
vs. Rutgers (W 27-21)
vs. Indiana (L 39-31)
How impressive is this really?
A 10-1 record when games are within 10 points is extremely impressive. The only loss on this list is Indiana from last season, a game Michigan State likely should have one. The Spartans ended up losing in overtime to the Hoosiers, but were a chip shot field goal away from winning in regulation. That is a field goal college kickers make almost every time, so Tucker's one loss on this list could easily have been another win.
Regardless, 10-1 is the best winning percentage in games decided by 10 points or less in the Big Ten during that three-year span.
This is how the rest of the Big Ten teams fared during this same timeframe:
Michigan State: 10-1 (.909)
Maryland: 8-3 (.727)
Iowa: 11-5 (.688)
Indiana: 7-4 (.636)
Purdue: 12-7 (.632)
Ohio State: 3-2 (.600)
Michigan: 6-4 (.600)
Minnesota: 9-7 (.563)
Rutgers: 7-6 (.538)
Wisconsin: 6-7 (.462)
Penn State: 5-7 (.417)
Northwestern: 5-9 (.357)
Illinois: 6-11 (.353)
Nebraska: 5-16 (.238)
What does this tell us about Mel Tucker?
One thing this tells us is the Tuck is a great in game coach in tight situations. No coach goes 10-1 in close games by accident. Sometimes there is a lot of luck involved with winning close games, but that's not necessarily the case when you win them this efficiently. Anyone can close a game out when you are up by 20, but not everyone can win a close game in the closing seconds.
This statistic is not all good though. Michigan State has won 18 games during the past three seasons. This means that over half of the games Mel Tucker has won at Michigan State have been within 10 points. For a program with extremely high goals, that fact is a little scary.
As I mentioned before, sometimes luck has to be on your side to win these close games. So relying on winning a lot of close games to have a great season is not a recipe for success.
One things for sure though, as long as Mel Tucker is the coach at Michigan State, we stand a very good chance at winning any close game.