Michigan State hockey facing biggest 2-week stretch in years
MSU hockey is facing a critical stretch.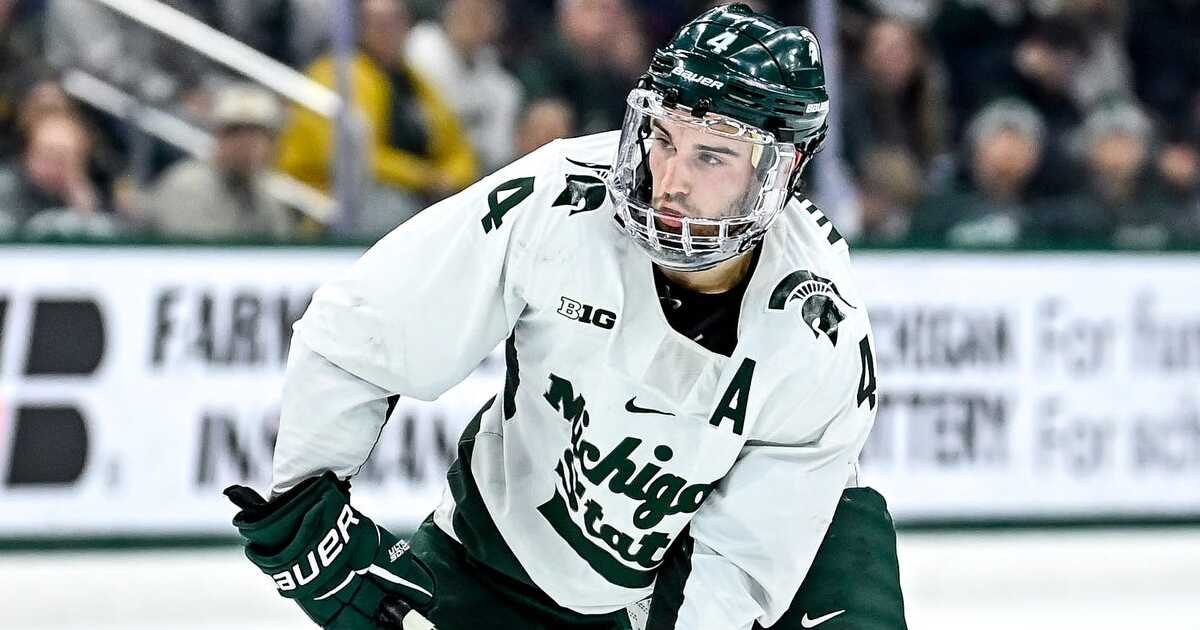 Adam Nightingale and the Michigan State hockey program are facing their biggest two-weekend stretch in many years.
It is no secret that Michigan State hockey has overachieved this year. No matter what happens these next two weeks, Michigan State fans should be proud of the hockey program and the direction it is headed under Adam Nightingale.
This program plays fast pace and smart hockey. The transfers and seniors under Nightingale have also brought a calmness and leadership to the locker room that has not allowed the program to get down after a bad weekend. This remains true especially after getting beat convincingly by No. 1 Minnesota.
Michigan State hockey is not at the level where fans can honestly expect it to beat this Minnesota team consistently. Honestly, it would be a surprise to many fans if they were able to beat them even once. In four games against Minnesota, the closest Michigan State has gotten is three goals.
Because of last weekend's results against Minnesota, Michigan State was bumped out of the national tournament by one spot. Michigan State is currently No. 17 and it needs to get to No. 16 if it wants to make the tournament. That is why these next three weekends are very important and it all started with a series against Notre Dame this past weekend.
The Spartans earned a series sweep.

Both Michigan State and Notre Dame had a chance with a win or two against the other team to jump into that top 16. Notre Dame, sitting at No. 20, would need more help to jump into the top 16 but with two wins, that could've been a possibility. The key aspect of these games this past weekend was that they were in East Lansing. Two wins not only means a chance to be in the top 16 with two weeks to go but it also means that Michigan State is closer to hosting a Big Ten Tournament Series in East Lansing.
Michigan State could lose the next four and not make the tournament. Michigan State could've even lost one against Notre Dame and still make it. With that being said, each game is going to come with a lot of pressure which seems to not bother this Michigan State team too much.
After this past weekend's series sweep against Notre Dame, who does Michigan State play next?
Michigan State has Michigan and Wisconsin next. Against the Wolverines, Michigan State is 1-1 and they are 2-0 against the Badgers. If Michigan State can manage to at least win two of its next four games, it would have a good chance to play itself into the national tournament depending on how the Big Ten Tournament goes.
The race toward the tournament picks up next weekend and as Michigan State fans, we will know where the Spartans sit in that race in just a couple of weeks.
Michigan State hockey lands former Red Wings draft pick Red Savage
MSU hockey is loading up on talent this offseason.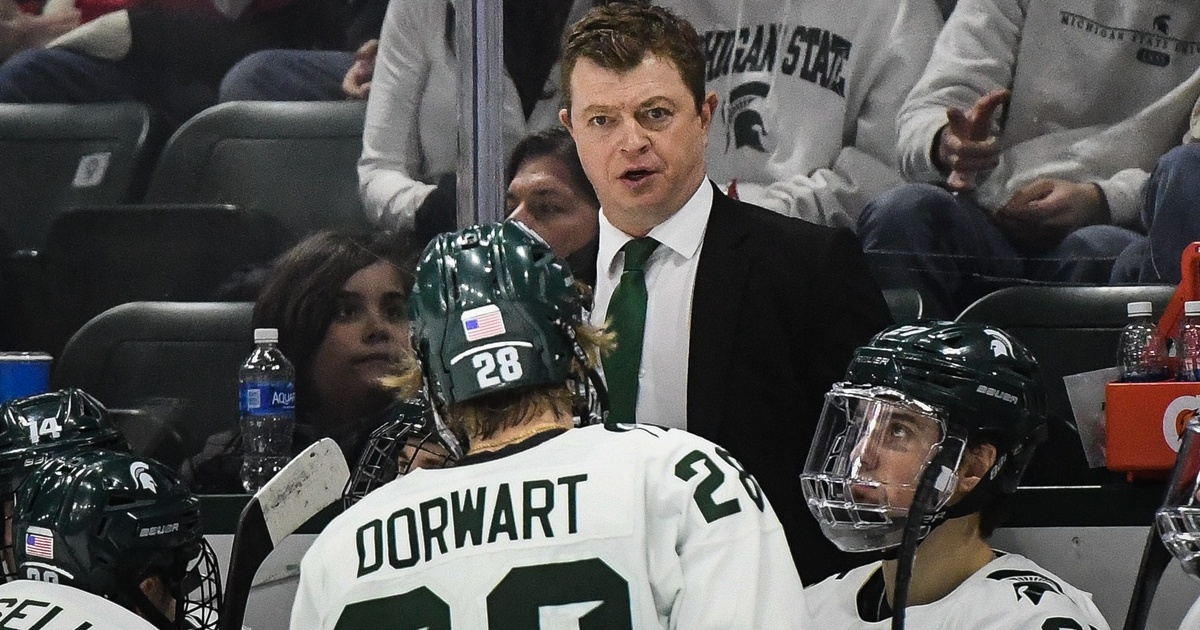 Michigan State hockey acquired Red Wings draft pick Redmond Savage via the transfer portal this week.
The Detroit Red Wings' 2021 fourth-round draft pick and "all-time names team" member Red Savage has reportedly transferred to Michigan State hockey to continue his college career.
In a sport that does it backwards where you get drafted and then play, the Scottsdale native has elected to come to the banks of the Red Cedar to continue his college hockey career.
Red Savage (DET) is heading to Michigan State out of the transfer portal from Miami

— Ryan Kennedy (@THNRyanKennedy) March 22, 2023
After a quarterfinal bounce ended Miami-Ohio's Frozen Four hopes, the 2021 mid-round pick's season fell just a little short of expectations, tallying seven goals and seven assists this 23-game season but found a silver lining in his impressive three-goal, three-assist outing at the 2023 U-20 tournament (seven games).
Savage is the son of longtime NHL player Brian Savage who notched over 350 combined points in a 650-plus game career. 
A forward like Savage could be exactly what Michigan State hockey needs after having its best season in years. This could as well be a huge moment for head coach Adam Nightingale. If he can show Red as a transfer success story like the ones of the football and basketball teams, it could propel him to center stage in the college hockey community. Other teams may have more first-round draft picks and talent, but one could argue no team has momentum like the Spartans.
Expect Red to come out firing for the Spartans this season. Fourth-round draft picks can sometimes be long shots to make it to the NHL, but Red quite literally has what it takes in his now green blood. He'll be giving it all being on the back-nine of his college hockey career so he can prove worthy of his NHL contract.
Previewing the 2023 Big Ten gymnastics championship
Let's take a look at the Big Ten gymnastics championship.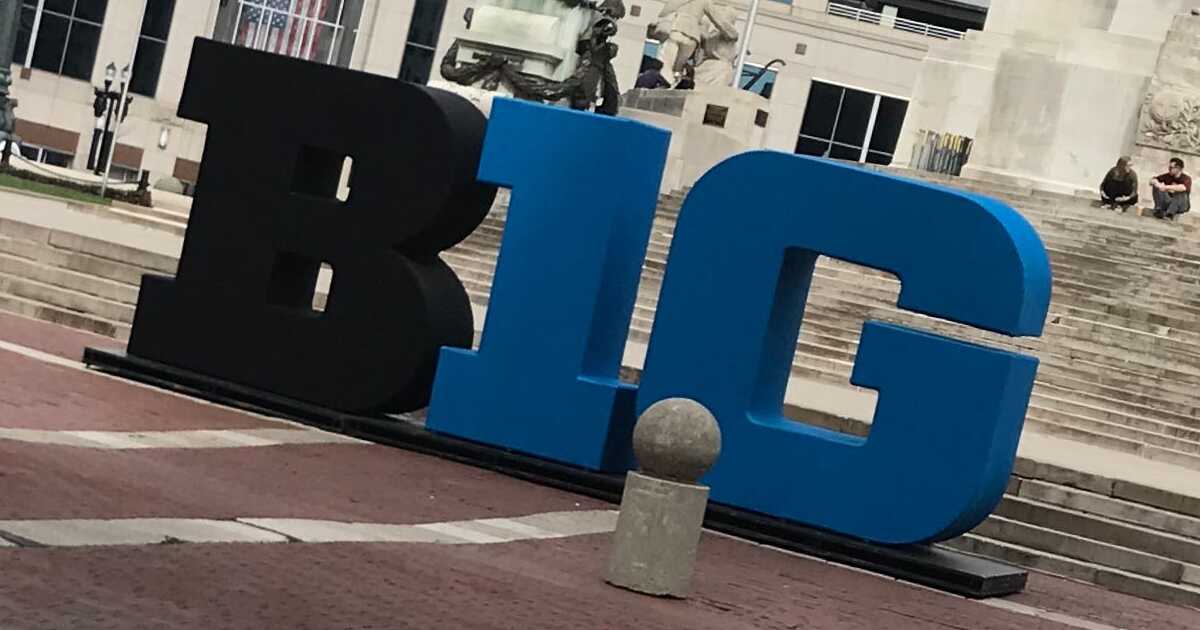 Michigan State women's gymnastics will compete in the Big Ten gymnastics championship meet this Saturday afternoon.
Michigan State women's gymnastics will compete in the Big Ten gymnastics championship meet this Saturday, March 18 at XTREAM Arena in Coralville, Iowa.
Michigan State completed its regular season last Saturday in a meet against Northern Illinois. This was their best regular season in program history. They finished the season 14-2 overall, and 8-1 in Big Ten play and are currently ranked No. 9 in the country. The team posted program records this season in all four events. They also shattered their overall team score by over half a point.
Individually, freshman Nikki Smith, sophomore Gabi Stephen, and sophomore Skyla Schulte have the three highest all-around scores in MSU history, with Smith's and Stephen's scores coming this month. In addition, Nikki Smith posted the program's third-ever 10.0 on vault this year, and Senior Jori Jackard recorded the first 10.0 in program history on uneven bars.
The meet will likely come down to No. 2 Michigan and No. 9 Michigan State. They have been far and away the best teams in the Big Ten all season. They tied atop the Big Ten standings this season. Michigan State pulled the upset and won against Michigan at Jenison early in the season, making MSU the No. 1 seed in the championship meet. However, Michigan will be the favorite and will be out for revenge. But Michigan State has the ability to pull the upset once again.
Michigan has been the more consistent team this year, with an average score of 197.798. MSU's average is 197.175. The gap between their season-high is much smaller, however. Michigan's season-high is 198.300, while MSU's is 198.225. This meet could go either way. No other Big Ten team this year has recorded a score above 197.6. It would be a major upset if another team were to finish in the top two.
Michigan has been the premier gymnastics program in the Big Ten for years.
Though another Michigan State victory this weekend could be a signal of a changing of the guard. A win would give MSU the head-to-head victory, the Big Ten regular season title, and the Big Ten championship meet title. MSU's success has come mostly off of the back of their underclassmen. This newfound success appears to be sustainable in the long term as well.
Michigan State Hockey wins first-ever Big Ten Tournament game
MSU's NCAA tournament hopes are still alive.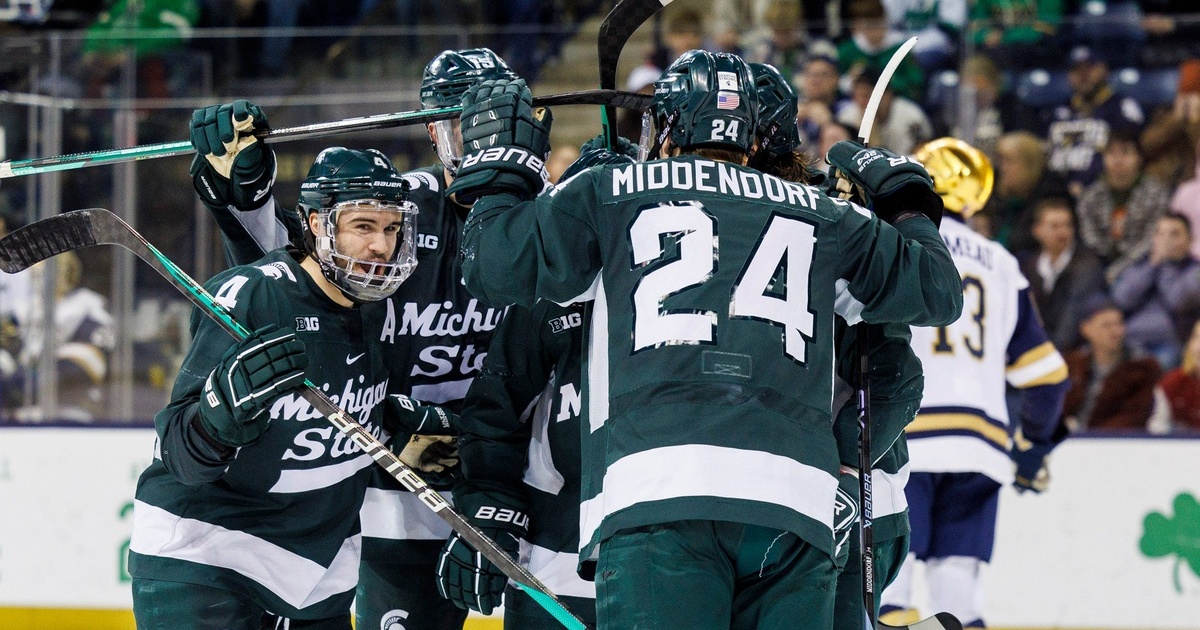 Michigan State hockey wins Game 2 of the three-game series against Notre Dame, keeping its NCAA tournament hopes alive.
Michigan State hockey made history tonight. That history comes from a 4-2 victory in Game 2 against Notre Dame in this year's Big Ten Tournament.
Coming into Saturday's game, Michigan State was 0-14 in these tournament games since the Big Ten Conference was formed in 2013. This is not only history finally being made, this is a huge result for this years team especially if they want to make the NCAA tournament.
Coming into this game, the NCAA tournament was out of reach if the Spartans lost. This is because of a tough loss last night 1-0 when some may say Michigan State deserved to win with having over 40 shots on goal. Michigan State just missed many chances and you have to give credit to Notre Dame for that win. Because of that loss, today's game was a must-win or Michigan State would have been sent home for the year and it looked like that was going to happen until its offense finally scored its first goal.
During the first period of Game 2, the Spartans were outshooting the Fighting Irish by over 10 but they were down 1-0 and the home crowd was rocking. It felt like Michigan State was the much better team but Notre Dame was converting their few chances they had.
The second period started and it seemed like both teams flipped what they were doing. Nine minutes into the second period, Michigan State had no shots on goal and Notre Dame actually had more shots than the Spartans. That first shot with 11 minutes left in the second changed the game. Michigan State finally put one in the back of the net during a power play and you could see the confidence growing.
Michigan State continued to take shots and next thing you knew, it was 4-1 Michigan State in the third period with 6 minutes left. Michigan State was absolutely dominating in this game and that really continued to the end even with a goal late to Notre Dame.
This win forces a Game 3 on Sunday night at 6 p.m. ET.
Game 3 is going to be one of the biggest games Michigan State hockey will play in over 10 years. With a win, Michigan State would not only have their first series win but it would mean they could maybe get into the NCAA tournament. The tournament is not a guarantee with a win but with a loss, there goes any chance.
The winner of Game 3 will take on Minnesota and for either of these teams, that will be a tough task to even win one game. No matter what happens on Sunday, this has been a very successful season for Michigan State and it shows what this team can do going forward with Adam Nightingale. Even though a loss still means a very successful year, it would be huge for the program to get the win tomorrow and advance to the second round of the Big Ten Tournament.
If you are interested in watching, puck drop is at 6 p.m. ET tomorrow on FS2.