Michigan State basketball: Realistic 2023 NCAA Tournament expectations
How far could MSU go in the NCAA Tournament?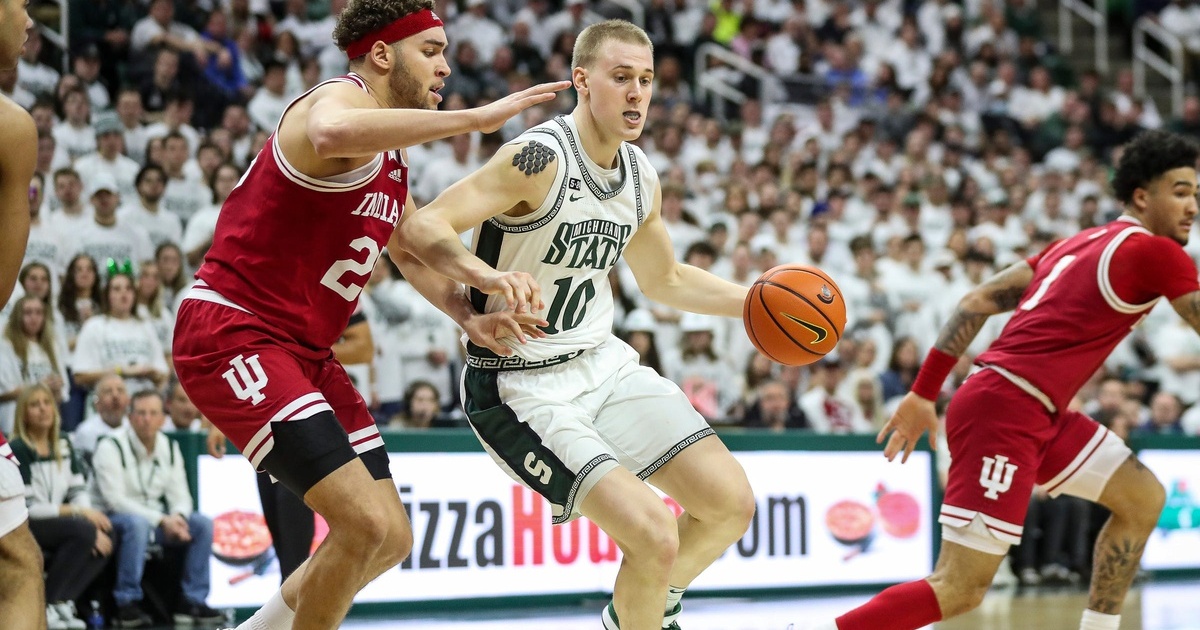 With the bracket revealed, it's time to break down just how far Michigan State basketball will go in the 2023 edition of March Madness.
The bracket is finally here. Selection Sunday has past, and Michigan State basketball is headed to Columbus this Friday to play a feisty USC Trojans team.
With the bracket revealed, it's time to breakdown the potential path for Tom Izzo and these Spartans to chase a second national championship.
Game 1: MSU vs. USC on March 16 at 12:15 p.m. ET
USC, ranked No. 50 in NET and No. 36 in KenPom, is an intriguing matchup for MSU.
Much like the Spartans, they are led by a senior guard in Boogie Ellis, who is averaging 18 points per game on the year. However, the Trojans aren't an elite 3-point shooting team, something that has killed the Spartans all year, nor do they have a truly elite big man, which has undoubtedly been MSU's Achilles heel.
I like how the Spartans match up with USC, and I think they will come out hungry after laying an egg in the Big Ten Tournament against Ohio State, handling USC and advancing to the Round of 32.
Prediction: MSU 67, USC 62
Ceiling: National Championship
Do I think it's realistic? No. Do I think it's possible? Absolutely. Guards win in March, and MSU has some of the best in the country in Tyson Walker, AJ Hoggard, and Jaden Akins. If those three are playing their best compiled with continued stellar shooting from Joey Hauser and solid contributions from Malik Hall and Mady Sissoko, there is no reason this team can't run the table, especially in what I believe is the weakest of the four regions in the bracket.
The two teams that scare me the most on the way to Houston are Kansas State and Duke (of course Duke is in our region), but there's a somewhat realistic chance we avoid both of them and make it to the Final Four only playing one of the top 5 seeds in the East.
Once in Houston, MSU could face an Alabama team that they already played close once this year without Malik Hall and Jaden Akins, and their momentum at that point could be enough to carry them to Izzo's long-awaited second national title.
Floor: First-round exit
I know, I know, it may not seem real insightful for me to say "Michigan State basketball can win the national championship but can also lose in the first round." That's true of every team in March. However, I think it is especially true of these Spartans.
Throughout the year, they've had games where they looked unstoppable (see: Feb. 21 vs. Indiana and Feb. 28 vs. Nebraska) and they've hung around with some of the best teams in the country in Gonzaga, Purdue, and Alabama.
However, they have also done things like lose to Ohio State in their first game of the Big Ten Tournament and blow a 13-point lead in 90 seconds to a questionable Iowa team. The roller-coaster season leaves me not knowing what to expect going into this weekend.
As much as I like their matchup with USC and their region as a whole, if the threes aren't falling and we aren't grabbing rebounds, this team could very easily fall to the Trojans in the first round.
My prediction: Sweet 16
My (somewhat) unbiased actual prediction for the Spartans is a Sweet 16 exit via the Kansas State Wildcats.
I think we will prove to be too much for the Trojans and beat them on Friday, setting the stage for a poetic Joey Hauser "revenge" game against Marquette. After this point, I don't think we will be able to stay hot from behind the arc long enough to beat a tough Kansas State team, and they will eventually fall to them in the second weekend, which, all things considered, would leave Spartan fans upset, but proud of their team after all that they've been through this season.
In the end, this team still goes as Hoggard goes, and if he can keep it turned on for six consecutive games, there's no telling how far this team can make it.
Prediction: Kansas State 76, MSU 65 (Sweet 16)