Spartan Shadows staff Week 5 college football picks against the spread
Who ya got?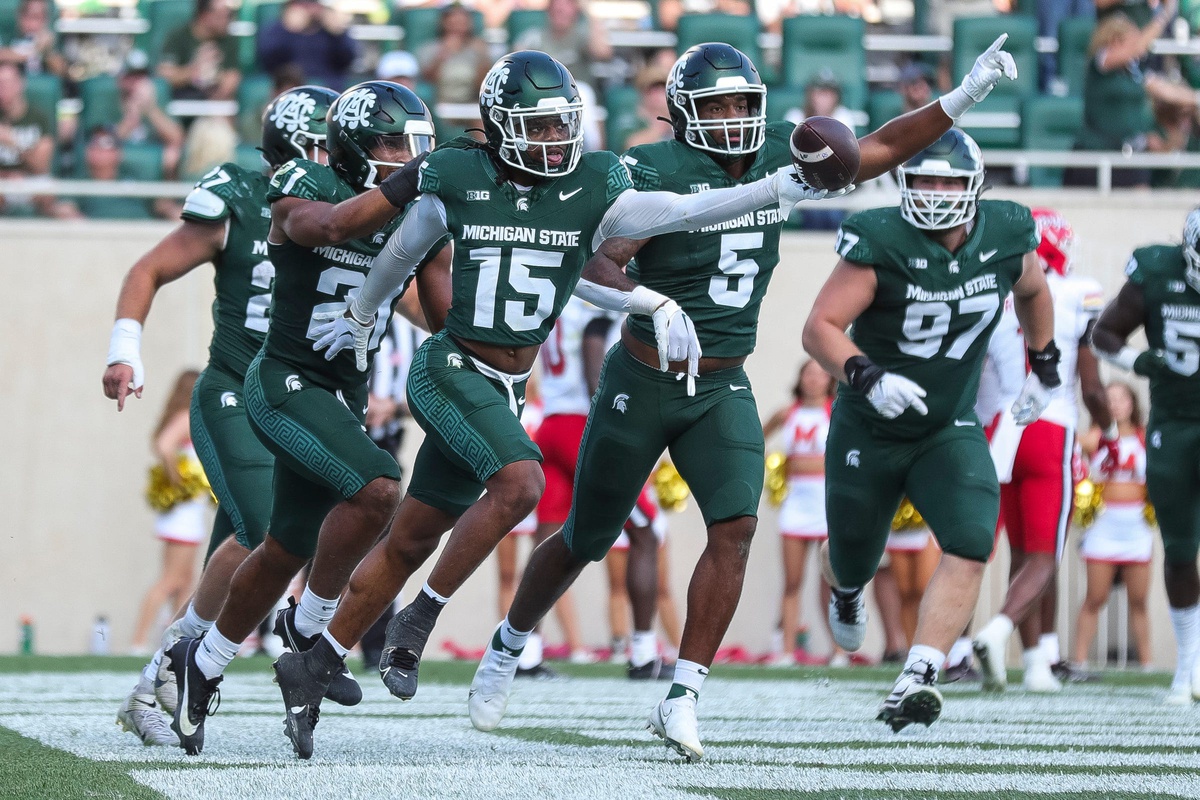 Week 5 of the college football season is upon us and that means it's time for the Spartan Shadows' weekly staff pick 'em.
What a wild and entertaining week of college football Week 4 gave us. Welcome back, Spartan Shadows family to our weekly picks article. The weekly segment/competition where we battle it out for crisp high fives and bragging rights.
In all honesty, Week 4 had some really fun games. When conference play always gets going, you start to see a little more evenly matched games. Also, some rivalry games start as well. Moving forward, we should have some fun games each week to watch and wager on (responsibly of course).
With that in mind, let's check out the results of our Week 4 picks.
Week 4 results
 Here's how the picks went last week:
Wisconsin at Purdue — Line: Wisconsin -6; Result: Wisconsin cover
Rutgers at No. 2 Michigan — Line: Michigan -24; Result: Push
No. 4 Florida State at Clemson — Line: FSU -2.5; Result: FSU cover
No. 19 Colorado at No. 10 Oregon — Line: Oregon -21; Result: Oregon cover
No. 22 UCLA at No. 11 Utah — Line: Utah -4.5; Result: Utah cover
No. 15 Ole Miss at No. 13 Alabama — Line: Alabama -7; Result: Bama cover
No. 14 Oregon State at No. 21 Washington State — Line: Oregon State -3; Result: Washington State cover
No. 6 Ohio State at No. 9 Notre Dame — Line: Ohio State -3; Result: Push
No. 24 Iowa at No. 7 Penn State — Line: Penn State -15; Result: Penn State cover
Maryland at Michigan State — Line: Maryland -7.5; Result: Maryland cover
For the staff picks recap: two pushes? ESPN was killing me with these even number spreads. Nevertheless, I'll take two more not being in the loss column with OSU and Michigan. Shoutout to Marcus Freeman for not putting 11 defenders on the field to end that game and allow OSU to push the spread for me. Appreciate it.
As far as how the rest of the weekend games affected the standings, we look no further than to MSU Daily. Daily went off last week with a blistering 8-0-2 mark. After that, Emmett, Max, and I turned in a great 6-2-2 record. Next up, Connor and Anthony went 5-3-2. MSU Recruits turned in a solid 4-4-2 card. Bringing up the rear was Hop at 3-5-2 and Joey at 2-6-2.
Updated standings after Week 4
Emmett: 23-15-2
(Tie) Connor, Max, and Daily: 22-16-2
(Tie) HopMan and Chris: 21-17-2
MSU Recruits: 20-18-2
Anthony: 18-20-2
Joey: 15-23-2
Side Competition updates:
Daily's scorching Week 4 combined with Hop's lackluster one puts him a game ahead of HopMan in his quest to best Hop. What change from last week.
In the battle for the Cane's Box; I am leading Anthony by three games. As you can tell from some of the scores this week, anything is possible from week to week. I expect a strong showing from him soon.
Week 5 college football games
Disclaimer: All lines are as of 11:00 p.m. ET on Tuesday, Sept. 26, from FanDuel.
No. 10 Utah at No. 19 Oregon State — Friday at 9 p.m. ET on FS1 (Line: Oregon State -3.5)
Emmett: Oregon State
Connor: Oregon State
Max: Utah
Daily: Oregon State
Chris: Utah
Hop: Utah
Recruits: Oregon State
Anthony: Utah
Joey: Oregon State
No. 8 USC at Colorado — Saturday at 12 p.m. ET on FOX (Line: USC -21.5)
Emmett: USC
Connor: Colorado
Max: USC
Daily: USC
Chris: USC
Hop: USC
Recruits: USC
Anthony: Colorado
Joey: USC
No. 22 Florida at Kentucky — Saturday at 12 p.m. ET on ESPN (Line: Kentucky -1.5)
Emmett: Florida
Connor: Kentucky
Max: Kentucky
Daily: Florida
Chris: Kentucky
Hop: Florida
Recruits: Florida
Anthony: Florida
Joey: Kentucky
No. 1 Georgia at Auburn — Saturday at 3:30 p.m. ET on CBS (Line: Georgia -14.5)
Emmett: Georgia
Connor: Georgia
Max: Georgia
Daily: Georgia
Chris: Georgia
Hop: Georgia
Recruits: Georgia
Anthony: Georgia
Joey: Auburn
No. 2 Michigan at Nebraska — Saturday at 3:30 p.m. ET on FOX (Line: Michigan -17.5)
Emmett: Michigan
Connor: Nebraska
Max: Michigan
Daily: Michigan
Chris: Michigan
Hop: Nebraska
Recruits: Michigan
Anthony: Nebraska
Joey: Michigan
No. 24 Kansas at No. 3 Texas — Saturday at 3:30 p.m. ET on ABC (Line: Texas -16.5)
Emmett: Kansas
Connor: Texas
Max: Kansas
Daily: Texas
Chris: Texas
Hop: Texas
Recruits: Kansas
Anthony: Kansas
Joey: Kansas
No. 13 LSU at No. 20 Ole Miss — Saturday at 6 p.m. ET on ESPN (Line: LSU -2.5)
Emmett: LSU
Connor: Ole Miss
Max: LSU
Daily: Ole Miss
Chris: LSU
Hop: LSU
Recruits: LSU
Anthony: Ole Miss
Joey: Ole Miss
No. 11 Notre Dame at No. 17 Duke — Saturday at 7:30 p.m. ET on ABC (Line: Notre Dame -5.5)
Emmett: Duke
Connor: Duke
Max: Duke
Daily: Notre Dame
Chris: Duke
Hop: Notre Dame
Recruits: Duke
Anthony: Duke
Joey: Notre Dame
South Carolina at No. 21 Tennessee — Saturday at 7:30 p.m. ET on SECN (Line: Tennessee -12.5)
Emmett: Tennessee
Connor: South Carolina
Max: Tennessee
Daily: Tennessee
Chris: South Carolina
Hop: South Carolina
Recruits: South Carolina
Anthony: South Carolina
Joey: South Carolina
Michigan State at Iowa — Saturday at 7:30 p.m. ET on NBC (Line: Iowa -12.5)
Emmett: Michigan State
Connor: Michigan State
Max: Michigan State
Daily: Iowa
Chris: Iowa
Hop: Michigan State
Recruits: Michigan State
Anthony: Michigan State
Joey: Iowa
There you have it for Week 5. Place your bets accordingly. Happy college football watching, everyone.
Go Green.