5 ways Michigan State basketball can meet expectations in 2023-24
The expectations are sky-high.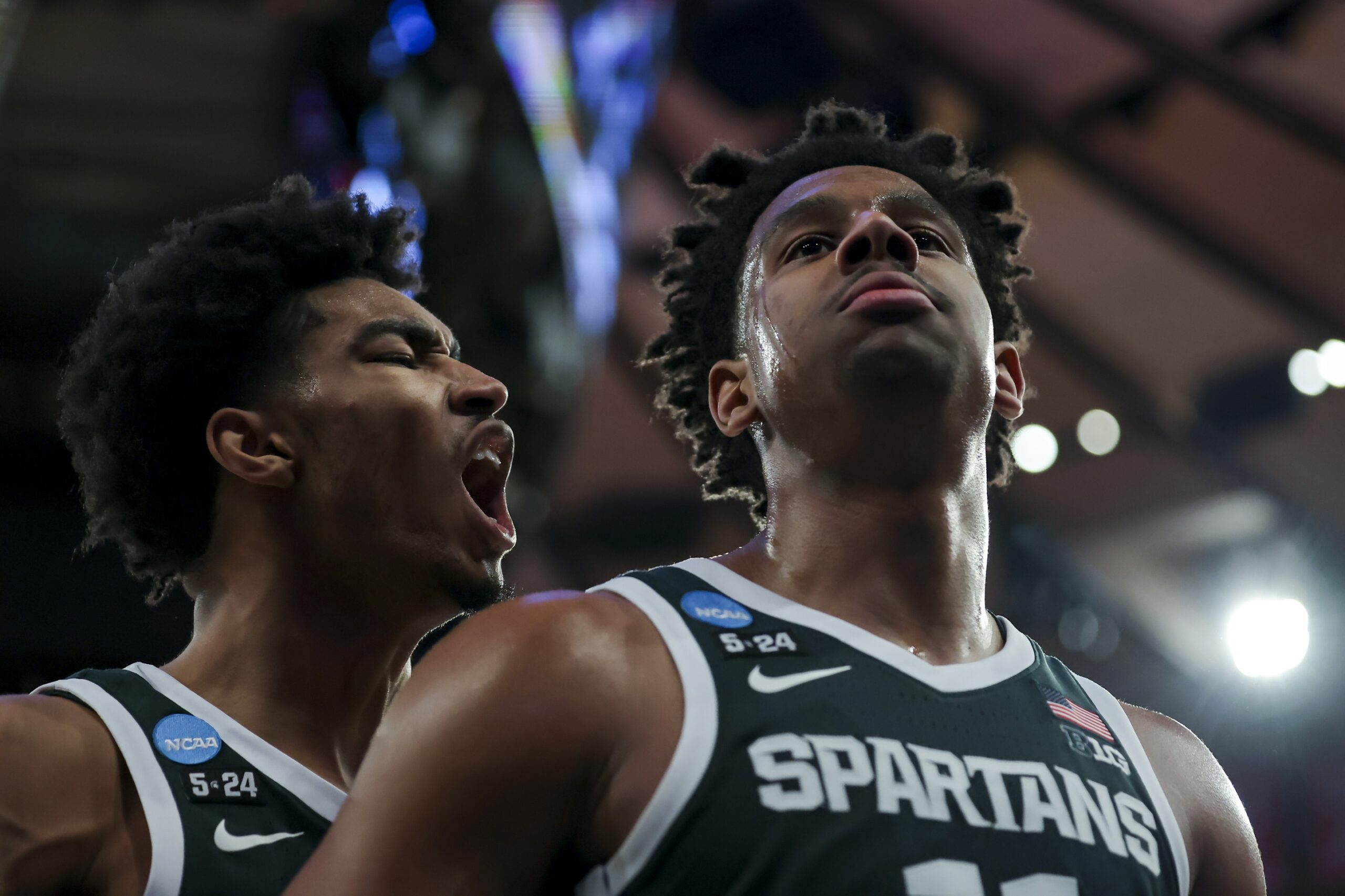 Expectations are through the roof for Michigan State basketball this season and here's how the Spartans can reach them.
This Michigan State basketball team has major expectations coming into the 2023-24 season. But there are certain things that this Michigan State team needs to do if it wants to compete for a national championship.
1. AJ Hoggard shoots better from 3-point range
AJ Hoggard has consistently improved his shooting each season and needs to continue to develop his range and consistency. The major reason this becomes a larger key is the power forward position has a lot of unknowns. Michigan State uses a lot of ball screens and both the power forward and center position lack players who can stretch the floor. Last year off the ball screen, Hoggard could always kick it back out to Joey Hauser if the defense collapsed. With the roster currently you have unknowns from 3-point range in Xavier Booker and Coen Carr at the power forward position. This means that AJ's percentage will need to increase from 32.9% a year ago.
2. Center position's defense
The center position was an up and down rollercoaster a year ago. This wasn't too much of a surprise as Tom Izzo elected to go with Mady Sissoko and two unproven freshmen. This season should see an upgrade as both Carson Cooper and Jaxon Kohler should be more comfortable with the defensive coverages. Also, there are fewer high-caliber centers in the league compared to last year which should help this cause. MSU will see fewer back-to-the-basket centers in 2023 than in 2022. This should help as the Spartans struggled against guys like Hunter Dickinson and TSD. I would expect Carson Cooper to see more time as he should be the Spartans best center defender. Cooper should help Michigan State in pick and roll defense and be able to wall up in the post.
3. Figure out the rotation
This is a Tom Izzo and staff staple as the first two months we will see some unexpected lineups. Obviously, this team is loaded with talent coming back and the freshman talent. But hopefully we work out the kinks of the issues with lineups. This Michigan State basketball team has a lot of different pieces and figuring out how they blend together may take some time. Overall, this coaching staff will figure out these lineups but let them work it out through the start of the season.
4. Third offensive option
The Spartans lost their second/third option a year ago with the departure of Joey Hauser. The Spartans will need to replace 14.4 points per game on 48 percent from the field. Michigan State has some options for the third option such as Jaden Akins and Malik Hall. Akins should be the third option on this team, but can he get to the free throw line more than 34 times in an entire season. Akins has to continue to be a good wing defender while taking on more of a scoring role. He should also see an uptick in minutes 27 to around 30-31. Can Akins continue to shoot 42 percent from three on more attempts? His increased role will allow him to see more plays called for him. Also, a healthy Hall should be a solid fourth option who can step into the third option, if needed.
5. Rebounding
This has been an issue for Michigan State since Xavier Tillman was at Michigan State. The Spartans were not able to keep their opponents off the offensive glass giving their opponents an average of nine offensive rebounds per game. The Spartans finished 213th in the country in offensive rebound percentage as they only grabbed nine offensive rebounds per game. This team would be better offensively if they are able to get a few easy put backs. The Spartans will also have to replace there leading rebounder in Hauser who averaged seven per game. This team should be more athletic with guys like Xavier Booker and Coen Carr. I believe this Spartans team will be more athletic which will lead them to being better on the glass both offensively and defensively.
Some honorable mentions to these five ways to reach expectations are bench scoring, solving frontcourt issues, fixing turnover issues, and avoiding injuries. Michigan State basketball returns a lot of talent, but these are things that will need to be improved by the Spartans into the season and throughout the season. Will the Spartans do the five things above to effectively put them in the national title contention?