Bryce Baringer a "top 5 player" at Reese's Senior Bowl
Bryce Baringer is proving himself yet again.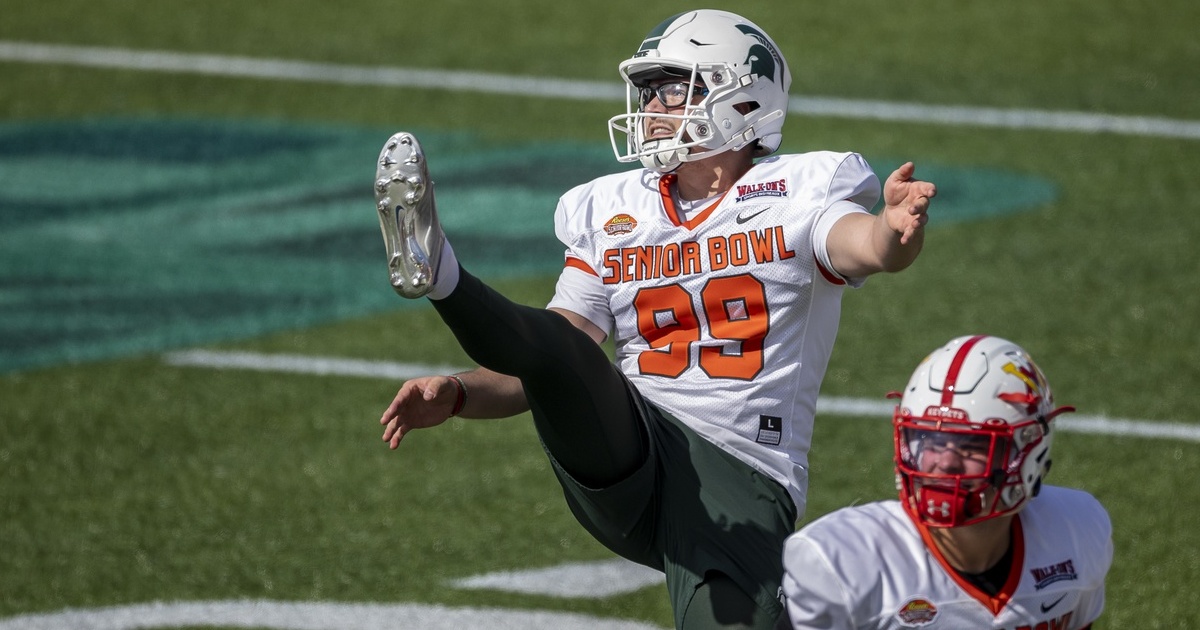 According to some in attendance at Reese's Senior Bowl practice, Bryce Baringer is making a name for himself — again.
Throughout his entire career, Bryce Baringer has been forced to prove himself.
Out of high school, he was overlooked by just about every program and was forced to walk on. He bounced around a bit, even worked for the team, and then got another chance to punt for Michigan State. Baringer didn't disappoint.
The Waterford Township, Mich., native turned Illinois transfer turned Michigan State walk-on eventually earned the starting job with the Spartans.
And he led the nation in punting in 2022.
Baringer was named an All-American and Big Ten Punter of the Year yet somehow was snubbed for the Ray Guy Award by a punter from Rutgers (make that make sense). Now he has to prove himself yet again after he missed out on being awarded the nation's top punter award despite leading the nation in some major categories and probably being Michigan State's best player in 2022.
He would get that chance with an invite to the Reese's Senior Bowl.
Baringer is not disappointing at practice thus far as one attendee stated that he is a "top 5 player" at the Senior Bowl. That is glowing praise.
Michigan State punter Bryce Baringer is a top 5 player at the Senior Bowl. Dude is absolutely smoking punts rn.

— Benjamin Solak (@BenjaminSolak) January 31, 2023
With all of the elite talent in attendance at the Senior Bowl, calling a punter a "top 5 player" must mean he's been absolutely killing it. Rutgers' Adam Korsak, the controversial winner of the Ray Guy Award, is on the American team so the fact that Baringer is out-performing him at practice is not all that shocking, but it could mean that Bryce is the top punter in the draft.
Will Baringer get drafted? A punter getting selected is a rarity but Baringer is that good.
One thing is for certain, however: Baringer is going to play on Sundays next year whether he's drafted or the first punter signed as an undrafted free agent.
From unoffered punter to walk-on to All-American to a 'top 5 player' at the Reese's Senior Bowl, Baringer really is incredible.