Coen Carr threw down the dunk of the year vs. Alcorn State (Video)
The reactions were priceless.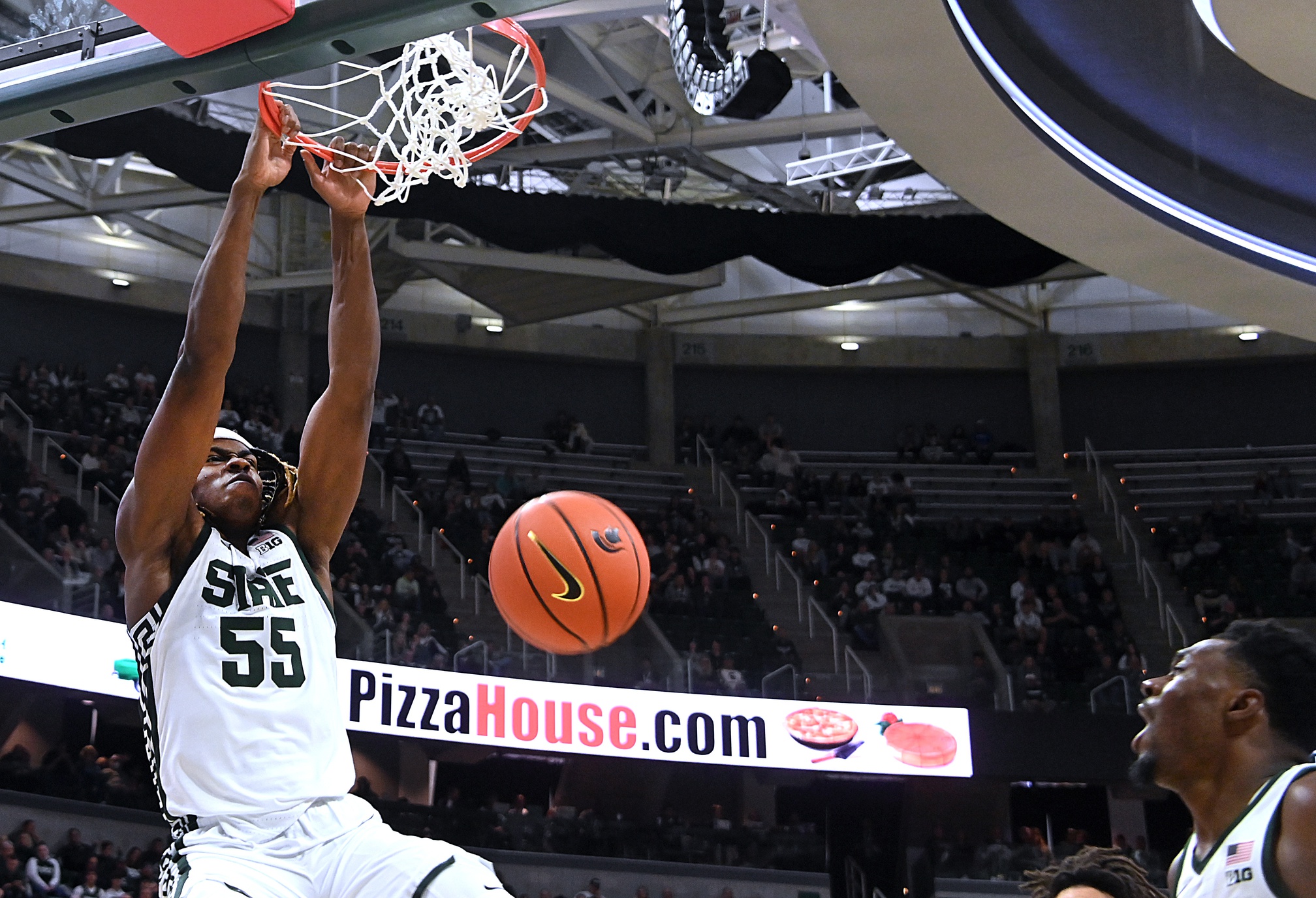 Coen Carr had arguably the best dunk we've seen all year at any level against Alcorn State. You have to see this to believe it.
I feel like this could turn into a weekly article at the rate we're going. Coen Carr once again wowed the Breslin Center crowd with his athleticism, this time dunking on an Alcorn State defender. This has dunk-of-the-year potential written all over it.
Take a look at it below:
COEN CARR ARE YOU SERIOUS pic.twitter.com/UZCl1Nmc4t

— Daily MSU (@daily_msu) November 20, 2023
Carr's athleticism is off the charts
We all know just how athletic and vicious of a dunker Carr is, but it somehow drops my jaw to the floor every time. You can even see his teammates' reactions on the bench in the background of the video above as well. Those guys reacting how they did tells you everything you need to know about how wild this dunk is.
What Carr can do is not normal.
His athleticism is not normal. Not many people can throw down crazy dunks as often as he does. It isn't often that you see someone at the college level with this disrespectful of a dunk on an opponent's head. And you almost never seen anyone dunk the ball from the free throw line. This is seemingly just another day at the office for Carr, and something we all should try to get used to.
Carr's athleticism is exactly what MSU needs
Carr's athleticism is nice for highlight reel dunks, but it also brings something unique to this team. Michigan State has some great athletes, but none are on the level of Carr. His athleticism brings something new to this team. He not only can shift momentum with these dunks, but he can impact the game in other ways as well.
Whether it be skying high for big rebounds against tall centers or being able to keep up with and guard opponents' freak athletes, Carr brings an important and unique skill set to the table. I think that is why Tom Izzo has given him a lot of minutes this season even with the defensive struggles he has had at times. Izzo knows his skill set is an asset to this team. He knows it is something most opponents can't match. So Izzo is using that to our advantage and giving him time to get used to the college level. Carr is already a solid contributor to this team, but he will be much better by the end of the season.