Michigan State basketball: 3 quick thoughts from Alcorn State win
No Tyson Walker, no problem.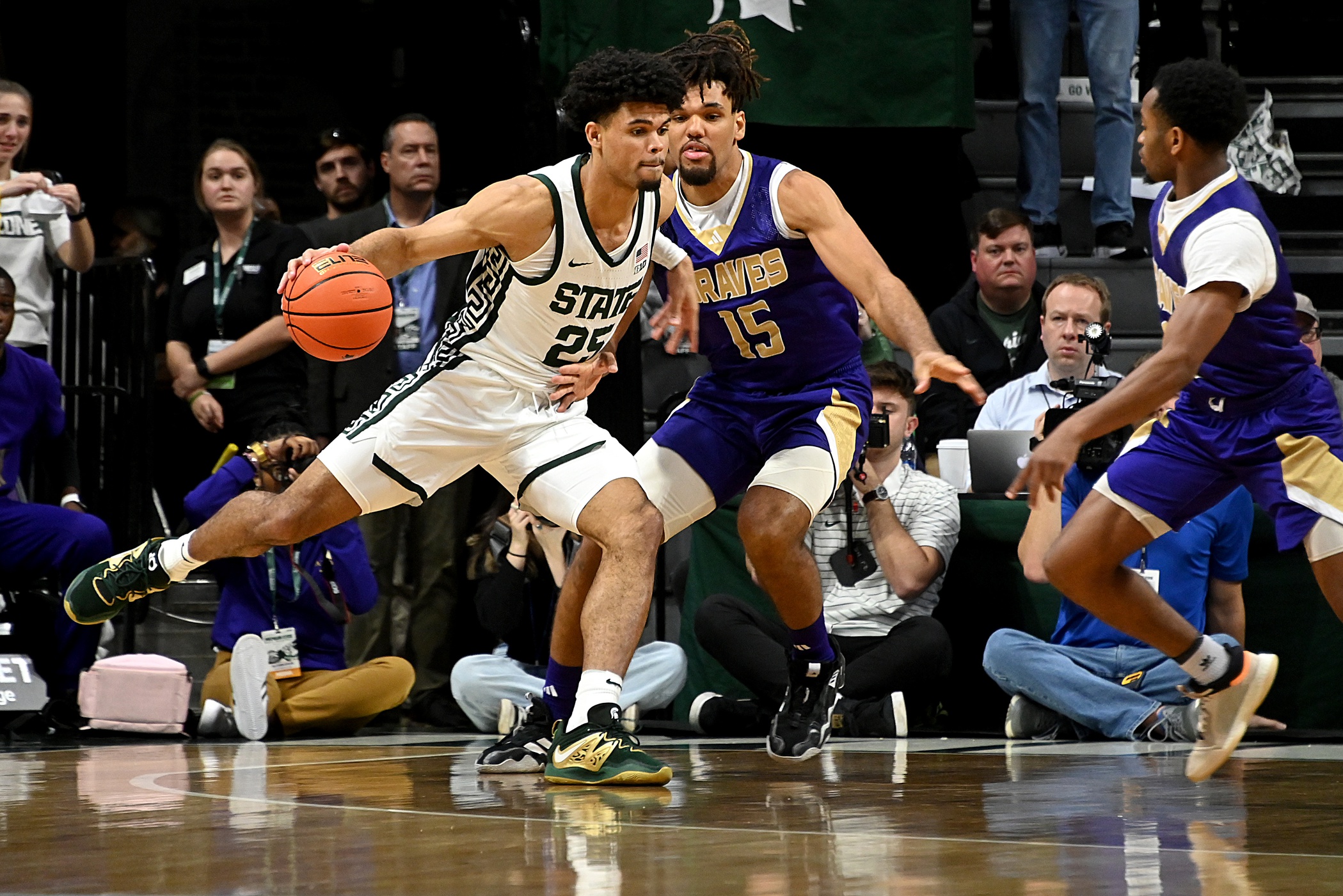 Michigan State basketball picked up a blowout win over Alcorn State on Sunday night to finally climb above .500.
Getting one final warm-up before facing a top-five Arizona team on Thanksgiving, Michigan State basketball didn't take it for granted. The Spartans won 81-49 and it felt like every aspect of the game was clicking for Tom Izzo's squad.
Tyson Walker was out with an illness, but that didn't stop the offense from scoring 81 points and shooting over 50 percent from the floor and 40 percent from 3-point range. We saw the veterans step up and the freshmen make plays (looking at you, Coen Carr).
COEN. CARR. 😤 @MSU_Basketball pic.twitter.com/yzVfgIXvT3

— Big Ten Network (@BigTenNetwork) November 20, 2023
Mutant.
OK, on to my quick thoughts on the Spartans' win over Alcorn State.
1. Tre Holloman can be a key shooter this year
In place of the sick Tyson Walker, Tre Holloman got the start and finished with 17 points, flashing some 3-point sharpshooting. In fact, Holloman finished 5-for-5 from deep and added a layup later in the game to finish with 17 points. We heard all about him improving this summer and being one of the team's surprise players this year, but we hadn't seen it yet. We finally did on Sunday night. He was a star for the Spartans on both ends of the floor and he could be that ideal three-and-D guy.
2. Rebounding, free throws remain a concern
While Carson Cooper has been a spark to the starting lineup, especially on the glass, the rebounding feels like it's still an issue. The Spartans got out-rebounded 41-38 and gave up an unacceptable 16 offensive boards. That's just not going to win you many games against good teams. Getting beat on the glass by a team like Alcorn State is a definite concern.
As for the free throws, 11-for-21 is also unacceptable. Tom Izzo will be working heavily on both of those before facing Arizona.
3. This team will be just fine
As expected, water found its level on Sunday night as the Spartans got back to their usual up-tempo game and the offense benefited big time. The Spartans shot over 50 percent from the floor and 40 percent from deep (this number was closer to 50 before a few misses late in the second half). The offense looked so much better than it did in the first three games (it was good against Butler, too).
Oh, and did I already mention it was without Tyson Walker?
Scoring 81 points and building a 40-10 lead in the first half without Walker doesn't happen if a team can't shoot or doesn't have any offensive weapons. This was a huge confidence-booster for the freshmen and guys like Jaden Akins and Tre Holloman.
Just as we thought, this team will be fine.