Former coach hints that Urban Meyer will be Michigan State's next coach
This would be something.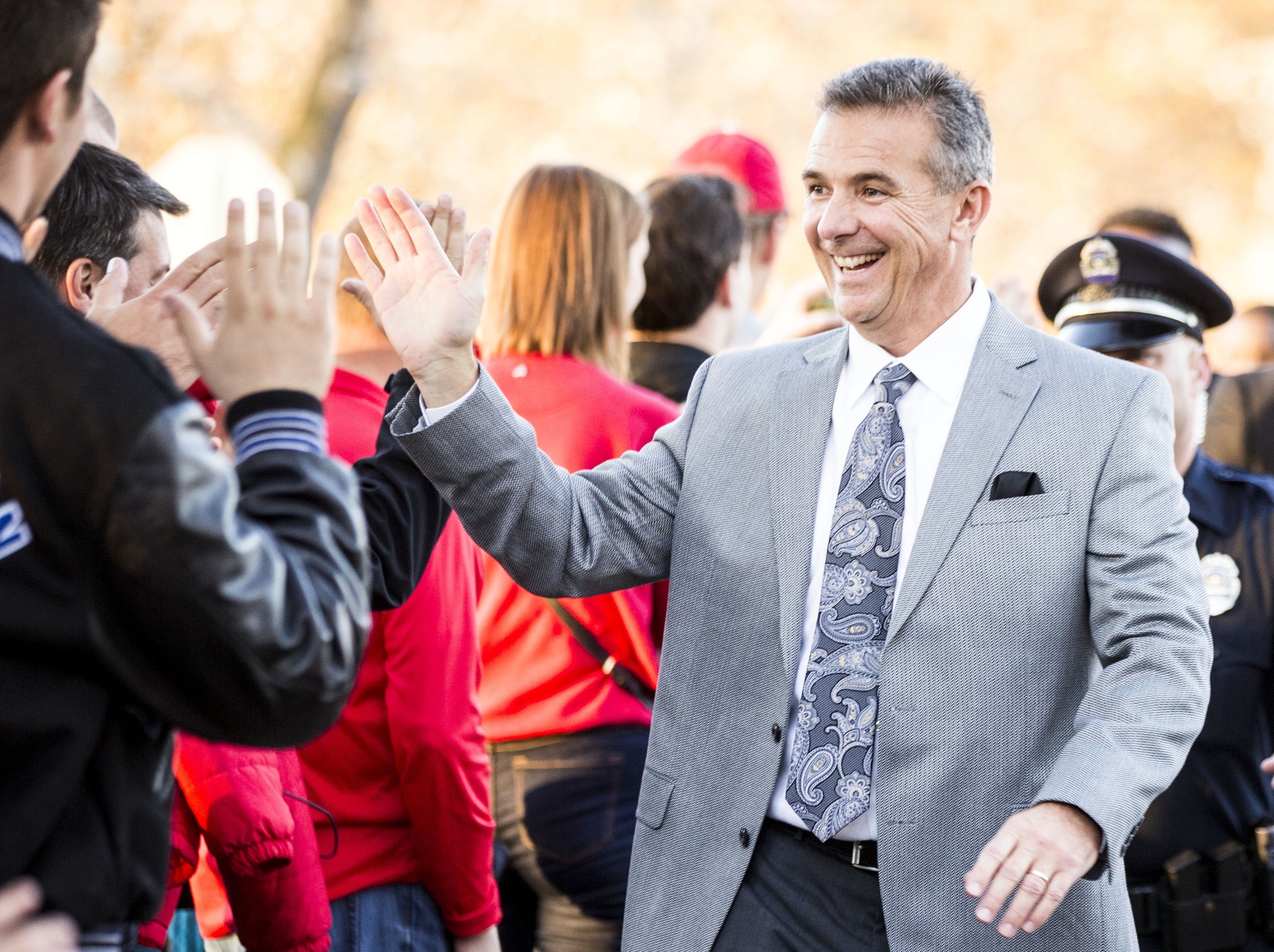 More smoke continues to plume out of the "Urban Meyer to MSU" fire. This time, it's coming from a former coach and Last Chance U figure.
Yes, the ongoing saga of if Urban Meyer will be Michigan State's next coach continued today. As we are approaching the two-month mark since Mel Tucker was placed on leave, the main name linked to MSU has been Meyer.
The back and forth saga of him not being interested to him being the next coach has been quite the theater for Spartan fans and it is far from over.
MSU insider Jim Comparoni confirmed this past week that donors and higher ups are interested in Urban. After that, the hype train seemed to be at its highest. Well today another college football podcaster and former JUCO head coach took it a step further.
Jason "JB" Brown said on his show today that Meyer will accept the MSU coaching job. Check out the NSFW clip below.
.@TheRealCoach_JB – 🚨BREAKING NEWS – URBAN MEYERS TO MICHIGAN ST 🚨 "I said it a month ago, pay me HOMAGE" @SixZeroAcademy @Darnell_Smith95 #TheCoachJBShow #UrbanMeyers #NCAA pic.twitter.com/1GyT4fZBzp

— The Coach JB Show with Big Smitty (@TheCoachJBShow) October 31, 2023
Now you may remember Coach JB from the Netflix documentary Last Chance U. On the show, he was the Head Coach of Independence Pirates in the JUCO ranks. Independence was featured on Season 3 of the show and Coach Brown lead his team to a 9-2 record and a bowl victory as well. After that and a couple less successful seasons, Brown was forced to resign due to some controversy there. He now hosts a popular college football podcast with former D1 player Darnell Smith called "The Coach JB Show."
Tuesday's episode features the clip above where Brown talks about how he called Urban potentially going to MSU over a month ago.
Obviously this needs to be taken with a grain of salt. Even though multiple connections have been made to Urban and MSU, no reports of him accepting the job or being hired have been confirmed or seem imminent currently. Brown does have some loose connections in the game. With all due respect, however, he is not an insider.
While I would say Urban Meyer remains the "leader in the clubhouse" now so to speak, that is in part because MSU is not allowed to interview any current coaches until the season is over. There have been rumors of MSU reaching out to other coaches across the country such as Mike Elko (Duke), Jonathan Smith (Oregon State), and Jake Dickert (Washington State). Again nothing is confirmed. These coaches cannot move forward if they were interested until after the regular season ends in November.
That being said it is interesting seeing Brown so adamantly sure about Urban potentially accepting the MSU job. Those hoping to see Meyer don the green and white next fall will be happy to see this clip. Regardless, it seems this week more than ever; we are getting reports of some actual traction here. What comes next is anyone's guess.
It sure has been fun to sit back and watch the craziness of "Coaching Search 2023" unfold. Stick with us here at Spartan Shadows for all the coaching updates as we get them.
As always, Go Green.