Jaden Akins gets major praise from Big Ten analyst (Video)
Jaden Akins was ranked the Big Ten's No. 17 player.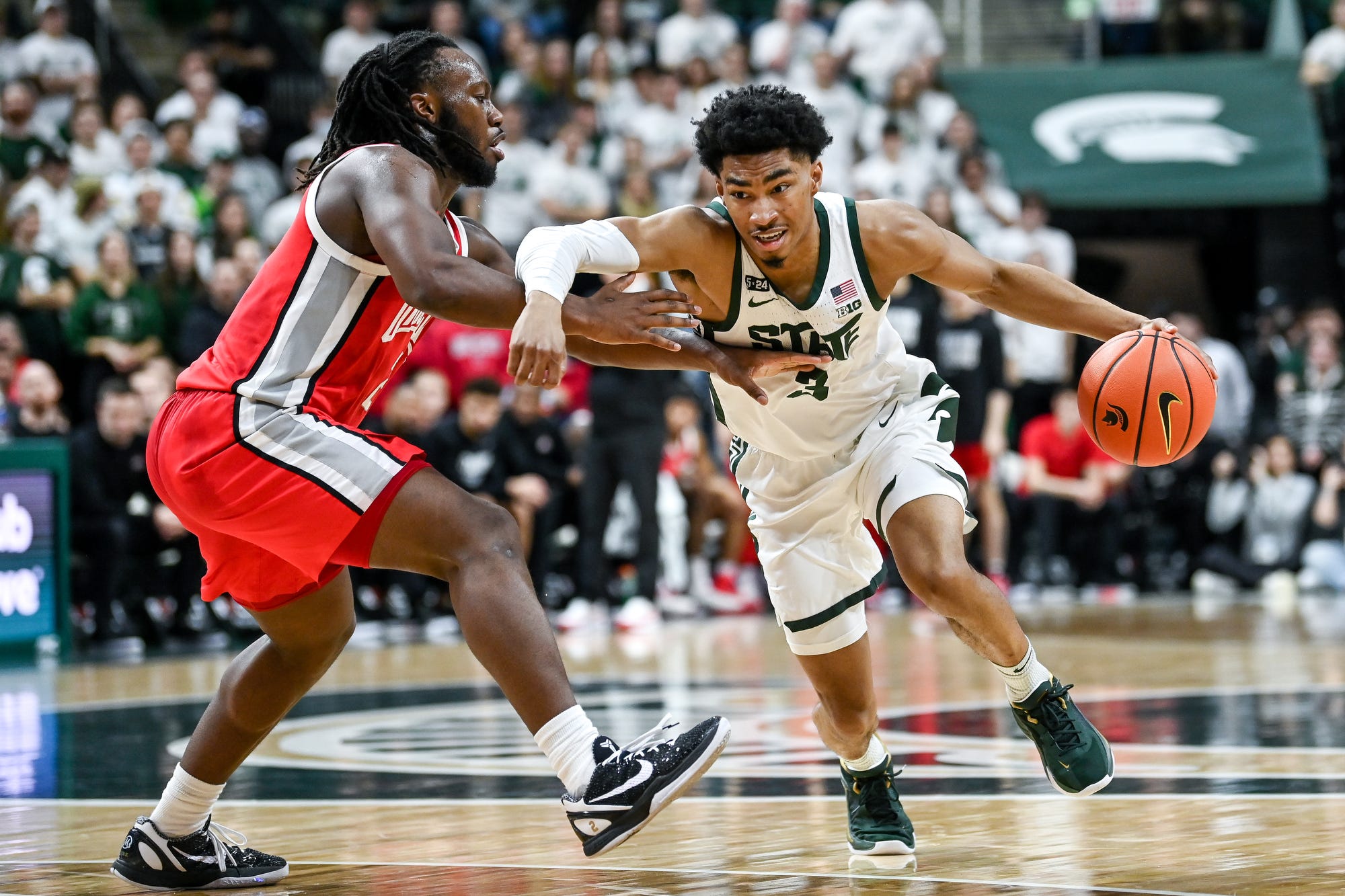 Jaden Akins earned some major praise from analyst Andy Katz on Friday night who ranked him No. 7 in the Big Ten.
The countdown to the first Michigan State basketball game is inching to an end. That means preseason hype is at an all-time high. Big Ten analyst Andy Katz is releasing his top players in the conference and Jaden Akins was included today.
Katz ranked Akins as his 17th best player in the Big Ten heading into the 2023-24 season.
Huge season loading for @JadenAkins3? 👀@TheAndyKatz loves the potential of the @MSU_Basketball guard, who checks in at No. 17 in the 𝗞𝗮𝘁𝘇 𝟮𝟮: pic.twitter.com/ebrot1aVu6

— Big Ten Men's Basketball (@B1GMBBall) October 20, 2023
Praise for Jaden Akins
From the short video above, it is no secret that Andy Katz thinks very highly of Akins. His potential not being scratched yet is the part that stood out to me the most. I couldn't agree more with that statement. Akins played a big role on our team last season, and that was behind both AJ Hoggard, Tyson Walker, and even Joey Hauser at times.
To have the great season he had a season ago as the third or fourth option is extremely impressive.
Akins will obviously still be playing behind Hoggard and Walker this year, but I expect to see his usage go up from last season. He is a legit three-level scorer, especially showcasing his high-flying ability above the rim and elite three-point shooting. Last season, Akins shot a blistering 42 percent from three-point range. That's about as automatic as it comes in the college game. What makes Akins so difficult to defend is that he isn't just a three-point specialist. He can take guys off the dribble and is a threat in transition at all times. He's even one of our better defenders and can take on and shut down our opponent's best player.
I would argue that Jaden could've been even higher on this list, but to be including regardless is awesome to see.
Other Spartans on this list
Each day, the season gets closer, Andy Katz is releasing another player on his list until we reach the number one player in the conference. Two days ago, Malik Hall made the cut as his 19th best player in the Big Ten. Jaden won't be the last Spartan included either. I expect both Hoggard and Walker to be included at some point, but likely not for awhile as they should be near the top of the list.