Max Christie regarded as 'untouchable' in Lakers' trade talks
The Lakers aren't willing to trade Max Christie.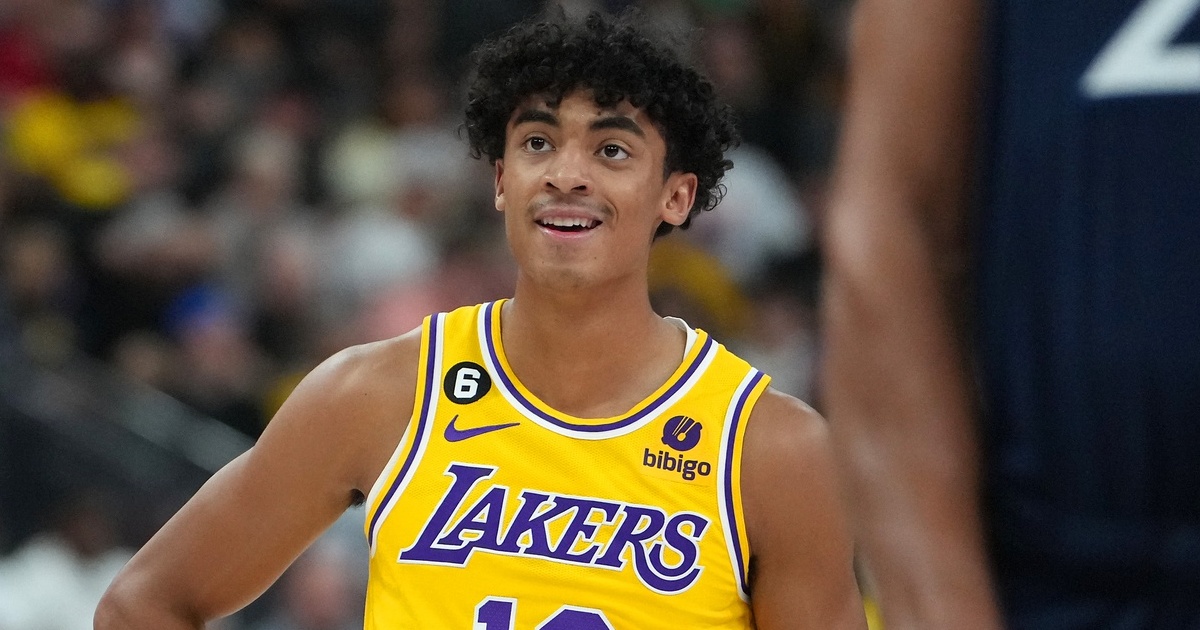 Former Spartan Max Christie is just a rookie who plays sparingly, but the Lakers clearly think highly of him.
The Lakers love them some Max Christie. I never thought I'd be typing that phrase out after Christie spent his freshman season at Michigan State suffering through some slumps as well as a few highs. He didn't seem like he was ready for the NBA.
Shows how much I know.
The former five-star and No. 1 shooting guard in the 2021 recruiting class didn't quite have the freshman year he was hoping for as consistency wasn't his thing, but he decided to make the NBA leap and was drafted early in the second round by the Los Angeles Lakers.
Through the Lakers' first 55 games, Christie has appeared in 33 and is averaging a solid 14.5 minutes per game whole putting up 3.8 points and 2.2 rebounds.
Those numbers don't exactly scream "future star" but the Lakers have taken note of his plus defense and the fact that he shoots 43 percent from 3-point range, 43 percent from the floor, and 86 percent from the foul line.
Because of that defense and his shooting ability, the Lakers aren't interested in trading him.
The Lakers are not interested in including Austin Reaves or Max Christie in a potential Kyrie Irving deal, per @jovanbuha pic.twitter.com/dtsmZk1qKU

— NBACentral (@TheNBACentral) February 4, 2023
Who would have thought that Christie would be considered an "untouchable" piece on a team with LeBron James, Russell Westbrook, and Anthony Davis? Obviously two of those guys are also untouchable, but that goes to show just how highly the organization thinks of him and the front office must get rave reviews from those players about Christie.
Otherwise he'd be gone.
The Lakers have essentially blown up the roster to create room for guys like Rui Hachimura, Mo Bamba, D'Angelo Russell, and the latest rumor is Bojan Bogdanovic from the Pistons.
But Christie remains.
In 11 of his past 13 appearances, he has played at least 13 minutes and he's seen over 20 minutes of action five times in that span. He averaged 4.8 points and 2.1 rebounds in the month of January while shooting 44 percent from three and 51 percent from the floor.
It looks like Christie continues to improve and the Lakers like what he brings to the table for the future.
The Lakers are looking to build with Christie.
Gabe Brown throws down incredible between-the-legs dunk in G-League game
Gabe Brown has taken flight.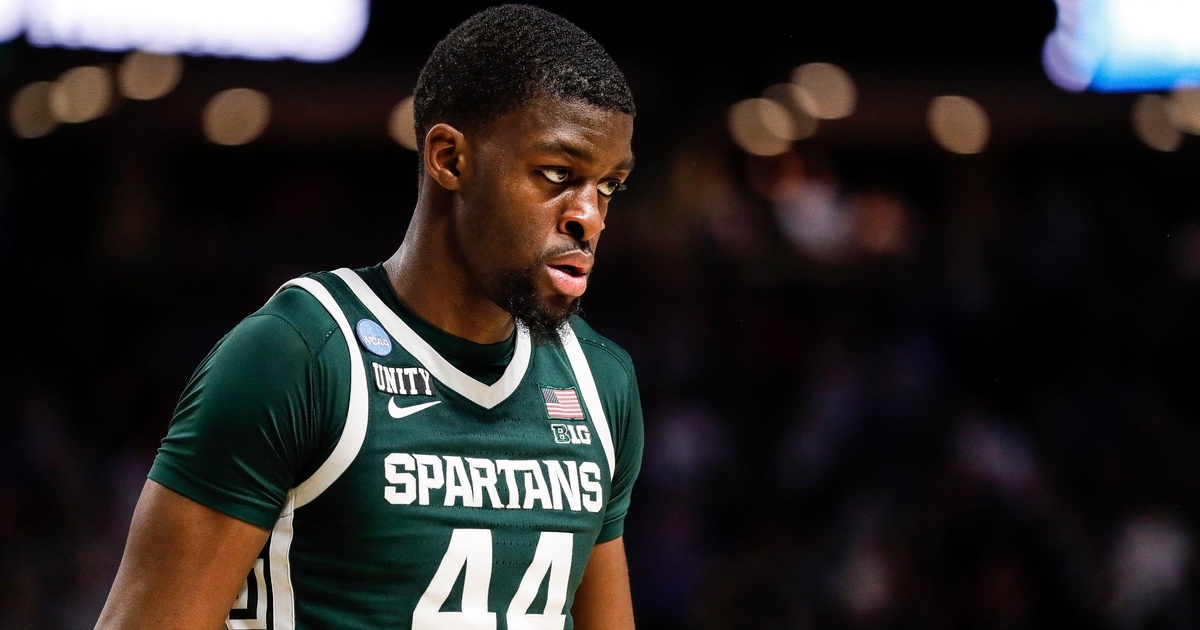 Former Spartan Gabe Brown is trying to make a name for himself in the G-League and this between-the-legs dunk is a good start.
It's been almost a year since Gabe Brown suited up for Michigan State and he's missed.
Gabe would have brought another athletic wing to this Michigan State squad and it would have helped out a ton while Malik Hall and Jaden Akins were out with injuries.
Brown decided not to use his COVID year, opting to try to find a home in the professional ranks. He wasn't drafted but was picked up by the Raptor G-League team. He's played 10 games this season with the Raptors 905 and is averaging 12.0 points and 3.6 rebounds per game.
The former Spartan is also shooting the lights out, shooting 48 percent from the floor and 40 percent from 3-point range. We all knew he could shoot and now so do the Raptors.
But it's not just his shooting that makes him a threat. It's his athleticism.
On Thursday, he showcased some of that freakish athleticism, throwing down a between-the-legs in a live game. Yes, you read that correctly, he threw down a dunk contest dunk in the middle of a game.
Just watch.
TWEEN THE LEGS. IN-GAME. WHAT DID WE JUST WITNESS GABE BROWN 🤯🤯🤯 pic.twitter.com/FO0e2V9b2I

— Raptors 905 (@Raptors905) February 3, 2023
Gabe is clearly a crowd favorite and the fact that he can do this in a game just goes to show how impressive of an athlete he truly is. No player would even attempt this in a game. Gabe is different.
Michigan State fans are rooting for Brown to make it to the NBA and if making it to the league was based on just shooting and being a freak athlete, he'd already be there. But it's also about playing defense and that was one of the things he needed to work on most throughout college.
If Gabe can improve his defense, he could be throwing down these types of dunks at the NBA level with the Toronto Raptors.
Michigan State basketball: Where are Spartans from 2019-2022 now?
Some recent Spartans are experiencing pro success.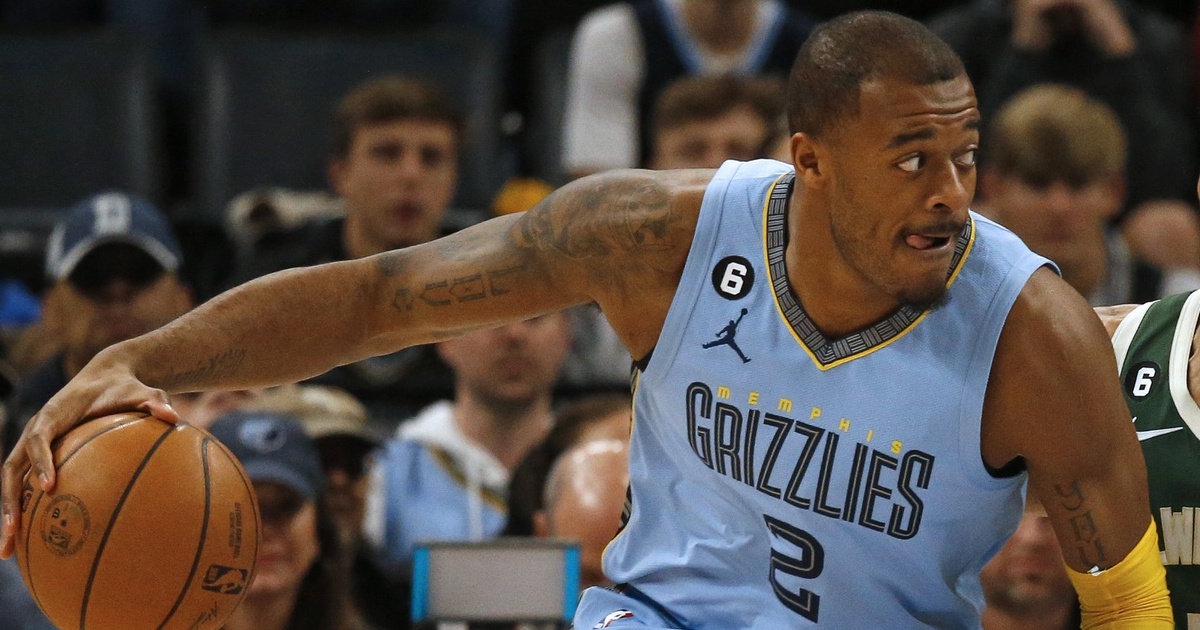 Checking in on former Michigan State basketball stars from the last few years, and where they are currently playing.
The one-and-done rule has allowed freshman players to make their impact on a program, only to ship off one year later to the next level. Even three and four-year players move on eventually, making way for others to fill their spots on the roster. Such has been the case for Michigan State basketball.
Let's check in on some of the Michigan State stars who have either graduated or moved onto the next level from 2019-2022, and where they are currently playing.
Gabe Brown, undrafted 2022 — Toronto Raptors G-League affiliate
While at Michigan State, Gabe Brown's specialties were 3-point shooting and getting the crowd involved with monstrous dunks. After never fully developing into an elite wing, Brown went undrafted in 2022, and would eventually sign an Exhibit 10 contract with the Toronto Raptors. He currently is on the Raptors G-League affiliate, Raptors 905, averaging 8.7 points in 16.9 minutes per game.
Marcus Bingham Jr., undrafted 2022 — Dallas Mavericks G-League affiliate
With his extreme size and length, 7-foot-0 with a wingspan of 7-foot-4, Marcus Bingham Jr. had the length to compete as a big in the Big Ten, but his lack of muscle, just 230 pounds, often left him overpowered down low.
To counteract this obvious weakness, however, Bingham developed quite a solid 3-point shot.
After going undrafted in 2022, Bingham was signed by the Dallas Mavericks and was set to begin his career for their G-League affiliate, the Texas Legends. Unfortunately, he went down with a season-ending injury in November before making his career debut.
Max Christie, drafted 35th overall in 2022 — Los Angeles Lakers
Coming to Michigan State basketball as a five-star, Max Christie immediately stepped into a starting wing position for Tom Izzo. While not lighting the world on fire, Christie had a good enough season and showed enough potential that he decided to end his collegiate career, and declared for the NBA draft after just one season with the green and white.
Taken at the beginning of the second round, Christie wound up signing a rookie-scale contract with the Lakers. Averaging 3.5 points per game on 41.1 percent field goal shooting, Christie has looked like a good prospect for a drowning LA team.
Christie just recently posted a new career high, scoring 14 points on Jan. 9 in a loss against the Denver Nuggets.
Aaron Henry, undrafted 2021 — Metropolitans 92 (LNB Pro A, France)
Another one of Izzo's diamond-in-the-rough finds, Aaron Henry was an under-the-radar recruit out of Ben Davis High School in Indianapolis. Just a three-star, Henry picked the Spartans over the likes of Ohio State, Xavier, and Illinois. As underrecruited as he was, he made an immediate impact his first year with the program, starting 22 games as a freshman for the green and white.
After eventually growing into the Spartans' go-to guy, Henry decided to take his physical talents and high basketball IQ to the next level, and test the NBA waters. After much feedback from the league, Henry withdrew from the draft and returned for his junior season in East Lansing. His final season was by far his most productive, averaging more than 15 points and almost six rebounds per game.
Following his productive third year, Henry officially declared for the NBA, going undrafted and eventually signing a two-way contract with the 76ers. Philadelphia's G-League affiliate, the Delaware Blue Coats, decided to waive Henry in 2022, only to bring him back a week later. In August of last year, Aaron took his career overseas and joined the Metropolitans 92 of the LNB Pro A League, the top-tier league in France.
Although currently injured, Henry is playing alongside generational phenom Victor Wembanyama.
Josh Langford, retired — Program manager for MSU Multicultural Business Program
Josh Langford held the unique title as a five-time Alabama high school state champion before coming to Michigan State, being that he competed at the high school level in just eighth grade. Langford was a part of arguably one of the best recruiting classes Izzo has ever had: the 2016 class.
When healthy for Michigan State, Langford was fantastic on both offense and defense. His shooting, specifically his legendary mid-range pull-up, along with his excellent basketball IQ allowed Langford to lead our team for multiple years.
Unfortunately, injuries eventually put an end to Langford's basketball career.
After initially deciding to try his luck at hiring an agent and going towards free agency in the NBA, Langford returned to Michigan State, obtained his master's degree, and now works as a program manager for the multicultural business program.
Cassius Winston, drafted 53rd overall in 2020 (Wizards) — Bayern Munich (Germany)
Regarded as one of the best point guards in Michigan State basketball history, Cassius Winston was everything you wanted in a college player. His poise under pressure while shooting 43 percent from three led Michigan State to a Final Four during his time with the green and white.
Unfortunately for Winston, there were always questions about whether his size and athletic ability would transfer to the next level. Drafted in the second round by the Washington Wizards, Cash spent most of his time in the NBA with the Wizards' G-League affiliate, the Capital City Go-Go. He was eventually assigned to the Erie BayHawks after the Capital City Go-Go withdrew from their current tournament.
After a handful of two-way contracts, Winston joined the 76ers' Summer League for a short time and is now currently playing in Germany for Bayern Munich, averaging 17.2 points per game.
Xavier Tillman Sr., drafted 35th overall in 2020 — Memphis Grizzlies
Considered, in 2017, the best recruit in Michigan, Xavier Tillman chose Michigan State due to the level of competition the Spartans face, as well as its proximity to his home. Once on campus, Tillman embodied what it means to be a Spartan, both on and off the court. Improving in each offseason, Tillman acted as both the team's leader and one of their main contributors during his final season at MSU. After being named the Big Ten Defensive Player of the Year, Tillman declared for the 2020 NBA Draft.
Xavier was drafted 35th overall by the Memphis Grizzlies, joining former teammate Jaren Jackson Jr.
While not rewriting record books in the NBA, Tillman is playing his role position well. Playing in 25 games this season, he is averaging 4.5 points and 3.1 rebounds coming off the bench.
Michigan State Basketball: Where are former Spartans from 2017-19 now?
Where are the Spartans from 2017-19 these days?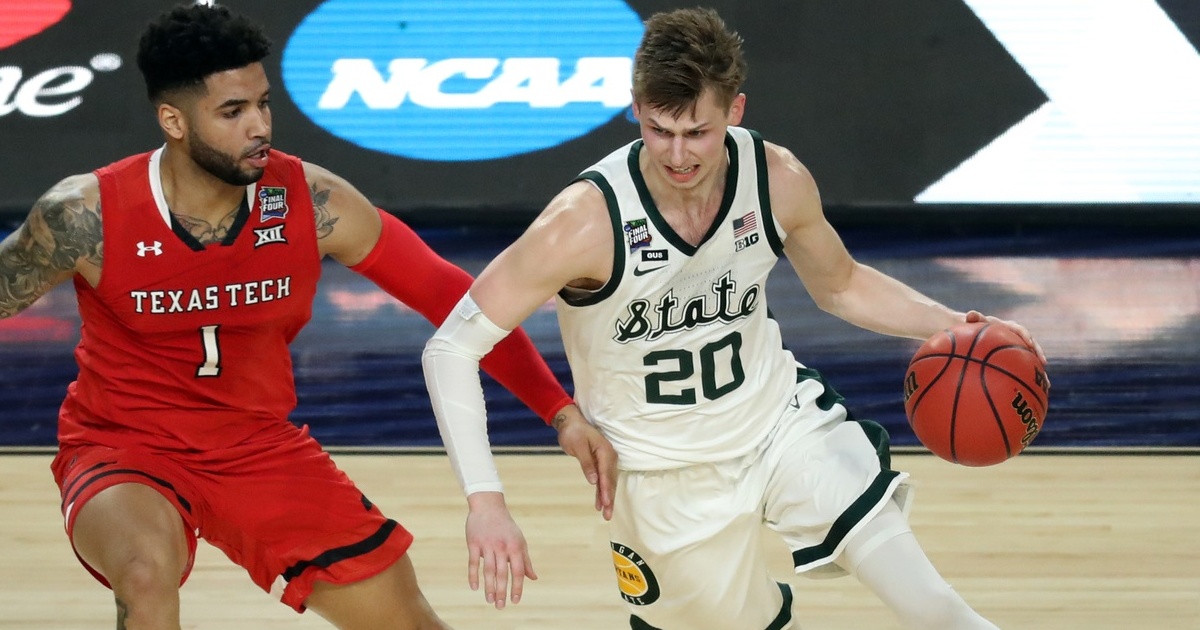 Checking in on former Michigan State basketball players who have graduated or moved onto the next level over the last five years.
The one-and-done rule has allowed freshman players to make their impact on a program, only to ship off one year later to the next level. Even three and four-year players move on eventually, making way for others to fill their spot on the Michigan State basketball roster.
Let's check in on some of the Spartans who have either graduated or moved onto the next level over the last five years, and where they are currently playing, specifically from 2019 through 2022.
2018-19
Kenny Goins, undrafted 2019 — Pieno žvaigždės Pasvalys, Hungary
Kenny Goins was the unlikely hero in Michigan State's 2019 Elite Eight thriller against Duke, hitting what would end up being the game-winning three-point shot. Goins graduated thereafter, went undrafted, and signed with the Denver Nuggets 2019 NBA Summer League.
After some time with their Summer League program, Goins decided to go overseas and bounced around throughout the Greek Basketball community, first in the Serie A2 Basket League, the Greek Basket League, Laviro of the Basketball Champions League, and then his final stop in Greece, Atomeromu SE. He is currently with BC Pieno žvaigždės in Hungary.
Matt McQuaid, undrafted 2019 — Assistant Director of Operations for Michigan State Spartans
The prolific, stereotypical three-and-D guy while at Michigan State, Matt McQuaid was green and white through and through. Leading the Spartans to the Final Four in his senior season, McQuaid's professional career, both in the NBA and overseas never took off.
Going undrafted, McQuaid spend the Summer League with the Detroit Pistons, before signing with the Fraport Skyliners of the Basketball Bundesliga for one season, averaging just under six points. McQuaid decided to return to Michigan State, putting an end to his playing career, and is now currently on Tom Izzo's staff as assistant director of operations.
Nick Ward, undrafted 2019 — Basquet Coruna, Spain
Nick Ward came to Michigan State basketball as a member of the Miles Bridges, Cassius Winston, Josh Langford 2016 recruiting class. A four-star out of high school, Ward had a fantastic ability and touch around the rim, fitting in perfectly with Tom Izzo's rim-running gameplay. Ward would end up averaging 13 points and six rebounds his senior year.
Unfortunately, thanks to the landscape of today's NBA, Ward's inability to shoot consistently away from the basket limited his chances at the next level.
Since graduating, Nick Ward has played all over the world in a short period of time. Ward first signed with the Atlanta Hawks Summer League program in 2019, but then took his career overseas only a few months later. Bouncing all around Europe, Ward would end up playing in both Israel and Turkey, all within one year, before returning to the US to sign with the G League team, College Park Skyhawks.
After averaging 13.2 points and 6.5 rebounds per game for the Skyhawks, Ward went back to Turkey to play for Istanbul Basket, and six months later, joined the Ottawa Blackjacks of the Canadian Elite Basketball League. Staying in Canada for only seven months, Nick Ward is currently in Spain, playing for the Basquet Coruna of the LEB Oro.
2017-18
Jaren Jackson Jr., drafted No. 4 overall in 2018 (Grizzles)
One of the best recruits in recent Michigan State basketball history, Jaren Jackson Jr. was immediately thrust into the starting lineup and performed. Averaging 10.9 points, 5.8 rebounds, 3.0 blocks, and shooting almost 40 percent from three, JJJ dominated the Big Ten during his lone collegiate season. By the end of his freshman year, Jackson Jr. took home season awards for Big Ten All-Defense, Big Ten All-Freshman, Big Ten Defensive Player of the Year, and Big Ten Freshman of the Year.
Memphis took Jaren with the fourth overall draft pick, and in his fourth season in the NBA, is averaging 16.8 points, and 6.6 rebounds and owns one of the league's best true shooting percentages at .618.
On top of his increasing offensive skills, Jackson Jr.'s defense has always been his most outstanding skill. Jackson led the NBA last season with a 7.4 percent block rate and is breaking his own mark this season with 11.3 percent. Currently a front-runner for defensive player of the year, Jackson Jr., alongside NBA superstar Ja Morant, has Memphis rolling. They are sitting in second place in the Western Conference.
Lourawls 'Tum Tum' Narin, undrafted 2018 — Southern Utah assistant
Often referred to as one of Tom Izzo's favorite players over his tenure at Michigan State, Lourawls 'Tum Tum' Narin came to MSU by way of the Bahamas, and then Sunrise Christian Academy in Kansas. Tum Tum made up for his lack of scoring ability with intense leadership and energy. Averaging almost 20 minutes per game during his time in East Lansing, Tum Tum's ability to lead a team was second to none.
However, never being much of an offensive threat made his chances of making it to the next level quite slim. Tum went undrafted in 2018 and decided to steer into his strengths, getting a job as a player development assistant with the Phoenix Suns. After briefly working for both Michigan State and Sunrise Christian Academy, he currently is at Southern Utah as an assistant coach.
Miles Bridges, drafted No. 12 overall in 2018 (Hornets)- free agent
The prized recruit in one of Tom Izzo's best class, Miles Bridges chose to play for Izzo over most powerhouse programs such as Kentucky and Kansas. Originally from Flint, Bridges was, as Izzo phrased it, "A blue-collar superstar"; and that Bridges was.
Averaging roughly 17 points per night in his freshman campaign, Bridges was never one to shy away from an electrifying dunk that would almost certainly send the fans crazy. After what most expected to be his only year in East Lansing, Bridges surprised everyone by saying that he had unfinished business for the green and white and would be returning for his sophomore season. Miles did more of the same, again averaging 17 points per game and just under eight rebounds, all while shooting 37 percent from 3-point range.
With the draft pick that Detroit traded to the Clippers, Bridges was selected 12th overall by Los Angeles, and subsequently traded to Charlotte on draft night. After a modest, yet promising, rookie season, Bridges improved exponentially each year. During the final year of his rookie contract, Bridges was scoring over 20 points a game, while still continuing to dazzle the fans and announcers with ferocious dunks. Even though he did not win Most Improved Player of the Year, Miles was in line to sign a large contract extension in the upcoming offseason.
Unfortunately, in June 2022, Bridges was arrested in Los Angeles for felony domestic violence. Miles allegedly assaulted Mychelle Johnson in front of their two children. On Nov. 3, he pled no contest to the felony domestic charge and was sentenced to three years of probation. His other charges were dropped.
While Charlotte still owns the rights to Bridges' contract, it is unknown if a return to the NBA is in the cards.