Michigan State baseball season ends with winning record
Not a bad season for the Spartans.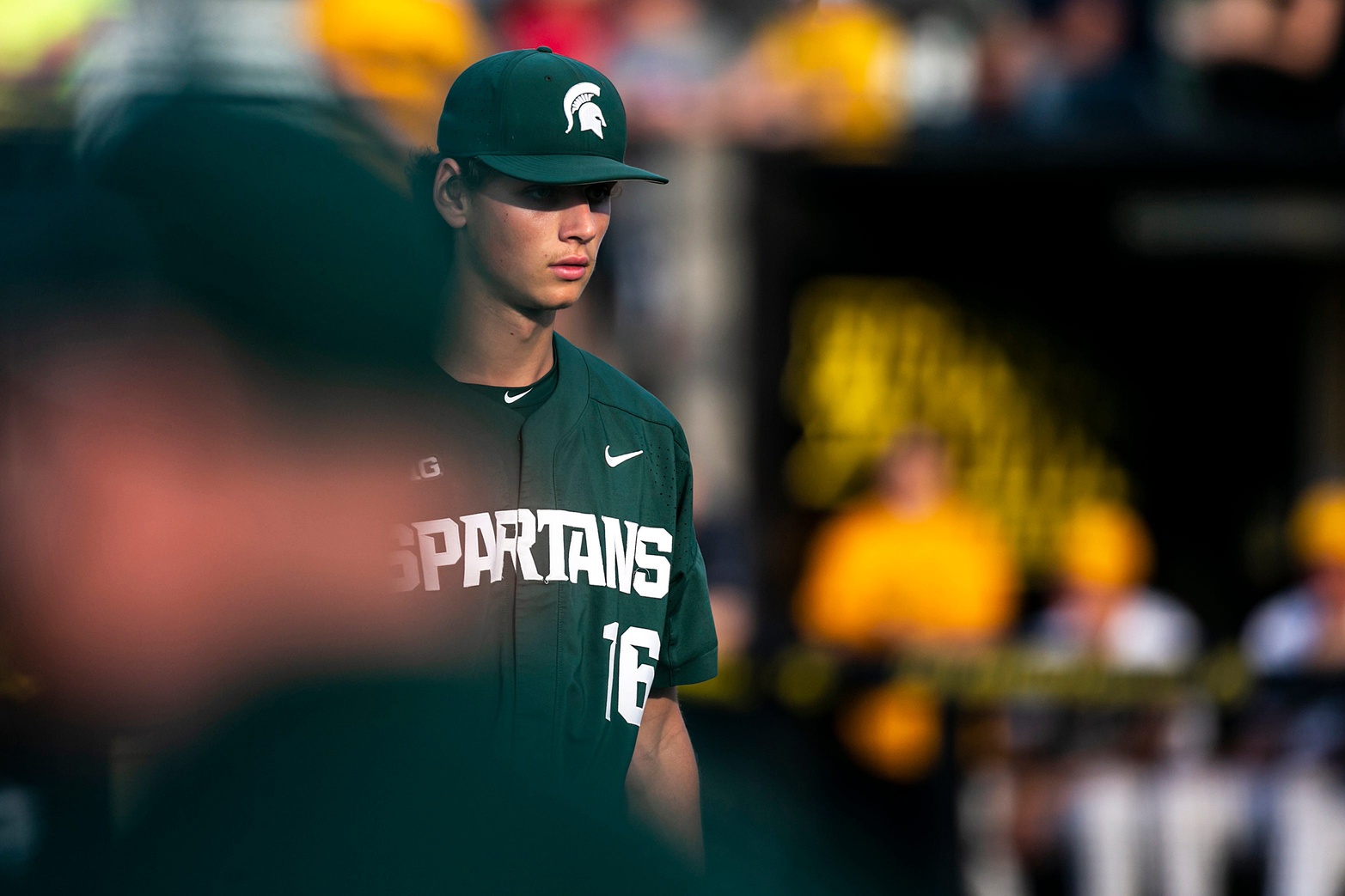 Michigan State baseball lost its second Big Ten Tournament game on Friday and was eliminated. It ends 2023 with a winning record.
With a 4-0 loss to Nebraska on Friday night in the Big Ten Tournament, the Michigan State baseball season is officially over.
There wasn't much the offense could do against Will Walsh as they were held to only four hits all night. There were moments when the offense was just one hit away or one near-home run away from tying the game but Michigan State just could not get it done and you have to tip your hat to the Nebraska pitcher.
You might look at the score and think the game was not close but there wasn't much of a difference between the two teams outside of clutch hitting. Michigan State got a great performance from its starting pitcher as he only allowed one run. This game was close until Nebraska opened the scoring back up with three runs in the eighth. Two of those runs came off of a weird bounce that went over the first baseman's head. This put Michigan State behind and it was too late for the Spartans to respond.
With this loss, Michigan State now has to look forward to next season after the successful year it just completed.
This season is something that should show fans that the program is on the right track. After years of Michigan State baseball being at the bottom of the Big Ten, this team went into the Big Ten Tournament and got an upset win, and battled against No. 1 seed Maryland and No. 4 seed Nebraska.
This team also achieved the first winning record since 2016 and an appearance in the Big Ten Tournament. It also included young players contributing all over the field and multiple players that could be drafted in the MLB draft but have the chance to come back. There will be another article about the bright future of Michigan State baseball especially with it being a young team later in the coming weeks but right now, it's important to recognize this team for a great season.
Michigan State will be losing a couple of seniors that will be missed and this isn't probably the way the team wanted to end their season, but this week's performances against the top teams in the Big Ten not only demonstrate that Michigan State can have great pitching which has been a big issue in recent history. If this team can keep the majority of their starting lineup, they will have a chance to be even better next year as the pitching staff should return mostly everyone.
Congrats to the baseball team on an improved season and I look forward to seeing what happens in the offseason for this team, as there are big decisions that have to be made for some players.
No. 1 ranked American-born recruit commits to Michigan State hockey
This may be the best offseason in MSU hockey history.
Michigan State hockey might just be back, folks. On Thursday, Adam Nightingale and the Spartans landed the No. 1 American-born recruit.
The momentum train continues to fly down the rails as Michigan State hockey landed the No. 1 American-born recruit for the 2024 class in Cullen Potter out of Hortonville, Wisc.
Reported by Puck Preps and ESPN's Buccigross on Thursday, Cullen plans to join the Spartans following next season.
🚨 BREAKING 🚨 Our #1 ranked American 2007-born recruit Cullen Potter is officially off the board as he has committed to Michigan State. Potter will suit up for the U17 NTDP this season. The Spartans fantastic summer of recruiting continues. What a get. pic.twitter.com/7cxB5UDDWQ

— Puck Preps (@PuckPreps) September 21, 2023
Potter is a 16-year-old who has come screaming out of AAA hockey and is set to play for the USA under-17 national team this season. The young man took U16 AAA by storm, notching 83 points in 52 games last season. Making the jump from triple-A hockey straight into international play and skipping traditional juniors is a remarkable leap for any young man hoping to be a top draft pick in the NHL someday.
The young center will be playing the world's best under-17 prospects and practicing with America's finest every day with the USNTP. The USA's development teams and programs are how America has sharply increased its NHL player output in the last 15 years.
This win for Michigan State hockey has layers to it. For starters, to ink this prospect over his native school and known hockey power Wisconsin is an unprecedented win for the program. Having that pull in areas where traditional hockey schools are well established is something you'd expect from any blue-blood football, basketball, or other program. Getting commitments from the top USA-born player for the class, the top goalie in the class, and projected top 10 NHL pick Artyom Levshunov (2023) adds up to the best offseason in MSU Hockey history.
When Potter is done with Team USA next season, expect him to have a monumental role in the Spartans' 2024 campaign.
Top NHL prospect Artyom Levshunov adds to mountain of momentum for Michigan State Hockey
Huge addition for Adam Nightingale.
Top 2024 NHL Draft prospect chooses Michigan State hockey over Michigan, Vermont, and Canadian junior league CHL.
Michigan State hockey is continuing its huge momentum from the 2022-23 season, adding what many suspect to be a top five NHL pick to their roster for the fall.
Lansing State Journal's Nathaniel Bott reported Monday morning that Belarus-born defensemen Artyom Levshunov has committed to MSU. With what is likely a "one-and-done" stint with the Spartans, a blue-chip signing like this is a significant moment for MSU hockey, as top prospect signings have gone from few and far between to twice in the last year.
HUGE add for Michigan State 2023-2024 hockey roster.

Defenseman Artyom Levshunov, ranked as high as third overall on 2024 NHL Draft boards, is on campus and will suit up for the Spartans this upcoming season.

13 goals and 29 assists with Green Bay in the USHL last year.

— Nathaniel Bott (@Nathaniel_Bott) July 24, 2023
The addition of Levshunov is more than just another elevating piece for the Spartan's 2023-24 campaign but another notch in the credibility belt for a program reborn under coach Adam Nightingale.
Artyom Levshunov is a right-handed puck-moving defenseman that spent the last season in the USHL with the Green Bay Gamblers, notching 42 points in 62 games in his first season on the other side of the world from his homeland.
Prior to that, the Belorussian blue-liner played for his country's national team, posting well over a point per game which is incredible for a defenseman.
For the uninitiated in the college hockey world, this level signing in East Lansing is the work of wizardry normally reserved for basketball's Tom Izzo. While Michigan in the last few years has dominated the "NCAA to NHL" pipeline, MSU has inked two top picks this calendar year. For MSU to not only beat out the top hockey schools but the Canadian Hockey League's junior system as well is nothing short of a masterclass.
The critiques of college hockey's ability to ready young men for the rigors of the NHL have been known and longstanding. For coach Night to overcome these many hurdles with a future NHL star goes to show that MSU could be lining itself up to be a power broker in college hockey.
Michigan State Soccer alum DeJuan Jones makes Team USA roster
This is pretty cool.
Michigan State Soccer alum DeJuan Jones made the Team USA roster this week. He'll be representing the US in the Gold Cup.
Every athlete's dream is to represent their country in competition and former Michigan State Soccer player DeJuan Jones now gets to accomplish that dream again. Team USA's roster for CONCACAF Gold Cup was released and DeJuan was one of the 23 players that made the roster.
With an appearance in the Gold Cup, DeJuan will make his third appearance in the stars and stripes with no goals — yet.
DeJuan is going to be a player that fans of team USA is going to have to watch out for. He is one of the young players that have been getting invited to the camps and now, he has another opportunity to shine if he gets on the field.
With Team USA trending towards a younger team, DeJuan could continue to get invited to the roster. If he continues to get invited, that is not only a very good thing for him, but it is for Michigan State soccer. Having a former Michigan State player on the team will bring more attention to the program which means, more players might want to play here.
With more Michigan State players like DeJuan in major league soccer and getting invited to team USA, the Spartans can continue to grow.
Not only did DeJuan go to Michigan State, he grew up near East Lansing. This is an awesome opportunity for Michigan State fans to cheer for DeJuan and it is an opportunity for him to achieve the dreams a lot of athletes are hopefully to achieve one day.
Good luck with Team USA at the CONCACAF Gold Cup, DeJuan.