Why is Mat Ishbia ending NIL sponsorship with Michigan State?
There's a legit reason for this.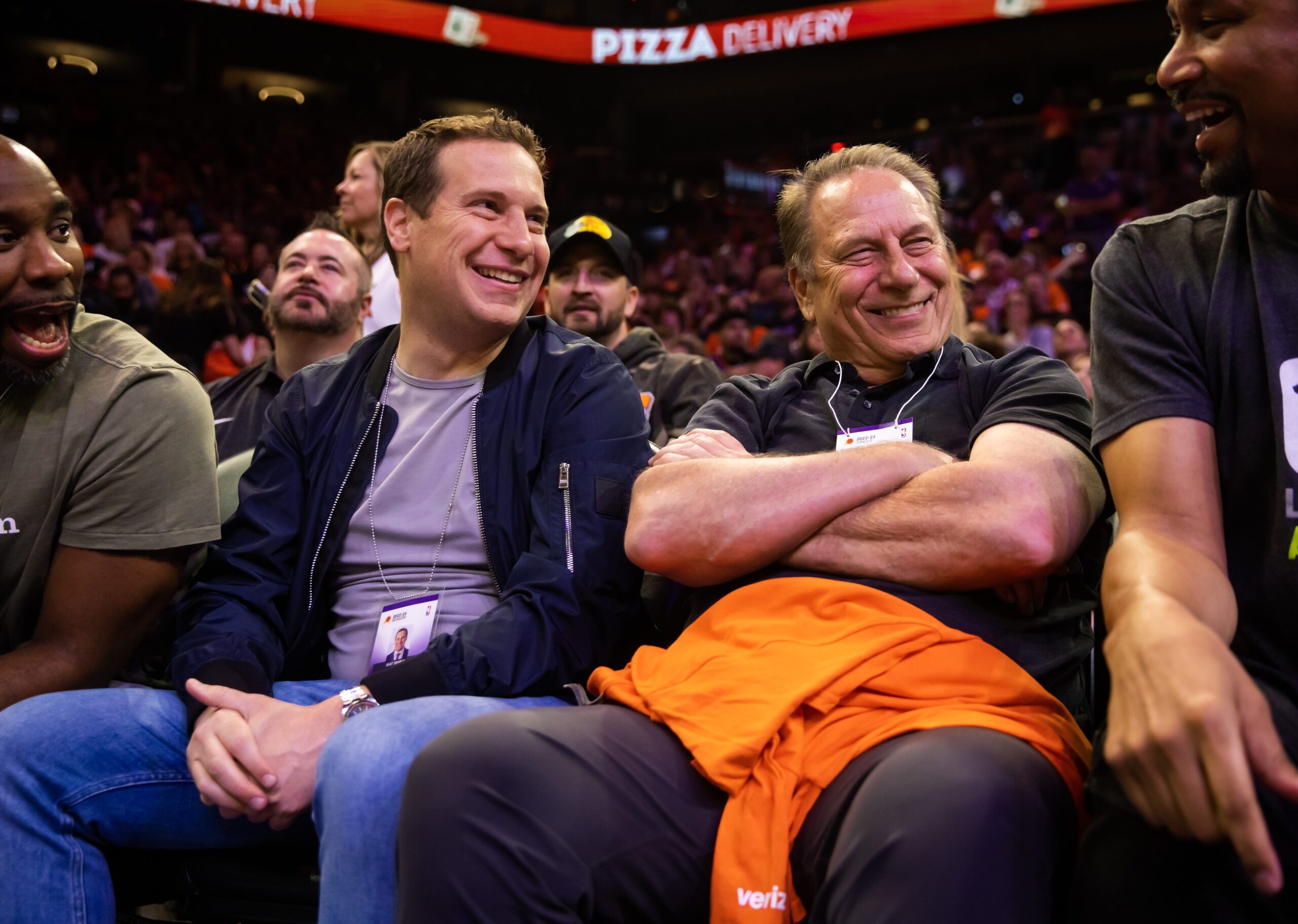 Mat Ishbia ended his NIL sponsorship with Michigan State athletics on Friday and there's a good reason why that happened.
It has been just under four months since the NBA approved Mat Ishbia's bid to become the majority owner of the Phoenix Suns and the WNBA's Phoenix Mercury. Since then, a lot has changed for the former Michigan State walk-on.
According to a press release on Friday, Ishbia is now ending his NIL agreement with the Spartan Athletic Department.
Mat Ishbia and United Wholesale Mortgage are ending NIL deals with Michigan State athletes. They were asked to do so after he purchased the Phoenix Suns and Mercury. From @kylebaustin https://t.co/ABwrVKhAkN

— Matt Wenzel (@mwenzel2) June 2, 2023
After the Name, Imagine, and Likeness regulations were placed in effect back in 2021, Ishbia's company, United Wholesale Mortgage, quickly announced a deal to be the first of its kind. The new program was to pay MSU student-athletes on the football team and men's basketball teams $700 per month. In exchange for the money, athletes would send out social media posts advertising UWM. It expanded last fall to include volleyball players as well. This was to be used as a recruiting tool. It would show that MSU's NIL programs would be competitive nationally and convince athletes to attend.
Spartan fans have speculated that the deal could have to be terminated now that Ishbia has taken over in Phoenix. That turned out to be the case. In a letter sent today, UWM stated, "As an owner of two professional sports teams, it was asked that Mat/UWM discontinue this NIL partnership to avoid any actual or perceived conflicts of interest."
Since 2020, Mat has been Michigan State's largest public donor. He has committed almost $50 million to the Spartan Athletic Department on top of these NIL programs. These funds have been used in remodeling/expanding athletic buildings, funded the construction of the new Tom Izzo Football Building, and helped get Mel Tucker's 10-year, $95 million contract extension finalized. His money has also helped build the "Spartans for Life Fund" which assists with career development and life after athletics.
Mat was a walk-on for the MSU Basketball team under Tom Izzo back in 1999. He did win a national championship with Izzo. Mat often credits his time on the team for teaching him skills needed to excel in the professional world. He became the CEO of United Wholesale Mortgage in 2013 and brought the company public in 2021 making him a billionaire. He submitted his bid to the NBA for the Phoenix Suns/Phoenix Mercury in December 2022. That bid ended up being approved and finalized for $4 billion.
MSU thanked Mat Ishbia in a statement today released from the athletic department. They said they are "deeply appreciative" of his continued support for the department and credited him for all the transformations above. UWM stated they and Mat will "continue to remain dedicated to supporting Michigan State University and their athletic programs and will continue to do so within the guardrails established."
No. 1 ranked American-born recruit commits to Michigan State hockey
This may be the best offseason in MSU hockey history.
Michigan State hockey might just be back, folks. On Thursday, Adam Nightingale and the Spartans landed the No. 1 American-born recruit.
The momentum train continues to fly down the rails as Michigan State hockey landed the No. 1 American-born recruit for the 2024 class in Cullen Potter out of Hortonville, Wisc.
Reported by Puck Preps and ESPN's Buccigross on Thursday, Cullen plans to join the Spartans following next season.
🚨 BREAKING 🚨 Our #1 ranked American 2007-born recruit Cullen Potter is officially off the board as he has committed to Michigan State. Potter will suit up for the U17 NTDP this season. The Spartans fantastic summer of recruiting continues. What a get. pic.twitter.com/7cxB5UDDWQ

— Puck Preps (@PuckPreps) September 21, 2023
Potter is a 16-year-old who has come screaming out of AAA hockey and is set to play for the USA under-17 national team this season. The young man took U16 AAA by storm, notching 83 points in 52 games last season. Making the jump from triple-A hockey straight into international play and skipping traditional juniors is a remarkable leap for any young man hoping to be a top draft pick in the NHL someday.
The young center will be playing the world's best under-17 prospects and practicing with America's finest every day with the USNTP. The USA's development teams and programs are how America has sharply increased its NHL player output in the last 15 years.
This win for Michigan State hockey has layers to it. For starters, to ink this prospect over his native school and known hockey power Wisconsin is an unprecedented win for the program. Having that pull in areas where traditional hockey schools are well established is something you'd expect from any blue-blood football, basketball, or other program. Getting commitments from the top USA-born player for the class, the top goalie in the class, and projected top 10 NHL pick Artyom Levshunov (2023) adds up to the best offseason in MSU Hockey history.
When Potter is done with Team USA next season, expect him to have a monumental role in the Spartans' 2024 campaign.
Top NHL prospect Artyom Levshunov adds to mountain of momentum for Michigan State Hockey
Huge addition for Adam Nightingale.
Top 2024 NHL Draft prospect chooses Michigan State hockey over Michigan, Vermont, and Canadian junior league CHL.
Michigan State hockey is continuing its huge momentum from the 2022-23 season, adding what many suspect to be a top five NHL pick to their roster for the fall.
Lansing State Journal's Nathaniel Bott reported Monday morning that Belarus-born defensemen Artyom Levshunov has committed to MSU. With what is likely a "one-and-done" stint with the Spartans, a blue-chip signing like this is a significant moment for MSU hockey, as top prospect signings have gone from few and far between to twice in the last year.
HUGE add for Michigan State 2023-2024 hockey roster.

Defenseman Artyom Levshunov, ranked as high as third overall on 2024 NHL Draft boards, is on campus and will suit up for the Spartans this upcoming season.

13 goals and 29 assists with Green Bay in the USHL last year.

— Nathaniel Bott (@Nathaniel_Bott) July 24, 2023
The addition of Levshunov is more than just another elevating piece for the Spartan's 2023-24 campaign but another notch in the credibility belt for a program reborn under coach Adam Nightingale.
Artyom Levshunov is a right-handed puck-moving defenseman that spent the last season in the USHL with the Green Bay Gamblers, notching 42 points in 62 games in his first season on the other side of the world from his homeland.
Prior to that, the Belorussian blue-liner played for his country's national team, posting well over a point per game which is incredible for a defenseman.
For the uninitiated in the college hockey world, this level signing in East Lansing is the work of wizardry normally reserved for basketball's Tom Izzo. While Michigan in the last few years has dominated the "NCAA to NHL" pipeline, MSU has inked two top picks this calendar year. For MSU to not only beat out the top hockey schools but the Canadian Hockey League's junior system as well is nothing short of a masterclass.
The critiques of college hockey's ability to ready young men for the rigors of the NHL have been known and longstanding. For coach Night to overcome these many hurdles with a future NHL star goes to show that MSU could be lining itself up to be a power broker in college hockey.
Michigan State Soccer alum DeJuan Jones makes Team USA roster
This is pretty cool.
Michigan State Soccer alum DeJuan Jones made the Team USA roster this week. He'll be representing the US in the Gold Cup.
Every athlete's dream is to represent their country in competition and former Michigan State Soccer player DeJuan Jones now gets to accomplish that dream again. Team USA's roster for CONCACAF Gold Cup was released and DeJuan was one of the 23 players that made the roster.
With an appearance in the Gold Cup, DeJuan will make his third appearance in the stars and stripes with no goals — yet.
DeJuan is going to be a player that fans of team USA is going to have to watch out for. He is one of the young players that have been getting invited to the camps and now, he has another opportunity to shine if he gets on the field.
With Team USA trending towards a younger team, DeJuan could continue to get invited to the roster. If he continues to get invited, that is not only a very good thing for him, but it is for Michigan State soccer. Having a former Michigan State player on the team will bring more attention to the program which means, more players might want to play here.
With more Michigan State players like DeJuan in major league soccer and getting invited to team USA, the Spartans can continue to grow.
Not only did DeJuan go to Michigan State, he grew up near East Lansing. This is an awesome opportunity for Michigan State fans to cheer for DeJuan and it is an opportunity for him to achieve the dreams a lot of athletes are hopefully to achieve one day.
Good luck with Team USA at the CONCACAF Gold Cup, DeJuan.