Michigan State basketball: 3 fearless predictions vs. No. 9 Duke
Upset alert?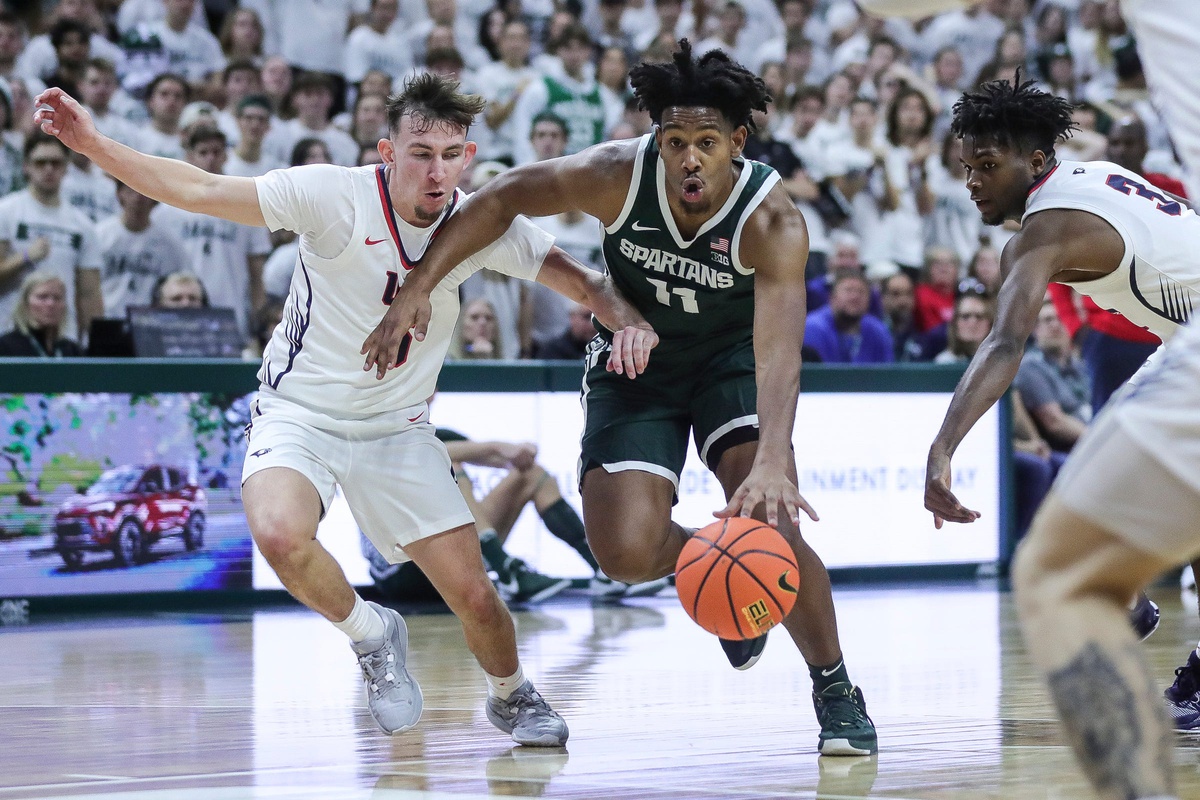 Duke and Michigan State basketball will be facing off on Tuesday night in the annual Champions Classic. Let's get bold.
There's a lot on the line in Tuesday night's Michigan State basketball game against No. 9 Duke. The Blue Devils, like the Spartans, are 1-1 on the season and are fresh off a disappointing home loss. Unlike the Spartans, however, the Blue Devils' loss was to a top-10 team.
Duke is still ranked in the top 10 after the loss to Arizona at home last Friday while the Spartans dropped 14 spots to No. 18 after falling to James Madison — the Dukes are now ranked after beating MSU and Kent State.
Looking to rebound from a slow start, Michigan State will need some sharpshooting and stout defense to "upset" the Blue Devils.
Let's get into it.
1. AJ Hoggard awakens from his slumber
Fans have been begging for any signs of life from AJ Hoggard through two games and while he was slightly better against Southern Indiana, his start to the year has been underwhelming. He's averaging just 6.5 points and 3.5 assists while turning the ball over four times and shooting 22 percent from the floor. Essentially, he's been a shell of himself.
All that talk of him taking notes of all his doubters this offseason seems like it's been lacking substance. Now is the time to prove himself.
And he's going to do it against the No. 9 team in college basketball. He's going to have his best game of the season, awakening from that two-game slumber to start the year, finishing with 14 points, seven assists, two steals, and he'll shoot over 50 percent from the floor. Heck, he'll even hit a big three.
We'll be singing Hoggard's praises on Wednesday morning.
2. Michigan State will shoot over 40 percent from deep
What an ugly start to the season it's been for Michigan State's 3-point shooting. The Spartans are an astonishing 2-for-31 from deep against James Madison and Southern Indiana and it's not going to be easy to get open looks against Duke. But Michigan State has had all weekend to prepare for this matchup. Tom Izzo knows the importance of making those open looks from deep (they've been there).
After this horrid stretch to start the season, we're going to see the Spartans finally perk up from distance. They'll make eight threes against the Blue Devils, finishing 8-for-19 from deep.
We'll see guys like Jaden Akins, Tyson Walker, Tre Holloman, Hoggard, and even Malik Hall connect from distance. Finally.
3. Michigan State wins
Let's face it, Michigan State basketball needs this win. The Spartans can't afford to start the season 1-2 with games against the likes of Baylor and Arizona still on the schedule in non-conference play. That would be the worst-case scenario.
Instead, starting 2-1 with momentum and confidence to play those aforementioned contenders will go a long way.
Izzo has probably run these guys through the gauntlet at practice over the past few days, and deservedly so. He's likely running that war drill to improve rebounding and you just know they aren't allowed to leave practice without hitting a certain number of free throws.
Right now, the shooting woes are all mental and I think the Spartans overcome that on the big stage.
Duke is favored by 4.5 points, but I think Michigan State not only covers, but wins outright 76-74. Upset city in Chicago.