Michigan State basketball: 3 quick thoughts from loss to No. 9 Duke
A tough start to the year.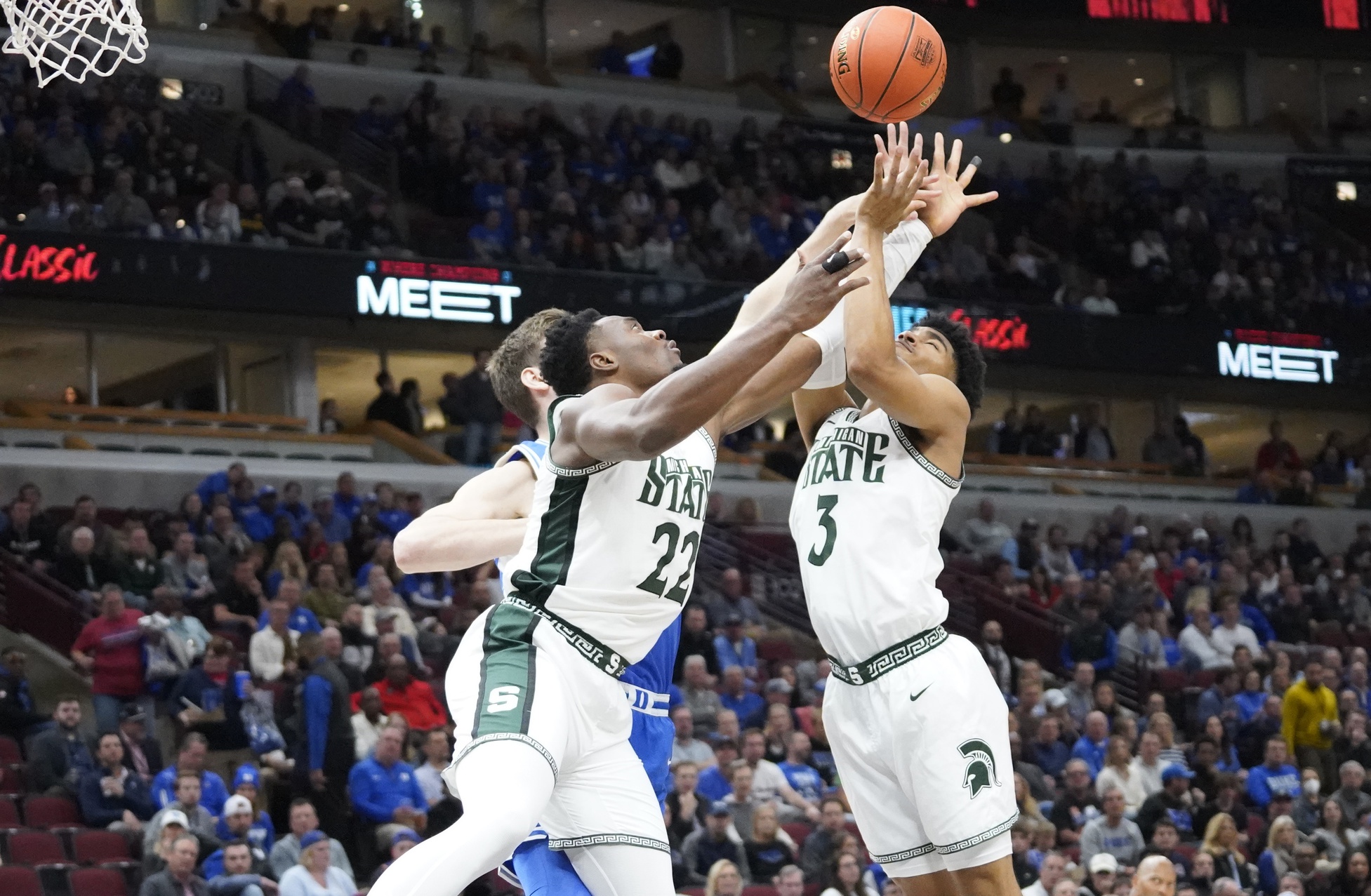 Michigan State basketball came up short against No. 9 Duke in the Champions Classic despite a late push in the second half.
A slow offensive start for Michigan State basketball led to a 74-65 Champions Classic loss to Duke on Tuesday night as the Spartans were unable to get anything going until the second half.
*insert the "when will the pain and suffering end?" meme here*
In fact, the Spartans scored just 20 points in the first half before dropping 45 in a strong second-half effort that saw them nearly pull off a comeback, but fouls on the other end of the court and second-chance points for Duke were the difference.
What did we learn from the Spartans' second loss of the year?
1. It's time for AJ Hoggard, Mady Sissoko to wake up
We keep hearing about how AJ Hoggard is supposed to be the best point guard in the Big Ten, but he has yet to show it. After two disappointing games to begin the year, he followed them up with a two-point performance against the Blue Devils. I thought his defense was fine and he did have eight assists to two turnovers, but he needs to be driving to the hoop and drawing fouls. That's his game.
As for Mady Sissoko, I love this dude. He's a great kid who does amazing things off the court, but man, he continues to baffle me. It's almost like he's gotten less productive since the beginning of last year. Heck, he shut down Oscar Tshiebwe in last year's Champions Classic, but this year he couldn't seem to do anything right. He finished with two points and three rebounds but he had three fouls and three turnovers on 1-for-4 shooting. His night was dreadful and it cost the Spartans a ton of empty possessions.
It's time for these two starters to wake up.
2. Malik Hall had a much-needed big boy game
Another veteran who had been disappointing in the first two games, Malik Hall just didn't have any confidence in the Spartans' loss to James Madison nor their win over Southern Indiana. That all changed on Tuesday night.
Hall finished with 18 points and three rebounds and he was whistled for some questionable fouls which kind of halted the momentum he built. But man, if he can get this kind of action every single night with this energy, Michigan State basketball will be just fine this year. That's a big if though.
3. The second-half energy is what this team needed
The first half was tough to watch. Turnovers, missed wide-open shots, bad fouls. It was the first two games all over again in the first half. The only positive to take away from those first 20 minutes was the defense. It was stifling.
But the looks on the players' faces on the bench as they went into the locker room down 31-20 was not great. There was no energy.
That all changed in the second half. Michigan State came out much stronger and pieced together a run. They pulled within three, 51-48, with under 10 minutes to go and it looked like they were actually going to complete the comeback but the Blue Devils responded (or got a whistle).
If Michigan State basketball can play the way they did in the second half for the remainder of the year, there aren't many teams that are going to beat the Spartans. Play hard with a purpose, play smart defense, and take good shots and Michigan State basketball will be just fine.
I come away from this loss with more positives than I did in the first two games.