Michigan State basketball: 3 keys to victory vs. Southern Indiana
What must the Spartans do?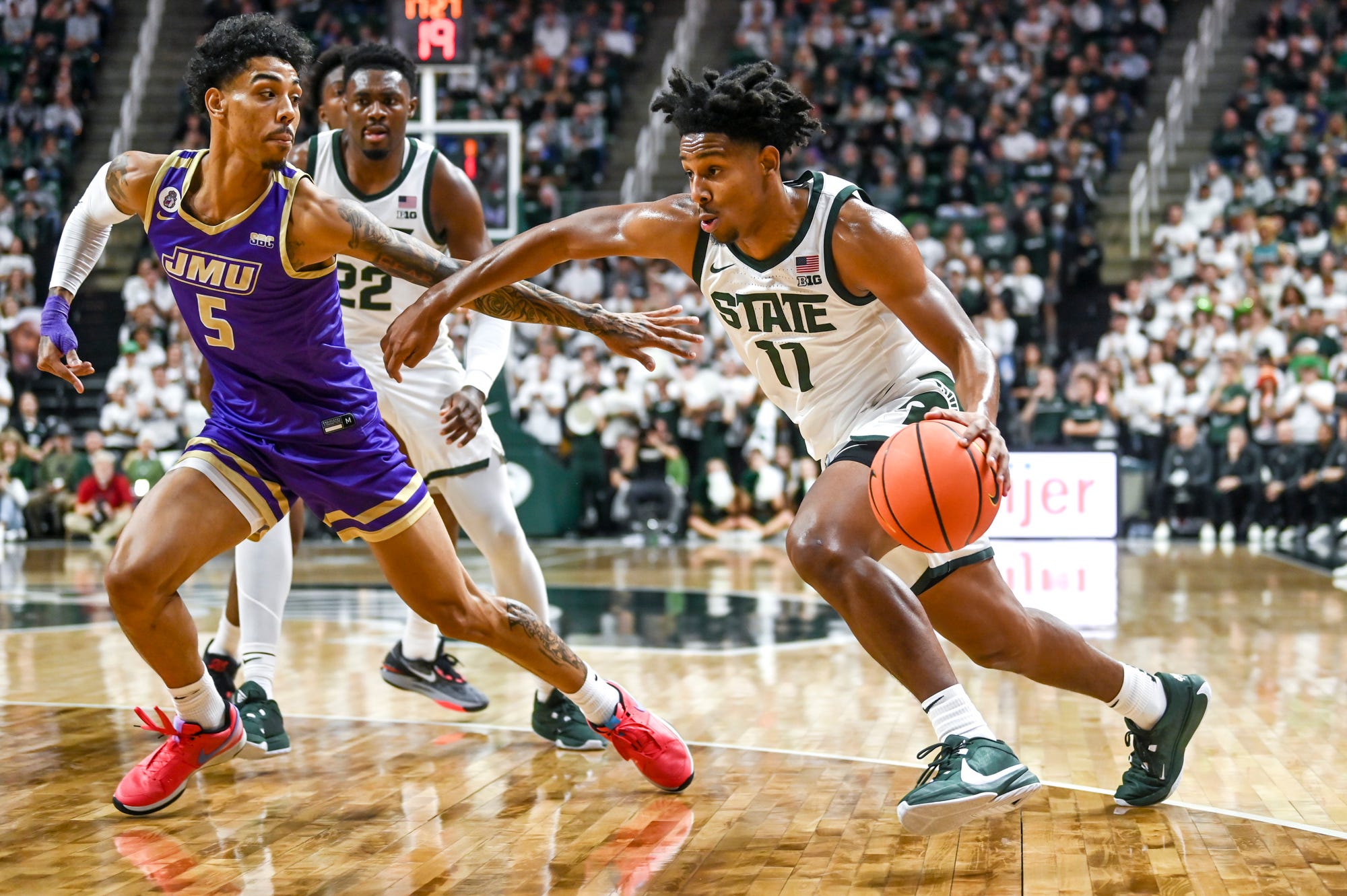 Michigan State basketball must do these three things in order to get back on track Thursday night against Southern Indiana.
Welp, Michigan State basketball enters its second contest of the 2023-24 season 0-1. They'll take on the Southern Indiana Eagles, who head north to East Lansing also sporting a 0-1 record.
What are three keys for Michigan State to get back on track?
1. Shooting must improve
First, the low-hanging fruit. There is no other way to describe MSU's shooting performance on Monday night other than abysmal. A historically bad 1-for-20 from beyond the 3-point arc will hopefully never be seen again. Last season, Michigan State sported the third-best 3-point shooting percentage in the nation at 39.3%, making Monday's showing even more shocking. Even Tyson Walker, who poured in 35 points, went 0-for-5 from deep. With only a few more of those 20 attempts going in, that game is much different.
However, it was not only the 3-point shooting that helped elevate James Madison's upset bid. The Spartans shot a lowly 62.2% from the free throw line. Not as bad as the 3-point shooting, but definitely a factor in the loss. Free throw shooting plays a huge role down the stretch of the season, so it'd be nice to see a major improvement upon that in the coming games.
2. Get tougher on the glass
James Madison outrebounded Michigan State 51-48. That is inexcusable. One would have to imagine that it's this that has Izzo most upset. He has always preached defense and rebounding, and well, the latter was not strong on Monday. As a team in 2022-23, the Dukes only averaged 38.1 rebounds per game, so such a high total against MSU was surprising, to say the least. Between Carson Cooper's and Mady Sissoko's 38 combined minutes, they only managed to grab eight total rebounds. This is a little concerning, especially considering Michigan State basketball does not rely too heavily on either of them on offense. Mainly, they are in there to anchor down both the paint and the glass, and they did not do that well enough.
On the bright side, it was good to see Jaden Akins get down low and grab 11 boards. It will take more efforts like that one throughout the remainder of the season if this team wants to live up to expectations.
3. Play fast, play with confidence
Speaking of expectations, this team had tons of hype surrounding it during the offseason. In the season opener, it looked like the hype had gotten to the heads of the players a little bit. They started out flat, allowing JMU to build a fairly sizable early lead. Maybe it was a result of the point deficit, but throughout the remainder of the game, the Spartans did not look confident. They were not playing fast or freely, and quite honestly they seemed tense.
The most frustrating thing is that there is zero reason for this team to play tense. They are one of the most — if not the most — talented teams in the country, and that should show on the floor. Guys that will need to play a big role in the success of this team did not play to their abilities.
AJ Hoggard did not put his head down and drive to the rack, even though he was not on the ball that much. Malik Hall would not pull the trigger as much as he should've, even with how cold the shooting was. The team is capable of so much more, and they know that. It's time for them to start proving why they were deserving of the offseason buzz.
Going forward, look for Michigan State basketball to improve upon these three things. The shooting will naturally get better, as such a low percentage is impossible to replicate. Izzo won't let the team forget about the lack of rebounding any time soon, nor should he. As the season goes on, confidence will only build as the lineups gel together.
It's too early to hit the panic button on MSU as they should bounce back Thursday night.