Michigan State basketball: 3 bold predictions vs. Southern Indiana
It's time to get into the win column.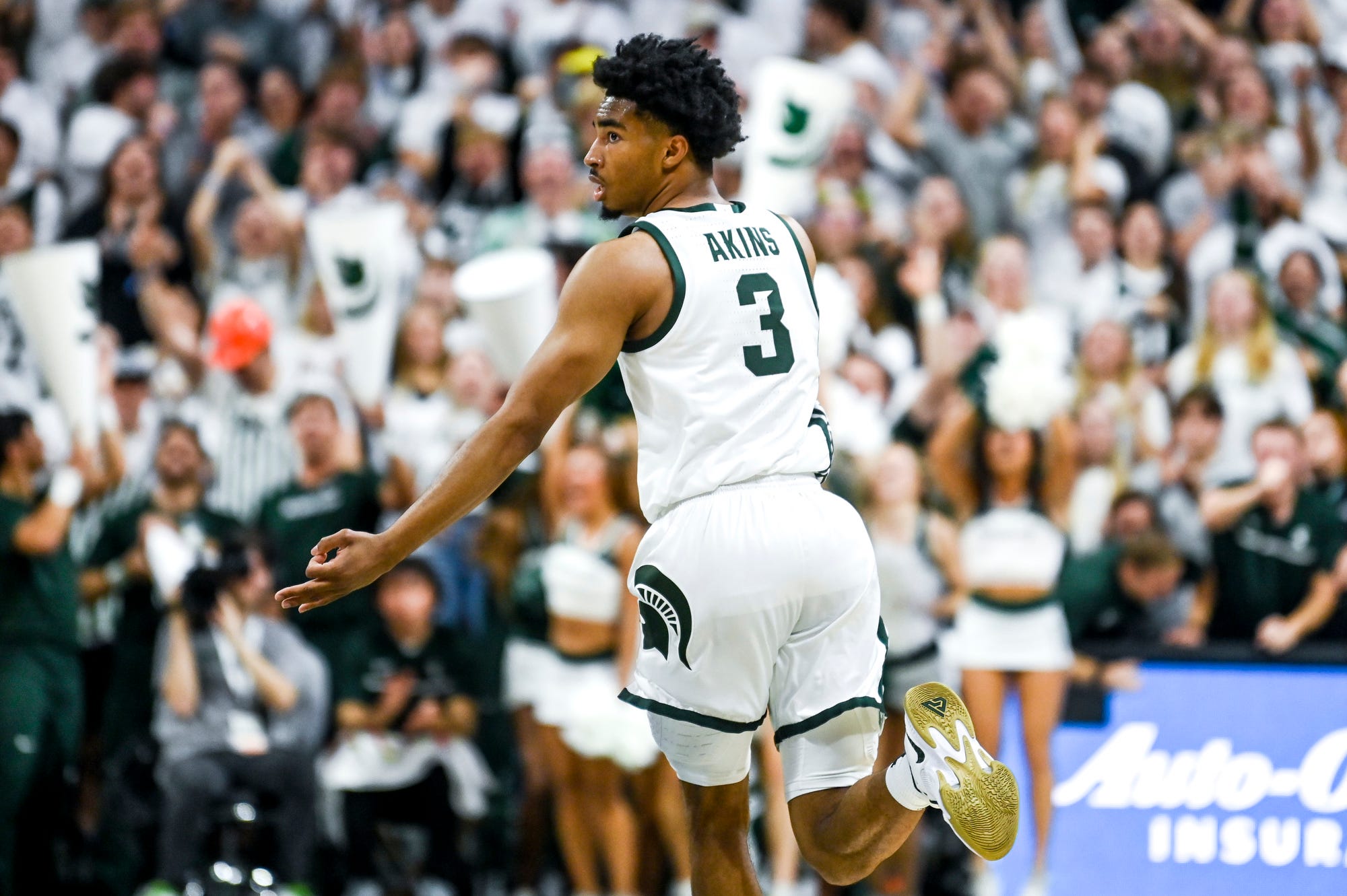 Will Michigan State basketball bounce back on Thursday night against Southern Indiana? Let's see what the bold predictions say.
The Michigan State basketball home opener was not pretty. There's no changing the past, though, so let's look to the Spartans' next opponent: Southern Indiana.
The Screaming Eagles compete in the Ohio Valley conference, and are coming off a 16-17 campaign in 2022. Like MSU, they're 0-1, this time featuring a loss to Saint Louis. They're a perfectly fine mid-major, and while they've been solid in the past, this is a game the Spartans should win.
Let's break down three predictions I have for the Spartans against Southern Indiana.
1. Jaden Akins bounces back in a big way
Jaden Akins has received a lot of hype coming into this season, and justifiably so. The 6-foot-4 wing is highly athletic, versatile, and has a smooth 3-point stroke. He was a key contributor in 2022, but fans are expecting to see him take another big step — I'm part of that crowd.
Against JMU, Akins grabbed 11 boards but shot an abysmal 20 percent from the field, scoring only four points. I anticipate Akins having a major get-right game against Southern Indiana, getting his feet under him and flashing a continually improving jump shot. He has every ounce of talent he needs, and I believe that his lofty preseason expectations were not misplaced. Watch for Akins to to go for at least 15, probably with seven-plus boards tacked on.
2. Spartans hold Southern Indiana under 55 points
Tom Izzo preaches tough, physical defense, and it works. We saw that throughout a lot of the 2022 season, and despite the early bump in the road, I'm expecting it to continue. This team is loaded with steely defensive presences, including the starting backcourt of A.J. Hoggard and Tyson Walker, plus physical center Mady Sissoko prowling the paint. Southern Indiana is not a great team, and this seems like the perfect scenario for Michigan State basketball to clamp down and get its defense humming before the upcoming Duke contest.
3. Michigan State wins by 20-plus
The shaky opening night performance from the green & white has worried some, but I think that the team will still take this game without trouble. As I've said earlier, the Screaming Eagles are fine, but MSU is absolutely loaded. The James Madison game didn't change any of that. This is still a group loaded with talent and great players, and I fully expect them to assert themselves against Southern Indiana. The squad will be eager to shake off the previous contest, and I think they'll have the jitters out by Thursday. Watch for a dominant performance from the superior team.
Final thoughts
It's true that the game against James Madison was worrying, but there are a lot of games in a college basketball season. This is still a team with tons of excellent players as well as top-notch coaching; I don't think the sky-high preseason expectations were misplaced. The Spartans could use a game to get back on track, and this seems like the prime candidate. They'll definitely need it before a massive showdown with the Blue Devils on Nov. 14.
Stay tuned.