AJ Hoggard's development key to resurgence of Michigan State basketball
AJ Hoggard is a key piece to the title puzzle.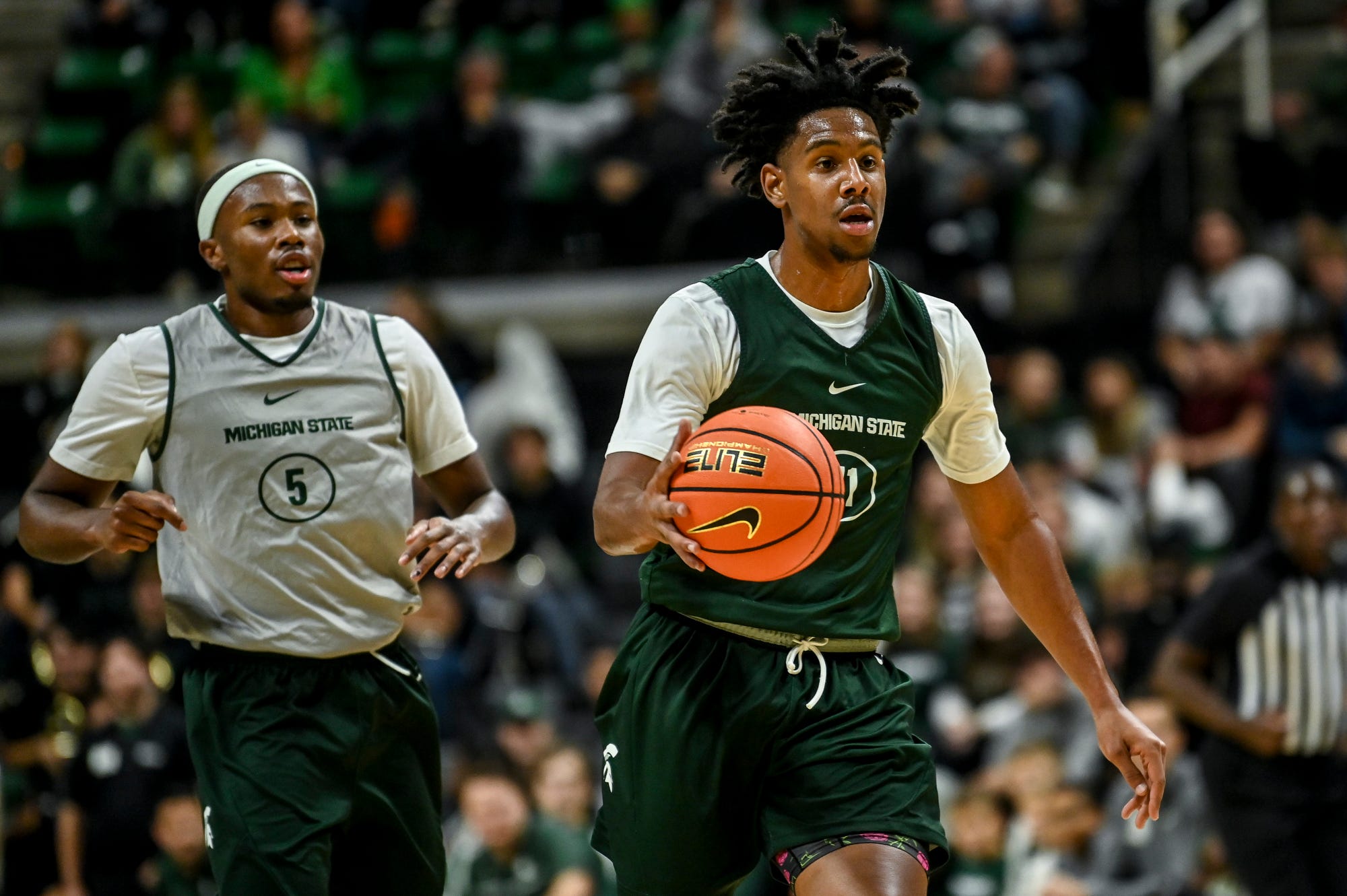 Coming to Michigan State basketball without anyone at the position to really show him the ropes, AJ Hoggard has developed quite nicely.
AJ Hoggard was a 6-foot-3, 185-pound guard coming out of Huntington Prep in West Virginia. He was the 101st best player in the country in the 2020 recruiting class. When he arrived, the point guard play for Michigan State basketball was in some disarray. The Spartans were trying to move Rocket Watts to point guard in the COVID-19 offseason and had Foster Loyer as an undersized Big Ten player.
Hoggard never really had a point guard to lead and teach him the reigns of being a great Spartan point guard.
Freshman year
AJ's freshman season showed a glimpse of what he could be as a Big Ten player, averaging 13 minutes, 2.5 points, 2.0 assists, and almost 2.0 rebounds per game. He appeared in 26 games and started in eight as a true freshman. The major developments that AJ needed to make were to transform his body as he came into the season at over 220 pounds.
Sophomore year
In Hoggard's sophomore season, the point guard position was still in limbo as Michigan State basketball brought in transfer point guard Tyson Walker from Northeastern. AJ was able to shed 20 pounds in the offseason due to the work through a better diet and cardio. He showed flashes of what kind of player he could really be as a sophomore. He showed that he could defend at a high level. AJ made it extremely difficult for Purdue's Jaden Ivey and Wisconsin's Johnny Davis. He showed he could lead this team going forward having 17 points and 10 assists in the Big Ten Tournament. The major development needed in his game was to become a better 3-point shooter and free throw shooter.
Junior year
During Hoggard's junior season, he solidified that point guard position starting in 33 out of 34 games for the Spartans. He was able to continue to show development in his craft as a point guard. AJ was a 60 percent free throw shooter in his freshman and sophomore seasons. This turned into shooting 80 percent from the line as a junior.
Additionally, he has made strides in the 3-point shooting as he took 73 attempts in his junior season and took a combined 50 shots from deep combined in his prior two seasons. Hoggard took major strides in his junior year by becoming a more complete player throughout the season. He averaged 30 minutes, 13 points and six assists per game in the 2022-23 season. However, he will look to improve his 3-point percentage as he increases attempts.
Overall, AJ's development has been one of the main reasons for the Michigan State basketball resurgence and growth. His progression as a player has been one of the best to watch as a Spartan. The coaching staff and AJ's drive as a player has improved his game each season. If he can continue to take his game to the next level, this will make this Spartan team more dangerous. Hoggard is clearly one of the top point guards in the Big Ten and the country. So, I'm not writing AJ off so hopefully he isn't taking his own notes on this article.