Michigan State basketball: Let's get this one out of our system now
Good thing it happened now and not next week, right?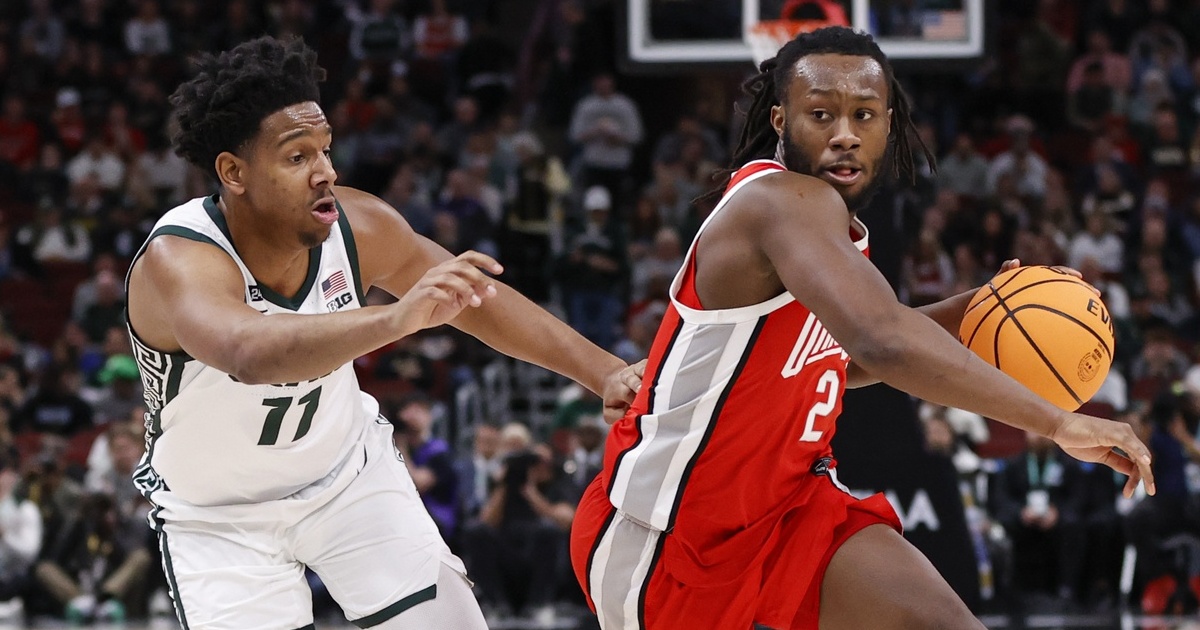 Michigan State basketball got its worst showing in weeks out on Friday afternoon against Ohio State in Chicago.
Someone forgot to tell Michigan State basketball that they only got a double-bye and not a triple-bye in the Big Ten Tournament this weekend.
Ohio State was all over the Spartans from start to finish on Friday afternoon, dominating from after the under-16 timeout on. The Buckeyes cruised to their third straight win with a 68-58 dismantling of what looked like a confused, unmotivated, and lifeless Spartan squad.
The team that we saw for the past two weeks shooting over 55 percent from 3-point range and averaging 80-plus points per game was gone. Missing. Vanished.
Unlike the previous two matchups against the Buckeyes in which the Spartans dominated (once on defense and the other on offense), Michigan State looked unprepared. Even without Brice Sensabaugh, Ohio State was the better team for about 36 minutes on Friday. That's just unacceptable.
While it's become somewhat of a Michigan State basketball staple to lose to teams that are missing their best player, it doesn't make it any less aggravating.
Malik Hall played his worst game of the season, Tyson Walker was just off, AJ Hoggard was dealing with early turnovers and foul trouble, Jaden Akins wasn't hitting his normal threes, and the bench didn't provide any life. It was the worst showing from this team since the egg it laid against Purdue in West Lafayette in January. Worst performance in over a month.
This just simply cannot happen moving forward.
Michigan State can't go 3-for-16 from three and shoot 38 percent from the floor with only nine assists to eight turnovers if it wants to make any noise this March.
Thankfully, it got this one out of the system now.
Of course, we don't know which team is going to show up next week in the first round of the NCAA Tournament, but the fact that they played this horribly in the Big Ten Tournament (first time in weeks they looked this bad) feels like it got out of the system at the perfect time.
OK, so maybe I'd say "MSU is getting hot at the right time" if they had won convincingly and then won against Purdue to make the Big Ten title game, but it's been a while since the Spartans had a clunker. They were unfortunately due.
Not often this year could I say that Michigan State played horribly and had no chance (Northwestern, Notre Dame, at Purdue) but this one qualifies. It's out of the system.
Now it's time to regroup and bounce back.