Michigan State basketball: The great, good, bad, and ugly from Michigan win
It wasn't a pretty win, but Tom Izzo will take it.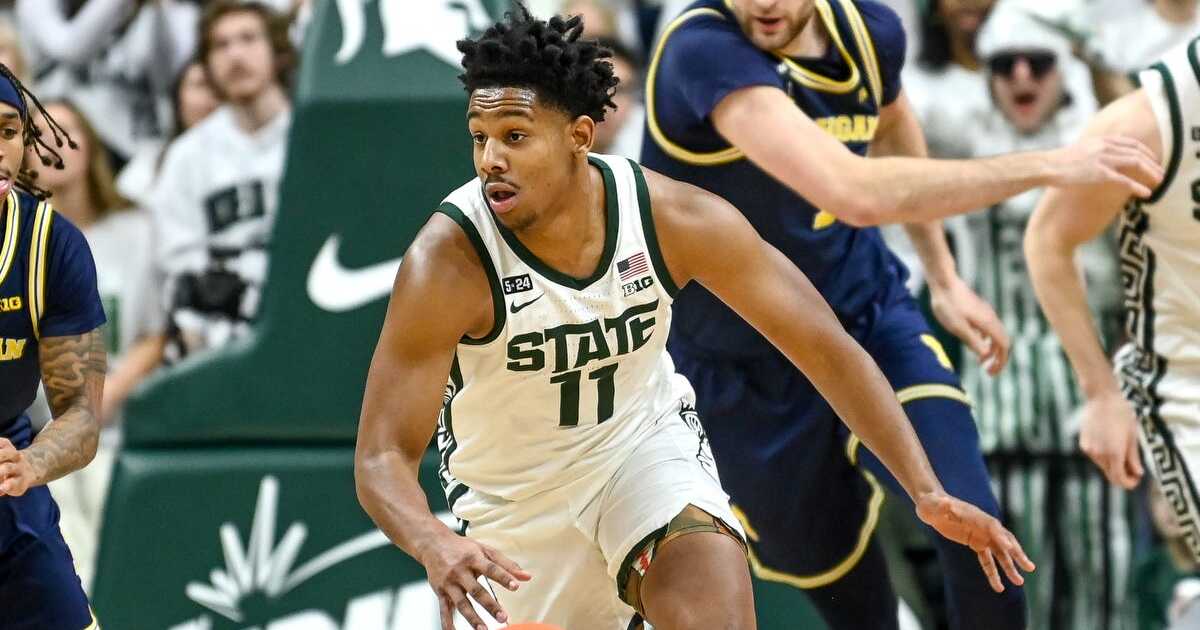 Michigan State basketball extended its win streak to six in a row against rival Michigan, in what Tom Izzo described as a "memory-making day."
While not pretty at times, Michigan State basketball sent the Wolverines back to Ann Arbor with a loss, improving the Spartans' record to 11-4 overall and 3-1 in conference play.
With both teams struggling offensively, it became apparent that the first team to 60 would come away with the win. After being tied up at 14 with 4:39 remaining in the first half, MSU finished the half on a 15-6 run, allowing it to go into the locker room with some breathing room. That's not to say Michigan didn't make adjustments and apply some pressure in the second half. The Wolverines brought the score to within four with just over 3:30 remaining in the game. Powered by guard play, the Spartans held off the late surge from the Wolverines, moving into a tie for first place in the Big Ten.
As Tom Izzo stated in his post-game presser, "Typical Big Ten game. That was a slugfest."
Here are the great, good, bad, and ugly from Michigan State's victory Saturday afternoon against Michigan.
Great: Defense
As mentioned, Saturday's game was an absolute rock fight. With a final of 59-53, both Michigan and Michigan State were held well below their season averages in points; Michigan averaged 74.9 points per game, and Michigan State averaged 70.4.
Both teams played fantastic defense, but it was the Spartans who applied more pressure.
MSU held Michigan to just 34.5 percent from the field and an abysmal 15 percent from three. While Michigan did a good job at getting to the line, it seemed at times this was the only way they could score, thanks to the shooting difficulties the Spartans' defense created for them. MSU eliminated the Wolverines bench from contributing, and outside Hunter Dickinson and Kobe Bufkin, did a great job limiting their offense as a whole.
Good: A.J. Hoggard
Overlooking the stretch of games in which A.J. Hoggard was relegated to the bench, this team has been driven by the junior point guard. Saturday afternoon against Michigan was no exception. A.J. tied Malik Hall for the team high in scoring with 15, while also sporting a 6-2 assist-to-turnover ratio. When the shots were simply not falling, A.J. turned to the transition game, leading to 10 points in just the first half. The Spartans played through Hoggard, offensively, defensively, and everything in-between.
Not only did Hoggard provide a bucket or a defensive stop when needed, but he also had the energy and attitude that is needed when playing your in-state rival. Playing a total of 31 minutes, Hoggard never missed a chance to let the Wolverines know whose house they were in.
This team will go as far as Hoggard's talent and attitude will take them.
Bad: Ball movement and offensive efficiency
It has been vastly stated that both teams had a difficult time offensively. For Michigan State, they found themselves up 14 with eight minutes remaining and seemly began to take their foot off the pedal. Their ball movement became non-existent and open shots became hard to come by. This opened the door for Michigan.
The Wolverines rattled off a 15-5 run over the next five minutes, and Michigan State was forced to clamp down once again. A few days after putting on an absolute clinic on ball movement and shooting against Nebraska, the Spartans seemed to do quite the opposite for most of this game.
Thankfully, Michigan State's free throw shooting was above average (84.6 percent) as they were able to close the game out by capitalizing at the charity stripe.
Ugly: Joey Hauser
While it isn't fair to single out one player, especially based on just one performance, Joey Hauser had an extremely off day against Michigan. Shooting 1-7 from three, and just 3-13 from the field total, there were times that it felt like Joey was shooting the Spartans out of the game. The Wolverines were forced to respect his shot, which opened up the court at times, but many of his missed 3-point attempts were rebounded by Michigan and immediately taken the other way.
For elite shooters like Joey, you are bound to run into off-games such as this. In a rock fight like the one Michigan State basketball found itself in on Saturday afternoon, having Joey's 3-point shooting changed the game completely.
While this is now back-to-back games in which Hauser has been somewhat off, let's hope this small slump is just that.