Michigan State basketball: 3 quick thoughts from ugly Michigan win
The Spartans picked up a big win over rival Michigan on Saturday.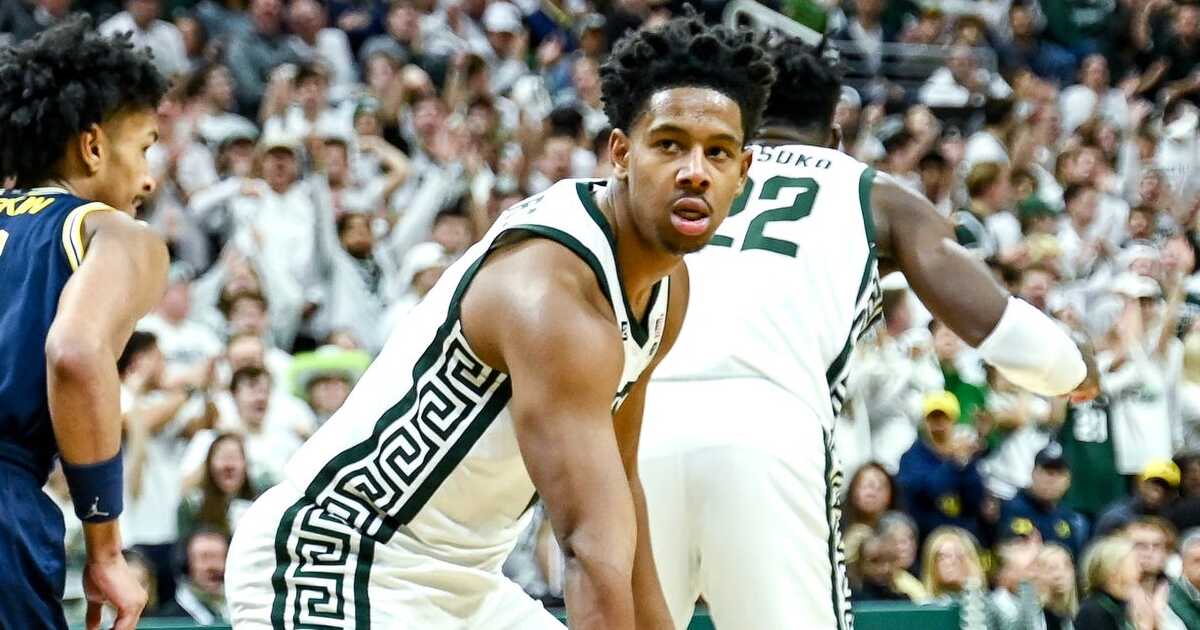 It wasn't pretty (again), but Michigan State basketball picked up a win over first-place Michigan to improve to 11-4. Here are my thoughts.
If you liked missed shots, low-scoring hoops, and unnecessarily tight games late, you would have loved Michigan versus Michigan State basketball on Saturday afternoon.
The Spartans were able to hold on for a 59-53 win over the Wolverines at home and it probably should have been a little more lopsided, but a 14-point second-half lead melted away as Michigan cut it to just four with minutes left. AJ Hoggard and MSU were able to hold on and hit some late free throws, but this game was as ugly as ugly can be.
Michigan State did, however, hold Hunter Dickinson to just 18 points on 8-of-16 shooting despite Mady Sissoko playing one of his worst games of the year with two points, three turnovers, and four fouls.
Here are my thoughts from the tight, ugly win in East Lansing.
1. Malik Hall was the difference
A name that we didn't hear a ton of on Saturday afternoon was Malik Hall and yet he still managed to finish with 15 points and three rebounds on 5-for-9 shooting. He went on a personal run of his own in the second half to extend the lead and he was really the difference in this one. The Wolverines couldn't seem to slow him down and he only played 23 minutes.
On an afternoon when nothing seemed to be falling for the Spartans, Hall was consistent and kept Michigan State treading water when it needed it most.
Hall may very well be the most important player on this team.
2. AJ Hoggard looked like Cassius Winston-lite
Man, I was so impressed with how AJ Hoggard played on Saturday. He was one of the most consistent performers all afternoon long and I honestly wish he would have hunted for his own shots more.
Sometimes Hoggard needs to be a little more selfish.
When Michigan State needed a big shot, he stepped up and hit it. Hoggard had 15 points, six assists, four rebounds, and only one turnover while shooting 6-for-10 from the floor and playing good defense. He looked like Cassius Winston-lite out there against Michigan, making circus shots and big plays when MSU needed them.
We're seeing him grow up before our eyes.
3. This was MSU's 'D' game and it still won
Was this Michigan State's A game? Absolutely not. Was it a B or even a C game? Nope. Michigan State played one of its worst offensive games of the year (a 'D' grade in my mind) and still found a way to win by six. The Spartans were even up by double figures for most of the second half before Michigan chipped away late, but while this doesn't feel like a great win, it is when you consider they won't play like this on a normal basis.
In the weeks leading up to this game, Michigan State was looking like one of the best teams in the Big Ten, but for 40 minutes, it couldn't buy a bucket. In fact, it shot 38 percent from the floor and 32 percent from deep. We won't see that happen too often.
But even though it did, this Michigan State basketball team didn't panic and found a way to get the job done. Not too satisfactory of a win, but a good sign that they can play poorly and still cover.