Michigan State Basketball: The great, good, bad, and ugly from win at Ohio State
The Spartans finally had a stress-free win.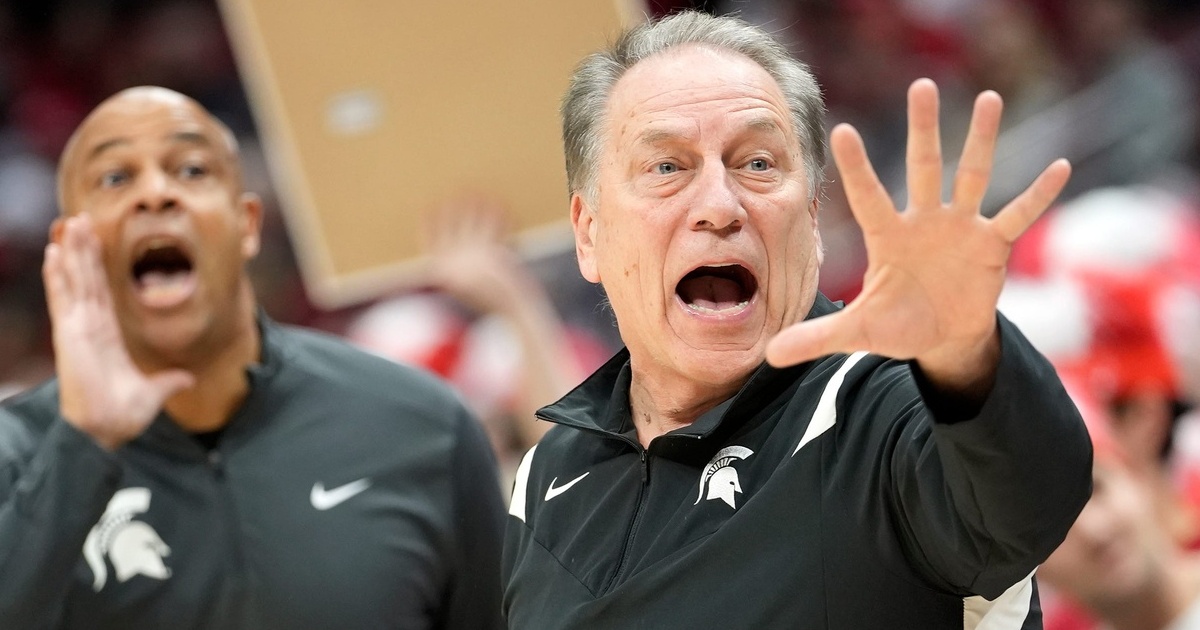 After almost collapsing against Maryland last week, Michigan State basketball went down to Columbus and picked apart the struggling Buckeyes.
After almost collapsing against Maryland last week, Michigan State basketball went down to Columbus and was able to pick apart Chris Holtmann's struggling Buckeyes, 62-41.
Both teams got off to another slow start, only scoring nine points each with just over eight minutes remaining in the first half. While the Spartan guards were not able to get anything going from deep, Joey Hauser and the forwards could not miss. Combining Hauser's 66 percent shooting from 3-point range, an offensive spark from the freshmen big men Carson Cooper and Jaxon Kohler, and stifling defense, MSU was able to cruise to a victory Sunday afternoon.
The Spartans will need to continue the momentum from this two game win streak into the final games of the season if they are to make any noise come March.
Here are the great, good, bad and ugly from MSU's win against Ohio State.
Great: Perimeter defense
If you have watched any Michigan State basketball this season, it is apparent that MSU has one of the most stout defenses in the Big Ten.
Going into Sunday's matchup, Michigan State ranked 4th in the Big Ten in points allowed with 64.4, third in field goal percentage with 41.6 percent, and first in opponent 3-point field goal percentage at 27.4. This trend continued against the Buckeyes, as MSU held them to a staggering 20 percent from deep. To have continued defensive performances as the Spartans have had this season, it takes a full team effort.
OSU finished the first half with just 14 points, their fewest sine 1996. Not allowing Ohio State to get into any sort of rhythm from three point range worked well for the Spartans in that their transition game and pacing could be set at a level where Michigan State basketball excelled. This team's defensive abilities are better than we have seen for the green and white in years.
Good: Transition offense
It seemed as though Michigan State was able to get back to their roots and attack in transition against Ohio State on Sunday. With MSU starting the game off slow once again, it was imperative they push the ball and avoid half court sets. The Spartans did a great job limiting OSU on the offensive side and immediately sending the ball up court. Even if their aggressive transitions didn't equate to fast break layups, they more often than not ended with a wide open shot. Setting the pace while in a hostile environment such as Columbus can make or break your performance.
Even if the Spartans weren't hitting their open shots, more on that later, the open looks were a great sight to see. They will fall eventually.
Bad: Spartan guards' 3-point shooting
As much of a difficult time the Buckeyes had from deep, the Spartan guards struggled just as badly. Jaden Akins, A.J. Hoggard, Tyson Walker, and Pierre Brooks went a combined 0-11 on the day.
As previously mentioned, getting open shots after pushing in transition was not an issue for MSU. Possession after possession, their transition game was leading to good looks, that, unfortunately, Michigan State guards just couldn't bury.
It seemed as though MSU's forwards were the only players able to cash in from deep. Joey Hauser carried the Spartans performance Sunday, going six for nine from three point range, while Malik Hall connected on his only attempt. As previously mentioned, getting the open looks that Michigan State had on Sunday afternoon will often lead to someone catching fire from three. As long as one positional group can pick up the slack, this should not be an issue for the Spartans moving forward.
Ugly: Free throw opportunities
Great perimeter defense and a lack of free throw attempts should be this season's headline. With just over three minutes remaining in the game, Michigan State was dangerously close to breaking a record that has stood for almost 20 years.
February 28, 2004, at Penn State was the last time the Spartans were held without a free throw attempt. Thanks to Carson Cooper's and-one completion, Michigan State did not renew this record but having just one attempt is terrible nonetheless. Zero free throw points, let alone attempts, for 90 percent of a Big Ten game falls on all position players. It shows the guards and forwards were not attacking the basket, nor were the Spartan centers applying pressure downlow.
Now, it's safe to say this was very much a game in which the referees allowed players to simply play on as Ohio State only had two attempts themselves. Regardless, Michigan State must do a better job at forcing the referees to make calls. Altering opponent's game plans by getting players in foul trouble will be key going through the Big Ten tournament.