Michigan State basketball: 3 quick thoughts from Ohio State win
Michigan State dominated Ohio State on Sunday afternoon.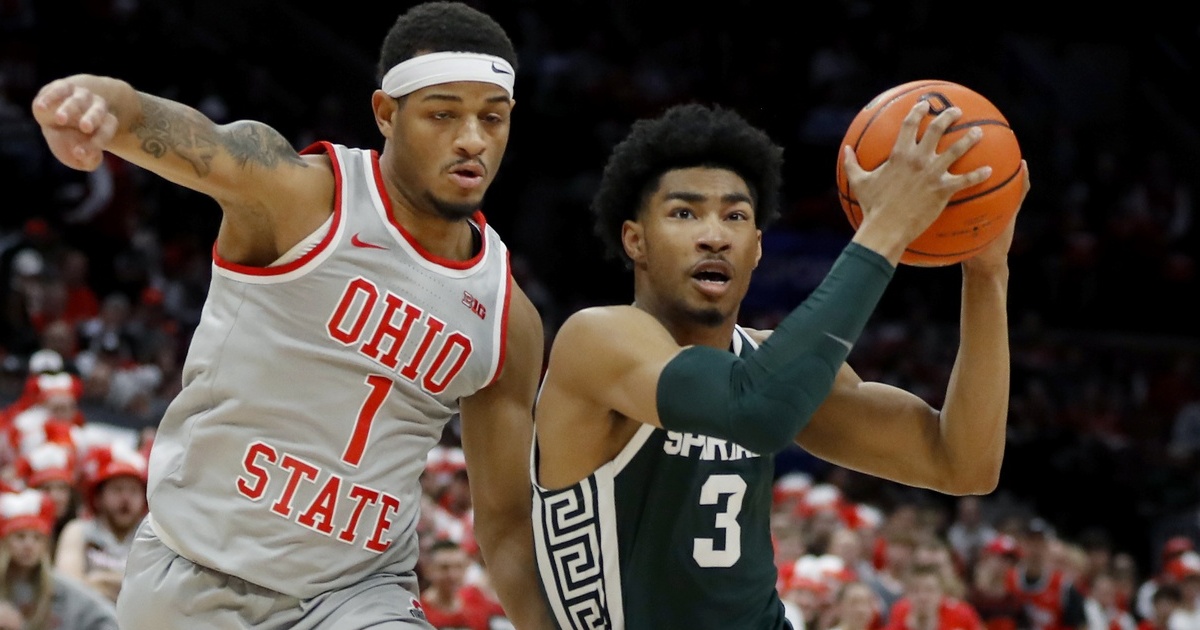 Michigan State basketball went into Columbus and picked up a blowout win over Ohio State. Some quick thoughts from the win.
In need of another Quad 1 win to add to the resume, Michigan State basketball went on the road as underdogs and beat a reeling Ohio State team by 21 points.
The Spartans found themselves in an offensive slump early on before storming back to take a 13-point lead at the half. Ohio State battled back to pull within six, 41-35, before Michigan State ended the game on a furious 21-6 run to win big.
Tom Izzo's team improves to 16-9 overall and 8-6 in the league with the win and picked up its fifth Quad 1 win of the season to really add to a decent resume. Before the game, Michigan State may have been somewhere in the 7/8 seed range but this helps and it could lead into a win against Minnesota and at Michigan this week.
Let's dive into some quick thoughts.
1. Joey Hauser put the team on his back
Has there been a more improved player this season than Joey Hauser? The senior forward has looked so much better on both ends of the floor and when Michigan State needs a big bucket, he's usually the one to provide it — along with Tyson Walker.
Against the Buckeyes, he was clutch. He finished with a game-high 22 points and eight rebounds on 8-for-13 shooting and he made 6-of-9 threes.
Not just that, but he was playing really solid defense all game long. Joey really put the team on his back when the offense was stagnant, at times, on Sunday afternoon.
2. Jaxon Kohler needs more minutes
Another majorly improved player throughout the season has been Jaxon Kohler. The freshman big had another nice game against Ohio State, dropping six points on 3-for-3 shooting.
Kohler just needs more minutes and Michigan State will have a legit offensive post presence.
It's clear that Mady Sissoko just doesn't have an array of post moves and he is just a body on offense so you have to take the negative (Kohler's defense) if you want a positive (Kohler's offense) on the other end of the floor. In my opinion, his defense isn't bad enough that he's unplayable and he provides a spark offensively.
3. Michigan State's defense continues to impress
With how bad the offense has been, the defense has more than made up for it.
The Spartans held yet another team to one of their worst shooting performances of the year as the Buckeyes were just 17-of-60 (28 percent) from the floor while shooting 6-for-29 (21 percent) from deep. And the Spartans didn't foul a ton, only allowing the Buckeyes to shoot two free throws.
It was one of the best defensive games for Michigan State this year and while Ohio State missed some open looks, it also didn't get a ton of them.
If this defense continues to play at a high level, the Spartans can beat anyone.