Michigan State basketball: Key factors and a prediction vs. Iowa
This could turn into a shootout.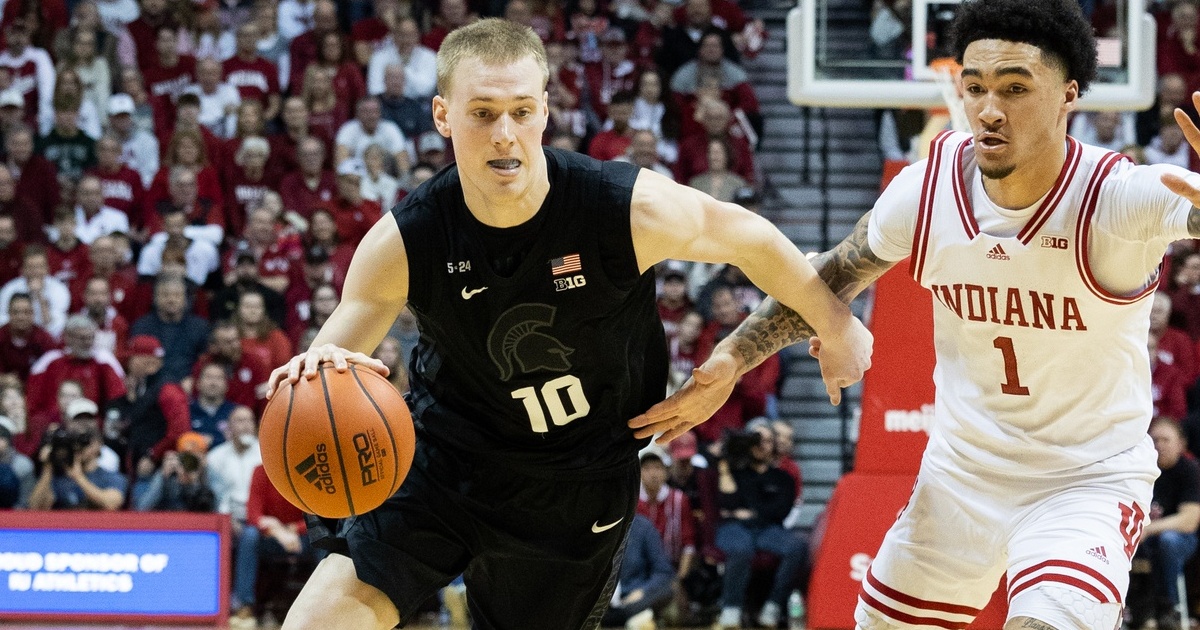 Michigan State basketball will look to get back on track against Iowa on Thursday night. Here's everything you need to know.
Michigan State basketball looks to get back in the win column on Thursday night as Fran McCaffery and the Iowa Hawkeyes visit the Breslin Center.
Here's a look at the key factors in this game and a prediction.
Contrasting Styles
As usual, McCaffery's Iowa teams like to get out and run. Per KenPom, Iowa plays at the fastest tempo in the Big Ten. Not only does Iowa play fast, but they play efficiently on offense without turning the ball over. This has translated into some high-scoring affairs. You have to go all the way back to Dec. 29 to find the last time Iowa scored fewer than 75 points.
Michigan State, on the other hand, would prefer a slower game. The Spartans rank outside the top 300 nationally in adjusted tempo according to KenPom. Unlike the Hawkeyes, the Spartans struggle to score for long stretches and rely on their defense to come up with stops. In the recent past, Tom Izzo's teams have elected to play at Iowa's pace. The Hawkeyes have scored 80 or more points in each of the last three meetings (all victories over MSU).
For as well as Iowa plays on offense, its pitiful defense almost negates its offensive prowess.
The Hawkeyes are by far the worst defensive team in the conference. They rank last in the Big Ten in defensive efficiency, effective field goal percentage, and opponent's two-point field goal percentage. Iowa is also allowing conference opponents to shoot almost 40 percent from three-point range. It should be interesting to see how Tom Izzo and MSU want to take advantage of Iowa's leaky defense without speeding up the game to their desired tempo.
Containing Kris Murray
A recent trend that has also been synonymous with Iowa basketball is a star player. Kris Murray is trying to become Iowa's third Big Ten Player of the Year in the past four seasons.
Luka Garza won it twice, and Keegan Murray had a very strong argument last year but lost to Johnny Davis. While Kris isn't quite the player Keegan was, at 6-foot-8 with scoring ability at all three levels, he is still a nightmare to defend. Penn State and Duke have been the only two teams to hold him under 20 points this season. Murray is a tough assignment for anyone, but it should be especially difficult for MSU given its personnel.
Under normal circumstances, Malik Hall would be the obvious choice to defend Murray. However, given that Hall remains out with a foot injury, Joey Hauser will likely draw the assignment. Given Hauser's struggles defensively in the past, along with how much Michigan State basketball needs him offensively, this figures to favor Iowa substantially. Couple that with how much MSU relies on Hauser for rebounding, and the problem becomes more concerning.
Other high-caliber players such as Zach Edey and Trayce Jackson-Davis 30-pieced the Spartans with relative ease last week on their way to victory. That can't happen again for Michigan State. The potential name to watch for is sophomore Pierre Brooks who has struggled mightily on offense lately, but this could be a great opportunity for him to get out of Izzo's doghouse. He is a little undersized from a length standpoint, but he has the strength to handle Murray in the paint and the quickness to stick with him on the perimeter.
The Spartans aren't going to shut Murray down, but if they can bother him just enough to make him an inefficient scorer, their chances of winning increase exponentially.
Which Mady Sissoko shows up?
After consecutive games against Edey, Cliff Omoruyi, and Jackson-Davis, Mady Sissoko is probably ready for some lighter competition. But this is the Big Ten, and more teams than not are going to have an effective center.
For Iowa, that guy is Filip Rebraca.
While he may not get as much attention as the first three guys mentioned, the fifth-year senior is enjoying a career season with 13.4 points and 8.4 rebounds per game. After spending his first three seasons at North Dakota, Rebraca was a reserve player for Iowa last year. This year, he is a vital piece of the team.
At 6-foot-9, he leads Iowa in minutes played, field goal percentage, rebounds, and blocked shots. Rebraca doesn't take many 3-pointers because Iowa has more capable shooters, but he isn't afraid to play on the perimeter within the offense. MSU will need a focused, controlled effort from Sissoko on both ends of the court. Keeping Iowa off the offensive boards will be key to limiting their possessions.
On the other end of the court, getting Rebraca into foul trouble would be massive. With Patrick McCaffery's status in question, Iowa's depth is a great concern – especially in the frontcourt.
It's been an up-and-down season for Sissoko. After such a strong start, he has regressed more towards the player we saw last year. The competition as of late surely has something to do with that. MSU has to hope it gets the guy from early in the season back. Thursday would be a great place to start.
Prediction
The projected line for this game is Michigan State basketball -3. That feels about right.
Iowa has the best overall player. Michigan State is at home, where it usually shoots better and has the crowd behind it. The spot favors Michigan State.
The Spartans have lost three out of four and have their most difficult game of the season on deck Sunday at No. 1 Purdue. This game at home against Iowa becomes critical to avoid losing five out of six. Given those facts, this line will probably move a little bit toward Michigan State. I wouldn't endorse laying more than a possession with this MSU team. Instead, I'd look at the total. The projected total is 147. I'd look at the over. MSU is typically more than willing to run with Iowa.
The Hawkeyes last played Saturday, and MSU played on Sunday. Both teams will be rested. Without Hall, I just don't see how MSU keeps Murray under 25 points. With MSU at home, they should have success shooting the three against an Iowa team that doesn't defend it well.
Prediction: Michigan State 80, Iowa 77