Michigan State basketball: Numbers prove defense has been elite through 5 games
The defense has been carrying.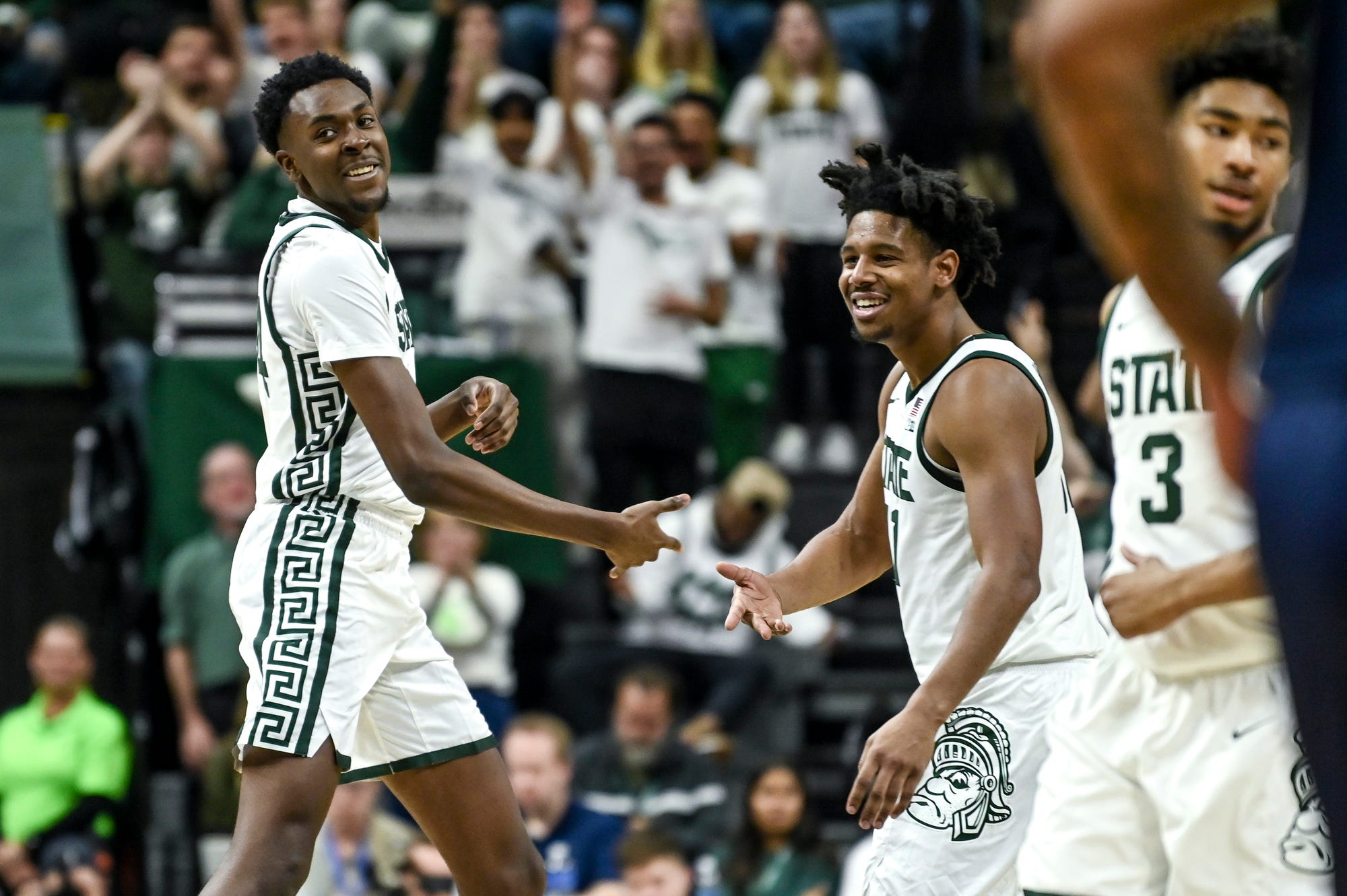 These advanced numbers prove that the Michigan State basketball defense has been elite through five games.
Michigan State basketball is now five games into the season, with a bit of a mixed bag to start things off. The Spartans dropped a shocking home opener to mid-major darling James Madison. They followed that up with two more outings of poor shooting. The last two games have looked more like the dominant Spartans we know this group can be.
But through all of those games, one thing has remained constant: this team's defensive tenacity.
Per Ken Pomeroy, MSU currently has the No. 9 AdjD in the country. Bart Torvik has MSU slated at No. 15 in AdjD. Both of those ranks are second in the Big Ten behind only Purdue.
Last year, Michigan State finished the season ranked No. 54 and No. 45 in AdjD in KenPom and Torvik, respectively. So what explains the jump in efficiency?
Defending the paint
The first stat we can point to is field goal percentage, particularly inside the arc. Last season, Michigan State basketball ranked No. 102 in two-point defense at 48.7%. This year they are off to a scorching start of 37.3% allowed, good for No. 3 in the nation.
Izzo has recently given a bigger role to Carson Cooper, who frequently bothers shots in the paint with his 6-foot-11 height and 7-foot-5 wingspan. Even if he doesn't block the shots at the rim, he likely affects the trajectory. He is surprisingly agile for his size, allowing him to defend pick and roll effectively. In today's day and age, having a big able to guard on the perimeter is essential (see: Xavier Tillman).
To complement his length, MSU has a greater ensemble of athleticism to collapse on shooters in the lane. Sissoko continues to be a defensive presence, but Michigan State also added Xavier Booker and Coen Carr who both have some eye-popping blocks to start the season. They also feature a more versatile power forward in Malik Hall, who can bully smaller players with his size and keep up with more mobile bigs with his quickness. All respect to Joey Hauser and his 3-point shooting, he was not necessarily known for his defense when he was on the floor, frequently getting beat on the bounce over his three seasons.
Against Duke, MSU's frontcourt held Kyle Filipowski to a modest 15 points on 5-for-13 shooting. You'd take that most nights against a predicted first-team All-American.
If I could lament one thing about MSU's defensive interior, it is their ability to crash the glass. They are allowing opponents to gather offensive rebounds 30.4% of the time, which is a mediocre No. 205 in the country. The Izzo teams of old were known for getting after rebounds in a tenacious way, and we just don't see that from this group yet.
Backcourt pressure
Moving on to the guards, MSU boasts a greater size and depth from that group than last season. Tyson Walker, Jaden Akins, and AJ Hoggard return as formidable of a backcourt as you could ask for defensively. This group also added Jeremy Fears Jr., who is particularly feisty in terms of getting after the ball. Even Tre Holloman, who is sometimes the forgotten piece of this backcourt, always gets after it on the defensive end.
More on that note, this group is averaging 7.4 steals per game. This is just the seventh time under Izzo that MSU is averaging more than seven steals. The other years were 1999, 2000, 2004, 2005, 2012, and 2013. Not bad company if we are being honest. Walker leads the team (1.8 steals), followed by Akins (1.6) and Fears (1.2). This is the first year they boast three players with more than 1 steal apiece since 2013-14. With that kind of depth, MSU can really pressure opposing guards and do it all game long without letting up.
Putting it all together
When you blend all these elements it makes sense why this group is off to a strong start. I'm looking forward to how they perform against the likes of Arizona and Baylor to finish off the non-conference slate. Outside of Purdue, the Big Ten is weaker this season, so MSU needs to ride its defensive momentum into conference play to contend for the conference crown.