Why I'm picking Michigan State basketball to win the Big Ten Tournament
I'm riding with the Spartans, and here's why.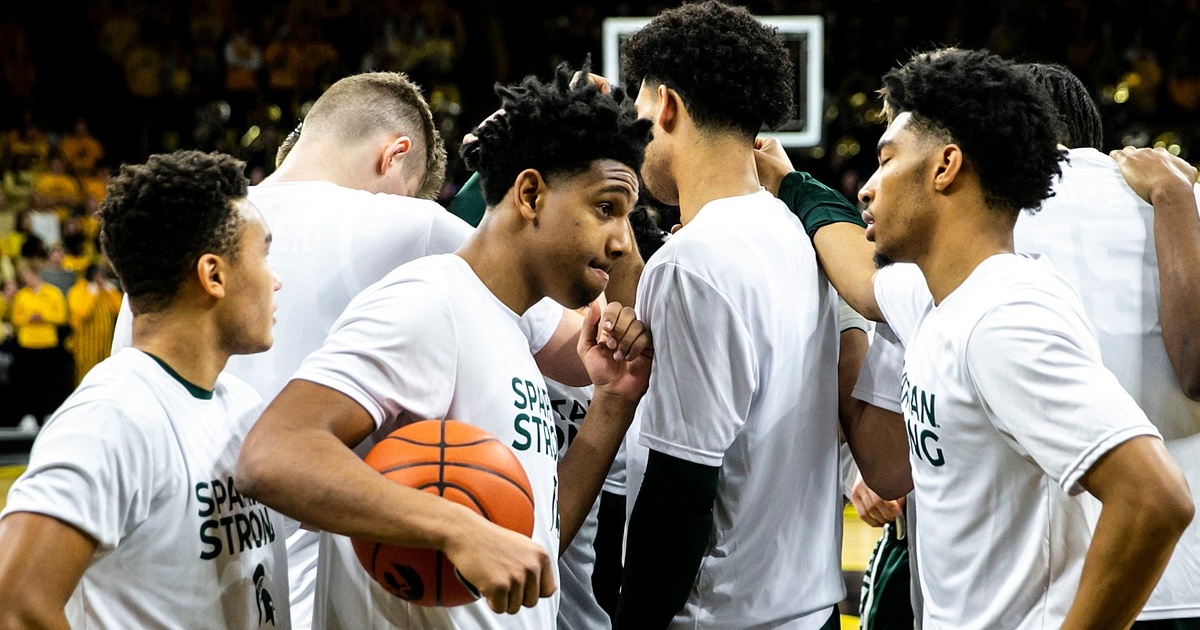 The 2023 Big Ten Tournament is upon us and here's why I'm picking fourth-seeded Michigan State basketball to win it.
March Madness. Best time of the year. The time when Tom Izzo usually flourishes (let's ignore these past few seasons). Historically, Michigan State basketball has risen to the occasion under Izzo.
And I think that we see a repeat of that this year.
It's been four years since Michigan State last made a Sweet 16 or won a Big Ten Tournament title. That's going to change this season.
Am I overly optimistic? Probably. Am I going to regret that I wrote this at approximately 2:30 p.m. ET on Friday afternoon? There's a chance. But Michigan State is playing its best basketball of the season right now.
I'm picking Michigan State to win the Big Ten Tournament for the seventh time and the first since 2019. And here's why.
Guard play
The best teams in March have the best guard play. Michigan State arguably has the best backcourt in the Big Ten. Will that translate to a Final Four run? I'm not going to get ahead of myself here, but I do think it'll translate to a Big Ten Tournament run.
AJ Hoggard, Jaden Akins, and Tyson Walker have been the most feared trio in the conference for about two weeks now as they're combining to average over 50 points per game in that span.
That's insane.
If these guards can stay hot and continue this torrid offensive streak, there's no one (not even Purdue) that's going to stop them this weekend.
Defense will find its footing
Izzo has been fairly openly critical of Michigan State's defense lately. The Spartans had one of the best defenses in the Big Ten for the first 80 percent of conference play and then it slipped over the final 2-3 weeks of the regular season.
That's going to change.
Izzo has now had four days to prepare his team defensively for either Iowa or Ohio State, both of whom have been red-hot offensively. The Buckeyes beat the Hawkeyes so they'll face the Spartans on Friday at noon and that's not a bad development for Izzo has he just saw them and knows what it'll take to slow them down.
Lock down the perimeter, force the Buckeyes to drive, and swipe the ball from the driving player. Michigan State's defense will find its footing again this week, I'm sure.
Veteran presence
One of our writers wrote about the veterans stepping up this season earlier this week and he made some valid points. Michigan State doesn't navigate this roller-coaster season without the vets.
Malik Hall, Tyson Walker, and Joey Hauser are the three seniors who have been through the rigors of Big Ten Tournament and NCAA Tournament play multiple times and so has AJ Hoggard. These guys are calm, cool, and collected and playing as confident as ever.
Best guards in the conference and veteran leadership? How can you top that?
Tom Izzo in March
There was a point in time that every single four-year Michigan State basketball player under Izzo had made a Final Four. That's an average of at least one Final Four every 3-4 years. Just an insane stat. But that's no longer the case and Izzo has watched as his past 2-3 seasons have fallen far short of expectations with no Big Ten titles and no second-weekend berths in the NCAA Tournament.
He won't let that continue.
I'm confident that Izzo is more motivated than ever to get this team to the promised land and they're good enough to beat anyone, but they just need consistency — and good health.
There's a reason Izzo was nicknamed "Mr. March" and I just don't see him going yet another season without a conference regular-season or tournament title. We are going to learn quickly why we shouldn't doubt this man in March.