Michigan State basketball: Preseason bracketology very high on Spartans
Where do the Spartans rank to start the season?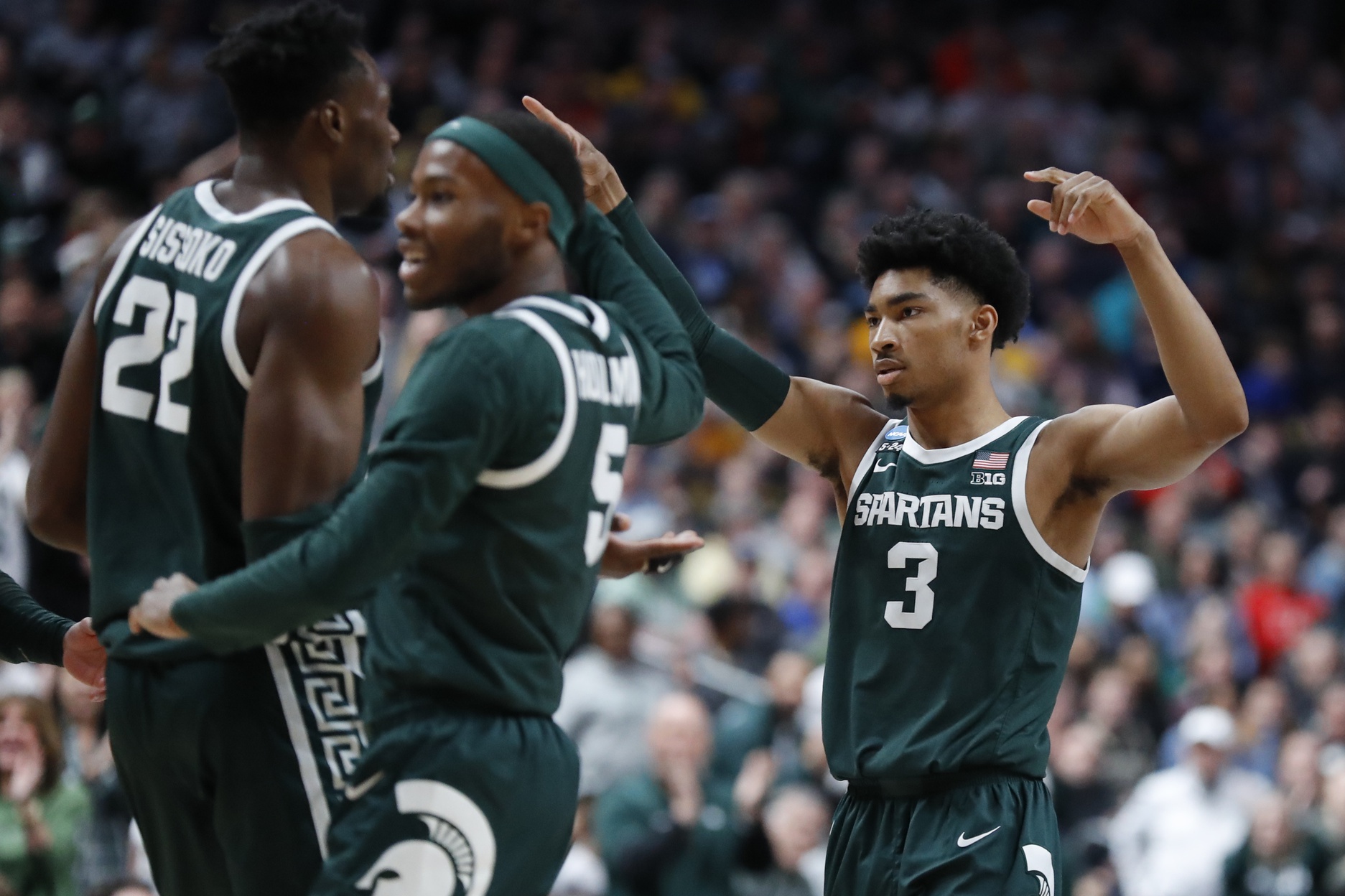 Michigan State basketball is getting some respect in the preseason bracketology from Joe Lunardi as one of the No. 1 seeds.
Happy Michigan State basketball eve, Spartan fans. Well, sort of. The Spartans open up their preseason schedule tomorrow night with an exhibition against Hillsdale College at the Breslin Center.
Fans have been waiting for basketball season since the spring when Tyson Walker announced he was coming back. Walker, AJ Hoggard, and Jaden Akins all returning, combined with the highest ranked recruiting class in recent Michigan State history set the summer hype train full steam ahead.
On Wednesday, we finally get to see the boys in action.
Ahead of Wednesday's exhibition, not only for the Spartans but also for many other teams, ESPN's Joe Lunardi released his preseason bracketology. This will be Lunardi's final list until the season officially kicks off on Nov. 6.
Let's take a look at how Joe sees everything playing out as of right now.
2024 NCAA Tournament Bracketology https://t.co/raCbQfMZId. 🏀🏀 It may only be secret scrimmages or charity exhibition games, but teams are keeping score now and there are box scores to peruse. That and the release of all schedules allow us to fine-tune the seed list…

— Joe Lunardi (@ESPNLunardi) October 24, 2023
To start, Joe has preseason No. 1 Kansas listed as the No. 1 overall seed. No surprise there as the Jayhawks are loaded. They are the headliner in the South Region starting in Omaha. The remaining 1 seeds are as follows:
Purdue (Midwest Region, starting in Indianapolis)
Duke (East Region, starting in Charlotte)
Michigan State (West Region, starting in Indianapolis)
That's right. Our Spartans gain the last No. 1 seed, according to Lunardi. I was hoping personally to see MSU high enough to grab the No. 1 seed in the Midwest. That is the region this year playing Sweet 16 and Elite Eight games at Little Caesar's Arena in Detroit. Grabbing a 1-seed in the West puts us potentially having Sweet 16 and Elite Eight games in Los Angeles, should we get that far. I also want to point out, for no reason whatsoever, that the Final Four and national championship game are located in Phoenix this season.
Breaking down Michigan State's perspective region, we do see some familiar names. The 2-seed in the region is Creighton. The Blue Jays enter the season ranking No. 8 in the AP Top 25. A tough test potentially for sure. Lunardi has the Arizona Wildcats taking the 3-seed in the West. They rank No. 12 in the preseason AP Poll after the transfer addition of Caleb Love from North Carolina. Michigan State basketball faces them on Thanksgiving weekend.
Speaking of North Carolina, they also are set in the West in Lunardi's picks. They are the fifth seed just behind Arkansas at No. 4. For reference, Arkansas is No. 14 and North Carolina is No. 19 in preseason AP Poll. The last preseason AP ranked team in our section would be the sixth-seeded Villanova Wildcats, according to Lunardi.
Should MSU win its first game in this hypothetical region, we could see a Round of 32 game against the 9 seeded Kansas State Wildcats. I'd imagine the Spartans would love a chance at payback against K-State after the heartbreaker last year in the Sweet 16.
Taking a step away from the Michigan State basketball scope of things, Lunardi has the "last four in" as Northwestern, Xavier, New Mexico, and Clemson. The "last four byes" were awarded to Indiana, Ohio State, St. John's, and Iowa State. Unfortunately for these schools, he has West Virginia, Texas Tech, Providence, and Boise State being the "first four out".
When breaking down the bracket by conference, Lunardi predicts that the SEC and Big Ten will be tied for the most teams in the Field of 68 with eight each. The Big 12 was next with seven and then the Big East had six teams. For those wondering, the Big Ten teams getting in are (hypothetically) Purdue, Michigan State, Illinois, Wisconsin, Maryland, Northwestern, Indiana, and Ohio State.
Lunardi did have Michigan and Rutgers listed on his "next four out" list.
College basketball is so close, everyone. Michigan State basketball, of course, opens the season on Nov. 6 against James Madison. They'll have that game and one more home contest against Southern Indiana before heading to Chicago to take on Duke in the Champions Classic.
With Midnight Madness and the Izzone Campout now over, the only thing left to do is buckle up and enjoy.
Be sure to keep checking out Spartan Shadows for all the latest on Michigan State basketball and, as always, Go Green.