Michigan State basketball: 3 quick thoughts from tough loss at Michigan
This one hurt.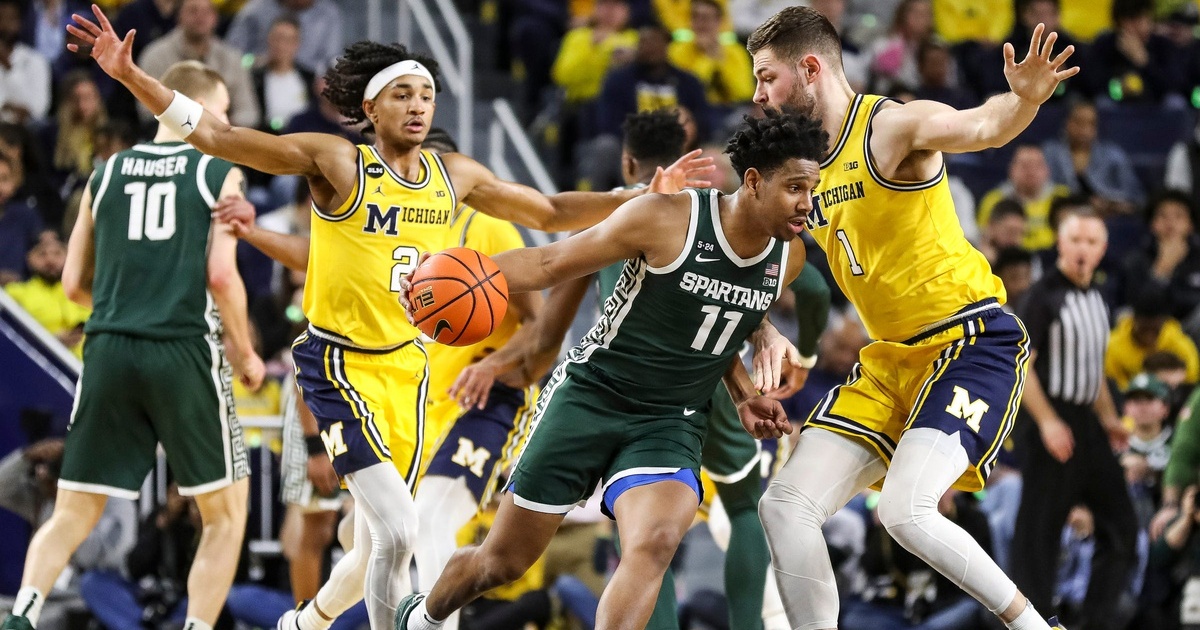 We've now had a full day to process the loss and here are my quick thoughts on the Michigan State basketball loss at Michigan.
Losing to Michigan is never easy but the atmosphere at Crisler Arena with a united group of both Wolverine and Michigan State basketball fans eased that pain a little.
It was cool to see the state come together in the aftermath of a tragedy.
And Michigan State did its best to make sure that everyone's minds were taken off of what happened earlier in the week, even for a couple of hours. It was a good mental getaway for most.
Here are just a few of my thoughts from MSU's heartbreaking loss at Michigan.
1. Jaxon Kohler needs more minutes
I've been preaching this for weeks now and I even wrote about it after the Michigan game, but Jaxon Kohler needs to see the court more.
Kohler and Carson Cooper were the best bigs on the court for Michigan State on Saturday night in Ann Arbor and Jaxon just gives the Spartans a boost offensively. He only played eight minutes and still had four points, three rebounds, and a block.
Meanwhile, Mady Sissoko's struggles continued and the rebounding and defense suffered because of it.
2. Rebounding was horrendous
I don't know how many times an offensive rebound led to a second-chance bucket for Michigan, but it felt like about 90 percent of the time. Heck, there was one sequence where Michigan snagged 4-5 offensive boards and held onto the ball for a good minute and finished with a basket.
That just cannot happen again.
You can bet Tom Izzo is going to run a war drill at practice this week to focus on rebounding but I'll chalk this up to the week that these guys had emotionally. They played a really solid game for about 30-35 minutes and just were worn down mentally and physically down the stretch.
But this rebounding effort (-13) cannot happen in March nor in these final 4-5 games.
3. If this team could only play a full 40 minutes, it'd be scary
This is probably the most frustrating thought I had from the loss on Saturday night. If Michigan State could only piece together a full 40-minute effort, the Spartans would arguably be one of the best teams in the country.
Think about it, Michigan State fell apart after controlling the Gonzaga game earlier in the year, lost at Illinois despite having a nine-point second-half lead, lost to Purdue despite holding a four-point lead late, lost to Indiana despite getting off to a red-hot start, and lost at Michigan on Saturday night despite controlling the game for 30-plus minutes. Heck, Michigan State looked like the better team for about 80 percent of the game before melting down in the final eight minutes.
Izzo said it best after the loss: "I asked for 40 minutes of focus. I got 38."
A complete 40-minute effort from this Michigan State basketball team would be a scary thought for the rest of college basketball. That's the difference between this team being 16-10 and 21-5, at least.