Michigan State basketball: 3 quick thoughts from tight win over Maryland
Never a doubt (again).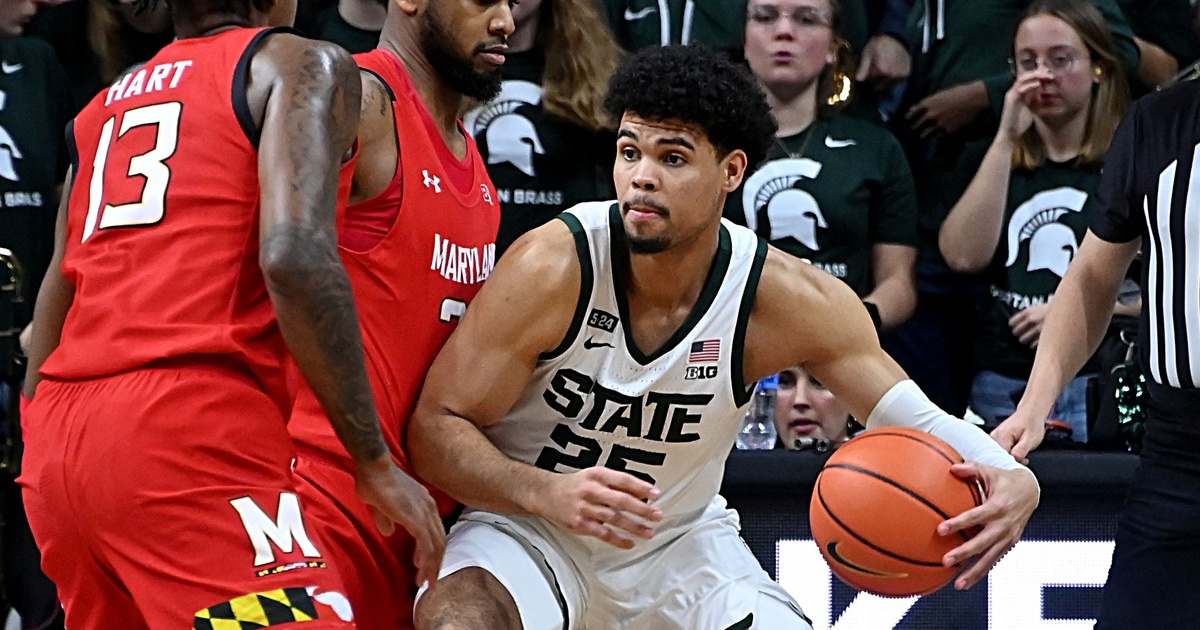 Michigan State basketball picked up its 15th win of the season over Maryland in yet another nail-biter in East Lansing.
A 15-0 lead wasn't enough to fend off a red-hot Maryland team on Tuesday night in East Lansing as Michigan State basketball had to sweat out another win, 63-58.
The Spartans let Maryland get back into the game in the second half with a 14-0 run after building a 38-26 lead and it felt like it was going to be "same story, different day."
Michigan State was able to respond to Maryland's run and eke out a big win over one of the hottest teams in the Big Ten by five, covering the 4.5-point spread. Good teams win, great teams cover, as they say.
Now that we can all breathe again, let's get around to some quick thoughts from win.
1.  This was proof that Tyson Walker needs to shoot more
I've been saying this ever since the Rutgers loss: Tyson Walker needs to get more shots up. He must have listened to me (obviously kidding) because he shot the ball 15 times on Tuesday night, finishing with 17 points on seven makes. He was keeping Michigan State in the game late with some big shots, including a huge fast-break 3-pointer.
If Michigan State is going to make a run this season, Walker needs to be getting at least 15 shots up per game.
2. AJ Hoggard stepped up even when his shot wasn't falling
This wasn't AJ Hoggard's best offensive game. Far from it. But he made up for that with some solid defense, rebounding, and great passing. He finished with just eight points on 2-for-6 shooting and made two big free throws late, making up for those Iowa misses, and he had 10 rebounds and eight assists with only two turnovers.
AJ needed to be better after that Rutgers performance and he was. He did all the right things and that's what you want to see from your point guard and leader.
3. Long cold streaks are plaguing this team (again)
I feel like I'm saying this after every single game now, but the long offensive cold streaks are crushing this team every single outing.
Michigan State raced out to a 15-0 lead and then didn't score again for five minutes. Maryland was able to claw its way back into the game because of that and it was 19-13 before a timeout.
The Spartans then stretched out to a 38-26 lead before giving up a 14-0 run over the span of what felt like an eternity of missed shots and turnovers by MSU.
It's time to figure out why this keeps happening and Tom Izzo needs to call more timeouts.
If not for these long cold streaks on offense, Michigan State would be in really good shape right now with 3-4 fewer losses.