Michigan State basketball: 3 quick thoughts from second-round win over Marquette
MSU is headed to the Sweet 16.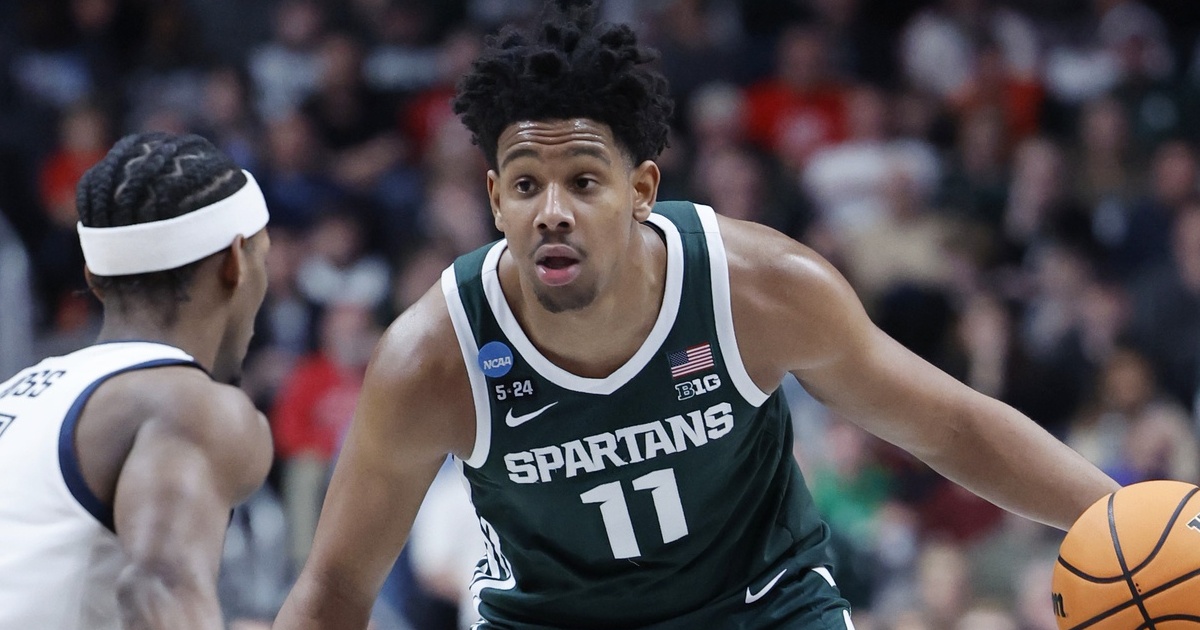 Michigan State basketball clamped down in the final four minutes and picked up a massive win over 2-seed Marquette.
You could almost feel a collective eye roll followed by the phrase "here we go again" after the first 10 seconds of the Marquette vs. Michigan State basketball game from Spartan fans. AJ Hoggard got the ball after Mady Sissoko won the tip and Marquette's Stevie Mitchell swiped the ball cleanly and scored a wide-open layup.
It felt like it was about to be "one of those games" but Michigan State responded by scoring 18 of the next 21 points to take an 18-5 lead.
Obviously the game got much closer and Michigan State needed to overcome a scorching Marquette run to begin the second half to secure its biggest win of the season, sending the Spartans to a Sweet 16 for the first time since 2019.
Also, the last time Michigan State was a 7-seed and it beat a 2-seed to advance to a Sweet 16 was in 2015 when Travis Trice led that team to a Final Four.
This team has a similar vibe.
Now, onto some thoughts.
1. Tyson Walker is the epitome of clutch
When Michigan State needed a bucket, Tyson Walker had the ball in his hands. Tom Izzo trusted the senior guard with the game on the line and he did nothing but deliver.
Walker finished the game with 23 points on 8-of-17 shooting and was darn near perfect down the stretch. He hit some bit jumpers from mid-range and had some nifty Cassius Winston-like drives. If Michigan State is going to make a run, it's going to be up to Walker to get shots up and have the ball in his hands with the game on the line.
Every team that makes a run has that clutch go-to player and Walker is that for MSU.
2. This team proved it can win without making threes
For a few weeks, fans have been touting the line "live by the three, die by the three" and there was no argument to the contrary. Michigan State needed to make threes if it wanted to win games.
It didn't make threes on Sunday.
The Spartans were just 2-for-16 from deep but the biggest one of the game came off the hands of Joey Hauser with a two-point lead to make it 56-51. But Marquette came back and made things interesting again with a 4-0 run. That three gave Michigan State some momentum, but it was the scoring from inside the perimeter along with some elite defense that carried this team to the win.
Seeing this team win without making threes was huge and it has to instill some confidence in the coaching staff, these players, and the fanbase.
3. Mady Sissoko had his best game in a while
Mady Sissoko didn't need to do a ton of scoring (not his thing) nor does he need to be the best defender on the floor, but he just has to be a plus-defender in the paint. And he was.
Sunday saw Mady play his best game in weeks, maybe months.
Mady was 3-for-3 from the floor with eight points and 10 rebounds and he added two big blocks in the second half to help secure the win. The junior big man wasn't a liability on defense and, actually, he was a strength.