Michigan State basketball: Thoughts on freshmen in the open scrimmage
A solid showing for these freshmen.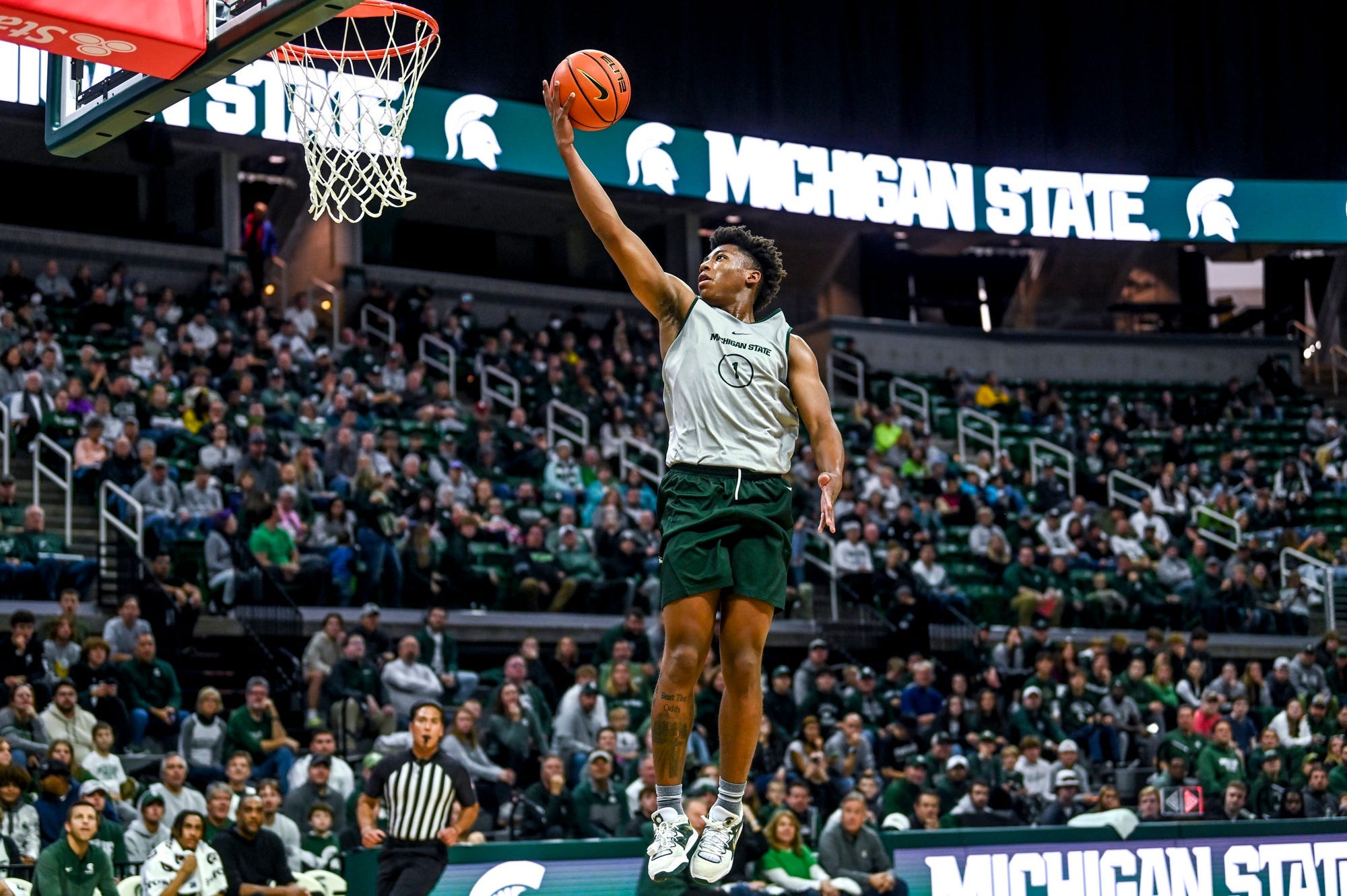 Michigan State basketball hosted an open scrimmage on Saturday afternoon. How did the highly-touted freshmen look?
Michigan State basketball had a scrimmage of the green and white teams on Saturday before that horrendous football game. There were a lot of good items that happened throughout the entire roster.
Below are some of the items that the freshman showed yesterday in the scrimmage.
Xavier Booker
Xavier Booker has had quotes from Tom Izzo preaching patience with him. But Booker showed in the scrimmage that he has loads of talent. He showed that he has great hands, and can catch almost any pass thrown to him. Booker also showed that he has great touch around the rim with great length to go up and over defenders on the offensive end. He also showed that he can stretch the floor and shoot the three, but he won't succeed this season with a post-up game as he lacks the strength to hold his position on the block. Defensively he didn't make a lot of plays which could provide the reason for Izzo preaching patience.
Jeremy Fears
Jeremy Fears put on a clinic out there passing the ball in transition and the secondary break. Tom Izzo has called Fears the greatest leader since Mateen, and you could see why as he is the ultimate communicator while on the court. Fears showed that he is a good athlete in warmups throwing down some impressive dunks for his size. He showed the ability to knock down the mid-range jumper off a pick and roll which looked extremely smooth. Fears needs to continue to get more comfortable in the pick and roll and continue to improve shooting from deep. Lastly, defensively he looks like he could be a pest and a solid defender as a freshman.
Coen Carr
Coen Carr is the freshman who is most talked about by the Spartans fanbase. Let me tell you that the athleticism is even better in person than in the clips. But Michigan State basketball fans need to give some patience to the impact that Carr will play as a freshman. He is an incredible athlete who can excel on the defensive end and provides a lob threat. The improvement that Carr needs to make on the offensive end is a steep incline. He needs to become a better ball handler to play on the wing as well as a much better shooter from mid-range and three. The Spartans can use Carr as a good defender which he showed in the scrimmage. But he needs to be able to provide more on the offensive end as teams will know that they are playing 5-on-4 with him on the court.
Gehrig Normand
Gehrig Normand is the least talked about freshman in this class by Spartan fans. But he has one of the most proven skillsets out of the freshman as he is lethal from three. He showed this in the scrimmage making multiple threes off both catch and shoot and off the dribble. Gehrig has a way of getting on the court this year with his shooting ability but will need to become a better defender. He will also need to become a better ball handler as he didn't look comfortable working off ball screens on the wing. Also, he continually picked up his dribble when being pressured. Lastly, he seems to be a development piece for this season but will be an impressive player for the Spartans in the future.
The Spartans are in very good hands with the returning talent that they have coming back from their Sweet 16 season. But these freshmen all showed that they are going to be important pieces and could fill a role on the team. Michigan State basketball fans, let's get excited for the season and for these freshmen.