Michigan State basketball vs. Kansas State: Staff score predictions
Who do we have advancing to the Elite Eight?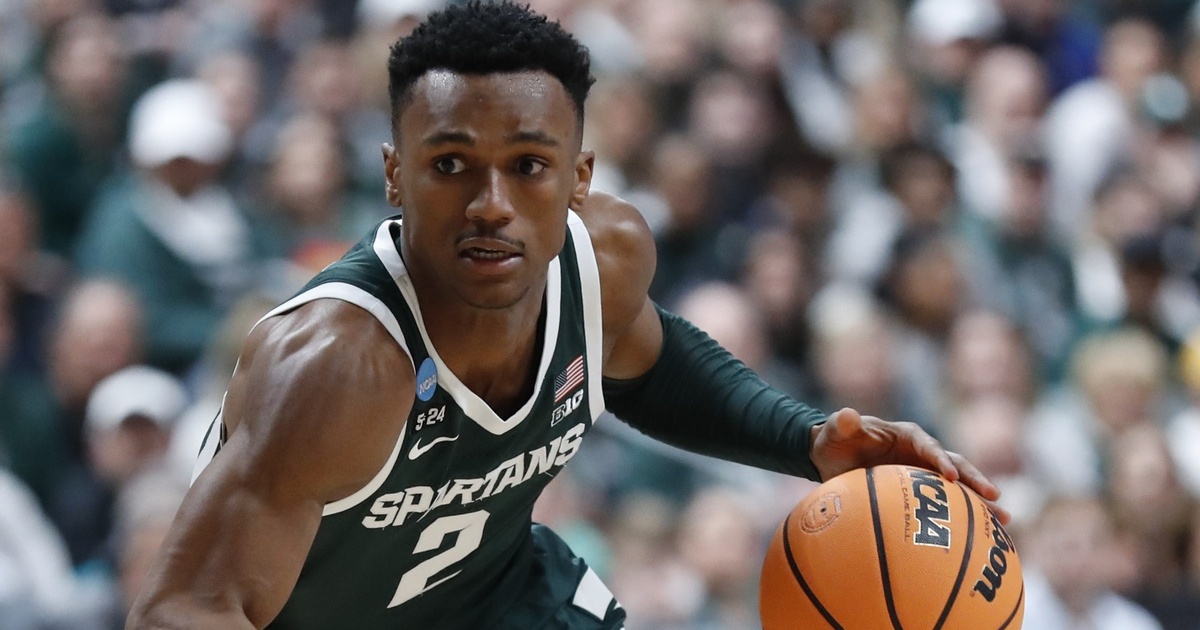 What does our Spartan Shadows staff think of Thursday night's Kansas State vs. Michigan State basketball game?
Today's the big day. Michigan State basketball will take on No. 3 seed Kansas State in the Sweet 16 at Madison Square Garden. The winner will be heading to their first Elite Eight in years with a very winnable field of teams remaining to compete for a national title.
To say that this is the biggest game in four years would be a huge understatement.
Tom Izzo is trying to get back to the Final Four for the ninth time. He's also trying to head to his 11th Elite Eight. Meanwhile, Kansas State's Jerome Tang is trying to head to his first of both in his first year as a head coach after coming over from Scott Drew's staff at Baylor.
Do our writers believe in the magical run or do they think MSU heads home on Thursday night?
Connor Muldowney: It's so hard to bet against Tom Izzo in March. He's one of the best to ever do it and Kansas State feels like a team he usually beats with four days of preparation. Jerome Tang is going to give Izzo all he can handle, but Tyson Walker and Joey Hauser are going to have huge games to lead the Spartans to their first Elite Eight since 2019. There will be dancing in the streets of East Lansing on Thursday night. MSU 74, Kansas State 67
Maxwell Klitzke: Full disclosure, before the tournament, I penned in Kansas State to make the Final Four, beating MSU in this game. But then I watched this MSU team find a way to win not one but two games without help from the 3-ball. Kansas State likely provides the toughest guard matchup of MSU's run so far, but with the found-again clamps of this MSU defense, I have to give them the edge. It'll be a nail-biter for 40 minutes. Buckle up. MSU 74, Kansas State 71
Tyler Dutton: Thursday will bring a shoot-out performance similar to that of Carsen Edwards' in Purdue's Elite Eight back in 2019. The only difference is it'll be in the form of a back-and-forth battle played out between Tyson Walker and Markquis Nowell. Michigan State will have to take advantage of K-State's high opponent free throw attempts, but it will come down to which guard not named Walker or Nowell comes to life. While the Spartans have a slight edge on the glass and on the defensive end, the Wildcats run a perfect pick-and-roll formula that will be too much for Michigan State to defend. Kansas State 80, MSU 73
Chris Norman: Guard play will be on display in this matchup. KSU is very talented. Tyson and AJ need to be locked in from the jump. Look for Joey Buckets to have a few clutch baskets down the stretch as the Spartans pull away late and punch their ticket to Saturday's Elite Eight. MSU 73, Kansas State 65
Emmett Matasovsky: Kansas State brings an excellent 3-point defense, but I believe the Spartans will be firing on all cylinders from behind the arc after struggles last game. Tyson Walker, AJ Hoggard, and Joey Hauser will all star for the Spartans. This is a KSU team that will be terrifying in a few years under coach Jerome Tang, but they just aren't ready to have a complete game against a veteran-led Izzo team. The Spartans pull away down the stretch and convert a few free throws to win by six. MSU 75, Kansas State 69
Anthony Garvert: Two solid defensive teams playing Madison Square Garden? That has poor shooting slugfest written all over it, featuring some late-game heroics from both NY point guards. But give me the team that is 2-0 in its last two matchups against a No. 3 seed from the Big 12 in the Sweet 16. MSU 69, Kansas State 66
Liam O'Malley: I believe Michigan State will be able to slow down Kansas State and hold them under 60 points. Hauser will make 3-plus threes and the guards will play well enough to lead MSU to a victory. MSU 66, Kansas State 57
Owen Schuchaskie: Michigan State's guards will rise to the occasion again on Thursday night. Markquis Nowell has become a name to watch, but Tyson Walker isn't ready to let the tournament forget about him. Michigan State is due to see a few threes drop, and the defense is as organized as it's been all season. I look for them to get started right out of the gate again, as they did the first weekend. MSU 74, Kansas State 66
Allen Couet: MSU holds Markquis Nowell to 14 points on 5-of-13 shooting but Keyontae Johnson puts up 22 points but it doesn't matter. MSU 75, Kansas State 64
Zach Theis: Michigan State gets it done and beats Kansas State to advance to the Elite Eight. Tyson Walker and Joey Hauser lead the way for the Spartans as the 3-ball finally starts to fall. Michigan State's defense clinches the win for the Spartans as they get a couple of key stops to end the game. MSU 68, Kansas State 62
Brendon Pricco: Markquis Nowell and Tyson Walker duel on the New York stage and both score 20-plus points. In the end, a few big threes down the stretch by the Spartans help cement the win. MSU 82, Kansas State 73
Daily MSU: Tyson Walker goes nuclear in his hometown return and scores 29 points. Kansas State will keep it close but Joey Hauser's four 3-pointers will put MSU over the top. MSU 74, Kansas State 69
Zach Koby: AJ Hoggard legacy game after K-State keys in on Walker. MSU 68, Kansas State 60
@MSUDude4: It'll be another closely contested game for the Spartans, but I have MSU winning this one. Look for Mady Sissoko to have another big game and for Tyson Walker to keep chugging. MSU 71, Kansas State 65
Sean Cook: I like the Spartans in this one. Izzo has all the pieces playing their role on both sides of the ball. The Spartans continue with their defensive intensity and assignments, the threes finally start to fall, and Tyson Walker continues to be clutch closing out games with his quickness and shot-making ability. It's onto the Elite Eight for MSU. MSU 71, Kansas State 65
As you can see, about 95 percent of us are confident in Michigan State basketball on Thursday night.
Writer says there's a huge gap between Purdue and Michigan State basketball
This seems like a wild claim.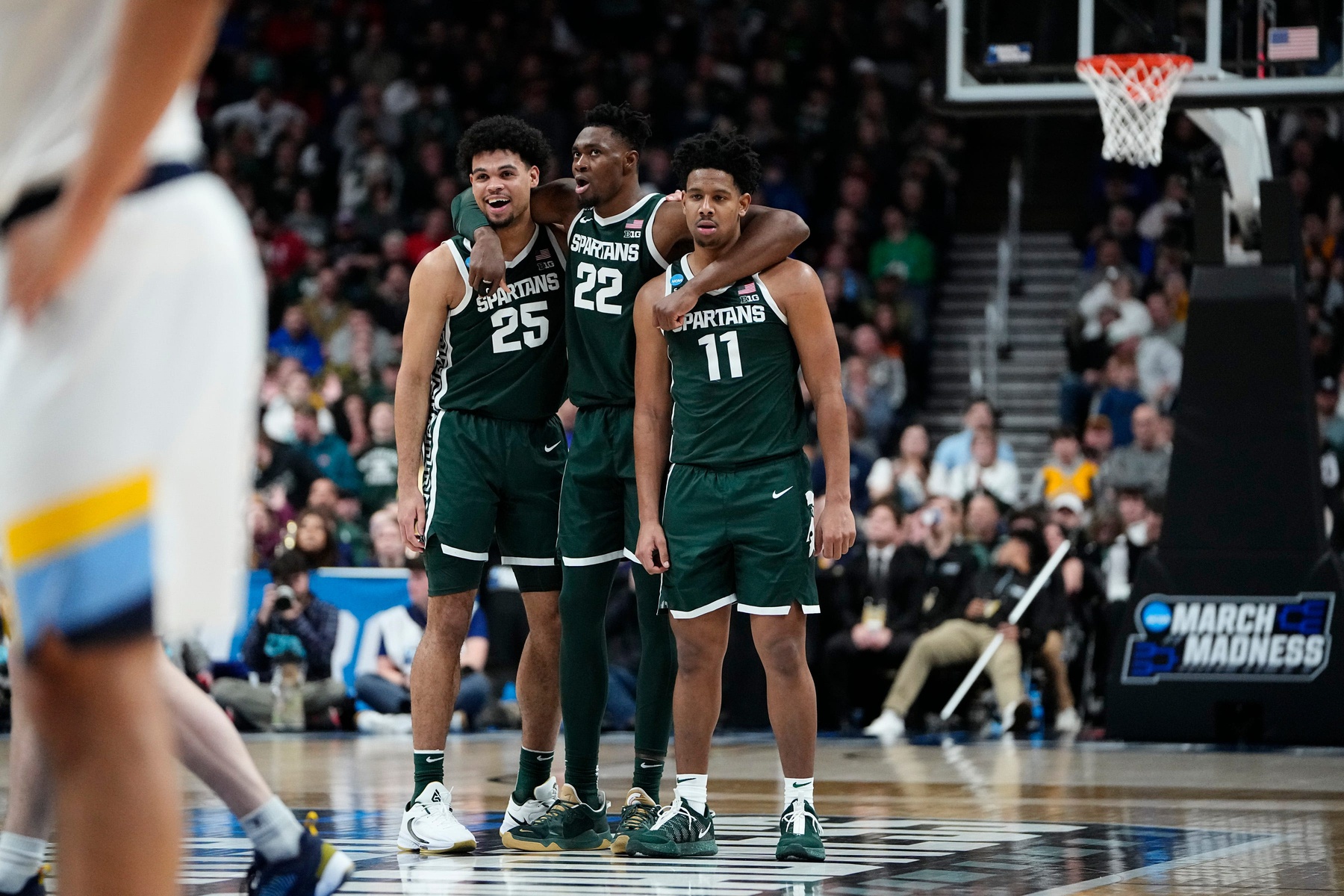 Gregg Doyel of the Indy Star claims that Purdue is "historically loaded" and there's a huge gap between them and Michigan State basketball.
With the news of Jaden Akins and AJ Hoggard returning along with Tyson Walker and Malik Hall to go along with the No. 4 recruiting class in the country, Michigan State basketball went from a conference title contender to a national title contender.
Essentially everyone who follows college basketball has Michigan State as a top-five team and right there in the Big Ten as 1B to Purdue's 1A — some even have it the other way around.
The Spartans bring back everyone but Joey Hauser to a team that went to the Sweet 16 and Purdue returns national player of the year Zach Edey to a Big Ten title team. Both teams are loaded and should be at the top of everyone's list when it comes to national title contention.
But one Indy Star writer believes that Purdue is "historically loaded" and the talent-and-depth gap between the Boilermakers and "everyone else" is as large as he's seen in years. Just a wild claim.
Zach Edey's return means Purdue is historically loaded. The talent-and-depth gap between Purdue and everyone else will be as large as we've seen in years:https://t.co/uXqI95grQM

— Gregg Doyel (@GreggDoyelStar) June 1, 2023
Gregg Doyel cites a solid incoming class to go along with Edey returning and the two freshmen guards with another year in the system. But he fails to recognize that Michigan State got even better. The Spartans are bringing in an even better recruiting class and they return their 2-3 most talented players from a year ago. The only loss is Hauser.
Saying that this year's Purdue team is far-and-away the most talented and deepest team in the Big Ten and the gap is the biggest it's been in years is asinine. There was a much larger gap last year.
Michigan State will go toe-to-toe with the Boilermakers and as long as Edey can be neutralized, the Spartans will have a chance to take them down for the Big Ten crown.
It's tough to say a team like Michigan State basketball that's 11-12 guys deep is not nearly as talented or deep as Purdue, but hey, let's put that early chip on the shoulder.
Michigan State Basketball: Allocating guard minutes for 2023-24
A lot of guards, not a lot of minutes to be had.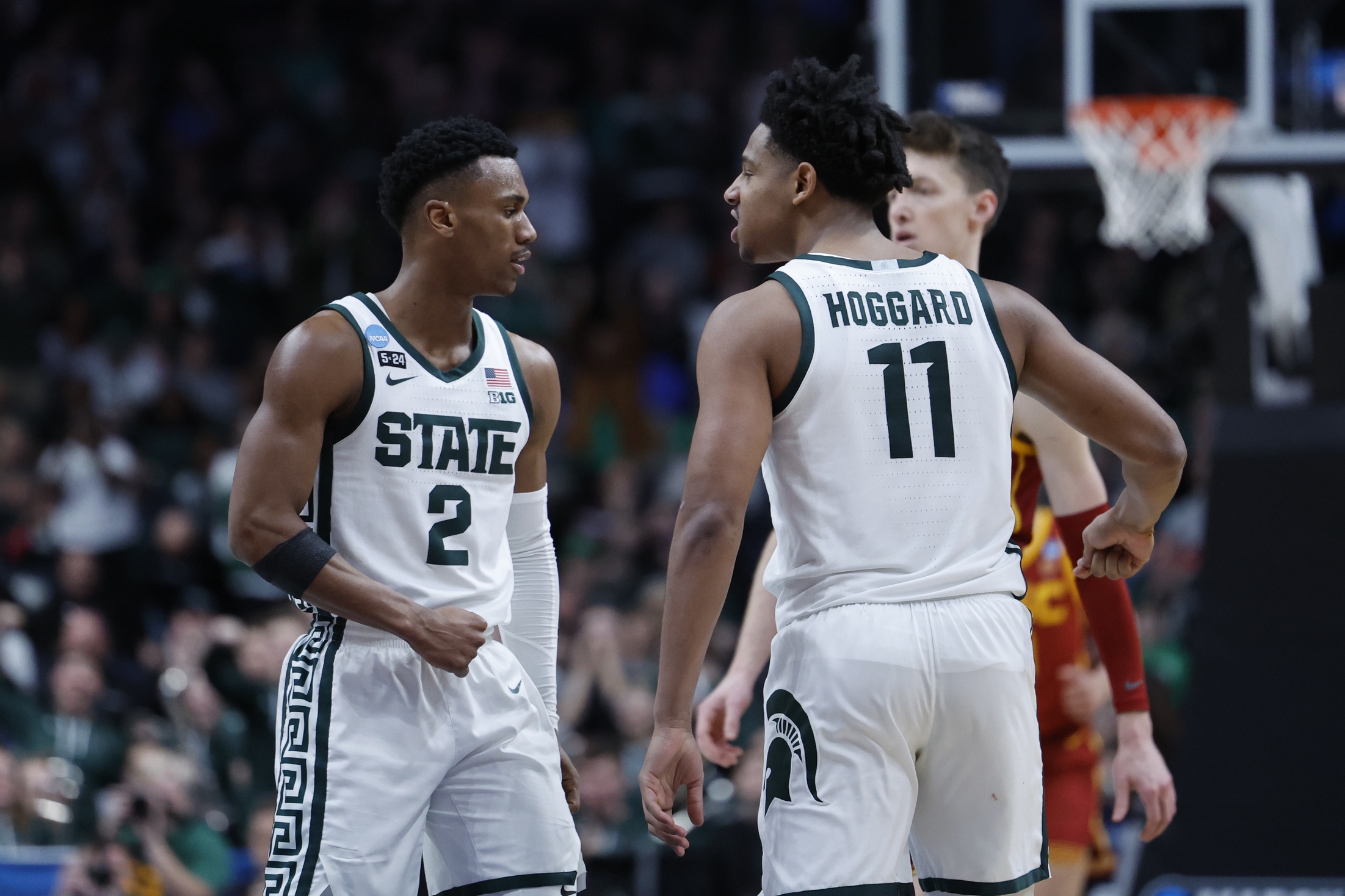 Michigan State basketball has an absolutely loaded backcourt heading into 2023-24. Let's allocate the guard minutes.
Michigan State basketball has a loaded backcourt with the news of AJ Hoggard and Jaden Akins returning next season. Add this on top of Tyson Walker coming back and Michigan State adding a four-star point guard in Jeremy Fears just loads up this back court even more.
Let's take a look at what the minute allocation could look like between the five guards on the roster.
Starters
The starting point guard is clearly set into place with AJ Hoggard starting 33 of 34 games last year. Next year's team still goes as Hoggard goes and he will most likely average 28-30 minutes per game. AJ being able to defend multiple positions allows him to play alongside any of the other three guards on the roster next year. He should average around 15 points per game and six-plus assists. Him being able to increase his 3-point percentage up to 35 percent next year should help his scoring dramatically.
The starting shooting guard is Walker who started in all 34 games last season and nothing will change this season. This team is going to rely plenty on Tyson to begin the season as this team continues to mesh with all of the different lineups. He played almost 34 minutes per game this season due to injuries and necessity. Tyson will take a step back and only play 30-32 minutes this upcoming season. He will look to average 16-plus points per game and 2.5-plus assists.
Backups
This may come as a surprise, but I believe the backup point guard role will fall to Tre Holloman. He has a year under the belt with the system and should take a step forward in his role. He is able to defend either guard position allowing him to play with any of the other four guards on the team. Holloman will play anywhere between 8-12 minutes per game and will look to be in a more featured role running the backup offense. Tre should average 3-5 points per game and 1.5 assists.
Jeremy Fears will fill in and be able to learn from a loaded backcourt while playing 6-8 minutes per game which could be pushed to 8-10 by the end of the season. Fears defense should rival what Walker brings to this team with this second group. Fears offensive role will look like Tre's freshman year and not looked upon much offensively. He should look to average 1.5-plus points and one assist per game.
Finally, Jaden Akins will fill in anywhere from 2-5 minutes at the two-guard spot. He can help fill an offensive role when Tyson is out of the game and can handle some of the pick and roll duties in this spot. Akins will mostly play on the wing as he started 25 games there last season. He is a guard, but he'll be forced into playing on the wing.
Minutes Summary
AJ Hoggard: 28-30 per game
Tyson Walker: 30-32 per game
Tre Holloman: 8-12 per game
Jeremy Fears: 6-8 per game
Jaden Akins: 2-5 per game
Akins did tweet this out the other day:
I am a GUARD!!😂

— Jaden Akins (@JadenAkins3) May 31, 2023
So he could see more ball-handling duties.
Jeremy Fears makes final cut for U19 USA Basketball team
Jeremy Fears could represent USA Basketball again.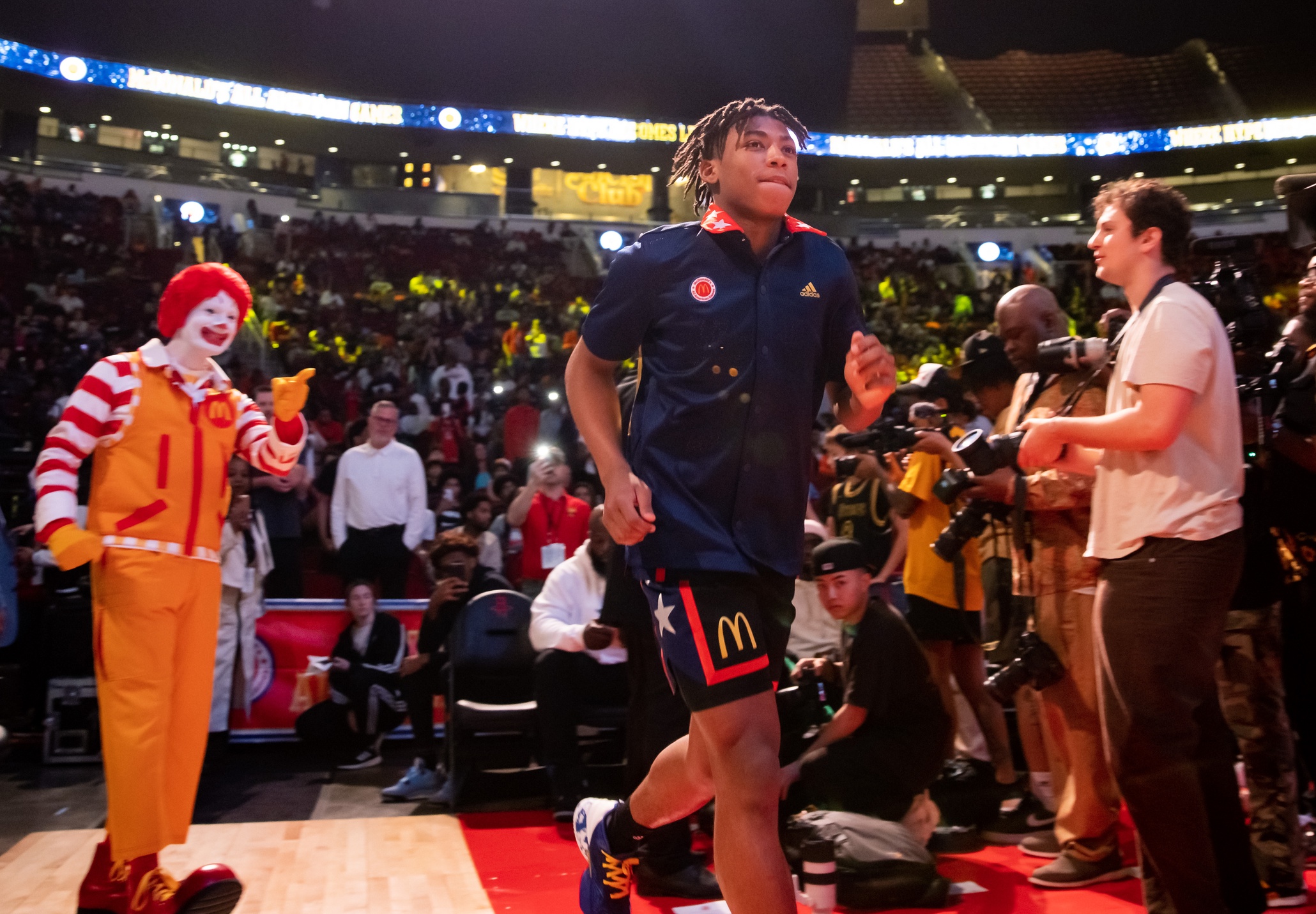 Incoming Michigan State freshman Jeremy Fears has made the final cut for the U19 USA Basketball team.
Incoming Michigan State basketball freshman Jeremy Fears is hard at work this summer. He is currently in the process of trying to make the final roster for the U19 USA Basketball team. Thirty-five athletes have been selected to participate in their upcoming training camp, and Fears is included on that list.
35 athletes expected to participate in #USABMU19 training camp June 11-18.

The final 12-man roster will compete in the 2023 FIBA U19 Men's World Cup June 24-July 2.

— USABJNT (@usabjnt) May 31, 2023
Training camp for these 35 athletes with take place June 11-18. Twelve players will then be selected to participate in the FIBA U19 Wold Cup at the conclusion of this training camp. The World Cup takes place from June 24 through July 2.
The 35 players consist of some athletes in the 2022 class that have one year of college ball under their belts. The pool of players also consists of athletes from the 2023 incoming freshmen class and the 2024 class who will be high school seniors. More than half of these participants have USA Basketball experience and ten of them have won gold for the USA already.
Jeremy Fears' USA Basketball history
Jeremy Fears is one of the 10 players mentioned to have already won gold for the USA. In fact, Fears has won a gold medal twice. He won the 2021 U16 FIBA Championships and in 2022 won gold in the U17 FIBA World Cup.
Based on this history alone, I love his chances to make the team again. The USA Basketball program is obviously very familiar with him already which gives him an advantage. Also, why wouldn't they want someone who has won two gold medals to play for them again?
Fears has yet to move in to East Lansing like some of his fellow members of his freshman class have. He likely will see this event out before moving to campus to start gearing up for the regular season. Michigan State has had many athletes compete with team USA in the past, so Tom Izzo is more than happy to let his players participate.
For the full USA Basketball press release, click here.