Michigan State Dodgeball: Freshman star Matt Barriball Speaks on national title
What a win.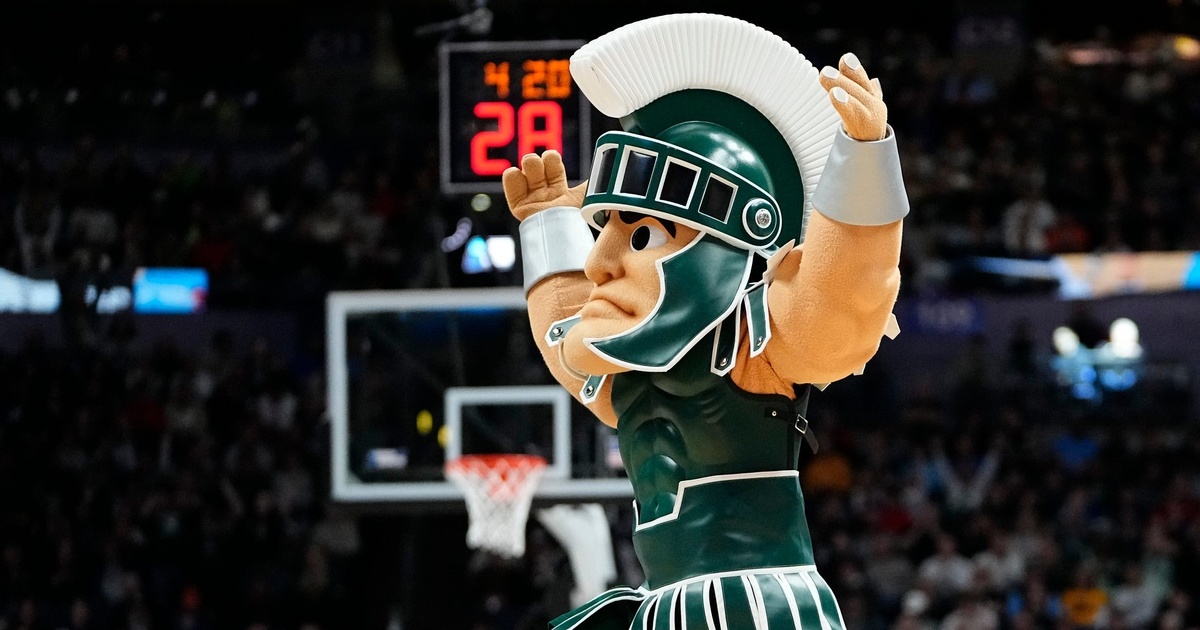 Michigan State dodgeball won its first-ever club national title and we got to speak with star freshman Matt Barriball.
Michigan State Dodgeball won its first-ever national title in club history last Sunday, April 16. In a rematch of 2022's title game, the Spartans were able to get their revenge against Grand Valley State, winning in dramatic fashion in overtime. Winning a national championship in any sport, let alone one as fun and as exciting as dodgeball, is no easy feat, but MSU was able to do it in style completing the first undefeated national championship season in college dodgeball history.
I was able to catch up with star freshman Matt Barriball and he shared just how amazing this accomplishment truly was.
Everyone remembers how exciting dodgeball was in middle school gym class growing up. The thrill of running to center court to try and be the first player to get someone out brings back so many great memories. But this is no grade school gym class dodgeball, these athletes take it to the next level athletically and strategically.
When asked about the biggest differences between competitive dodgeball and what we knew growing up, Barriball stated, "Back then it was all just 'everyone do whatever you want to try to get the other team out.' At this level, there's so much more strategy and thought that goes into each game."
According to Barriball, a lot of strategy that comes into play is very similar to more popular sports like basketball and football including maintaining ball possession, when to throw for an out and when to throw just to kill the shot clock.
Heading into the national tournament, Michigan State dodgeball held the overall No. 1 seed, and with that came a lot of pressure. That pressure is something that this MSU squad wanted and expected from the beginning season.
"We had a loaded senior class and an extremely talented rookie class," said Barriball. "Throughout the season we had many smaller goals set for strategy and game plan, but our final goal was obviously to win a national championship."
And that they did.
"We knew we had the potential and were the best team in the league, but we never strayed away from always getting better, Barriball said.
To me, it sounds like they are embodying MSU Football's mantra of 'Keep Choppin.'
The feelings and emotions were "awesome" according to Barriball after MSU clinched its first national title in program history.
"The whole team and crowd went crazy. After we got back home we went over to our coaches house to celebrate and watch the replay of the game."
He also said that the team also was very emotional after the tournament was over "with everything we've been through this year and that being the seniors last game, so that win meant a lot to us."
Barriball already has his sights set on next season, one that will come with challenges of its own.
"We have to keep getting better and never stay complacent," Barriball said. "We had the skill and talent needed to win a championship this year and so we have to start recruiting early in order to stay at the level we are at now and keep getting better."
With that mindset, the sky is the limit for this program.
So next time you're at your local YMCA and see some dodgeball being played on the basketball court, be sure these guys are nowhere near… you won't stand a chance.
Michigan State baseball season ends with winning record
Not a bad season for the Spartans.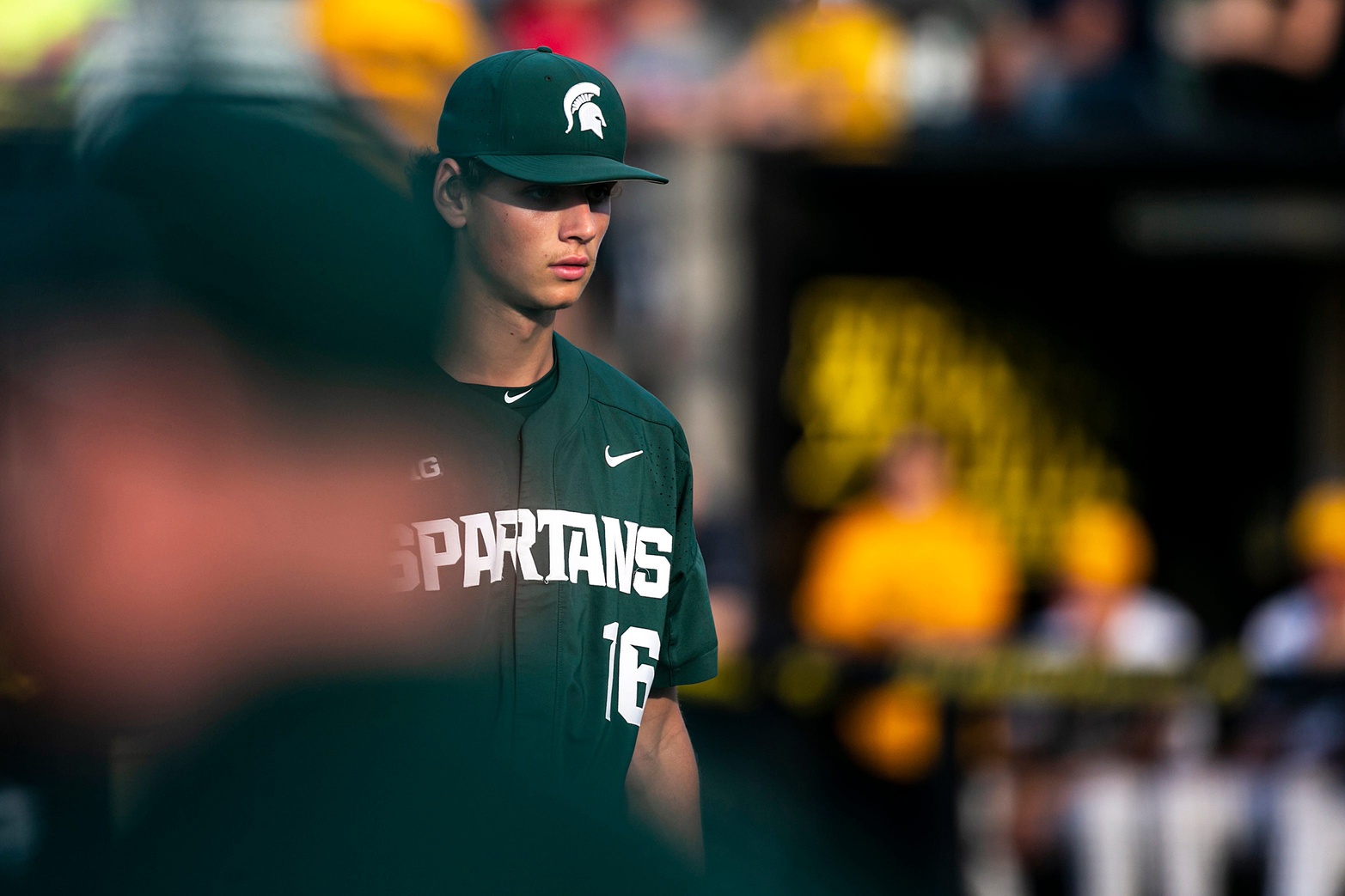 Michigan State baseball lost its second Big Ten Tournament game on Friday and was eliminated. It ends 2023 with a winning record.
With a 4-0 loss to Nebraska on Friday night in the Big Ten Tournament, the Michigan State baseball season is officially over.
There wasn't much the offense could do against Will Walsh as they were held to only four hits all night. There were moments when the offense was just one hit away or one near-home run away from tying the game but Michigan State just could not get it done and you have to tip your hat to the Nebraska pitcher.
You might look at the score and think the game was not close but there wasn't much of a difference between the two teams outside of clutch hitting. Michigan State got a great performance from its starting pitcher as he only allowed one run. This game was close until Nebraska opened the scoring back up with three runs in the eighth. Two of those runs came off of a weird bounce that went over the first baseman's head. This put Michigan State behind and it was too late for the Spartans to respond.
With this loss, Michigan State now has to look forward to next season after the successful year it just completed.
This season is something that should show fans that the program is on the right track. After years of Michigan State baseball being at the bottom of the Big Ten, this team went into the Big Ten Tournament and got an upset win, and battled against No. 1 seed Maryland and No. 4 seed Nebraska.
This team also achieved the first winning record since 2016 and an appearance in the Big Ten Tournament. It also included young players contributing all over the field and multiple players that could be drafted in the MLB draft but have the chance to come back. There will be another article about the bright future of Michigan State baseball especially with it being a young team later in the coming weeks but right now, it's important to recognize this team for a great season.
Michigan State will be losing a couple of seniors that will be missed and this isn't probably the way the team wanted to end their season, but this week's performances against the top teams in the Big Ten not only demonstrate that Michigan State can have great pitching which has been a big issue in recent history. If this team can keep the majority of their starting lineup, they will have a chance to be even better next year as the pitching staff should return mostly everyone.
Congrats to the baseball team on an improved season and I look forward to seeing what happens in the offseason for this team, as there are big decisions that have to be made for some players.
Michigan State baseball wins first Big Ten Tournament game since 2016
The baseball team is ending more droughts.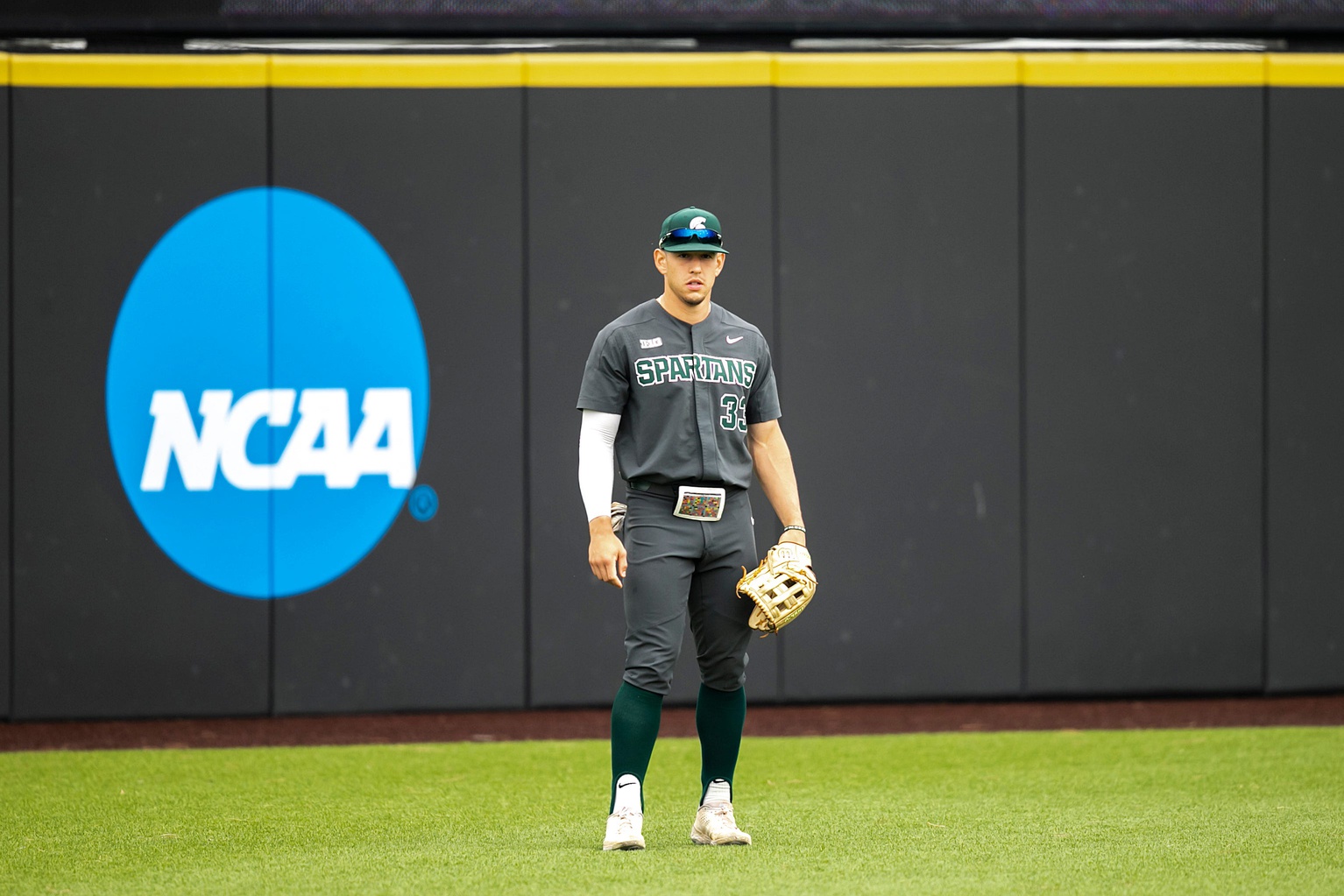 Michigan State baseball ended another long drought, winning its first Big Ten Tournament game since 2016 on Thursday.
The season of droughts ending for the Michigan State baseball team continues.
We have seen the Spartans record a winning record for the first time since 2016 and making the Big Ten Tournament for the first time since 2018. With the win on Thursday against Rutgers, the streak of not winning a game in the Big Ten Tournament ends at seven years. 
Thursday's game against Rutgers wasn't perfect. Michigan State had similar issues to what it had in its first game, which was against Maryland. Michigan State left so many players on base that it probably drove Jake Boss crazy. In both games, Michigan State left over 10 players on base and you're usually not going to win many games doing that.
While the offense did not show up, the pitching did and that is the reason they beat Rutgers. This offense has kept the team going all season but when it mattered the most, this pitching staff has done what it has needed to.
With Nick Powers' pitching performance on Wednesday, only allowing three runs to one of the most elite offenses in college baseball, to Wyatt Rush's pitching performance on Thursday, the pitching staff has kept this team in the tournament.
The pitching performance by Rush on Thursday was one that fans might not have expected. Rush, who is a senior and the typical closer, stepped into the game with bases loaded and one out with the game tied. He ended the inning by only allowing one run and gave Michigan State a chance and finally, the offense finally responded with two runs in the eighth inning. Rush came out in the bottom of the ninth and finished the job.
This win continues the season for the baseball team and shows that the program is headed in the right direction. To all the players, this is the first win they have experienced in Omaha.
If you haven't had the chance to watch this team, you should because this team is playing well against some of the best teams in the Big Ten. You also might not see a few of these players again at Michigan State and they deserve our support.
Michigan State baseball has no room for error anymore. If it wants to win the whole Big Ten Tournament, it not only has to continue to pitch well, the offense has to show up more often. If the Spartans are able to win a few more in a row, they would have a chance to be the first team to win the Big Ten Tournament from the loser bracket in a long time.
If you have time, make sure to tune into the Big Ten Network on Friday as Michigan State will look to continue its run.
Michigan State baseball: 6 players earn All-Big Ten accolades
Great season for the Spartans.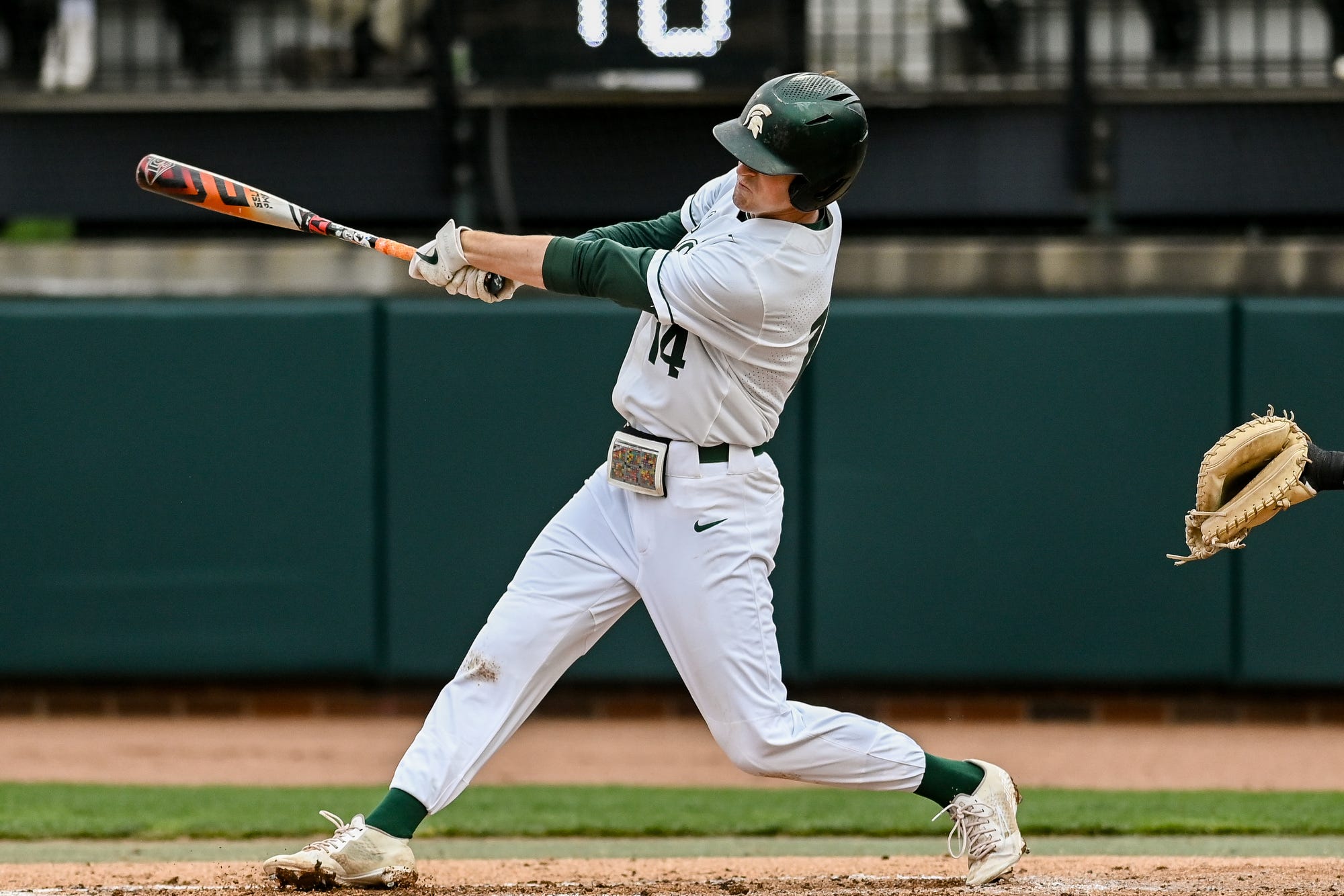 Six Michigan State baseball players earned All-Big Ten honors, capping off an impressive regular season for the Spartans.
Having the first winning season since 2016, the Michigan State baseball team had quite a few players step up this season and it showed today when the Big Ten released its all-conference team.
Michigan State had six players receive accolades including Brock Vrandenburg, Wyatt Rush, Trent Farquhar, Bryan Broecker, Mitch Jebb, and Joseph Dzierwa. These six accolades is the most a Michigan State baseball team has received since the 2016 season, when they also received six. With these six, that makes it a total of 60 honorees at Michigan State for Jake Boss.
These six players include a first-team All-Big ten for Brock Vrandenburg, a second-team honor for Wyatt Rush, Trent Farquhar, and Bryan Broecker, and third-team honors for Mitch Jebb. Joseph Dzierwa was named to the all-freshman team, extending the streak of 14 straight years of a Michigan State freshman making that team.
These six baseball players have each been great in their own right.
Vrandenburg is one of the best hitters in the Big Ten as he holds a top three batting average for the league. Rush is currently in the top three for the Big Ten in saves for this year and his 10 saves moves him up to fourth for most saves in a single season at MSU. Farquhar is one of the hardest bats to strike out this season in the Big Ten and he constantly gets on base. Broecker tops the Big Ten in the most caught stealing with 19 which puts him way in front of the next catcher. Jebb received his third accolade at Michigan State and is top five in triples hit this year with seven. And Dzierwa is your Friday starter and he is top five in the Big Ten for wins and walks allowed per inning.
These accolades are all well earned and they are huge parts of why this season has been the best one the baseball team has had in quite a few years. Rush is the only senior on this list so there is a chance that everyone else could return to the team next year. This not only shows the great progress that the baseball team demonstrated this year, but it shows that the team has a bright future for next year.
Congrats to all six of the Spartans that received All-Big Ten accolades and good luck in the Big Ten Tournament, as that starts for Michigan State on Tuesday when they play Maryland at 7 p.m. ET.