Michigan State football: 4-star WR target Kwazi Gilmer reps Spartan gloves
Could Gilmer be a Spartan soon?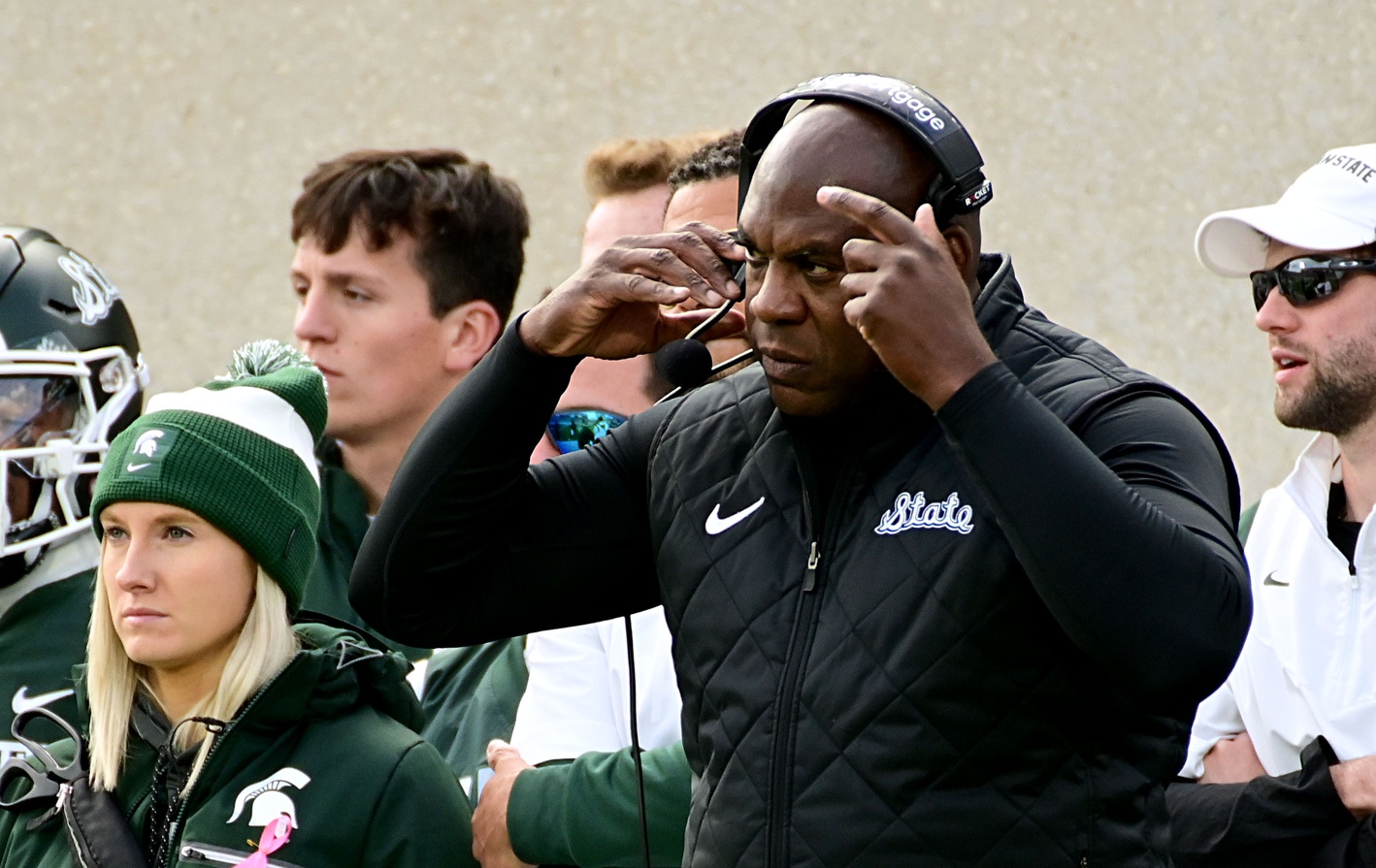 Michigan State football four-star receiver target Kwazi Gilmer was spotted wearing Spartan gloves at a recent camp.
For those fans that follow recruiting, one of the best things that they can see a recruit do is to rep a school either during a game or practice. That is exactly what four star wide receiver Kwazi Gilmer did on Thursday morning in the OT7 Nationals when he wore Michigan State football gloves.
Four-star WR Kwazi Gilmer in the Michigan State gloves this morning at OT7 Nationals @ryanobleness / @overtime pic.twitter.com/qCgCwVQkro

— Rivals (@Rivals) June 15, 2023
These type of moves by a player may not mean anything but to fans that pay attention, it definitely brings their attention to that player.
Gilmer is the type of receiver and recruit that Michigan State needs. He is a top 200 recruit in the 2024 class and he would be a much needed addition in the wide receiver room. Not only is he a great player but he is from California which is important for Michigan State when it comes to recruiting nationally. You might not think location is important but soon, USC and UCLA will be joining the Big Ten. If Michigan State was able to get a wide receiver to come to school from California, that would be huge.
Michigan State has been able to recruit players from all over the country and there are a lot of good players in California including Gilmer. While recruiting a recruit the level of Kwazi won't be easy, if Michigan State was able to get a commitment, this could continue the momentum that they currently have.
Having a player like Gilmer wearing Michigan State gloves will continue that good feeling that fans are currently having right now about recruiting and hopefully this is just a sign that maybe he will be a future Spartan.
Michigan State football: Deion Sanders pursuing the top 2024 Spartan commit
This would be a tough loss.
Deion Sanders and Colorado are pursuing the top Michigan State football commit in the 2024 class. Not great.
We knew the Mel Tucker firing would begin a domino effect of other schools coming after Michigan State football players. It appears it has already started.
College football is the wild wild west. Now that the future of the Michigan State football program is cloudy, other programs are circling and looking for players to pull away. This includes current players on the roster who will soon have a 30-day transfer window open to them, as well as future commits.
This is an unfortunate reality of the nature of the game. This should have been expected and will continue throughout this upcoming offseason. Until the Spartans have a new head coach, teams will consistently be calling.
One of the latest examples is four-star 2024 Michigan State commit Nick Marsh who recently shared on social media that he's been extended an offer from Colorado and Deion Sanders.
Very Blessed 🙏🏾 to receive an offer from @CUBuffsFootball thank you!🖤💛@DeionSanders @coachdavidkelly @CoachBartolone @CoachPettway @CoachRusss @Coach_LCollins @CoachL_Johnson @ReggiePearson4 @MamaTron210
🦬🦬 pic.twitter.com/DCduK2cH5G

— Nicholas "Megatron" Marsh (@NickMarsh_11) September 19, 2023
Few schools in the nation currently carry as much hype and excitement as Colorado. Marsh has already committed to the Spartans, decommitted, and then re-committed again. Potentially losing a player of his caliber again would be a huge blow to Michigan State. Spartan fans will be hoping the program finds stability in the near future to keep Marsh and the rest of the 2024 class intact.
While it's a near certainty that the program will lose players from both the current roster and future classes, the players certainly aren't to blame. The nature of college football is that more often than not, players are committing to a coach more than a program. Tucker convinced young men to buy into his vision for the program and the future they could have with him. With all of that changing, it's certainly understandable why many of these players may be considering a change of scene.
Marsh seems to have a strong relationship with Michigan State wide receiver coach Courtney Hawkins. The hope will be that Hawkins is able to keep Marsh connected to the program throughout this current season.
Michigan State football commit shoots up the recruiting rankings
Reggie Powers got a nice bump.
One of the top Michigan State football commits in the 2024 class shot up the recruiting rankings this past week.
For the last week, Michigan State football saw nothing but bad news. So how about some good news for a change? Michigan State commit Reggie Powers just skyrocketed up the recruiting rankings and now is the No. 210 player in the country, according to On3.
Powers is a 2024 safety who committed to Michigan State this past summer on June 14. He was a pretty unknown name to the recruiting world then, but that appears to be changing.
Reggie is a 6-foot-0, 195-pound safety from Dayton, Ohio. He is coming off a great junior season last year that saw him accumulate 80 tackles (8 tackles for loss), 10 pass break ups and 2.0 sacks. On top of that, he also had four forced fumbles which is a huge number for a safety. Powers was previously unranked before this update, but now he is a solid four-star recruit and No. 210 in the country.
What this means for Michigan State
It is no secret that we need help on defense, specifically in the secondary. Since Mel Tucker was hired four years ago, our secondary has arguably been our worst positional group. Having extremely talented recruits at this position is a great sign for our future.
Michigan State's 2024 recruiting class is still pretty small. We currently have 13 commits and have the 49th ranked class in the country. This poor ranking is not up to our standards by any means, but some of that is due to having such a small number of recruits currently committed. Michigan State will likely rise in the team rankings as more kids commit to the program.
Jaylen Thompson, Justin Denson, Syair Torrence, and Camren Campbell join Powers as the 2024 Michigan State secondary commits.
Will Michigan State be able to hold on to Powers commitment?
This question can be asked for every current Michigan State commit. With the recent news regarding Mel Tucker and the poor on field play against Washington, there are serious questions surrounding the state of our program. No recruit has come out and said much in the last week about the state of our program. However, it would be silly to expect them not to be debating their options at this point.
Any four-star player is always a huge get, but when it's at a positional need like in the secondary it is that much more important. We are only three months until signing day, so let's hope we can hold on to him.
Mom of Nick Marsh blasts Freep for misleading headline
Not a good look for the Freep.
The mother of Nick Marsh has not taken kindly to a headline by the Detroit Free Press that was used without permission.
In a sensitive time when recruits and current players are undoubtedly hoping to avoid questions about the Mel Tucker situation, it seems like the Detroit Free Press isn't respecting the wishes of said recruits.
According to the mother of Nick Marsh, her son was approached with questions about the situation and he replied with "no comment" and the Detroit Free Press went on to use a misleading headline without permission.
She went off on the paper on Twitter.
So you a child says No comment and proceed to make a headline. You don't consult the parent after you say it's a story about Nick personal journey as a football player. You all should be ashamed !!!!!!!!!!!!!!! Use my child for a sensationalized headline!!!!! https://t.co/grQIRcS1TM

— MaMa_Tron210 (@MamaTron210) September 12, 2023
There's nothing that a recruit could say right now that could be emotionally fair given the situation. Asking them about the head coach that recruited them likely getting suspended and likely fired for a nasty incident is going to yield a mixed bag of responses. But if a player says no comment or visibly doesn't want to speak about the matter, you respect that.
Clearly that didn't happen in this case.
From the looks of it, the Freep may have burned bridges with one of the state's best recruits. Not exactly good for business.
Marsh's mom is right, though, you don't publish a headline like that or use quotes when a player doesn't want to comment. It should be common sense that any commit or recruit is waiting to see how Michigan State handles this situation before making a final decision.
According to multiple people, Nick and his mom @MamaTron210 told Mick McCabe no comment on a phone call. Then when approached at practice, @CoachRusss told reporters that Nick was not going to talk about the current situation. https://t.co/J28ccX3D1f

— Doug (@dhagg42) September 12, 2023
Plus, this just isn't the distraction needed for Nick Marsh during his senior season and with so much stress already added to his plate with the whole Tucker situation. Now he has to answer to people who believe his quote means that he's leaving.
This comes just one day after Marsh's mom expressed gratitude for Spartan moms who are helping to keep things intact during this mess.
Do better, Freep.