Michigan State football: 5 players make Athlon's preseason All-Big Ten teams
MSU had five players named to preseason All-Big Ten teams.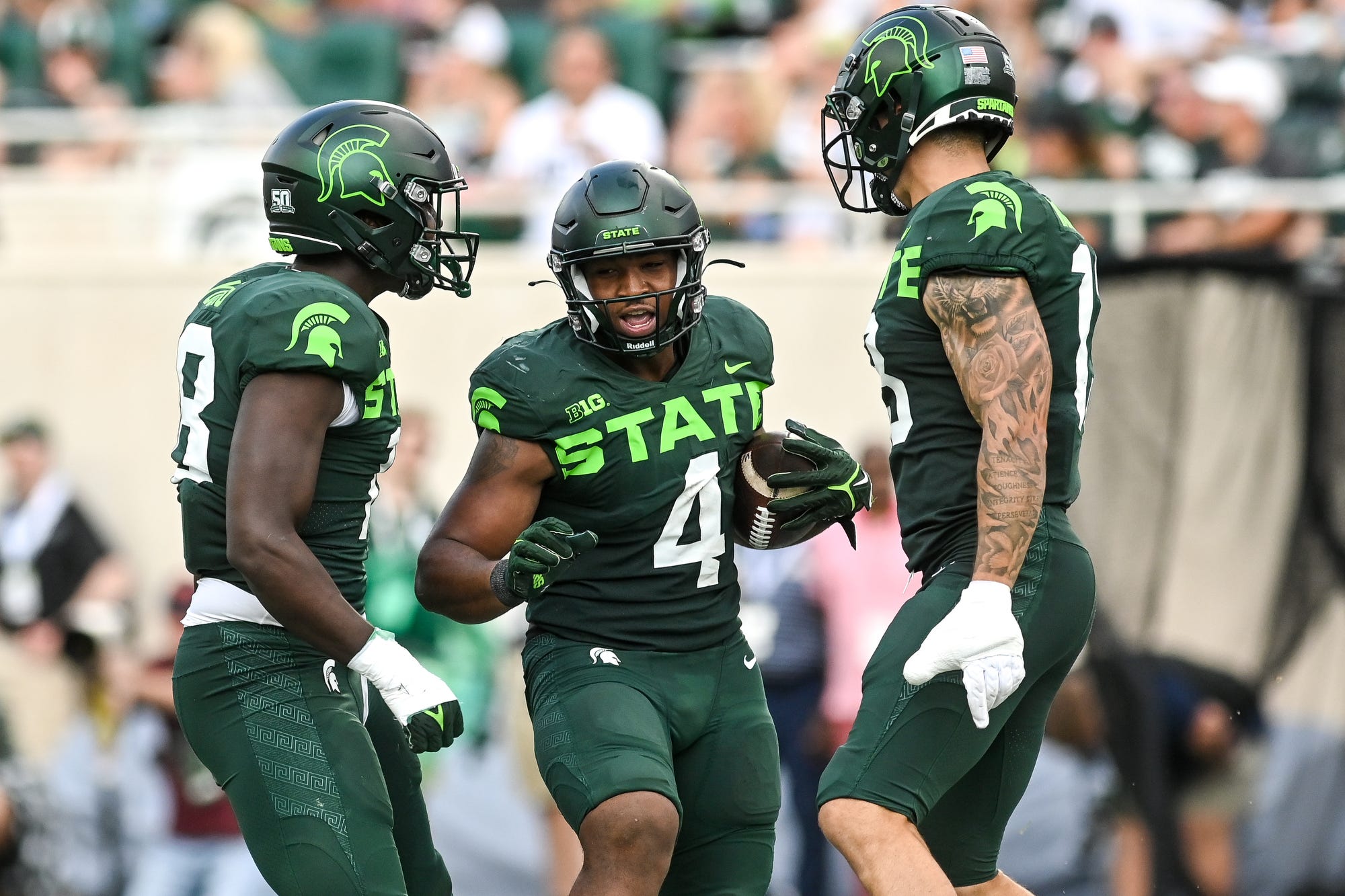 Athlon Sports selected five Michigan State football players to its early 2023 preseason All-Big Ten teams.
Athlon Sports released their preseason All-Big Ten teams for the upcoming football season yesterday. Michigan State football had five players selected to their list.
The Michigan State players selected include three defensive players as well as two offensive players.
Lets break down each individual selection.
Cal Haladay, LB
The only Spartan given first-team honors is junior linebacker Cal Haladay. He will be returning for his fourth season in East Lansing and has put up great numbers in his first two seasons. Last season, Cal totaled 120 tackles as well as 1.5 sacks. He also forced one fumble on the season.
Most people probably remember his standout plays from his freshman season in 2021. During that season, he recorded two interceptions, both of which were returned for touchdowns. Most notably, he sealed the Spartans victory against Pittsburgh in the Peach Bowl with a last minute pick-six.
Among his many achievements, he was named the defensive MVP of the bowl game, was a Freshman All-American and was a member of the coaches and media's All-Big Ten second team last year. It is no surprise seeing Cal on this all Big Ten first team, and I bet he will be there at the end of the season as well.
Nick Samac, OC
Nick Samac is one of two Spartan offensive linemen named to the All-Big Ten third team. Samac will be crucial to the success of our offense this season as he brings back a lot of veteran experience. He is a redshirt senior and is coming off a very solid 2022 campaign. He registered 803 snaps during the 2022 season, the most out of any offensive player.
Samac will be the starter at center again this upcoming season and will be a leader on and off the field for this team. I also expect to see his name on this list at the end of the season after he helps the offensive line improve as a unit.
J.D. Duplain, OL
J.D. Duplain is the second Spartan offensive lineman named to the All-Big Ten third team. He has been a staple on the Spartans' offensive line for years now at left guard. Duplain has 35 career starts to his name including a current streak of 30 in a row. Like Samac, J.D. is a redshirt senior that bring a lot of leadership to this team. He is coming off a great season last year that saw him named to the media and coaches all big ten honorable mention team. Once again, he will likely see his name on the official list at the end of the season after an even better season in 2023.
Simeon Barrow, DL
Redshirt junior Simeon Barrow is selected to the All-Big Ten third team on defense. He is coming off his second year starting at defensive tackle and just had his best season yet. He recorded career highs in tackles (40), tackles for loss (9) and sacks (4) during his productive 2022 season. Despite not being named to any All-Big Ten teams last season, I expect Barrow to make the list in his third season starting on defense.
Jacoby Windmon, LB
The final Spartan included on the All-Big Ten third team is Jacoby Windmon. He will be in his second season at Michigan State after transferring from UNLV last year. Windmon had a dominant start to the 2022 season, recording six forced fumbles and one interception in eight games played.
Unfortunately, Jacoby was one of the Spartan players suspended after the Michigan game leading to the end of his season. Before that incident however, he was off to a blistering start and was leading the country in forced fumbles.
All of that success led him to earn three Big Ten Defensive Player of the Week honors as well as two national defensive player of the week awards. Jacoby did not make any of the All-Big Ten teams last year. However, I bet he would have been if it wasn't for his suspension.
If Michigan State wants to have a successful season, they likely will need more than five names on the all Big Ten lists at the end of the season. I believe we will see these five names included, but who else will step up for the Spartans?
Head to this link for the complete list of preseason honorees: Athlon preseason All-Big Ten teams.